When you think about a game's long term prospects, it's important to note that gamers remain interested because of the freedom, tools, and the depth that a game offers. Gaming is all about letting the players be creative and help them open the portal of their imagination and expand upon it. One such game is 'ROBLOX.'
ROBLOX has been providing players with all the necessary tools to create their own game within a game and share it with the community since 2005. A game built for the target market of 8 to 20 year-olds to sharpen their memory, enhance their coordination, develop their spatial skills and of course, to have fun with it. 
ROBLOX falls in the MMO (Massively Multiplayer Online game) category of video games where the player can interact, befriend and play with fellow gamers all around the globe, as well as customizing their game avatar, leaving feedback on others' creations, and trading in-game currencies. If ROBLOX is not enough to let your creative juices flowing, check out the list of 15 games similar to ROBLOX that allow a similar level of freedom while letting you test your creativity, and build your very own game world.
1. Minecraft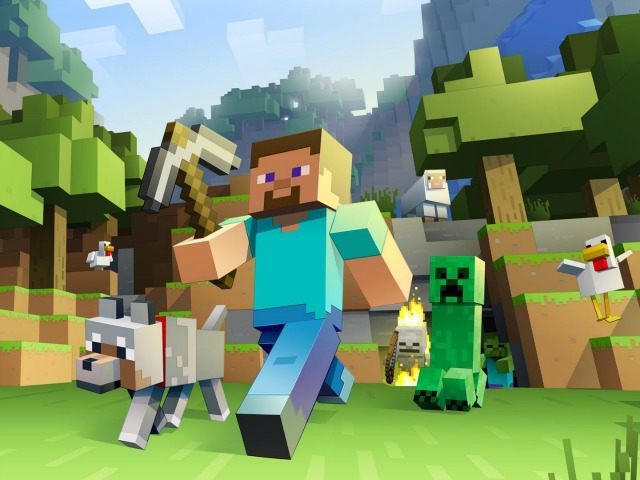 One of the most famous and most played titles in the world-building sandbox genre is Minecraft. The game lets players construct buildings in its procedurally generated world. It not only allows the players to use unlimited resources to create and build beautiful bases but also includes exploration, crafting, and combat, to maintain health while also surviving.
Minecraft also provides a multiplayer layer to its game where the players can create and share the different maps to play in. Here are 10 Best Minecraft Maps for you to enjoy different aspects of the Minecraft world.
Get it here ($19.99)
Availability: Windows, macOS, Android, iOS, Windows Phone, Xbox, PlayStation, Nintendo Wii U.
2. Terasology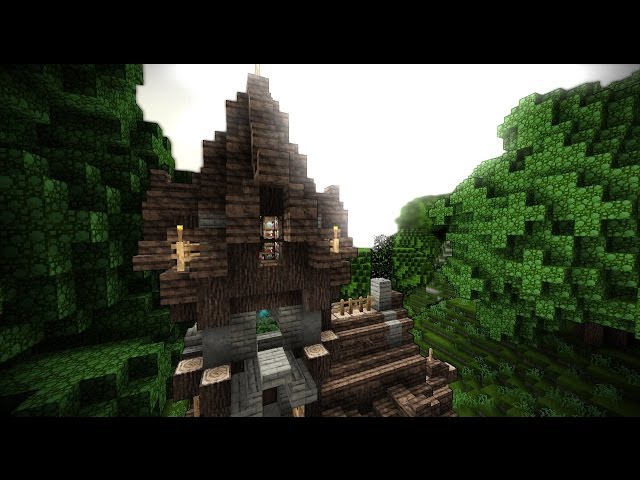 Terasology is an open source game which provides the player a beautiful sandbox with elements from other genres. Even though the game is still adding new features, it already offers some fresh ideas compared to games of the same genre. This is a game that gives the players a similar experience to Minecraft, where the players can create their own worlds for other players to visit.
Get it here (Free)
Availability: Windows
3. Trove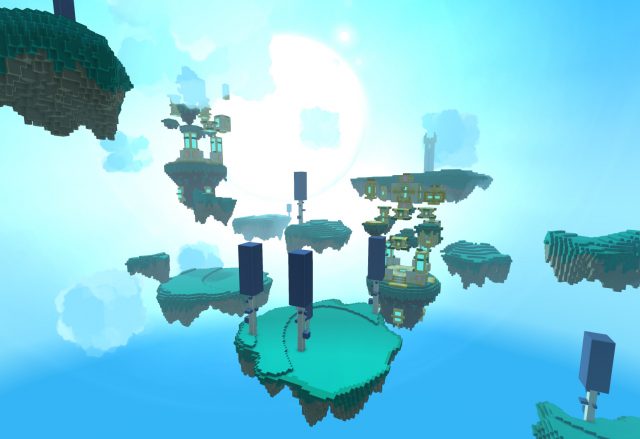 Trove mixes sandbox with the MMO arena, and it provides the players an adventure in its large universe. This allows the players to enter numerous worlds through the HUB area and enjoy the various dungeons, get loot and build their own home known as 'cornerstone.' The game offers the players with different classes to choose from and the characters get abilities based on the chosen classes. 
Along with creation, multiplayer gameplay and adventures, the game also offers a huge variety of customizable items to the players, so that they can keep changing the outlook of their in-game avatars.
Get it here (Free)
Availability: Windows, macOS
4. CastleMiner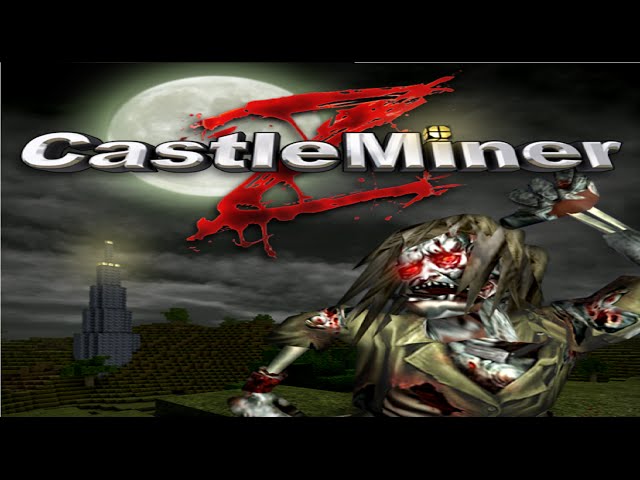 CastleMiner has become one of the most played Xbox Live titles. The game provides a sandbox style of gameplay and gives the players a choice to select from one of the six different worlds; coastal, lagoon, flatland, arctic and desert. Once the player selects his choice of the world, they can then start using the 200 types of blocks the game provides to start building structures and start their own civilization.
Get it here ($1)
Availability: Xbox 360
5. Block N Load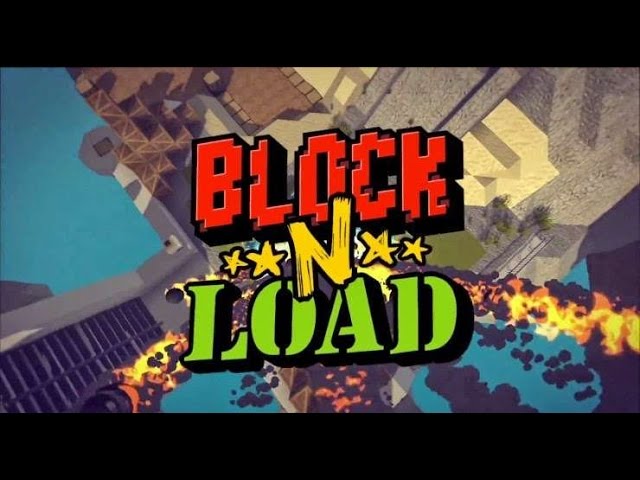 Jagex Game Studios realized that there are enough sandbox building games and came up with a fresh new concept of adding shooter elements into the mix. The game offers shooter elements with the sandbox gameplay to create a strategic 5 vs. 5 First Person Shooter multiplayer game, where the player gets to remake the levels/maps/environments to meet their needs.
Block N Load offers different colorful characters to choose from and every character has its own separate skills and abilities.
Get it here (Free)
Availability: Windows
6. Cubic Castles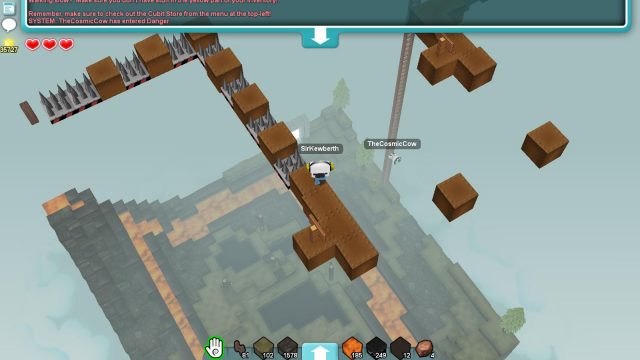 As the name suggests, Cubic Castles lets you pack your bags and be on your way to an adorable adventure to the "Cubic Castles". The world is built by the players, one cube at a time. The gameplay revolves around the journey of a player who creates realms, gather resources to craft blocks and other high-grade materials and start building numerous structures.
Every creator secretly desires praise and admiration for their efforts. Cubic Castles lets the players visit each other's realms to take inspiration from one another and create even better looking castles.
Get it here (Free)
Availability: Windows, macOS, Android, iOS
7. The Blockheads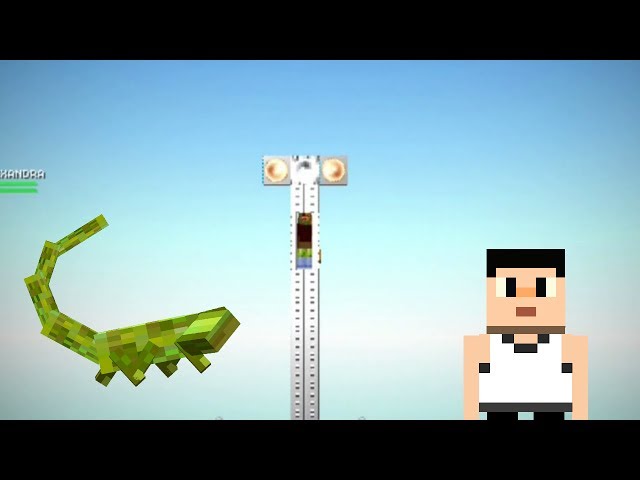 The Blockheads is a free sandbox game that takes place in a 2D block based game set in an ever evolving procedurally generated world. The players take control of characters known as 'Blockheads' that have the ability to create & destroy blocks and craft materials to create eye-catching buildings. The game also lets the players explore mountains, deserts, oceans and underground caves during different weather conditions and seasons.
Get it here (Free)
Availability: Android, iOS
8. Blockland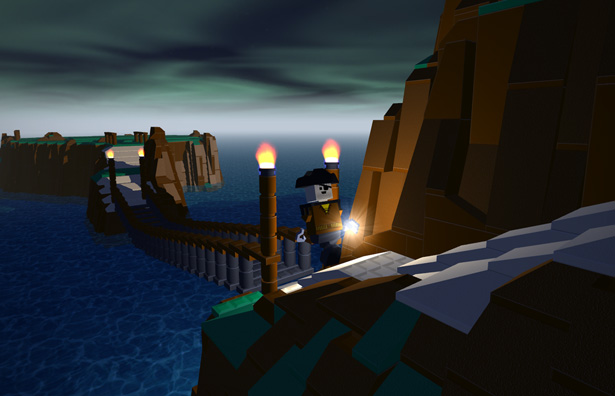 Blockland offers a Lego-inspired feel to the gameplay that stands out compared to the rest of the building sandbox MMO games. It offers its players a non-competitive multiplayer construction experience.
If you were planning to unpack your toys from your childhood and blow the dust off your Legos to build different structures and characters again, then I recommend you to save yourself the hassle and instead get Blockland. The game provides you with the same experience without having to make a mess in your room.
Get it here ($9.99) 
Availability: Windows, macOS.
9. Mythruna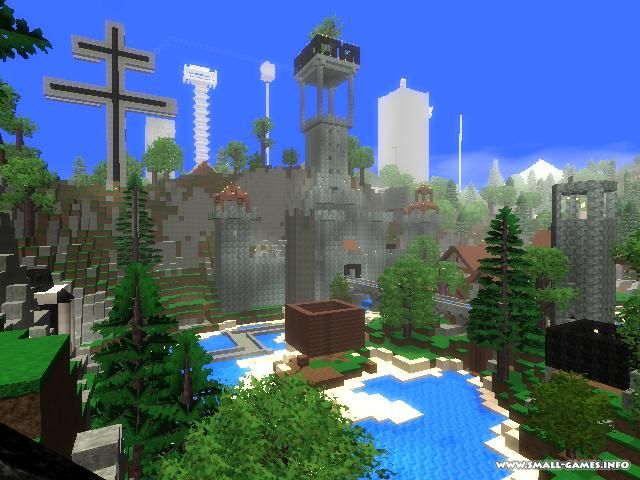 Mythruna blends world building with extensive crafting and adds a pinch of role-playing elements to make the gameplay even more fun. In Mythruna, you can create attractive worlds in the shape of a voxel to achieve a sweet sandbox role-playing experience.
The free game is still under development as of this moment but it's already pretty fun. The developer of the game intends to add more layers to it to further enhance the experience for its player-base.
Get it here (Free)
Availability: Windows, macOS, Linux.
10. Blocksworld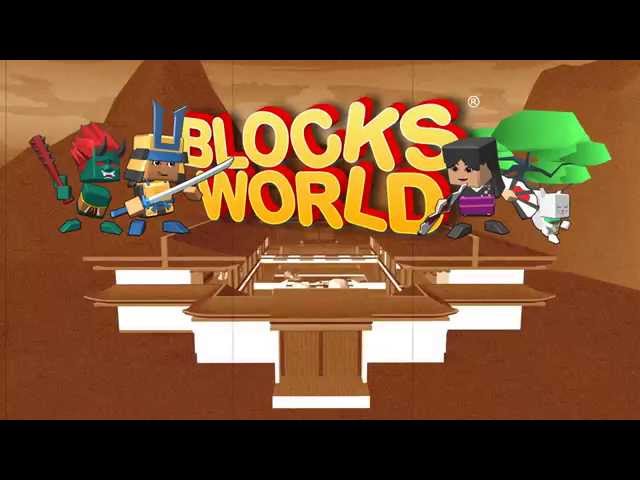 Linden Labs have created a world of blocks that encourages the players to use the basic building unit known as a 'block' to create models, terrains, props, and special kind of buildings. Other blocks such as 'Action blocks' add special capabilities to the regular blocks, such as rotation and movement that allow users to modify and control the behaviors of the block.
Over 2.7 million community creations that include different games and interactive models are currently present in the game, which ensures that the players will have an abundance of content available to dive in and lose themselves.
Get it here (free)
Availability: iOS
11. Kogama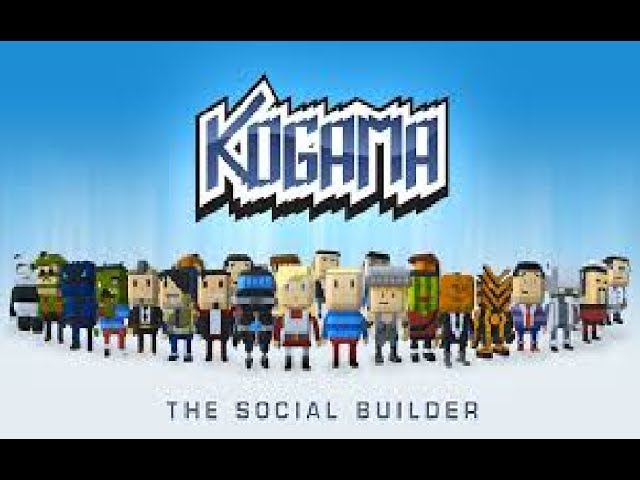 Much like Roblox, Kogama is a browser-based free game that allows gamers to create and design different sorts of games and levels, share and play with your online friends. Players get to use the terrain and logic in order to create their very own gaming experience. The possibilities of creating different games of different genres is what makes this game a must play for 3D multiplayer sandbox construction game lovers.
Get it here (Free)
Availability: Browser
12. Growtopia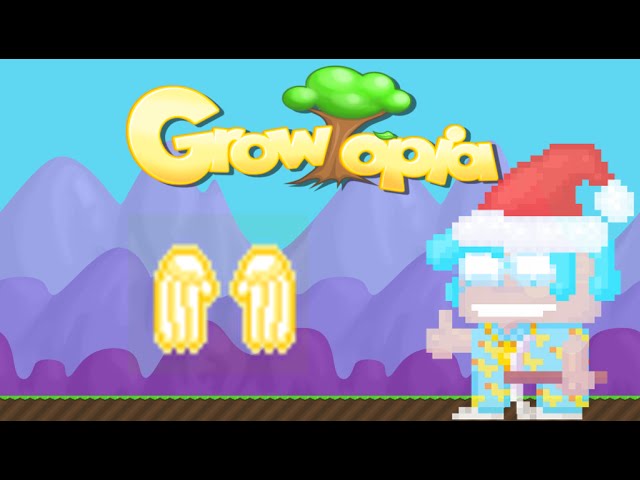 If you have been looking for a multiplayer creative sandbox platformer to get lost to during long travels to pass time without having to invest in a portable gaming device, this game is what you have been looking for. The game runs like a charm on smartphones (Android and iOS) and it's is also available on Windows & macOS.
Growtopia is a 2D multiplayer experience that lets the players build, play, trade, and explore with your friends. Being two-dimensional doesn't take anything away from this game, as its colorful classic pixelated style more than makes up for it.
Get it here
Availability: Android, iOS, Windows, macOS
13. Deepworld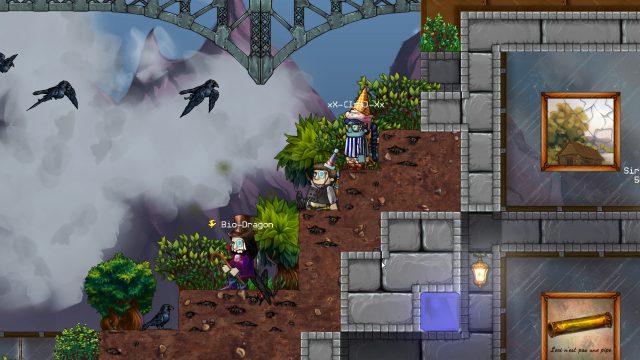 Deepworld is another 2D MMO role-playing crafting adventure game where the player mines and crafts his way through the online universe. What separates Deepworld from other games is its beautiful steampunk art direction. Deepworld is one unique crafting adventure game in its genre and its multiplayer lets the players embark on this journey together.
Get it here (Free)
Availability: Windows
14. Build With Chrome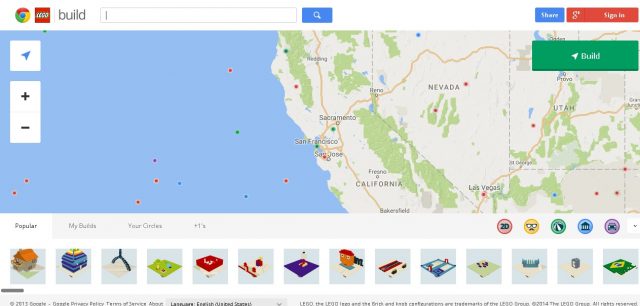 Build with Chrome is a web app from Google which lets users create their own virtual world of legos, in the real life location of their choice. It lets the player become a master builder, as they can combine Google Maps and Lego to create something new entirely, whether you are on your PC, phone, or tablet. The game doesn't only challenge a player to complete certain challenges to build in different locations, but it also lets the player share their creations online and acquaint themselves with the LEGO movie characters.
Get it here (Free)
Availability: Google Chrome
15. Brick Force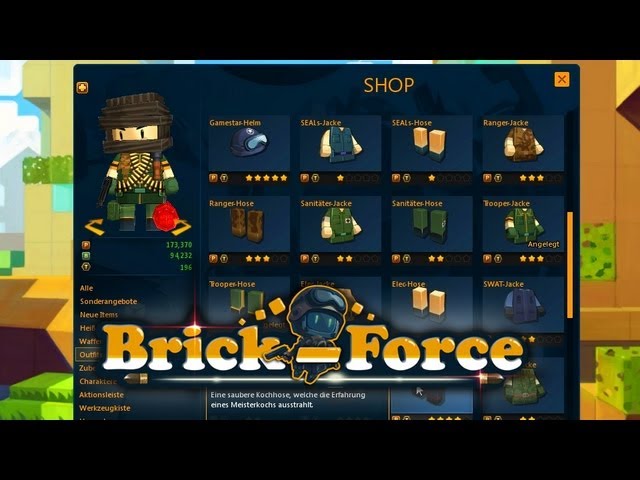 Brick Force is a free to play game that offers a unique experience made up with the mixture of block building and the fast-paced first-person shooting gameplay. Like a proper MMO experience, this game thrives on its tools provided in its sandbox mode to the players in order to build, customize, and share creations with the online community.
Get it here (Free)
Availability: Windows
SEE ALSO: 15 Best FPS Games for PC You Should Play
Some cool games like ROBLOX you can play
All of the above-mentioned games are very similar to ROBLOX and if you are looking for some fun world building games with a twist, our list has you covered. These games provide the players with the freedom to indulge in the sandbox created by developers and also, create their own worlds within it. The tools these games provide bring endless possibilities and you can create your own utopia in a virtual world, where you can build everything from the ground up, brick by brick or block by block. 
So, try out these games and let us know your favorite world building game. Sound off in the comments section below.