Truecaller is the go-to phone directory for hundreds of millions of users across the world. It's a pretty helpful app for users who regularly deal with spam calls. In a country like India where spam calls are rampant, it's a godsend service. However, there is a pressing concern for privacy with the Truecaller app. Let me put it straight, Truecaller is excellent at what it does, but the service harvests too much data through contacts, call logs and messages. If you are comfortable this and see the value in its service, you should keep using it. However, if you are someone who is concerned about their privacy and want to remove their number and other contact information from Truecaller's database, this is the article for you. In this article, we are going to show you how you can delete your Truecaller account and remove your number from its database.
Delete your Truecaller Account
1. Open Truecaller app on your smartphone and navigate to Settings. At the bottom, you will find the Privacy Center, tap on it.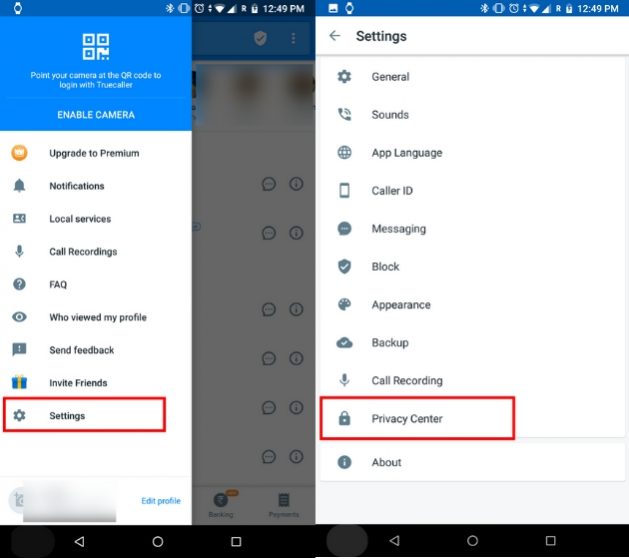 2. Now, tap on Deactivate. It will ask for a re-confirmation, tap on Yes.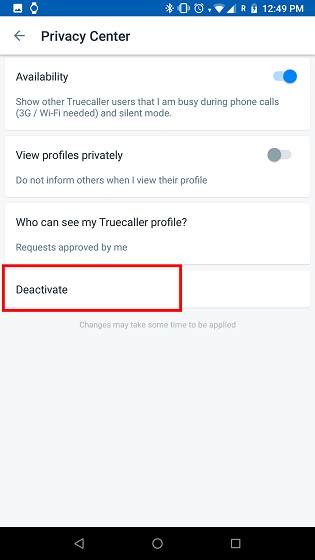 Note: Now your Truecaller account is deactivated, but users can still search your number and find information about you. So you need to do one more step: unlist your phone number from Truecaller's database. To do so, follow the next step.
3. Open Truecaller's unlisting page on your web browser and select your country. Now, enter your phone number with country code and validate the captcha. Finally, click on "Unlist Phone Number" and you are done. Note that, it may take 24 hours to completely remove your phone number.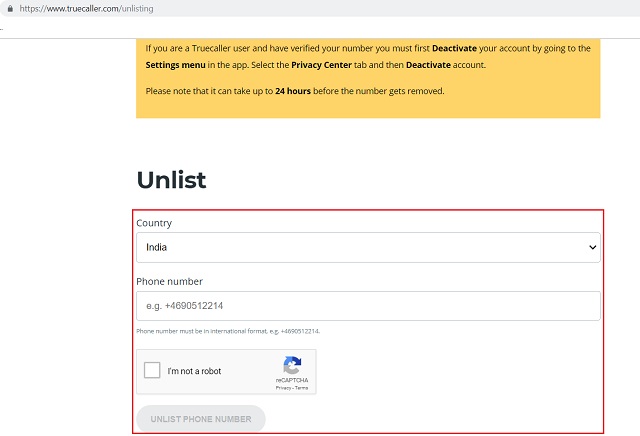 Stop Spam Calls and Messages without Sacrificing Privacy
So, now you have deleted Truecaller and made your number private. However, you have also made yourself prone to spam calls. Well, if you want to stop spam calls and messages without sacrificing your privacy, you can do that to some extent. Most of the Android phones comes built-in with Google's Phone app, which has native support for filtering spam calls. You can use this to filter most prominent spam calls. It won't be as good as Truecaller's spam filtering, but it will stop most of the spam calls.
1. To activate spam call filterning, tap on the 3-dot menu on the top-right corner and open Settings.
2. Here, open Caller ID and Spam and enable "Caller ID & spam" and "Filter spam calls" options. You are done!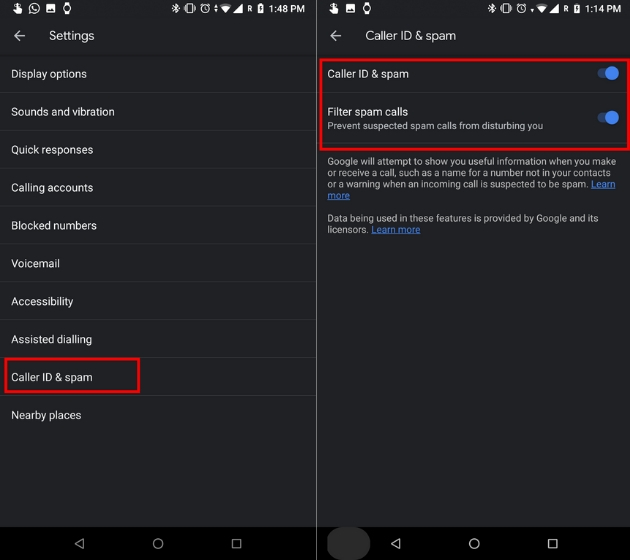 For text messages, you can try out the SMS Organizer app (Free) which automatically puts all the spam messages under a separate section. To make things even better, if you receive any spam message, you won't be notified. Also, the messages are stored locally on your device and are not shared with any server.
To identify unknown numbers, there is not a proper alternative at the moment which works as good as Truecaller without hampering your privacy. You can create a second user in your Android device with no access to contacts and messages. In the second space, you can use Truecaller's service to identify unknown numbers without giving your personal information. If you like to see how that's done, let us know and we will help you out.
SEE ALSO: Top 7 Truecaller Alternatives You Can Use
Delete Truecaller and Enjoy your Privacy
This was our take on Truecaller's privacy nightmare and how you can completely delete your phone number from Truecaller's database. You can try out the alternative ways to have a more privacy-friendly experience. Google is also making Android pretty strict in terms of sharing user data with apps and services. So you should always keep your smartphone updated with the latest version of Android. Anyway, if you liked the article or have any questions for us, you can let us know in the comment section below.
---
Load More