Of all the social media channels, Instagram has emerged as the clear leader when it comes to marketing. And while the native Instagram app is great for normal users, you won't be able to improve your Instagram followers drastically, if you are not using a pro third-party tool. One such tool that you should know about is called Combin and it is one of the best services that can help you manage and grow your Instagram account. Combin brings features like advance Instagram search to help you find your target audience, user search analysis which enables your searches to only show posts and profiles of interaction efficient accounts, audience management to help you manage your followers, and more. All these features are packed into an easy to use intuitive UI which not only looks great but is also highly functional.
One of my favorite Combin features is the ability to unfollow users who are not following you back. Sometimes you just need to unfollow the people who are not being interactive and Combin allows you to do that in mass with just one click. With Combin, you can distinguish the real followers of your Instagram account and focus on them. In this article, we are going to focus on this one feature to show you how easy it is to manage and grow your Instagram account using Combin. So, here is how you can unfollow Instagram users who do not follow you back via Combin.
Unfollow Instagram Users Who Don't Follow You Back Using Combin
If you are using the native Instagram app, it will be very hard to unfollow users who are not following you back. It is doable, but it will be a long and tedious process. You will have to open the profiles of users one by one and then unfollow the ones who are not following you back. With Combin, the entire process takes just a few seconds. Once you download and install Combin on your Mac, Linux, or Windows PC, all you need to do is login with your Instagram account and follow the below steps.
1. Launch the Combin app and click on the "Users" tab.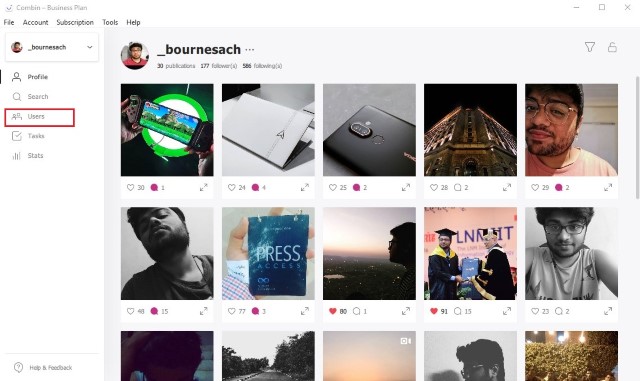 2. Here, click on the "Not Followers" tab.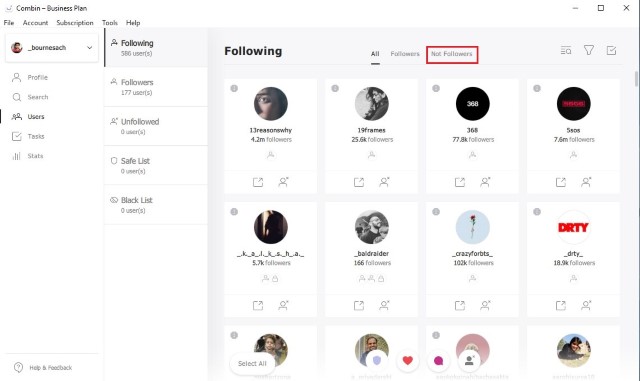 3. Now, you can either select users one by one or click on the "Select All" button at the bottom.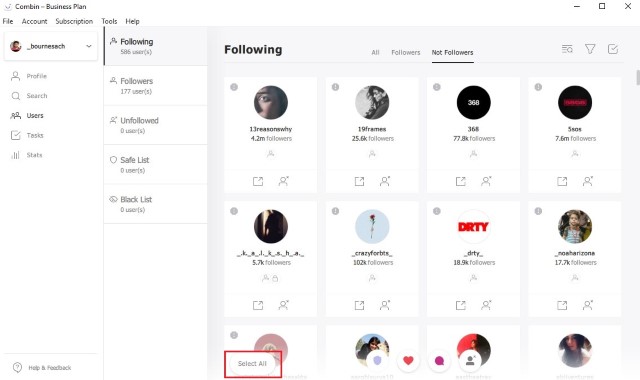 4. Here, click on the "Unfollow" button to unfollow all the Instagram users who do not follow you back.
Pricing and Availability
As you can see Combin is a great tool for anyone who is looking to improve his/her Instagram game. As far as availability is concerned, Combin is available as a desktop application and is available for all three major desktop platforms; Windows, macOS, and Linux. The app comes with a free "Starter" version which lets you manage 1 Instagram account with limitations. If you like what you find, you can get one of the paid plans. The personal paid plans start at $10/month while the business plans start at $30/month.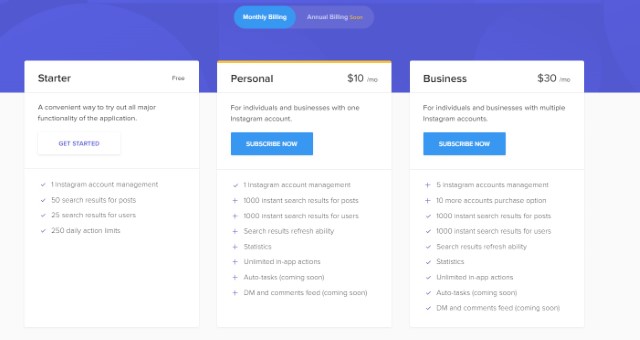 Organically Grow Your Instagram with Combin
Combin is a great tool for individuals and businesses alike who want to improve their Instagram game. What I love about Combin is that it's not promising to give you hundreds of thousands of followers in a single day, rather gives you tools to organically increase your followers which will be more interactive and help spread your brand identity through their network. Since Combin offers a free version, I don't think there is any harm in checking it out. So, install Combin and let us know your experiences by writing in the comments section below.