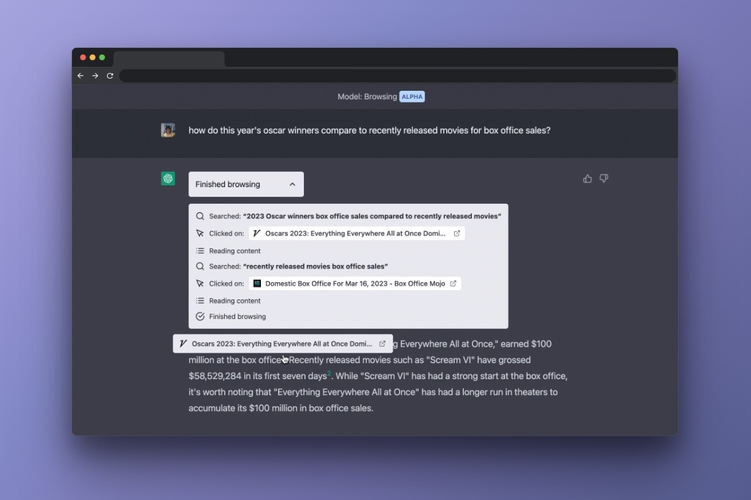 ChatGPT is quite possibly the most famous and widely used AI chatbot on the internet right now. With a plethora of cool things it is capable of, the OpenAI-created chatbot has done nothing but made waves ever since its release. While the launch of its latest GPT-4 model did only escalate things, one of ChatGPT's downsides is its limited dataset. However, that is now changing, as ChatGPT is getting Internet access for the first time. OpenAI has officially launched plugins for ChatGPT that will let it do so much more. Let's talk about the details below.
Plugins Give ChatGPT Access to the Internet
OpenAI launched plugins for ChatGPT to let it leverage extended information. For the first time, these plugins give ChatGPT access to the Internet. The chatbot will also now be able to access select third-party databases and information sources. This will allow ChatGPT to interact with select websites and use their mentioned databases to gather information.
For now, OpenAI has released 11 plugins for ChatGPT that have been created by various companies. These include plugins by popular companies such as Slack, Zapier, Expedia (see tweet), FiscalNote, Instacart, Milo, OpenTable, and more. Users will get a ton of functionality through these plugins. You can now plan your trips, provide restaurant recommendations, shop for products, order from local grocery stores, and more all through the use of ChatGPT.
However, the most exciting plugins are definitely by OpenAI itself, including a web browser and a code interpreter plugin. The web browser plugin lets ChatGPT retrieve information directly from the Internet. The browser uses the Bing AI API.
This allows the chatbot to not only browse the net but also intelligently draw data and infer from it. OpenAI showcased the same in a small demo when it asked ChatGPT about the 2023 Oscar Winners, and the bot responded in kind after checking the Internet.
The code interpreter plugin, on the other hand, uses Python and performs logical calculations based on problems posed. Both the plugins are currently in an Alpha stage.
Release and Availability
As mentioned above, plugins are currently in a limited Alpha testing phase, and hence, they are not available to everyone. OpenAI is extending access to ChatGPT plugins through a waitlist that you can sign-up for. The company claims that it is initially prioritizing a small number of developers and ChatGPT Plus users. Wide-scale access should follow soon. Until then, use the link above to sign up.
ChatGPT finally getting Internet access is a huge step in making the AI bot even smarter. If implemented correctly, the bot will gain even more power and become a stronger competitor in the Google Bard vs ChatGPT battle. It should certainly perform better than Google Bard against Bing.
---