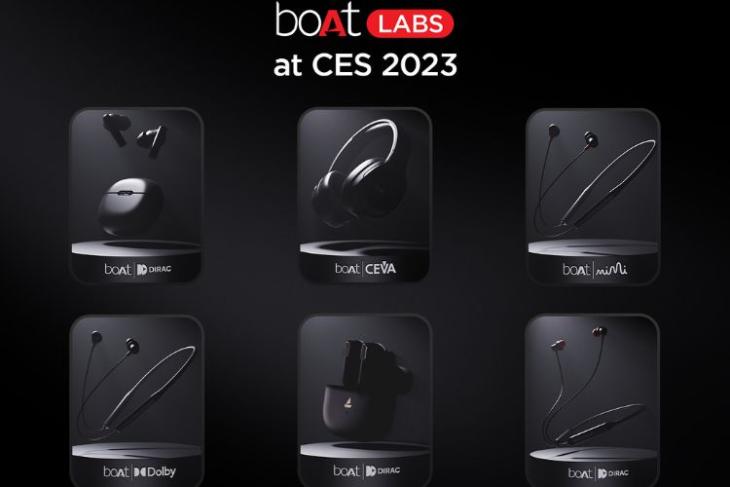 Amongst brands like Samsung, Asus, and more, the Indian wearable brand boAt has also shown its presence at CES 2023 by showcasing some of its audio products. The list includes the Nirvana Eutopia with spatial audio support, a neckband with Dolby Audio, and more. Have a look at the details below.
boAt Nirvana Eutopia and More Showcased
The boAt Nirvana Eutopia headphone has been introduced in collaboration with CEVA. The headphone is the company's first to come with spatial audio support and has head-tracking capabilities, powered by VisiSonics. It also supports CEVA MotionEngine for a 3D simulated space that offers a sense of direction and depth.
boAt has also shown the Rockerz 330 and the 333 ANC neckbands (launched last year) that come with an all-new Crystal Bionic Sound by Dirac Opteo and HD-quality audio. Both boAT and Dirac have teased the arrival of the new Rockerz Apex, Nirvana Nebula, and Airdopes Synth with Dirac Virtuo. There's a neckband too, which is powered by Dolby.
Sameer Mehta, Co-Founder & Chief Product Officer at boAt said, "boAt Labs is a testament to our commitment to developing truly innovative technologies in India for the world which accentuates user experience. We are closely working with global technology companies like Dolby, Dirac, Mimi, CEVA, and more which offer innovative technologies that will help facilitate and accelerate our engineering efforts with a specific focus on elevating user experience."
CES 2023 has also witnessed the boAt Nirvana 525 ANC neckband with audio-tuning by Mimi, a first for India. The neckband comes with the ability to create customized EQ settings by taking a hearing test via the boAt Hearables app.
"It is a moment of pride that products designed and engineered in India are now showcased on a world stage like CES," Mehta added.