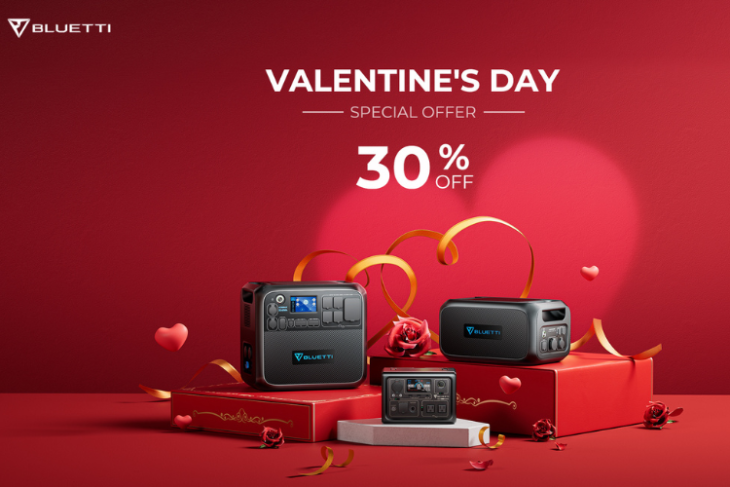 Valentine's day is hot on our heels. With everyone scrambling to get gifts for their significant others, finding something that actually stands out and impresses is a tall order. That said, if you're bored of roses and chocolates and want something different and useful, well, BLUETTI is here. With over 10 years of industry experience, BLUETTI is hosting a mega sale (starting from February 6) on its wide selection of solar generators that can be used for various occasions. If that sounds interesting, keep reading for all the details below.
BLUETTI Valentine's Day Sale 2023
BLUETTI's expansive collection of solar generators and power stations are on offer, including their most popular products — AC500 and AC300. Let's learn about them below:
AC500 and AC300 Combo: Modular Power Stations with Big Power Hearts
Launched in 2022, AC500 is one of BLUETTI's most popular power stations that comes jam-packed with a plethora of features. This beast of a modular power station has a maximum battery capacity of 18,432Wh when paired with the B300S battery pack. The AC500 (Buy) comes with a combined (PV+AC) input rate of 8,000 W, which means the entire package charges from 0-80% within one hour. This power station comes with a maximum output of 5,000 W, combined with 16 versatile ports to make it one hell of a combination.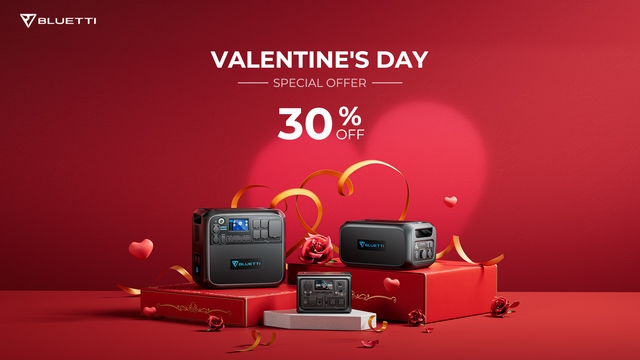 For a little toned version, BLUETTI's AC300 is here to the rescue. This power station has a maximum capacity of 12,288Wh when you pair it with BS300S. The AC300 gives a maximum output of 3,000 W for high-load delivery. Like its bigger sibling, the AC300 comes with 5,400W of power input for fast charging. It also supports Solar+AC adapter simultaneously.
To connect this power supply to your devices, the AC300 comes with 16 different ports. The BLUETTI AC300 + B300 expansion pack (Buy) is currently discounted by 30% ($699). This drops its price from $3898 to $3199, which is a pretty good deal.
BLUETTI AC200MAX & EP500Pro: Affordable Home Solutions
For those looking for a little less power but all the reliability, the AC200MAX is another portable power solution you can use at your home or take with you on camping trips. This power station provides up to 2,200W of power output in total and has power surge protection of 4,800W. The AC200MAX comes with a capacity of 2,048Wh, but you can expand it to 8,192Wh with B300.
Like BLUETTI's other products, the AC200MAX also supports dual fast charging. Fortunately, the BLUETTI AC200MAX (Buy) is also on discount and starts from $1599 compared to its price of $1999. So you get to save $400 and impress your spouse at the same time.
The BLUETTI EP500Pro is the perfect product for the times you feel like having a backyard barbeque but have no power. To make sure people get to use power off-grid, the EP500Pro comes with a 3,000W PSW inverter that provides pure sine wave output. The 5,100Wh can withstand 3500+ cycles up to its 80% capacity.
There is even a smart touchscreen to see all relevant information and even an app remote control. However, the best part is that the EP500 Pro is completely portable with its caster wheels and compact yet stylish design. The BLUETTI EP500Pro starts at $4899 (Buy), which is $900 less than its original price of $5799. Get this amazing deal for your valentine while it lasts.
BLUETTI Portable Solar Lineup: Discounts Sitewide
Besides BLUETTI's massive collection of power generators, it also has a more sustainable solar power lineup that you can use for all your camping trips, home use, and anything else. The lineup includes the BLUETTI EB3A, EB55, and EB70S. The EB is portable and can be easily used to power all types of appliances ranging from mobile phones all the way to a mini fridge. The solar series also comes with smart control, app support, monitoring, and a lot more features. The BLUETTI EB collection starts at just $219, which is an $80 drop from its original $299. Get this portable solar deal for this Valentine's day.
Since most of BLUETTI's products support solar charging, what better way to top them up than with the company's own PV line of solar charging panels? The panels use monocrystalline solar cells and multi-layered ETFE to ensure better light transmittance and higher power efficiency. Placed correctly, PV solar panels can charge up super fast and provide electronics with all the power they want. BLUETTI PV Solar Collection starts at $899, offering a $200 discount against the original $1,099 price.
BLUETTILOVE Campaign
In addition to all these amazing deals, BLUETTI is launching a BLUETTI LOVE campaign for Valentine's Day. All participants have to do is share their sweetest memories with their significant others and upload those photos. You can even post anonymous messages if you wish. Winners get a range of prices including an EB3A, a PV68, and $20 coupons. A beautiful and powerful solar generator can make your hiking or camping trips way more comfortable, isn't it? Which BLUETTI product interested you the most? Let us know in the comments below.