The DCU has officially begun with the release of the Blue Beetle movie, and I must say that the DC universe means business this time. The movie is very well made and manages to keep the audience gripped to the screen till the very last minute. Xolo Maridueña manages to play his Blue Beetle role extremely well, along with the other cast members. Since the movie is set in the DCU, there are several easter eggs that only hardcore DC fans will be able to spot. All the easter eggs in the Blue Beetle movie relate to the wider, upcoming DCU, which we can think of as a way of letting the audience know that Blue Beetle is not done with the DCU yet.
And yes, Blue Beetle also has post-credit scene(s)! If you have landed on this article before watching the movie, here is everything you need to know before watching Blue Beetle movie. However, if you have watched the movie, let's see how many of these easter eggs you spotted in Blue Beetle.
Spoiler Warning: This article contains spoilers for the Blue Beetle movie.
1. Gotham Law
In the scene where Jaime's father talks to him about his purpose, we see Jaime wearing a hoodie that says "Gotham Law," which makes it pretty clear that this movie is not a standalone movie but is indeed connected to the wider DC universe where Gotham does exist. If Gotham City exists, you already know who else also does — Batman.
We can say that this spoiler was meant to hint that we might get to see Blue Beetle and Batman work together in the earlier-announced Batman movie, just like they do in the comics.
Another scene where we get to witness the Dark Knight mentioned is when Jaime looks at Ted Kord's tech and says that this stuff looks like Batman's stuff and his uncle replies " Batman is a fascist." We didn't like that, but an easter egg is an easter egg after all.
2. Lex Corp Building
In the scene where the Kord Industries building is shown to us in the Blue Beetle movie, right behind it, there's a familiar name mounted on a building – Lex Corp. The design of this logo we see is very different from what we've seen in Batman vs. Superman: Dawn of Justice. This implies that we will get to see a new and more comic-accurate Lex Luthor in the future since this logo is made to be comic-accurate.
This easter egg can point towards a possible team-up of Blue Beetle and Superman, and I am pretty sure that we might actually get to see this since Blue Beetle easter eggs are filled with Superman-related stuff.
3. Big Belly Burgers
In the Blue Beetle movie, when Jeniffer sneaks out the Scarab from the Kord Industries lab, she does so in a burger box from Big Belly Burgers. Now you may ask, "How is this an easter egg?" Well, hear me out. Big Belly Burgers is a fictional fast-food joint mentioned many times in DC comics. This fast food joint was one of the biggest fast food joints in the United States and is famous for its fries and unusually big burgers but was later bought by Lex Corp.
Interestingly, one of the regular customers of Big Belly Burgers is none other than the Man of Steel himself. Yeah, Superman loves burgers. This easter egg can be a subtle pointer towards the upcoming Superman movie and Blue Beetle's appearance in it. As per comics, Superman was the character who took Jaime under his wing to mentor him, and since it is now owned by Lex Corp, we can anticipate that Lex Luthor can be the villain in the upcoming Superman movie.
4. Superman and The Flash
In the Blue Beetle movie, Rudy Reyes, Jaime's uncle mentions " Superman of Metropolis" and "Flash of Central City." These mentions and the easter eggs later on in the movie directed toward the existence of Batman, make a point toward the existence, or a possible future of a Justice League in the upcoming DCU. If we look at all the easter eggs we have seen so far, they all make it seem like Blue Beetle is not going to end with this one movie and will certainly be a part of the wider DC universe.
5. News Report About Bruce Wayne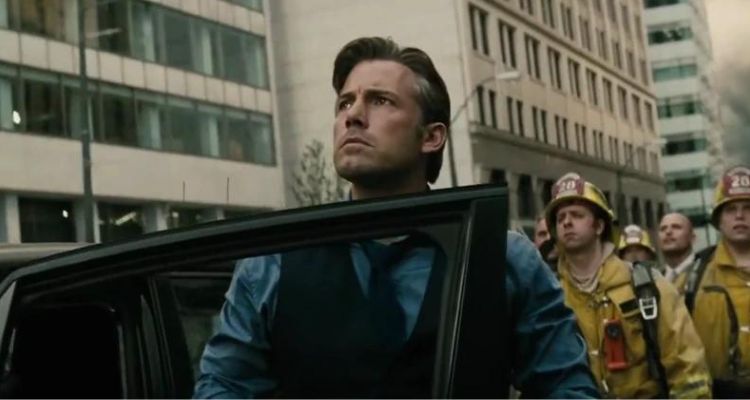 When Jaime comes back from the forced test drive of the Blue Beetle armor, he is shown lying in his living room recovering from the exhausting experience. In the background, we see that a Spanish reporter is talking about Gotham's favorite philanthropist, Bruce Wayne, and his recent acquisition of a popular dating app. And if Bruce Wayne exists, we are going to see the Dark Knight appear on screen again sooner or later.
---
Load More