For more than one reason, Galaxy Tab S7 promises to be a complete tablet for Android users, especially for those who want the best tablet Android has to offer. The beautiful looking 11-inch display with 120Hz refresh rate, the more than capable 13-megapixel rear camera and 8-megapixel front camera, and top-of-the-line Snapdragon 865 Plus processor paired with 6GB/8GB RAM leave very little room for complaints. If you have set your sight on this all-new tablet, you should also invest in the best Samsung Galaxy Tab S7 cases to protect your investment.
Best Samsung Galaxy Tab S7 Cases
When it comes to choosing a case, we can't all be on the same page. While some of us prefer to have a laptop-style keyboard to turn the tablet into a handy laptop, others prefer to have an incredibly sleek case that can get along nicely with the device. Never mind the folks who always like to have a bit extra cushion to ward off accidental slip-offs!
In this ever-growing roundup of the top Galaxy Tab S7 cases, I have chosen cases based on different tastes. Hopefully, you may find them spot on as per your needs. Now that you know what's coming up, let's move onto the lineup!
1. Keyboard Book Cover from Samsung – Best Keyboard Case for Galaxy Tab S7
If you want to pair your brand-new Galaxy Tab S7 with a premium keyboard cover that can not only make a match with its profile but also get the most out of it, you would be hard-pressed to find a better option than the official keyboard cover.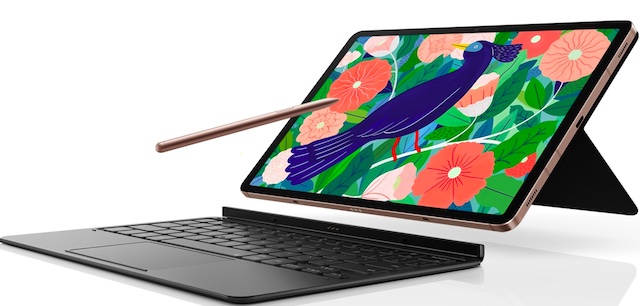 The keyboard case is made of high-quality material and wraps around the Tab S7 snuggly. With a smooth and sophisticated exterior, it feels comfortable in hands. Not to mention, it comes with a flexible hinge that lets you adjust the angle for an enhanced viewing experience while watching a media or browsing the web.
Another feature that makes Keyboard Book Cover a top-notch asset is the inclusion of a handy trackpad which offers a laptop-like experience. As for the keys, they are pretty tactile, allowing you to type with the needed flow.
At $200, the keyboard case does seem quite expensive. However, considering the appreciable specs, you can't go wrong with Keyboard Book Cover as it's undoubtedly the best keyboard case for Keyboard Book Cover right now.
Buy from Samsung: $199.99
2. Book Cover from Samsung – Premium Slim Case for Galaxy Tab S7
Showcasing a sleek design, the Book Cover doesn't take long to catch attention. The official slim case is beautifully designed and fits around the edges of the 11-inch Samsung tablet. Notably, the case folds around and clings magnetically, allowing you to install/remove it without any hassle.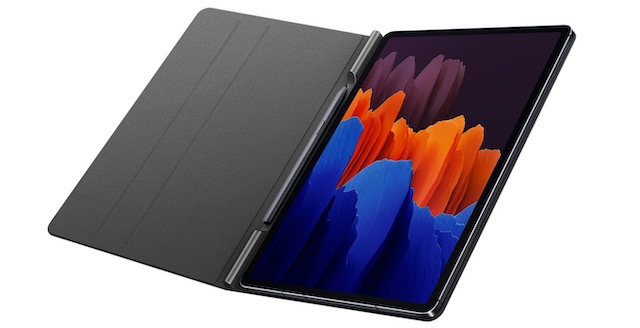 With a smooth finish, the Book Cover offers a much-improved grip, letting you hold the tablet conveniently. There is also a holder to keep your S Pen secure so that it can remain secure.
Probably the best part about Book Cover is the super handy kickstand functionality. Whether you are reading an article, browsing the web, or watching an exciting flick, the stand can let you perfectly prop up your tablet for a better viewing angle. Though the case looks pricey at $118, it's got all the qualities to be a premium slim suit for your Tab S7.
Buy from Samsung: $118
3. Neepanda – Slim Case with Tri-Fold Stand for Galaxy Tab S7
If you are looking for a relatively cheap yet impressive slim cover for your 11-inch Galaxy Tab S7, do not miss out on this offering from Neepanda. The cover looks quite slim and also makes a decent match with the tablet. It's made of soft PU leather and features microfiber lining inside to guard your S7 against scratches and impact.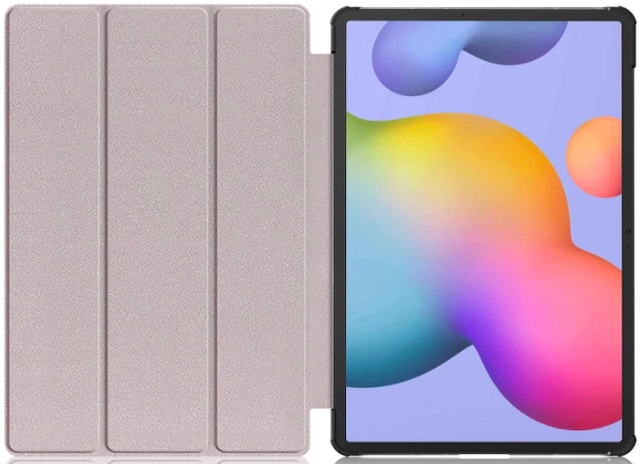 Beyond protection, Neepanda features tri-fold stand functionality. That means you can position your 11-inch Samsung tablet for an enhanced viewing experience. The side opening supports S Pen's magnetic attachment and wireless charging. And with the auto sleep/wake functionality, it also ensures there is no unnecessary power consumption.
Notably, Neepanda case sports precise cutouts and works with most screen protectors. Keeping in mind these praiseworthy specs, a $14 price tag seems reasonable.
Buy from: $13.99
4. Soke – Shockproof Case for Galaxy Tab S7
If protection from shock and scratches is on top of your time, you can bank on this offering from Soke to be a long-lasting companion for your Galaxy Tab S7. The case features a hard TPU back shell for additional safeguard against accidental drops. And with the rugged frame ready to take on bumps, it looks fully equipped to endure the impact.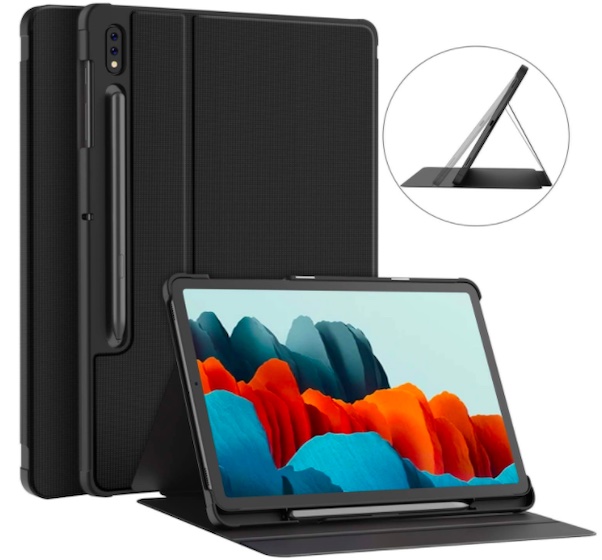 Beyond protection, Soke also features multiple standing positions. Whether you want to amp up your media watching experience or double down on gaming, the stand can come into play seamlessly.
The case features neat cutouts, making sure you have no trouble while accessing ports of the 11″ Samsung tablet. Thanks to the strong magnets, it closes securely, ensuring the tablet remains inside. Not just that, it's also got a built-in holder wherein your digital pen can rest safely.
Buy from: $19.99
5. Neepanda – Attractive Case for Galaxy Tab S7
Just in case you want your Galaxy Tab S7 to shout out loud a bit, give a chance to Neepanda's beautiful looking case. Made of PU leather, the case has a sophisticated form-factor. So, it not only pairs elegantly but also offers a gracious touch that keeps accidental slips at bay.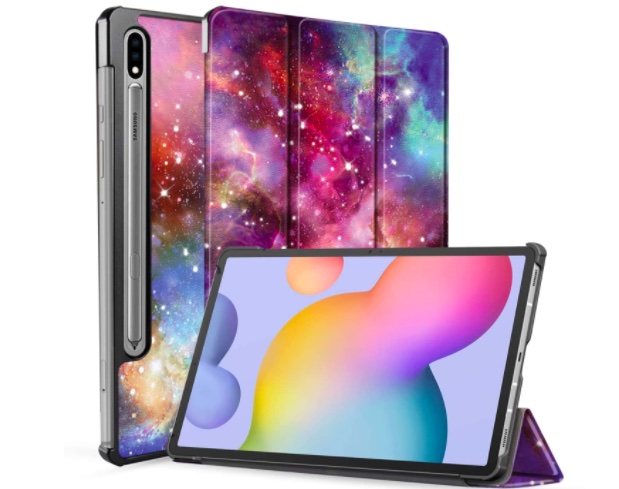 Elegant design aside, Neepanda case features microfiber lining for extra resistance against scratches. Despite being a slim case, it has got the strength to absorb shock thanks to the presence of durable frame and fortified corners. What's more, the front cover does a reliable job of a tri-fold stand to improve your typing and viewing experience.
Buy from Amazon: $13.99
Choose the Best Cases and Covers for Galaxy Tab S7
There you go! So, these are the best Samsung Galaxy Tab S7 cases in the market right now. Rest assured, as more accessory makers release cases, we would add them in this roundup. Therefore, don't forget to bookmark the roundup so that you can keep a tab on the latest arrivals with ease.
Anyway, which one of these cases has looked promising for your Galaxy Tab S7? Feel free to share your valuable thoughts with us.