Samsung's flagship devices have always boasted of gorgeous Super AMOLED displays and the new Galaxy Note 7 is no different. The device packs in a Dual-edge 5.7-inch display of 2560x1440p resolution and it looks super amazing. Thanks to the dual edges, the device feels like it has no bezels at all, which looks great but this also increases the chances of screen breakage. Thus, to protect the gorgeous display on the Note 7, you need a screen protector that covers the display along with its edges. So, without any further ado, here are the 8 best Samsung Galaxy Note 7 screen protectors you should be buying:
1. Official Samsung Screen Protector
The official Samsung screen protector for the Galaxy Note 7 isn't on sale yet but if you want a well-designed screen protector for the phablet that covers the edges well, this is the one to buy. The display not only covers the Note 7 display well but it also protects the devices with its anti-scratch and high transmittance properties. Moreover, the screen guard also makes sure to stop any color degradation in the display whilst protecting it against extreme temperatures.
Where to Buy: Samsung.com
Price: NA
2. Otterbox Alpha Screen Protector
The Otterbox screen protector for the Galaxy Note 7 is just like the company's case offerings. The tempered glass screen protector is sturdy and features anti-shatter capabilities. Plus, it is made up of polyester, which makes sure that the tempered glass is thin enough to not hamper touchscreen responsiveness. The super clear screen protector comes with tools to install it on the Note 7, so you need not worry about that.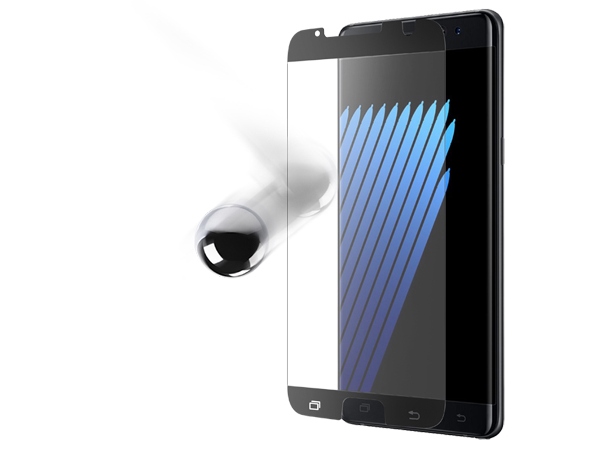 Where to Buy: Amazon.com
Price: $13.48
3. Bodyguardz HD Contour Screen Protector
The ultra slim Bodyguardz Screenguard is certainly the one to buy if you are looking for a slim fit screen protector for the Note 7. The screen guard is a great buy because as the name mentions, it hugs the "contours" of the device, meaning the lovely curves will be protected. Also, the screen protector is scratch free and naturally resistant to fingerprints. The screen protector comes with a microfiber cleaning cloth, application instructions, advantage replacements and a 30-day money back guarantee.
Where to Buy: Bodyguardz
Price: $29.95
4. Sparin Curved Tempered Glass Screen Protector
For the Note 7's beautiful curved display, what better protection you can get than a curved tempered glass screen protector. The Sparin screen protector brings a curved 3D glass with 9H hardness and 0.3mm thickness, which brings full edge-to-edge coverage for the screen. Moreover, the tempered glass screen protector features dotted matrix, which means the touch responsiveness remains great. Also, the makers of the screen protector promise 99% transmittance, so the display's true color should always be visible. It comes with a smart sticker guide, so applying it on your Note 7 should be pretty easy.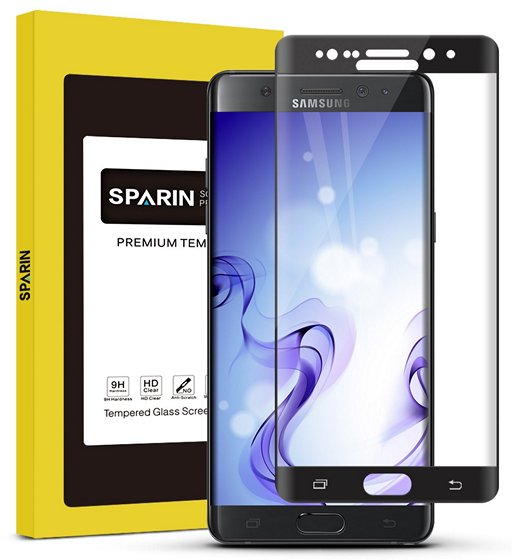 Where to Buy: Amazon.com
Price: $19.99
5. Skinomi Anti-Bubble Screen Protector
The Skinomi screen protector for the Galaxy Note 7 brings full coverage, which means that the curves of the display are covered too. Along with that, the screen protector is light and resistant to scratches, UV light and punctures. Moreover, the screen protector is said to be self-healing meaning scratches go off with time. It's also optically transparent and since it's so slim, the touch response remains as it is. Skinomi offers lifetime replacement guarantee on the screen protector as well.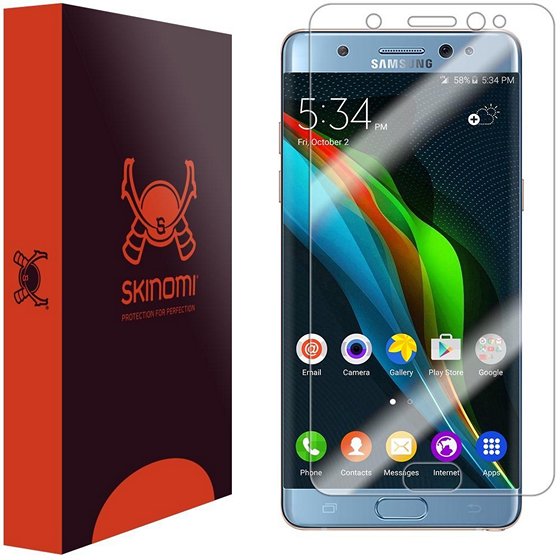 Where to Buy: Amazon.com
Price: $7.85
6. IQShield LiquidSkin Screen Protector
The IQShield screen protector is pretty flexible but that does not mean that it's not tough. The screen protector is designed is applied by the wet method, which makes sure it is applied bubble-free and without any fingerprints. Moreover, it is optically transparent and self-healing, so you can use it a bit roughly. The screen protector comes with a installation tray or solution, squeegee, cloth and installation instructions. Plus, IQShield offers lifetime replacement warranty and 100% satisfaction guarantee.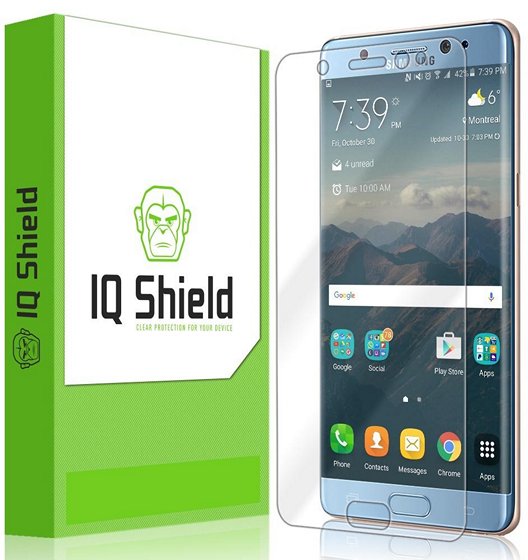 Where to Buy: Amazon.com
Price: $7.85
7. Yootech Case Friendly Screen Protector
If you have a case applied on the Note 7, it's wise to put a normal screen protector that does not interfere with the case's protection of the curved display. The screen protector is resistant to scratches, UV light, punctures and it reduces the smudges from fingerprints, oils. It's also pretty tough, as it brings self-healing capabilities and is designed to absorb impacts. It is also designed to bring ultimate clarity and touchscreen accuracy. Yootech also offers lifetime warranty on the screen protector, so another reason to buy the screen protector.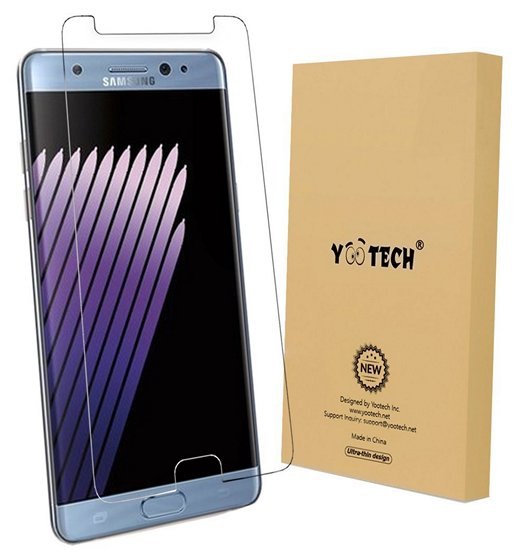 Where to Buy: Amazon.com
Price: $7.85
8. Olixar Curved Glass Screen Protector
Last but not the least, Olixar's curved glass screen protector brings full coverage, which means Note 7's display should be well covered. The tempered glass comes with Black edges, so that it can blend nicely with the Note 7's curves. The 9H glass is 0.3mm thin, which makes sure the display is protected against any scratches, shocks or other damage. The quality screen protector from Olixar is available with a 2-year warranty, so that should be good enough reason to trust its longevity.
Where to buy: Mobilefun.co.uk
Price: $45.99
SEE ALSO: 10 Best Samsung Galaxy Note 7 Cases and Covers
Protect the Note 7's curved display with these screen protectors
The Note 7's gorgeous display looks gorgeous and it deserves better protection, so it's high time you apply these screen protectors to it. These screen protectors should bring optimum protection, whilst also keeping the display smudge and dirt free. So, what are you waiting for? Tell us which screen protector are you going to buy for the Note 7.