Contactless payments have rapidly become mainstream over the past few years, and although it is yet to match up to the popularity of good ol' credit cards, many industry insiders believe that it's only a matter of time before digital payments start competing with established payment platforms in a big way. However, with the rise of technologies like NFC (Near Field Communication) and RFID (Radio Frequency Identification), concerns about fraud and identity theft is also on the rise, especially now that many banks in the U.S. and Europe have started issuing credit and debit cards with RFID chips embedded in them to enable contactless payments. And it's not just credit cards either. Since 2006, all passports issued by the U.S. have RFID chips embedded in them. Even Metro cards have RFID chips for quick swiping.
While such widespread use of RFID chips are certainly making financial transactions more convenient, it is also potentially making users vulnerable to theft as anybody standing next to you can, at least in theory, scan the cards in your wallet without your knowledge. One of the steps you can take to stop yourself from becoming a victim is use an 'RFID blocking wallet' that works by essentially acting as a 'Faraday Cage' to block the radio waves that are essential for RFID chips to work. In essence, these wallets have the ability to block all electromagnetic fields and prevent communication between your cards and RFID scanners, thereby protecting you from fraud and/or identity theft. So now that you know why you need to block RFID radio frequencies when you're not using your cards, let's take a look at the 12 best RFID blocking wallets you can buy to protect yourself:
1. Fossil Men's RFID Blocking Turk Bifold Wallet with Flip ID
We start off with an RFID blocking wallet from American fashion brand Fossil. It is made of leather and measures 4.5″ x 3.5″. It is a Bifold wallet featuring contrast center stitching and piping trims. To block radio frequencies, the wallet comes with a special lining to help protect the RFID chips in your credit and debit cards from unwarranted scanning. According to Fossil, the wallet can accommodate 8 credit cards, and has 2 ID windows, 2 slip pockets and 1 bill compartment. Overall, the wallet works exactly as advertised and looks good while at it.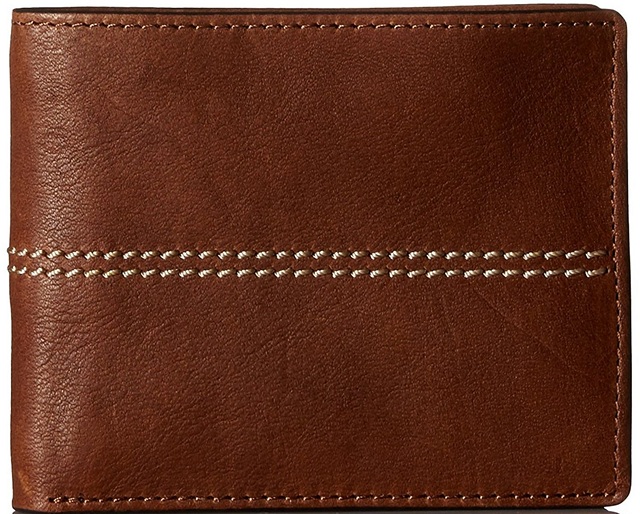 Buy From Amazon: ($40.00)
2. Dockers Men's RFID Blocking Extra Capacity Leather Bifold Wallet
Dockers is yet another well-known American apparel and accessories brand that makes RFID blocking wallets. The one we've featured here includes nine card slots, one bill pocket and one ID window, and there's also a zipper for coins behind the bill pocket. The wallet is made out of 75% polyurethane and 25% split leather, and is available in two different colors: brown and black. The wallet is 3.25-inches high, so you should be able to fit your bills and cards in it without any issues. It is also relatively inexpensive, costing under $20 with free shipping.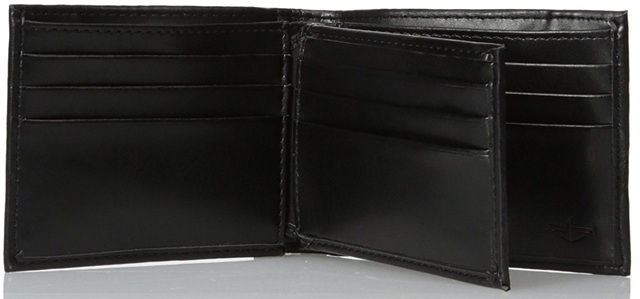 Buy From Amazon: ($19.99)
3. Columbia Men's Trifold Wallet (RFID)
We have discussed a couple of bifold wallets that come with RFID blocking linings, but what if you're looking for a trifold one? This wallet from Columbia may be just what you're looking for in that case, as it comes with a trifold design featuring identity theft-resistant RFID shield and a center ID window. The wallet measures 5.25″ x 1.75″ and, includes six card pockets and one bill pocket. Like the Dockers wallet, this one is also made of 75% polyurethane and 25% split leather, and you get to choose whether to buy it in brown or black.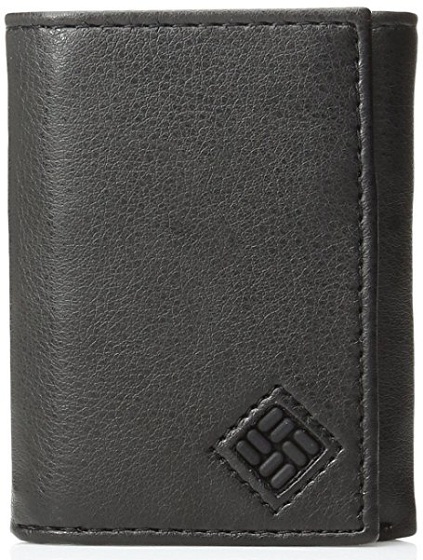 Buy From Amazon: ($19.99)
4. Kenneth Cole REACTION Men's RFID Blocking Nappa Slimfold Wallet
Kenneth Cole is one of the more recognizable brands in the American fashion industry, and the company's 'Reaction' line was introduced in the mid-nineties as a more casual, less expensive component to 'Kenneth Cole New York'. As part of that lineup, the company makes some cool accessories, like wristwatches, belts and wallets, although, RFID blocking wallets are a relatively new addition to the line. This particular RFID blocking wallet is made out of 100% leather and, includes 9 card slots and 3 hidden pockets. There's also 1 clear ID slot and 1 billfold pocket. It also comes with a gift box that can be used as a valet tray.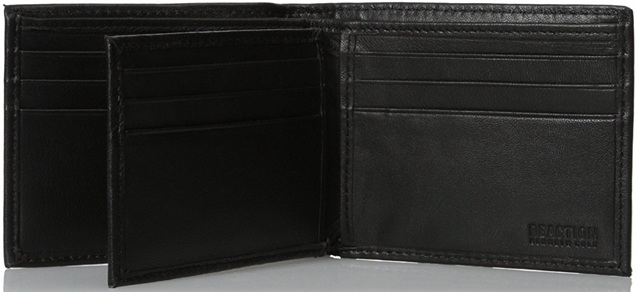 Buy From Amazon: ($18.00)
5. MaxGear RFID Blocking Stainless Steel Card Holder

OK, so we did say we're going to bring you 10 RFID blocking 'wallets' today, but why not mix things up a little by checking out a few high-quality RFID blocking metallic card holders? This particular case from MaxGear has the capacity to hold 6 cards of different proportions, so you can also put your driver's license in it. Built out of stainless steel, the case is sturdy enough to take a bit of abuse, and is small enough to fit in your front pocket or purse. It comes in at least three different colors, so you get to choose from 'Nano Plating Black', 'Fingerprint-Free Silver' and 'Rose Gold'. The best part? It costs just $8.99 with free shipping!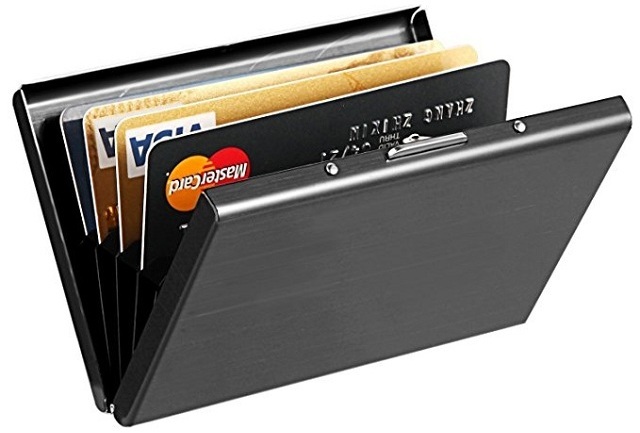 Buy From Amazon: ($8.99)
6. Sharkk RFID Protected Aluminum Wallet with Cash Band
Our next RFID blocking case comes from Sharkk. It not only offers identity theft protection by blocking out radio frequencies, it also comes with a "high-grade waterproof design". The Sharkk case also features an exterior band to hold cash and sports a snap clasp closure to prevent cards from falling out. This case measures 3.02″ x 4.39″ x 0.81″ and can fit up to seven cards at a time. While it is primarily intended for use with cards, it can also fit bills if they are folded two-three times. Overall, it is one of the best RFID blocking solutions at this price-range if you're looking for a hard case that can withstand some degree of abuse.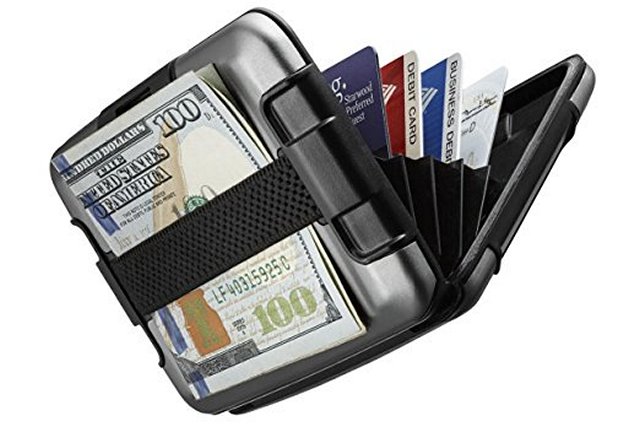 Buy From Amazon: ($16.99)
7. Leopardd RFID Blocking Stainless Steel Card Holder Case
The Leopard RFID Blocking stainless steel case is extremely pocket-friendly in more ways than one. Not only is it tiny, measuring just 3.9″ x 2.8″ x 0.4″ while weighing in at 3.5 ounces, it also comes with an asking price of just $9.99, making it one of the most popular products in the category on Amazon. The case uses high-quality stainless steel which should ensure durability, and has an "easy-click button" for opening and closing latches safely. The case ensures blocking protection from all RFID scanners and readers, keeping you safe from "electronic pickpocketing". The product is offered in two different options: Mirror Finish and Fingerprint-Free Silver.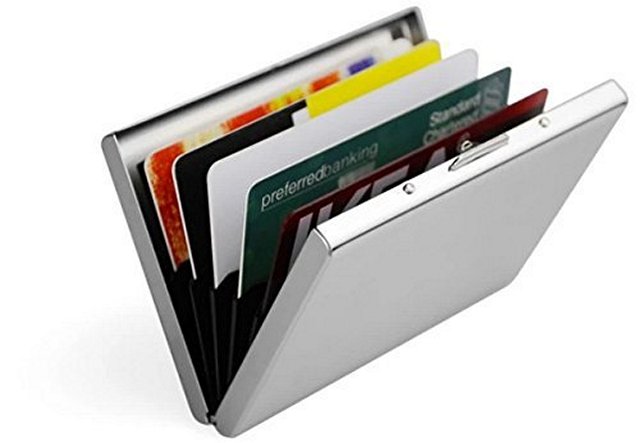 Buy From Amazon: ($9.99)

8. Leopardd RFID Blocking Leather Wallet for Men
Another Leopardd product makes it onto our list, and not without reason. This particular RFID blocking wallet is made out of "Grade Napa genuine leather", and is both durable and classy. It can store your coins, bills, cards, driver's license and photos, thanks to the generous amount of space inside, in spite of its slim form factor. The wallet measures only 8.66″ x 3.55" while weighing in at 4.8 ounces. It has 9 slots overall, including 6 card slots, 1 ID window and 2 extra slots that can be used to hold either cards or cash. It also has a pocket for coins and loose change. Although the price is a bit on the higher side, the wallet apparently has enough happy customers to get a 4.8-star rating from nearly 3,000 reviews on Amazon.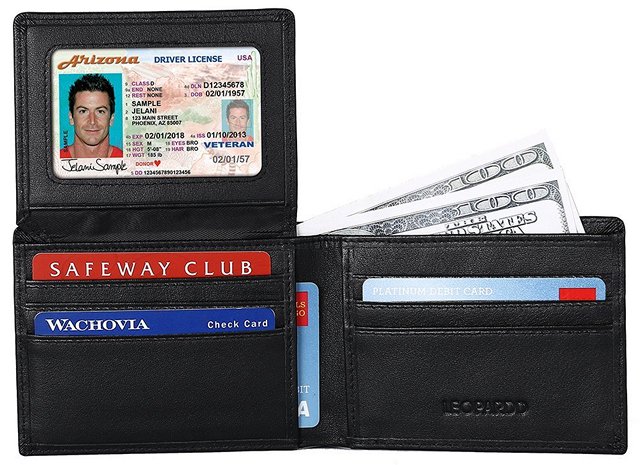 Buy From Amazon: ($35.99)
9.Alpine Swiss RFID Blocking Extra Capacity Trifold Men's Wallet

Available in black and brown, this RFID blocking wallet from Alpine Swiss is made out of genuine leather and comes with built-in RFID protection featuring "military grade shielding technology & proprietary blocking material". According to the manufacturer, the technology is "tested and approved by independent lab tests … for (the) 13.56 MHz Frequency in which credit cards operate". The wallet measures 4-1/8″ x 3-3/8″ x 1″ and comes with 10 card slots, including one that can accommodate large receipts. Additionally, there are 2 ID Windows, a full size billfold and an inside center-flap with added card capacity.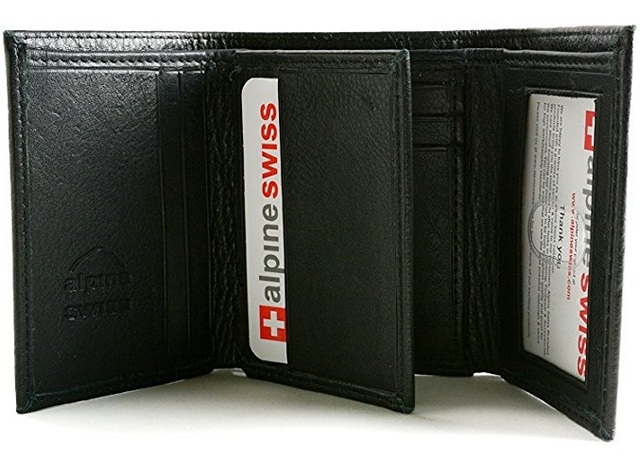 Buy From Amazon: ($19.99)
10. Bricraft Ladies RFID Blocking Trifold Luxury Leather Clutch
So with all the aforementioned products targeted at men for the most part, the ladies must be wondering if we've forgotten about them completely. No we haven't, because this particular trifold clutch is the first of two women's RFID blocking purses we have on our list today. According to Bricraft, the company behind this product, its RFID wallets are "equipped with advanced unique proprietary blocking material which blocks RFID signals and protects valuable private information stored on RFID chips from unauthorized scans". The clutch is made out of genuine soft leather and has an outside zipper pocket (on the back) for change and coins. There's also 1 ID window for photos as well as 12 credit card slots. It also has currency pockets, a checkbook holder and passport slot. The clutch is also offered in an incredible assortment of colors, so you can buy one for each day of the week and then some.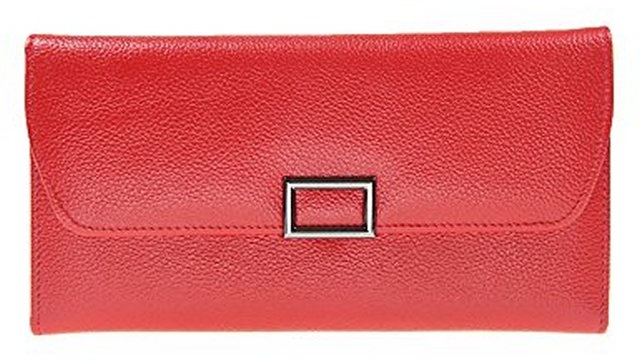 Buy From Amazon: ($25.98)
11. Fossil Emma Smartphone Wallet RFID Phone Wristlet
Fossil makes some incredibly fashionable accessories for both men and women. This particular offering is part of the company's affordable 'Emma' line of affordable bags and purses that are available with or without RFID protection. This 'wristlet' is made out of glazed leather with a special lining to help protect the RFID chips in credit and debit cards from unwarranted scanning. The clutch has a zipper closure and, comes with multiple pockets, including 3 interior slips, 1 interior zip, 1 exterior zip and 3 card slots. It isn't the most spacious clutch you'll ever use, but at 4″ x 6.75″, it shouldn't have any problems holding just about all your stuff for a standard night out. So if you're looking for a fashionable RFID blocking clutch to hold your smartphone, cards and cash, this might just be the one you're looking for, although, at almost 50 bucks, it's priced a bit on the higher side. Fossil specifically says that it is compatible with the iPhone 6 Plus, so it should be able to fit most of the mainstream phablets available in the market today.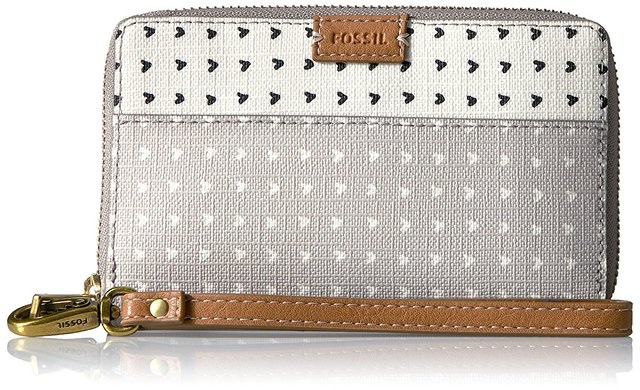 Buy From Amazon: ($48.20)
12. Alpine Rivers
RFID Blocking Sleeves
Buying an entirely new wallet is a great option if you're already looking to get rid of your old one, but what if you have already invested in a brand new high-end wallet or using one that you don't want to do away with because it has a lot of sentimental value? Fret not, because there are inexpensive solutions available in the market that will let you keep your favorite purse or wallet while protecting you from high-tech pickpockets. What you need are RFID blocking 'sleeves' or pouches that you can slip your cards into before putting them in your wallet.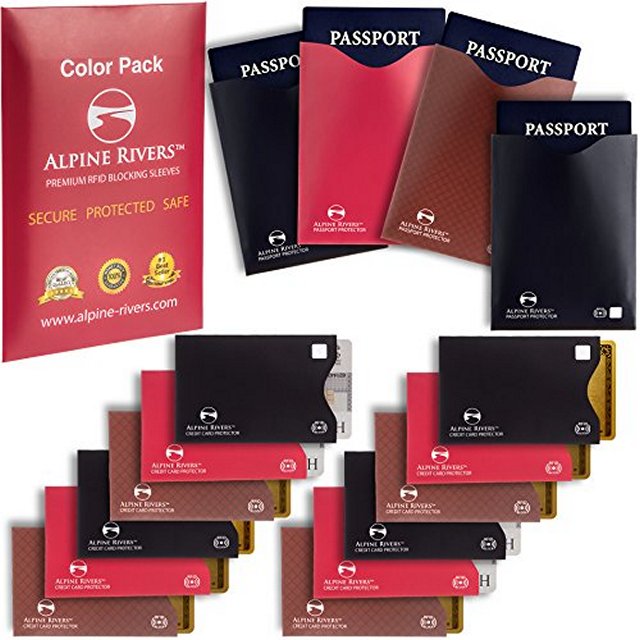 This particular set from Alpine Rivers gets you 12 such sleeves and 3 passport protectors, and is available in two different colors. The sleeves are lined with an electromagnetically opaque shield to block signals from unauthorized scanning devices. The product is also FIPS 201 approved and according to Alpine Rivers, is made from "high grade ultra-lightweight durable material".
Buy From Amazon: ($10.95)
SEE ALSO: 10 Best Cheap Cameras For YouTube Videos You Can Buy
The Best RFID Blocking Wallets You Can Buy
So now that you have a list of some of the best RFID blocking wallets available for purchase, do you think you should invest in one? Or do you already use some sort of protection to stop high-tech criminals from scanning your RFID-embedded credit and debit cards on the sly. Let us know what your thoughts are about RFID blocking and whether we need them at all by leaving your thoughts in the comments section below, because we love hearing from you.
---
Load More