Your little one has just started to take shape within you. And as an expecting parent, you want to make every moment count, keep track of how your baby is going to arrive and more significantly; celebrate every milestone. Along the way, you also wish to get expert advice on how to tackle challenges and the changes that come with being pregnant. But if you aren't sure the tools that can help you do all these things, let me introduce you to the best pregnancy apps for Android and iPhone, which millions of expectant parents are using in 2020.
Best Pregnancy Apps for Android and iPhone in 2020
Before you start exploring the following roundup, jot down the things that you are looking for. I mean prioritize your needs as it will help you discover a better pregnancy app that can fall pretty much in line with your requirements. While some apps are fully customizable, others offer more personalized tips. And then there are the ones that are designed to enlighten you with tons of articles. With that said, let's check out the best pregnancy apps for iOS and Android.
Note: Some of the apps mentioned in this list are region locked. For example, apps like "The Bump" and "Pregnancy+" are only available in certain countries like the US and UK and not in countries like India. So keep that in mind before deciding on your pregnancy tracking app.
1. Ovia Pregnancy Tracker
As an expectant parent, you would like to have "Ovia" for more personalized tracking of your baby's development and feedback. The app comes with an interesting "Womb" feature that offers a vivid illustration of how your baby looks like at different weeks of pregnancy. It offers fully customizable health tracking, ensuring you can get the desired result. And with instant feedback, it plays a vital role in helping you stay healthy.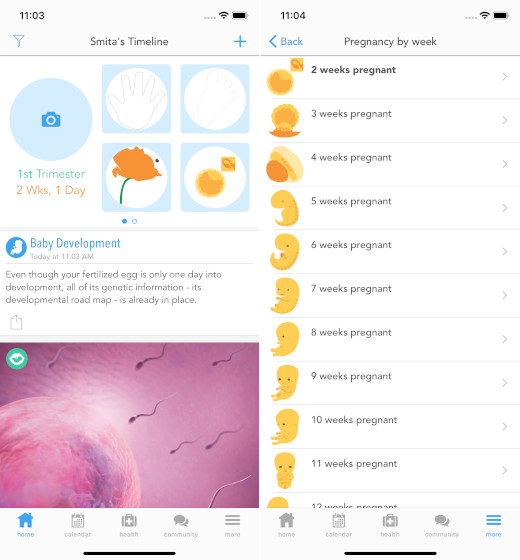 You can view the countdown of your due date and enhance your knowledge with thousands of articles. More significantly, you will also get personalized tips to not only take care of your health but also offer up the best care to your little one.
The weekly reports about the progress of your pregnancy keep you informed about how well you are shaping up and also provide much better insight. This is one of the best if not the best pregnancy apps that you can get in 2020.
Pricing: Free
2. The Bump
"The Bump" is designed to be your all-in-one pregnancy tracking app. With it, you can easily monitor every subtle change both in your body and your baby. The app features an interactive 3D model, allowing you to visualize your little one's progress week-by-week. Thanks to the daily pregnancy and parenting articles, you will get expert tips about several pivotal things like how to manage stress and the ways to stay cheerful during pregnancy.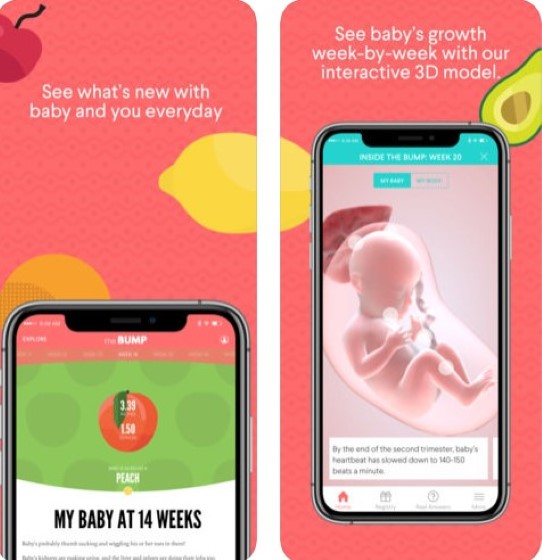 You can take advantage of the well-being tools to discover the secrets of being happy. Another notable feature of this app is that it's ever-ready to answer your questions, which can be extremely helpful in letting you the dos and don'ts. That's not all, The Bump has a huge catalog of baby products from major retailers. With the first-hand reviews available, you will be able to choose better products for your little champ.
Pricing: Free 
3. Flo
"Flo" is much more than just a pregnancy app. You can use this app to keep track of your period, get accurate ovulation predictions, and also monitor your pregnancy. The super handy pregnancy calculator enables you to monitor the due dates with ease. You can view the countdown to the birth of your baby and also monitor the week of pregnancy. With several in-depth articles, you will enlighten your knowledge about baby development and discover ways to deal with challenges.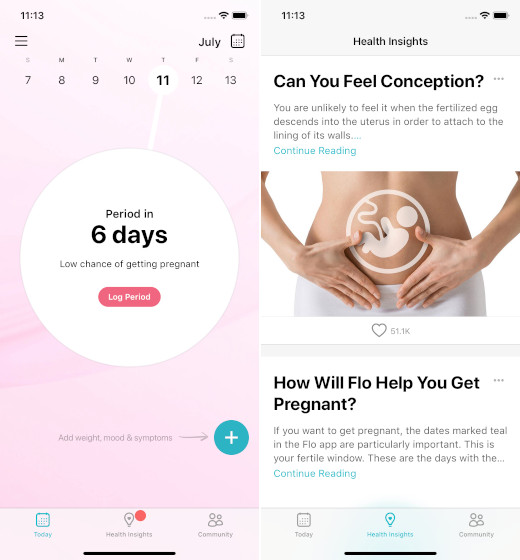 There is also a useful ovulation calendar that can play a vital role in helping you become pregnant. Flo uses machine learning to provide accurate results and the vital tips that can help you remain healthy. With the built-in health tracker, you can find out whether you are following the right path or need to make some must-have improvements to become healthier.
Pricing: Free (in-app purchases available) 
4. Pregnancy +
When it comes to pregnancy tracking, what matters most is a realistic visualization of the baby's development. With Pregnancy +, you will enjoy tracking the progress of your baby, thanks to the realistic looking images. Based on what you are looking for, the app provides more personalized content. The week-by-week report along with daily pregnancy info allows you to monitor progress comfortably.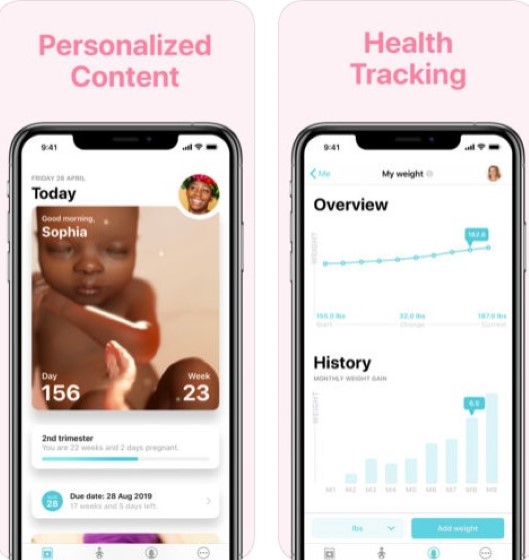 The health tracking functionality enables you to monitor every important aspect, making sure you are able to keep a close eye on the progress and discover the problems that seem to be hurting you. There is a contraction timer to let you view the contraction pattern conveniently. What's more, you can also create a baby shopping list and explore thousands of names to get a nice name for your little one.
Pricing: Free (in-app purchases available) 
5. Glow Nurture
There are very few pregnancy apps that are as intuitive as "Nurture". To me, the best part about this pregnancy app is the full-on customization that allows you to fine-tune each pivotal aspect based on your needs. Besides, the app also gets smarter with time and offers more personalized recommendations. Notably, Nurture features tons of pregnancy articles which you can read to find out the challenges that you can expect from maternity and how to handle them with maturity.
Using several neatly designed charts and symptoms trackers, you can scan through all the pivotal aspects. Furthermore, it also sends real-time reminders about appointments and medication, which will keep you on track. If you like sharing your thoughts with like-minded folks, you will appreciate the huge community of over 10 million people. Overall, Nurture is a great pregnancy app for expectant mothers.
Pricing: Free (in-app purchases available) 
Availability:  iOS
6. BabyCenter
With BabyCenter, you will be able to not only track the development of your baby but also celebrate every milestone. The app comes with a baby development calendar to guide you through the entire process. Plus, the integrated countdown helps you prepare for the due date in a better way.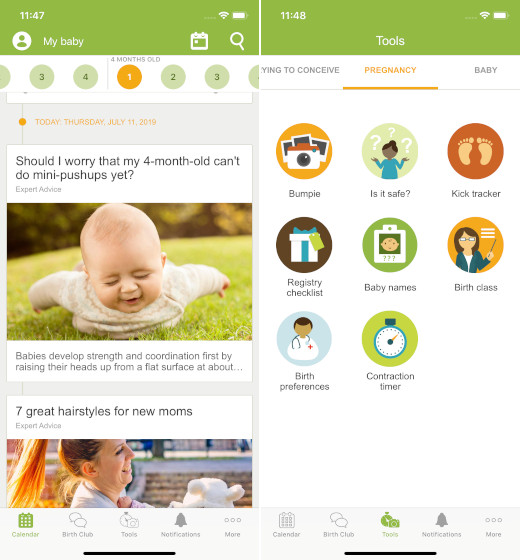 You can watch the fetal development videos to learn about each stage of pregnancy. You can also explore the ever-updating pregnancy news feed and gather helpful tips. It offers health and pregnancy exercise advice as well to help you remain at the top of your fitness.
Beyond pregnancy tracking, BabyCenter also offers accurate information about ovulation, fertility, and prenatal. So, it doesn't matter whether you are expecting baby or willing to get pregnant, this app can turn out to be your handy personal guide.
Pricing: Free 
7. Sprout Pregnancy
Sprout Pregnancy is a highly acclaimed pregnancy app and a must-have for the expectant parents who want to have a fully-featured app. The best way to enjoy pregnancy is to stay informed about all the changes that take place in your body and your baby during this period.
And with this app, you will have quick access to such information. As a result, you can ideally pace yourself to encounter the hurdles and also provide the much-needed care to your baby.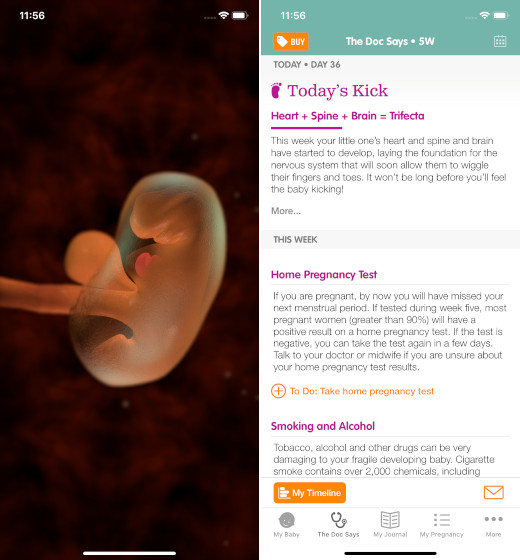 With the 3D interaction, you will experience the real world of your infant. For instance, you will view the interactive movements, heartbeat, and even kicks. There is a personalized timeline to let you access all the information in a glance.
Besides, it also offers handy tools like contraction timer, kick counter, weight tracker and checklist to simplify pregnancy tracking. Do note that the free version of Sprout Pregnancy is limited and you will have to go for the premium version after a two-week trial to continue to use all the features.
Pricing: Free, in-app purchases
8. Pregnancy Week By Week
Simply put, "Pregnancy Week By Week" is one of the best pregnancy apps for Android (not available for iOS). The app has a minimalist appearance and makes it pretty easy to get all the important about how your baby is developing. You can track your baby's kicks to figure out how well he/she is living in its wonderful world.
To ward off illness, you can also track your health and follow a healthy diet to remain fit. Often forget to stay in sync with the important aspects? No problem, the app lets you make notes with crucial symptoms and also provides a detailed report weekly. So, there is very little chance of slip-ups. Moreover, it has a useful calculator to help you instantly calculate the due dates.
Pricing: Free (in-app purchases available)
Availability: Android 
9. Hello Belly
If you find the traditional way of tracking pregnancy a bit boring, give a try to Hello Belly. The app is more focused on offering simple and more practical tips which you can quickly understand and also be able to bring into effect. By reading those expert tips, you will learn several things like what to do before and after the birth of the baby as well as how to provide the needed care to the infant.
You can use the checklists to jot down all the essential things that need to be done and complete them in time. Considering exercise is extremely important for a pregnant woman, the app offers videos about meditation and exercise. You will watch those handy tips and follow them strictly to relish the real joy of motherhood.
Pricing: 3-days free trial, $4.99/month 
10. Full Term – Contraction Timer
Should you want to have an efficient app to keep track of your labor contractions, I would suggest you give a chance to "Full Term". The app features a simple button to let you monitor the start and end of every contraction. You can specify the intensity of each period and also make a note about the same.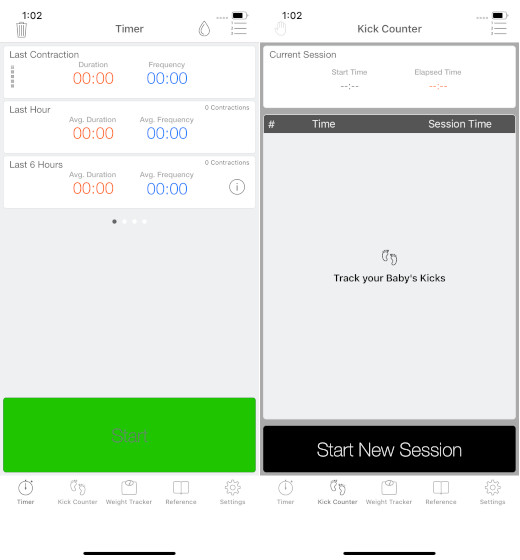 It lets you track the duration, time, and frequency of each labor period. You can view the entire history both in chronological and reverse chronological order. Better still, Full Term also offers built-in graphs so that you can see a more realistic labor progression. With the kick counter, you will be able to keep a close watch on the number of kicks your baby has thrown. Not to mention, it also features a weight tracker so that you can monitor whether you are spot on or still need to gain some pounds.
Pricing: Free (in-app purchases available)
11. Baby Tracker
So much about pregnancy tracking? It's time to look a step further and welcome your baby with all the love and also capture each moment for a keepsake. "Baby Tracker" has got everything you need to make every memory of your little one special.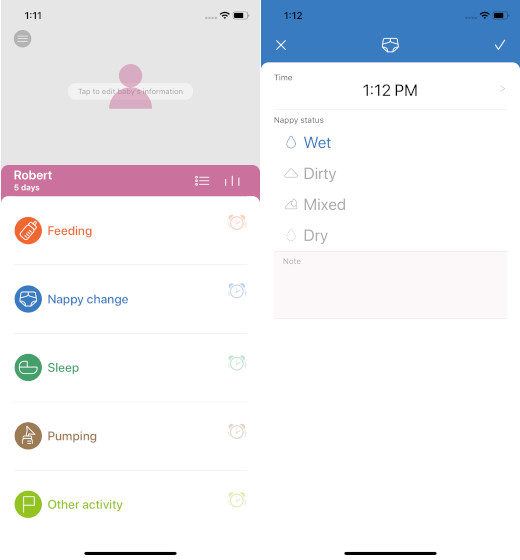 First and foremost, it comes with a built-in album to let you snap each moment and create a fascinating collection of sweet images. It has a feedings tracker to let you keep a close watch on feeding. You can track diaper changes and also see the growth records. To help you comfortably use the app at night, it comes with a useful night mode as well.
Pricing: Free (in-app purchases available)
12. HiMommy
Most expectant mothers are very curious to know how their baby is developing each day. If you are one of them who want to keep a tab on the development of the baby in a fun way, HiMommy could be a fantastic choice. On the surface, the app seems pretty lightweight but it's got enough goodies to make a fine statement. For starters, you will get daily messages with nice-graphics informing you about the development of your baby.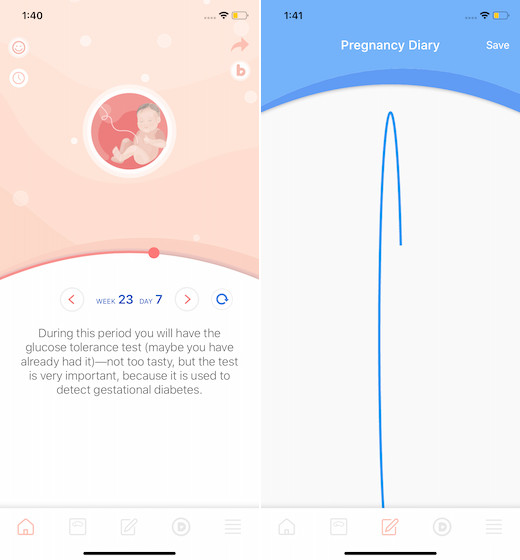 As the messages are different for each week, you will get the fair idea about the progress of your baby and the amazing changes that may be taking place in your body every day. Besides, you will also get to know the speed at which your little one may be growing and how big it will become in a given week.
Messages aside, the app will guide you about what to avoid during pregnancy and how you can stay happy. What's more, HiMommy also lets you know the important things you will need at the hospital so that you will be fully prepared. All things considered, HiMommy is one of the finest pregnancy apps out there.
Pricing: Free 
Bonus: My Pregnancy
If all you need is a simple yet quite effective pregnancy tracker, this app can be of great help. With the week-by-week advice, the app keeps you updated about the changes happening inside your body. Besides, it also provides the week-by-week fetal measurements and imaging so that you can keep a track of the development of your baby. More importantly, the app also features a complete to-do list for each trimester to keep you guided.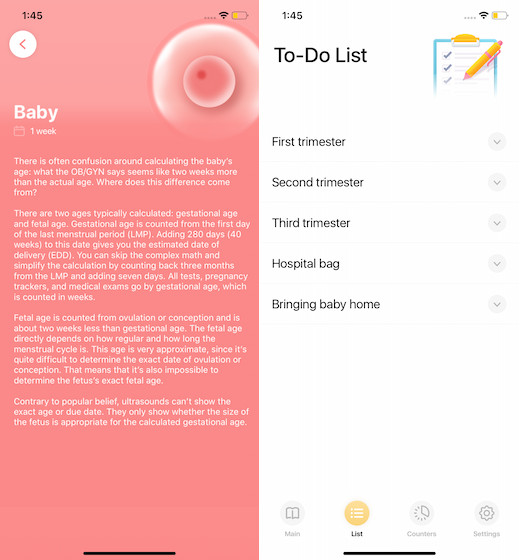 Another feature that makes My Pregnancy very helpful for expectant mothers is a built-in weight tracker. Thus, you can monitor weight gain with ease. Not to mention, there is also a kick counter that enables you to keep a close eye on the number of times your baby kicks. On top of all, the app also offers a list of things you will need for hospital check-in, check out as well as post-natal care so that you won't have to run for the essential things at the last moment.
Pricing: Free 
Availability: iOS 
Track Your Pregnancy Using These Best Pregnancy Apps
Hopefully, your pregnancy tracking will now become a more convenient and joyful experience. Make the most of the hands-on tips and helpful guides to track the development of your baby and also stay healthy. Remember, the more relaxed and cheerful you are, the better it is for your little wonder. By the way, which is your all-time favorite pregnancy app and what are the things that make it different from the rest. Toss up your feedback in the comments section below.