What started out with a massive number of notch copycats, has now flourished the era of almost bezel-less smartphones, now available even in the sub-Rs 10,000 price bracket in India. However, phone makers still aren't satisfied and the aim of trimming bezels has led to newer implementations like the hole-punch or pop-up cameras.
We've seen a couple of smartphones, including the Galaxy S10 lineup and Honor View 20 adopt the hole-punch, but the pop-up camera trend seems to be catching more heat and we're going to see an onslaught of devices with the pop-up camera in the coming weeks. Vivo and Oppo, the pioneers of the pop-up trend, are leading the pack right now with the Korean giant Samsung dipping its toes into the market with its own innovative take.
So, if you're not the biggest fan of the notch, not even the waterdrop notch, and can live with mechanical moving parts on your smartphone, then you're in the right place. We've compiled a list of the best pop-up camera smartphones for you right here:
List of Best Pop-up Camera Smartphones
1. Vivo V15 Pro
Vivo is known to have kicked off the motorized pop-up selfie camera trend the previous year with the Vivo NEX (also ranks in the list but down below) but is now subsidizing its innovation by making it accessible to the masses with Vivo V15 Pro. The phone maker is confident in its pop-up mechanism and has gone all out with the inclusion of a 32MP (f/2.0) sensor that opens up in just under 0.50 seconds.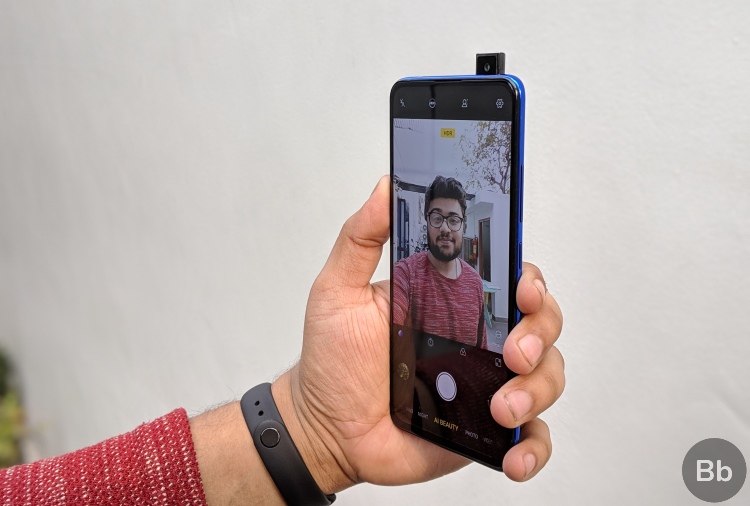 The pop-up selfie camera also brings in tow Face Unlock, rising rapidly and taking you to the homescreen under a second. Apart from this, you'll get a 48MP+8MP+5MP triple-lens setup on the rear to click some awesome shots. The smartphone has a bezel-less display, has been powered by the Snapdragon 675 SoC, and brings all other features you expect from a modern device – except for a USB Type-C port.
Buy Vivo V15 Pro from Amazon (Rs 28,990)
2. Samsung Galaxy A80
Well, it might come as a surprise but Samsung has also stepped up its innovative efforts with the launch of the Galaxy A80. It's the first smartphone to come with a rotating camera in a sliding module. The idea is similar to what we've seen on the Oppo N3 in the past, making it possible to use the 48MP+8MP ultra-wide+TOF depth camera as the front camera.
Apart from the rotating triple-camera setup, the Galaxy A80 sports a bezel-less 6.7-inch display and is powered by the Snapdragon 730 chipset. There's an in-display fingerprint sensor, 25W fast-charging and more on board, however, the speed and mechanics of the rotating camera module has everyone wary. We will need to go hands-on with this device before passing judgment.
Expected to Launch in India Soon
3. Vivo V15
If all you really want it to flaunt a smartphone with a pop-up selfie camera, just for the heck of it, and don't really want to splurge a lot, then the Vivo V15 would be your best pick. It offers the same 32MP motorized pop-up camera we've seen on its elder sibling – the Vivo V15 Pro. This pop-up module is also pretty snappy and sturdy, opens in under 0.50 seconds but with no Face Unlock in tow.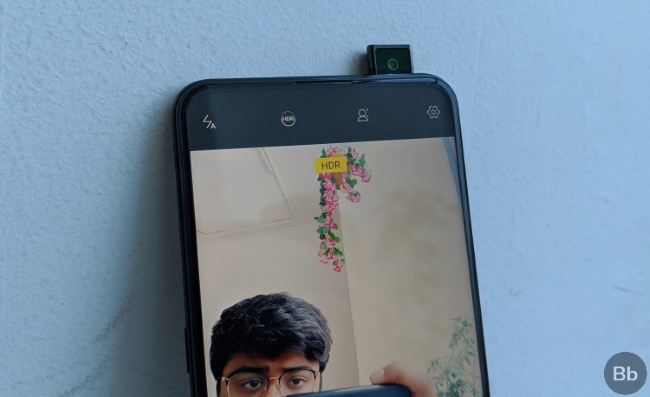 The highlight of this smartphone may be a pop-up selfie camera, but the hardware that goes along with it isn't sub-par as well. You get a massive 6.5-inch Full-HD+ bezel-less display with no notch-related intrusions. The Vivo V15 is powered by the MediaTek Helio P70 chipset, coupled with up to 6GB of RAM and 128GB of storage. There's a triple-lens setup on the rear, featuring a 24MP primary sensor, 8MP ultra wide-angle lens, and 5MP depth sensor.
Buy Vivo V15 from Amazon (Rs 21,990)
4. Oppo F11 Pro
If you're still looking for an affordable smartphone with a pop-up camera, then the Oppo F11 Pro is also a pretty worthy contender – sitting right next to Vivo V15. The Oppo F11 Pro's selfie camera is a 16MP (f/2.0) shooter that would help you click some pretty awesome photos. Unlike Vivo, Oppo has centered the pop-up camera, aligning it with the rear cameras, to bring symmetry to the overall design.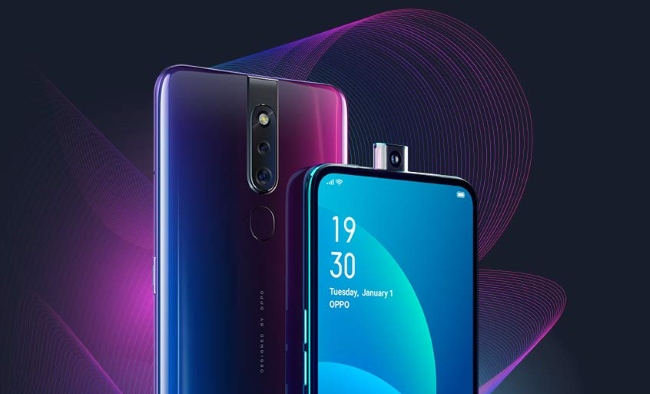 Apart from this, Oppo F11 Pro features a tall 6.53-inch bezel-less screen, is powered by MediaTek's Helio P70 chipset, sports a 48MP primary rear camera, a physical fingerprint sensor (though I would've loved an in-display one), and a massive 4,000mAh battery. It hosts a microUSB port, with 20W VOOC charging support though.
If you're a Marvel Avengers fan and are ready to splurge a little extra, then the Oppo F11 Pro Avengers Edition could further pique your interest in this smartphone.
Buy Oppo F11 Pro from Amazon (Rs 24,990)
5. Oppo Reno
Just when we thought notches or pop-up cameras couldn't get weird, Oppo has launched its newest lineup – Oppo Reno and it carries a wedge-shaped, shark fin-like pop-up camera. The company has baked into the motorized pop-up a 16MP (f/2.0) sensor, which takes a second at least to open from one edge, and houses the rear soft flashlight as well. There isn't much delay in the pop-up process and it's pretty decent.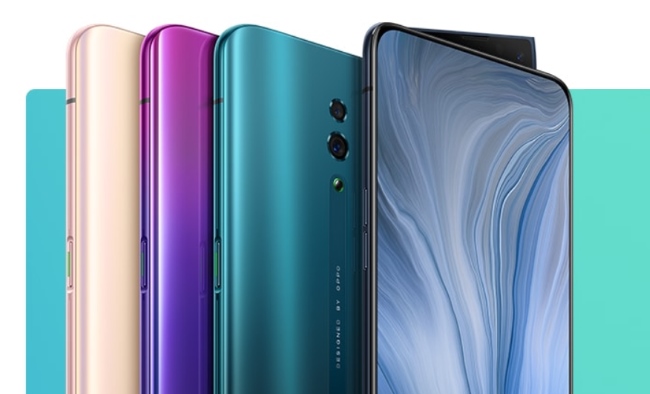 As for other hardware specs, the Oppo Reno is powered by the Snapdragon 710 chipset, coupled with up to 8GB LPDDR4x RAM and 256GB UFS 2.1 storage. There's Android Pie-based ColorOS 6.0 and a minimum of 3,765mAh Li-ion battery on board.
While the standard Oppo Reno hosts a dual rear-camera setup with a 48MP(f/1.7) Sony IMX586 sensor and 5MP (f/2.4) depth sensor, there's also a 10x Zoom variant launched with a third 13MP (f/3.0) telephoto/periscope camera system onboard.
Expected to Launch in India Soon
6. Vivo NEX
Well, Vivo NEX is the smartphone that started it all. It kicked off the pop-up camera trend to make it possible for users to enjoy a bezel-less experience while still being able to click selfies. Though a first-generation smartphone, the NEX is still a great option for users who are looking to buy a powerful device with a pop-up camera, which is an 8MP(f/2.0) sensor.
The Vivo NEX is a flagship smartphone with a tall 6.6-inch Full-HD+ bezel-less AMOLED screen. It is powered by the Snapdragon 845 chipset, coupled with up to 8GB RAM and 256GB internal storage. There's a dual-camera module on the rear, with a 12MP (f/1.8) primary sensor and 5MP (f/2.4) sensor, and you can read our in-depth review right here.
Buy Vivo NEX from Amazon (Rs 39,990)
7. Oppo Find X
And finally, we have Oppo's ambitious effort at creating a fluid and flawless smartphone with no visible camera – either on the front or the rear. We went hands-on with the Oppo Find X earlier last year and the motorized module which raised the upper half of the body was pretty innovative and impressive. Oppo baked a primary 16-megapixel f/2.0 sensor, and a 20-megapixel f/2.2 secondary sensor on the rear, along with a 25MP selfie camera.
Moving on from the pop-up cameras, the Oppo Find X is yet another flagship smartphone with a curved bezel-less display and Snapdragon 845 chipset in tow. You get fast-charging and all the modern features you expect to see in a smartphone here.
Buy Oppo Find X from Flipkart (Rs 58,990)
Upcoming Pop-up Camera Phones
The race to further diminish the bezels is still on and more phone makers are looking to board the hype train in the coming month.
1. OnePlus 7 Pro
Well, if you haven't been living under a rock for weeks, you would've heard that OnePlus has decided to expand its lineup with the OnePlus 7 and we cannot be more excited. The Chinese giant will be launching two smartphones next month, one a flagship killer which will be a minor upgrade over the OnePlus 6T and another a true flagship to rival likes of iPhone XR and Galaxy S10e.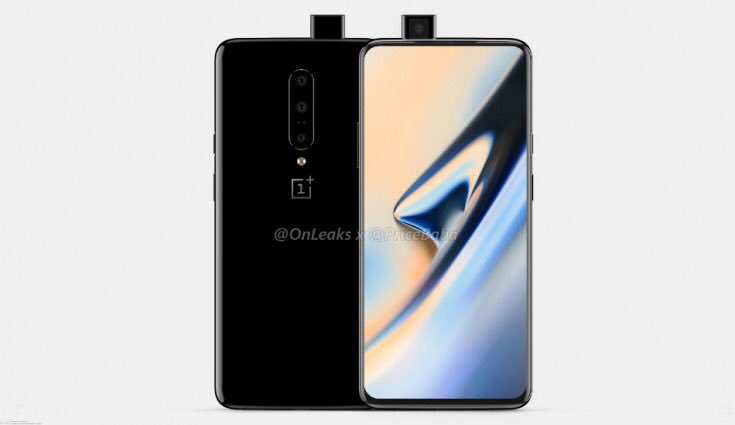 Called the OnePlus 7 Pro, this flagship smartphone will feature a pop-up selfie camera & triple cameras with a 48MP primary lens on the rear. It's also bringing in tow an updated Quad-HD+ AMOLED display with 90Hz refresh rate, as per the rumor mill. Plus, you'll get Snapdragon 855 and 30W Warp Charging as well.
2. Redmi Flagship
Ever since Redmi spun out from being a lineup to a sub-brand of Xiaomi, the chatter for Redmi's flagship being in the works caught heat. Well, it seems the rumors were true as Redmi recently teased on Weibo that it will launch a new smartphone with a pop-up selfie camera. There's no official word on the hardware specs yet but we expect it to be Redmi's first flagship smartphone and it should be coming in May itself.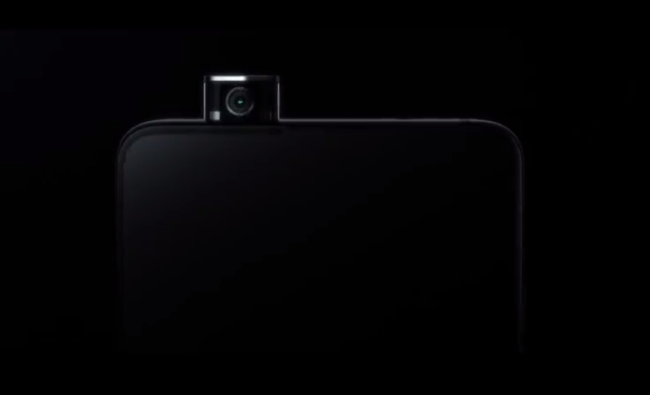 3. Realme Flagship
Finally, the Chinese brand giving Xiaomi a run for its money in the budget segment now also seems to be gearing up to take on its budget flagship – the Poco F1 or its successor with the launch of a Snapdragon 855-powered smartphone and a pop-up selfie camera.
As per the TENNA listing and rumor mill, Realme is soon launching a flagship and it will possibly sport a 6.5-inch display with no notch or hole-punch. I expect Realme to include a 32MP pop-up selfie camera and 48MP SonyIMX586 primary sensor on the rear. The screenshot captured from a teaser video shows a module similar to that of the Oppo F11 Pro.
Apart from this, the TENNA listing revealed the dimensions and the battery size (3,680 mAh) of the Realme flagship. There's still doubt about whether it will be powered by the Snapdragon 855 or not, but if that's the case then Poco needs to worry about its newly-established market share.
SEE ALSO – Vivo V15 Pro First Impressions: High-End Innovation for the Masses
7 Best Pop-up Camera Smartphones in 2019
While we expected phone makers to carry forward the hole-punch trend to further trim bezels in 2019, it appears like the pop-up camera is gaining more traction and attention from them. Vivo and Oppo have both readily accepted the trend with open arms, but its fiercest competitors including Redmi and Realme are also ready to offer users the same technology – possibly at an even affordable price.
So, which of the aforementioned pop-up camera smartphones catches your fancy? Leave your thoughts and picks in the comments below.