The year 2022 was fantastic for football enthusiasts. While everyone was glued to their screen waiting to see who would lift the World Cup, anime fans like me were seeing 300 Japanese youngsters fight to become the best striker. Yeah, I'm talking about the Blue Lock anime that has attracted millions of people, both casual anime viewers and football fanatics, with its unique take on football. It is praised by everyone for its captivating plot, top-tier animation, fascinating characters, and, of course, entertaining football plays. But who is the strongest Blue Lock player? If you are a fan of the anime, let's take a look at the best players in the Blue Lock anime so far.
Spoiler Warning: This guide contains spoilers about the story and characters of Blue Lock. We suggest you watch the anime or read the manga to avoid ruining the experience.
We have compiled this list to include the characters we've seen play at least a single match in the Blue Lock anime. So, the new characters shown in the Season 1 finale are not ranked just yet. We will update this list once these characters appear in Blue Lock Season 2 and play against each other. For now, here is how the players in Blue Lock stack up against each other:
15. Junichi Wanima
The Wanima brothers sure troubled Isagi and co during the first half of the anime. Elder brother Junichi Wanima and younger brother Keisuke Wanima teamed up to wreak havoc in the First Selection arc. These brothers are unstoppable when they are together. But only Junichi remains in Blue Lock after his younger brother failed to qualify for the second selection.
Junichi is a bizarre character and is seen to express his emotions only through facial expressions. The link-up between the brothers was great, but Junichi was always one step ahead of his younger brother. While both the brothers couldn't stay as the best players in the Blue Lock project, at least the elder brother managed to carve a spot for himself. He was a good forward and was able to tackle very well in his defensive duties. We haven't seen him in a long time, but he aims to become a great striker and make up for the loss his brother suffered here.
14. Jingo Raichi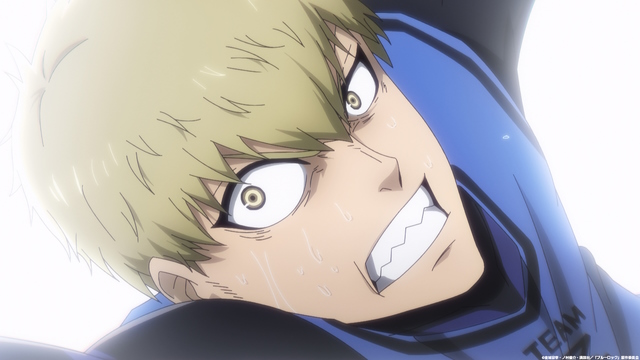 Jingo Raichi is the Bakugo (from My Hero Academia) of the Blue Lock universe. He is a hot-headed guy who wants to become the best forward in the world, but in his own way. He was a part of Team Z at first, we don't know who he has teamed up with currently. Based on what we have seen so far, Raichi has a tank of stamina levels and his man-marking skills are amazing.
His great stamina levels automatically push his man-marking to the next level. He can be a constant nuisance to his opponents equipped with his sturdy physique, as seen in his encounters with Reo. We hope to see more of Raichi in the upcoming season as he grow up to be one of the best players in Blue Lock.
13. Gin Gagamaru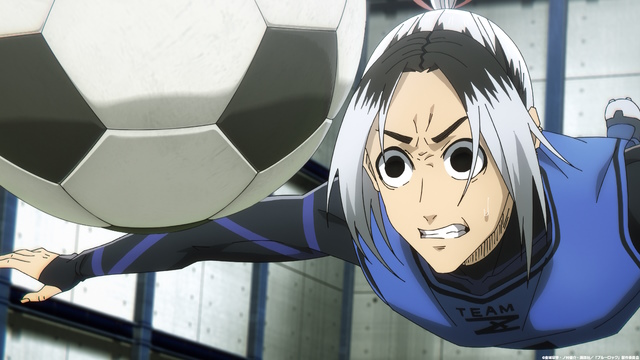 Gin Gagamaru is an unforgettable character in the show. His strange voice and unique personality get stuck in your mind. But more than all of that, Gagamaru has been one of the best players inside Blue Lock. He has a stretchy and springy body, which enables him to perform unreal moves as a goal poacher.
Even when the pass is a little bit off, Gagamaru can readjust himself to that position, thanks to his elastic physique. He has great control of his body, which helps him greatly in pulling off acrobatic moves. He was able to hit diving headers, defend a goal with his long legs, etc. To sum it up, Gagamaru is a guy with super reflexes and goal-scoring ability in Blue Lock right now.
12. Ikki Niko
Ikki Niko shares the same brain as Isagi Yoichi, and like him, he was the main engine of Team Y. Niko has to be the most underrated player we have seen in the Blue Lock anime. Ikki said, "You and I have the very same eyes, you can not win against me" to Isagi which stayed true until the end.
Ikki Niko's spatial awareness was on par with Isagi's at that time when they played against each other. As a result, Ikki was orchestrating both the offensive and defensive plays of his team. He can read the movements of his own players and the opponents to adjust his position and make use of everyone around him. Without a doubt, Ikki is one of the best players we have seen in Blue Lock, and I hope more people can recognize his tactical genius.
11. Zantetsu Tsurugi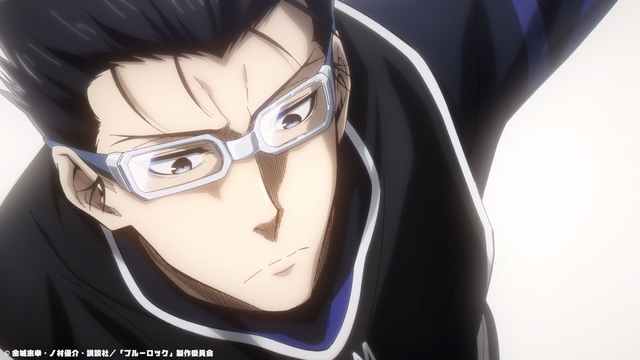 Zantetsu Tsurugi is a pacy winger who can make his way past a defender and cut inside to score a goal. He is more similar to Chigiri, but his acceleration is on another level. Even Chigiri acknowledged that Zantetsu is the king of acceleration within a shorter distance. Since his explosive acceleration is his main skill, he can use it wisely in to go past a defender while attacking and to intercept players in a defense position.
Additionally, Zantetsu has a thundering left foot which he can incorporate with his acceleration to score wonderful goals. Not only he can score accurate goals with that foot, but he can also send amazing crosses to his fellow players. The fact that we haven't seen him for a long time doesn't change the fact he is one of the best players in Blue Lock.
10. Reo Mikage
Reo Mikage could have easily gone to become an elite businessman life like his father wanted him to. But Reo was yearning to go further in the world of football. He joined hands with his school friend Nagi and the chemistry between them was amazing, as seen in the Team Z vs V match in the anime. Reo was an outstanding all-rounder who beautifully set up his team's plays and was considered the anchor of his team. He can dribble, pass, shoot, control the ball, etc. in a neat and subtle way.
His all-rounder abilities greatly helped him move to the Third selection stage, as seen in the finale. Thus, Reo is yet another underrated player whom we shouldn't miss out on the current roster of best players in Blue Lock. You will only see him grow and become like Kakashi in the manga chapters that follow.
9. Rensuke Kunigami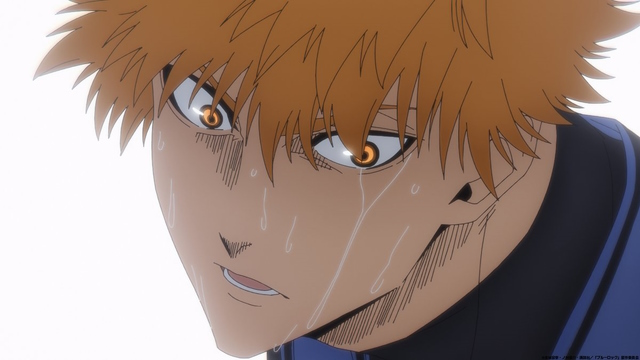 Kunigami is a passionate guy who strives to become the best striker with his excellent finesse shots and other moves. When he was in Team Z, we could see thunderous power shots like Knuckle Shots and Mid-Range Power Shots.
Furthermore, Kunigami is another Blue Lock player with an insane muscular physique that greatly helps him in the game. Kunigami was a classy clinical finisher, but sadly, he was eliminated in the final games of the second selection. Will we get to see him again? Only time can give us the answer to that question.
8. Hyouma Chigiri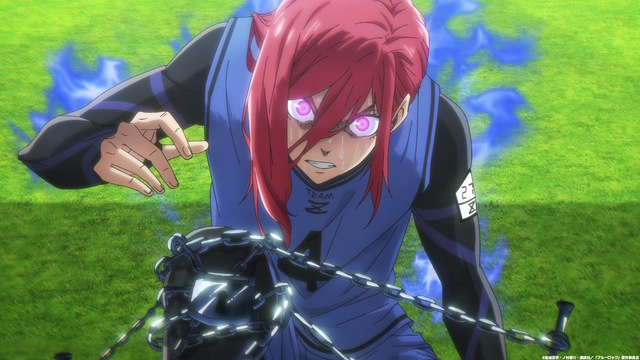 Chigiri is the fastest youngster in the Blue Lock anime, which already puts him on the list of best players. He used to be a child prodigy, but he was pulled back into a fearful life due to an unfortunate leg injury. But thanks to Isagi, Chigiri was able to overcome his fears and bounce back to continue his journey of becoming the best striker in the world.
Chigiri's top-notch speed enables him to pull off long-distance sprinting smoothly, and he can dribble without a break too. Currently, no one can match Chigiri's top-speed, and he can use this skill to put tons of pressure on his opponents during his defensive duties. But with a great power like this, there is a small price he needs to pay, i.e. his stamina. The more he sprints the faster his stamina depletes and leaves him in a weakened state. Chigiri has to upskill and minimize his weakness in order to maintain being the fastest player on the pitch.
7. Aoshi Tokimitsu
Tokimitsu is the "literally me" character for all the introverts with social anxiety out there. His characterization is one of the best we've ever seen, making him a standout character. The fear of losing always pushes one ahead but in this special case, it was shown in a different way. His powers kick in when his anxiety starts to get a better hold of him. Tokimitsu is also a huge football nerd and knows about everything in football.
So what's the special ability of a guy with low-confidence? It is none other than his insane sturdy physique. His immovable physique can hold off anyone and won't budge against even bigger players like Barou (more on him below). This physique when coupled with his never-ending stamina keeps his muscular body charged throughout the game time. He is also quick enough to turn and control the ball at his feet when he is pressured by his opponents. Tokimitsu's shielding-the-ball ability is amazing and is one of the best qualities for a striker. When Tokimitsu learns to get over his anxiety, maybe it's going to be game over for everyone else.
6. Aryu Jyubei
Aryu Jyubei, the glamorous guy who looks for glam in everything, does has his own playstyle. He is one of the tallest players we have seen in the show and has long limbs. Aryu has quite a handful of special techniques, and that's what makes him one of the best players in Blue Lock. His main weapons are exceptional long reach and insane jumping power.
His lengthy legs can be used to receive any pass before his opponents can even reach them. When Aryu leaps up in the air, nobody has the reach to score headers; he can also steal the ball mid-air with his chest trap. During the defense, his jumps can easily intercept the long balls during counter-attacking. Aryu's physicality is the key to his strength, and he is one of the best players in Blue Lock.
5. Shouei Barou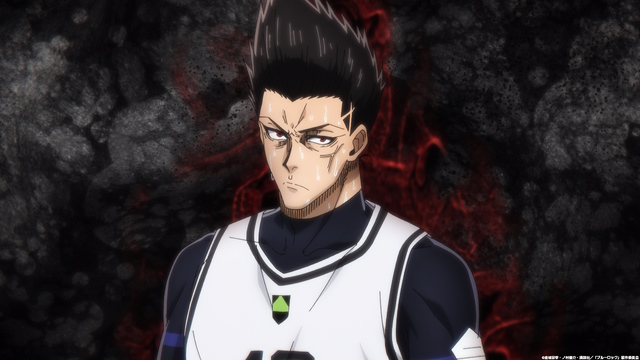 Shouei Barou, who is popularly known as the "King Barou," is another special player we have on our list of best players in Blue Lock. He is often seen as a hot-headed, arrogant, and most importantly selfish player, and he really is most of the time. He was introduced as more of an antagonist and managed to steal the hearts of fans in the end. Barou's aggressive playstyle is totally different from all the other players we have seen in the anime.
Barou has a plethora of skills that make him a complete forward inside the Blue Lock. His unstoppable Middle Shot is his biggest weapon. Apart from that, he can charge ahead by employing heel flicks, chop feints, nutmegs, etc., and dribble past his opponents easily. He has a great and sturdy physique (similar to Tokimitsu), which greatly enhances his shot power. Barou is so unpredictable, such that even a genius like Rin can't even predict any of his moves. Barou is a self-built monster who will devour anyone in his way in order to become the greatest striker.
4. Seishirou Nagi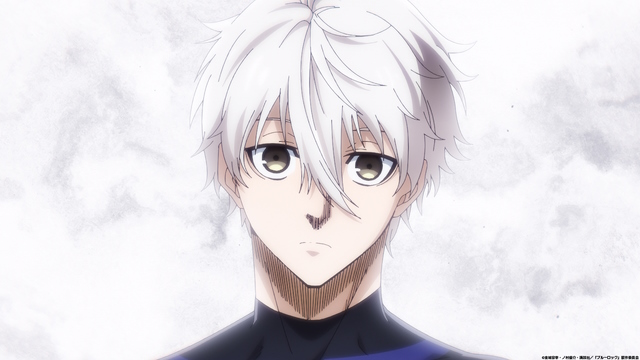 Seishirou Nagi is the best player in Blue Lock with absolute ball control and first touch than any other player in Blue Lock. His god-level ball control lets him do impossible feats which are seen as a miracle in the eyes of others. While he is lazy most of the time, but when playing football is where he feels really alive. He is in his best version while playing and gets excited to improve his overall game.
Reo recognized Nagi's talents and made him join this beautiful sport. So, if not for Reo, we wouldn't have Nagi in the world of football in Japan. Nagi's mid-air trapping skills, his incredible first-touch passes, & exhilarating shooting make him one of the best creative players in Blue Lock right now. He can shoot from a difficult angle, has excellent fake volley shots, and more. We cannot wait to see Nagi's past in his upcoming dedicated movie, as well as what the future holds for him.
3. Meguru Bachira
Meguru Bachira is the most popular character from the Blue Lock anime (at least, according to My Anime List). I mean, it's no wonder that an elite dribbler like Bachira stole the hearts of fans with his skills and fun personality. The concept of a monster inside him, which further pushes him to become the best in the world, was intriguing to watch. At first, Bachira needed someone to tag along to play with, but now he has grown to understand that only he alone can reach the destined goals without needing anyone else.
Bachira's dribbling is on another level. Whenever he starts to dribble, he can outsmart anyone on the field with his incredible skills with ease. He can break through any kind of defense not only with his dribbling but also with his passing skills. Yes! Bachira's passing skills are often overlooked by fans. He can create a variety of passes from anywhere in the field and can assist other players. Bachira's growth was insane on the last match and we are excited to see the final and complete version of Bachira soon.
2. Isagi Yoichi
Out of all the other powerful characters, Isagi Yoichi is the primary protagonist of the Blue Lock anime. Isagi started out as a regular character who was struggling to find his unique weapon. But oh boy! the character development Isagi had throughout the first season was nothing short of amazing. He climbed all the way up to become the second-best player in the Blue Lock anime. Now, Isagi even rivals Rin with his superior footballing skills.
Isagi's main weapons are his spatial awareness and meta-vision. He can scan the entire field to analyze each and every aspect of his team and his opponents to stay one step ahead of his opponents. Isagi was the main anchor of Team Z and is one of the vital players of the team who carried the team. Over time, Isagi also improved his shooting abilities and off-the-ball movements by learning from each of his opponents. Isagi was one inch away from winning against Rin's team, which speaks a lot about the footballing prowess he possesses. Let's see how far our beloved protagonist can go through to become the best striker in the world.
1. Rin Itoshi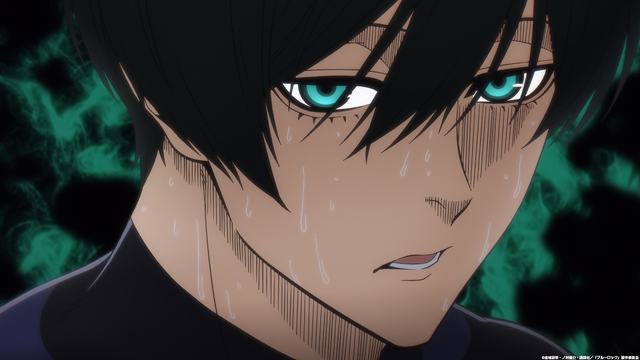 Based on the plays we have seen so far, we have to admit that Rin Itoshi is the greatest player in Blue Lock right now. Even at the beginning of his career, he possesses god-like footballing abilities and they'll only grow more from this point. Rin has all the things checked to become one of the greatest players of this beautiful game. Ever since he was introduced, we absolutely knew is going to be a certified baller.
Rin possesses n number of skills and abilities. He is the most complete player we have seen until now. His brilliant abilities include perfect kicks, passes, and shooting with the highest accuracy, whole new spatial awareness (like Isagi but better than him), exceptional off-the-ball movements, etc.
Rin can analyze his team's weapons as well as his opponents and play a unique Puppet-Controlling Soccer, where he can easily manipulate his opponents to score for himself. If Isagi was one step ahead, Rin was like 2x than Isagi, that is how great he is. He is indeed the real deal, and rightfully, he is the best-ever player in Blue Lock now.
BONUS: Blue Lock Players We Had to Mention
In addition to the players ranked above, we thought it would be great to bring your attention to two other players who we will see in action in the second season of Blue Lock. We have already been introduced to these characters but are yet to see them play in the anime. Yeah, we are talking about Rin's brother and Shidou.
1. Sae Itoshi
Rin's brother, Sae Itoshi, is portrayed to be a prodigy in the Blue Lock anime. Harboring the dream to win the Champions League, Sae will learn about the Blue Lock project in Episode 2 of the anime. He wishes to witness what kind of striker the project will produce, and hence, he has thrown down a gauntlet against the Blue Lock Eleven. We will see Sae, along with the Japan U-20 team, take on his brother in Blue Lock Season 2.
2. Ryusei Shidou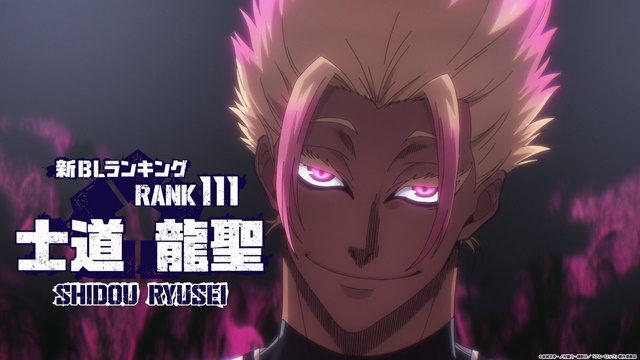 Blue Lock Season 1 finale gave us our first look at a new player — Ryusei Shidou. Without spoiling the character, all I can say right now is that you all are in for one hell of a treat next season. So far, we have seen many egotistical players in the anime, but Shidou's massive ego and eccentric behavior are like none other. We already got a glimpse of his pink highlights and narcissistic demeanor when he butt heads with Isagi after the second selection.
Want to see him clash against Rin and Isagi? Follow this link to learn where to start reading the Blue Lock manga after the anime ends. I promise you won't be able to put down the manga, the Third Selection arc is that good. Also, don't you want to know what happened with Kunigami?
This anime has been amazing right from its pilot episode and has amassed a massive fanbase. Blue Lock is now shaping up to become one of the best sports anime, and even the latest manga sales of 2023 prove the same. There are a plethora of best characters in the show, but we can't wait for you to meet many new characters in the manga. In the meantime, tell us who is your favorite character in the comments below.
Frequently Asked Questions
Who is the powerful character in Blue Lock?
Right now, Rin Itoshi is the most powerful character in the Blue Lock anime, there is no doubt about it. Maybe this fact will change when season 2 airs.
Who is the smartest character in Blue Lock?
One can easily say that Rin Itoshi is the smartest character in Blue Lock right now, as he is seen on an untouchable level. However, Isagi is also seen learning, taking a step closer to becoming the smartest character. His amazing plays captivated the fans like none other. So, let's wait to see how the battle pans out in the future and who emerges victorious.