Not too long ago I would go around saying "Managing finance is not my cup of tea." Creating a custom budget, tracking expenses, and keeping a tab on overspending on top of the ever-mounting workloads seemed way too much for me. Then, I came across some nifty expense trackers that made the process of tracking expenses painless. Those spending trackers sort of changed the way I used to look at finance management. Furthermore, they also encouraged me to look for the best personal finance apps for iPhone and Android to manage finance right from the fingertips. Having given them a fair amount of spin, I would like to present my top picks.
Best Personal Finance Apps for iOS and Android (2021)
To get started on the right note, choose the app that fits your bill. To make your task a tad easier, let me break down a few points upfront.
The Core Fundamentals of Personal Finance Management
Efficient personal finance management starts with structured planning that consists of three core fundamentals:
A custom budget with strict rules 
A crystal clear saving goal
Real-time tracking
To get going, be sure you set up a budget that is committed to adhering to the strict rules like stopping unnecessary expenses. Besides, it's better to start with a financial goal that has a clear saving plan. And with the real-time tracking of where your money is going, you will remain in the know about what's going on and be able to take the appropriate actions at the right time.
Not all personal finance apps are designed for the same purpose. While some apps are aimed at boosting credit score, others put more focus on money management and maximizing saving. What's more, there are a few finance apps that stress more on fixing debts and tracking portfolios. Though I can't tell which one of these apps you need, I can tell that one of them can live up to your task of putting your finance on the right track.
1. Mint: Your Smart Personal Finance Assistant
Managing finance becomes a hassle-free experience when all the accounts are in perfect sync. Thus, you don't have to run from pillar to post to keep track of things like expenses and credit card bills. Well, Mint aims to do just that, ensuring your accounts and spending are in one place. As a result, you are able to monitor everything – from budgets to transactions to expenses – with ease at your own pace.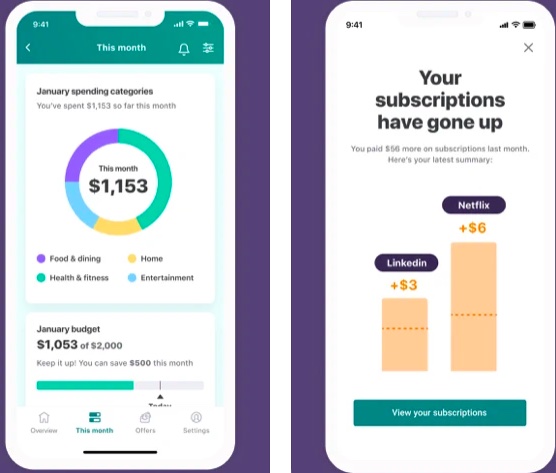 Apart from helping you keep a tab on your finance, Mint also offers an in-depth insight into your accounts. Hence, you can spot the dark areas along with the opportunities which you can cash-in-on to cut down the unnecessary expenses and save more money. The real-time alerts along with the neat bill tracker play a key role in ensuring you don't fail to pay your bills on time.
Based on what you wish to accomplish, you can use Mint to set your financial goals and take advantage of the actionable tips to stay on track to achieve them. The app keeps a close watch on where your money is going and provides money management advice accordingly. Additionally, it also shows how well you are performing in terms of managing your finance so that you remain focused.
What's more, Mint is deeply integrated with popular financial tools like TurboTax, QuickBooks, QuickBooks Self-Employed, and ProConnect, which further enhances its reputation as an exceptionally user-friendly and one of the personal finance apps for Android and iOS. Though the app is free, unlocking the pro-grade financial tools will require you to go for Mint Live that is available for $24.99.
Why Should You Try Mint?
In-depth insight into your accounts
Ability to set your financial goals
Handy bill tracker 
Actionable tips
Money management advice
Install: iOS and Android (free, $24.99 for the Mint Live version)
2. PocketGuard – Take Control of Extravagant Spending
The key to saving plenty of money is to have better control over extravagant spending. So, if you think that your overspending needs to be stopped sooner than later, PocketGuard can go a long way in assisting you to guard against unnecessary expenses. The app comes with some pretty helpful money management tools that can enable you to create a custom budget, track every spending, and find ways to double down on saving.
Another notable feature of PocketGuard is the ability to keep a close eye on all of your subscriptions and let you easily cancel the ones you no longer need. Even better, the app also aids you in getting refunds for unused services. Depending on where you want to see your finance to be in the future, you can set as many financial goals as you need. And with an in-depth progress tracker, it will keep you updated about your performance and also warn you if you ever seem to lose your way.
To let you maximize your saving, PocketGuard comes with a feature called "autosave" (US only) that you can enable using your automated rules. Bear in mind that the funds in your autosave account are FDIC-insured up to $250,000 and they are held at the depository institution. As of now, PocketGuard is able to connect to U.S. and Canadian financial institutions only.
Even in terms of security, PocketGuard is top-notch as it uses bank-level security ( 256-bit SSL encryption) to keep your sensitive information safeguarded. Besides, it supports not only PIN code but also biometrics, like Touch ID and Face ID to prevent anyone from having unauthorized access to your app.
All the money saving features combined with extra security features make PocketGuard one of the best personal finance apps that you can get for your Android and iOS devices.
Why is PocketGuard Worth a Try?
Helpful money management tools
Set up unlimited financial goals 
Useful subscription management 
256-bit SSL encryption
Supports Touch ID and Face ID 
Install: iOS and Android (free,$4.99/month for the premium version )
3. MoneyStandards – Bolster Your Saving
Managing finance doesn't have to be a tedious affair when you have a smart assistant always ready to let you sort out the hurdles and discover ways to maximize the saving. Powered by Strands (the popular FinTech partner of more than 500 banks), the app offers straightforward access to your account balances, budgets, financial transactions, and even spending habits.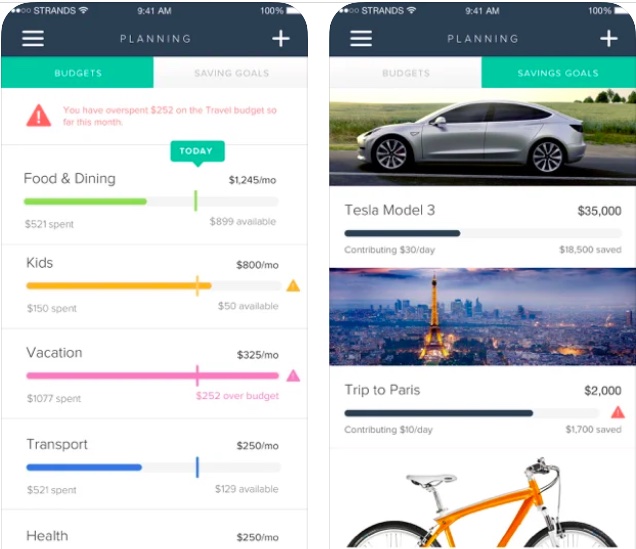 What's more, MoneyStandards also provides pro tips to enable you to sort out the hurdles that are preventing you to achieve your financial goals. By creating a budget, you can monitor your spending based on different categories like groceries, entertainment, travel, and more. And with the integrated calendar, you will be able to plan your budget properly and also check out when your expenses happen.
To improve your money management, MoneyStandards also provides detailed charts and graphs that you can use to dive into specifics and track down the spots that are proving to be the roadblocks. As someone who prefers to have high-quality charts, I appreciate them for being insightful. Additionally, it uses 256-bit SSL encryption to offer a trusted shield to your data.
What Makes MoneyStandards Worth a Try?
Option to create a flexible budget and set financial goals
Makes it pretty easy to track expenses  
Provides Detailed charts and graphs
256-bit SSL encryption
Install: iOS (free )
4. Mobills – Best Insightful Graphs and Detailed Reports
With "Mobills" at your beck and call, you won't have to spend much time to figure out where your money is going or for that matter what actually has derailed your finances. Unlike ordinary finance app, it provides in-depth graphs (including the cash flow ones) that help you have better insight into your money.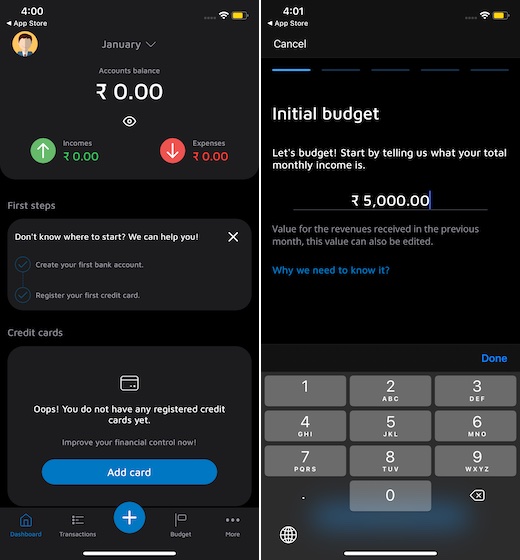 Additionally, it offers insightful reports to keep you in the know about both the upsides and downsides. Featured like credit card manager, bill payment alerts, and expenses with geolocation assist you to remain in complete control. Plus, the app has a proficient financial goals manager to prevent you from being out of track.
Thanks to the seamless cloud synchronization along with the reliable offline functionality, Mobills enables you to manage your finances at your own pace. On top of all, Mobills is available for free with some restrictions. As for the premium version which unlocks all the goodies including the in-depth charts, it starts at $4.99/month.
Why is Mobills Worth a Try?
In-depth graphs and personalized reports 
Reliable offline functionality
Credit card manager
Bill payment alerts
Seamless cloud synchronization
Install: iOS and Android (free, $4.99/month)
5. Fudget – Astute Budget Planner
To me, better finance management starts with a custom budget set around your financial goal. And if you think that your budget planning is not up to the mark or needs astute management, Fudget can be a serious contender for your requirement. The finance app sports a pretty intuitive user-interface and makes it quite easy to make a budget keeping in mind all of your expenses and finding a way to fix overspending.
Moreover, Fudget also offers you the flexibility to let you plan your spending without any time constraints. For instance, you can make a weekly or monthly budget and then set personalized notifications to stay alerted.
While Fudget is available for free, you can upgrade to the premium version ($3.99) to get the functionality to save your data to Dropbox and restore it. Furthermore, the pro version will also let you unlock a super handy calculator and the ability to export your data as a CSV file. And if you are fond of customization, you would appreciate a handful of nice-looking themes that can give a personal touch to the app.
Why is Fudget Worth Giving a Shot? 
Flexible budget planning
A handful of colorful themes 
Save Data to Dropbox and restore it 
Export your data as a CSV file 
Super handy calculator
Install: iOS and Android (free, $3.99 for the pro version )
6. Money Lover – Manage Your Money Like a Pro
For the folks who think that managing finance is not one of their virtues, I would recommend them to try out Money Lover. Putting a clean user-interface and ease-of-use functionality at the forefront, the app makes sure you are able to manage your money like a pro. And that too without having to break any sweat.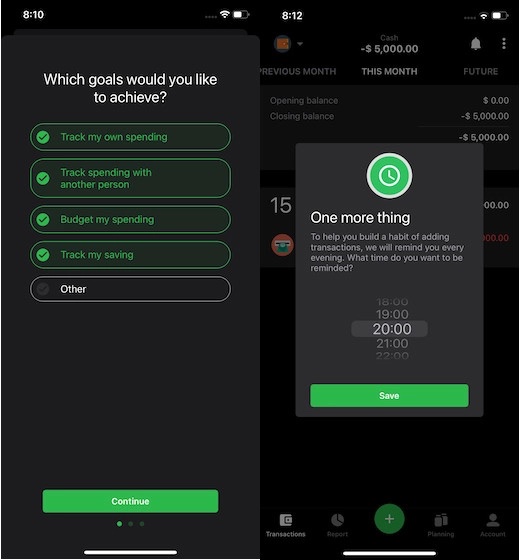 Money Lover features a smart money manager that allows you to track expenses, income, bills, debts, and payments as well as debt right from one spot. You can set up recurring transactions and get notifications before due dates so that you never forget to pay your bills before the deadline. Besides, there is also a saving planner to let you follow a trusted path of saving more money.
With a precise report, it keeps you informed about where your money comes from and how you are spending it. Plus, it also flags off the areas that must be addressed with more care so that you can achieve your financial goal of saving a ton of money. Notably, Money Lover supports multiple currencies and features a built-in calculator to let you get your maths right.
Bear in mind, Money Lover requires you to go for in-app purchases (starts from $0.99) for unlocking features like using the app without ads, creating an unlimited number of wallets, and exporting your data to the CSV file.
Why is Money Lover Worth a Try? 
Track expenses and income with ease 
Precise financial report
Export your data to a CSV file
Saving planner 
Built-in calculator
Install: iOS and Android (free, in-app purchases start from $0.99)
7. Personal Capital – Your Top-Notch Portfolio Tracker
Personal Capital is an efficient portfolio tracker that you can use to keep a tab on your finances and investments. Probably the best part about this app is the retirement planner that helps you plan your retirement wisely. Moreover, it also offers you the option to talk to a financial advisor to have a personalized plan.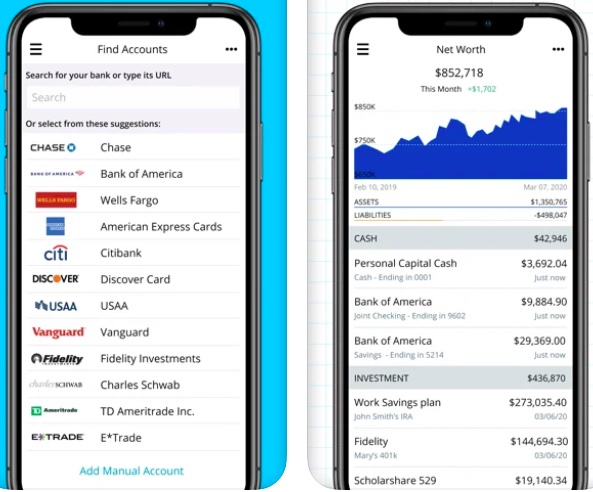 For seamless tracking, Personal Capital lets you sync all of your accounts in one place. And with a clutter-free dashboard, it ensures you are able to monitor things like investments, stocks, and debt at just a glance.
One of my favorite features of this app is the proficient spending tracker. Based on your goal, you can make a budget and then follow the set rules to keep the expenses under control. To sum up, Personal Capital deserves to be rated as one of the finest personal finance apps for Android and iOS.
Why Should You Try personal Capital?
Efficient portfolio tracker
Sync all of your accounts in one place
Useful spending tracker 
Retirement planner
Install: iOS and Android (free)
8. Credit Karma – Make the Most of Your Credit Score
Are you yet to solve the riddles that come bundled with credit score? If your answer is in the affirmative, Credit Karma is the one you shouldn't miss out on. The app puts entire emphasis on helping you get the most out of credit scores. You can check what hurts your credit card scores and get expert tips to get rid of the downsides.
Using Credit Karma, you can also open a saving account to garner a high-yield interest rate (in line with more than 800 banks), which could turn out to be a much-needed shot in the arm for your personal finance. One of the highlights of this app is the personalized approval odds that let you find out which credit card and personal loan offers you are more likely to get.
Moreover, Credit Karma also offers an upfront way to connect with major government programs, get unemployment benefits, and also take advantage of the debt relief opportunities. Not to mention, you can even fine-tune your auto loan by discovering ways to save on insurance and search for unclaimed money.
Why Should You Use Credit Karma?
Personalized approval odds
Boost your credit score 
Expert tips 
Connect with major government programs
Install: iOS and Android (free, $2.99/month)
9. Clarity Money – AI-Powered Finance Management
Clarity Money leverages artificial intelligence to analyze personal finances and provide personalized suggestions to enable you to manage your finances smartly. The app also provides tips to have better control over budget and reduce overspending so that you can maximize saving. By letting you link your accounts, Clarity Money allows you to monitor your finances right from one spot. The unified accounts eliminate unnecessary steps and also simplifies the entire process of financial management.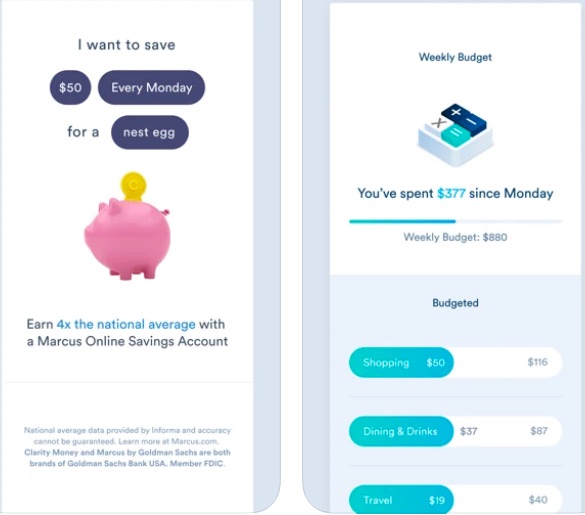 The AI-powered expense tracking keeps you updated about all the expenses through timely alerts. Moreover, the spending tracker also sends warnings whenever it finds you breaking the set rules.
What I have liked the most about this app is the ability to show the exact saving amount since a specific period that kind of motivates you to bring on more saving gears to accomplish a coveted financial goal. Taking everything into account, Clarity Money is one of the best personal finance apps for iOS and Android.
Why Should You Try Clarity Money?
Link all of your accounts in one place 
Smart expense tracking 
Personalized suggestions 
Timely alerts 
Install: iOS and Android (free)
10. IOU – Your Ideal Debt Manager
IOU aka I Owe You is what you should try out to prevent your debts from compounding and even running away with your precious sleep. Thanks to a set of useful features like recurring debts, a history of settled debts, and partial payments, the app makes sure you remain in sync with everything that matters. With custom alerts for overdue debts, it saves you from paying unnecessary fines.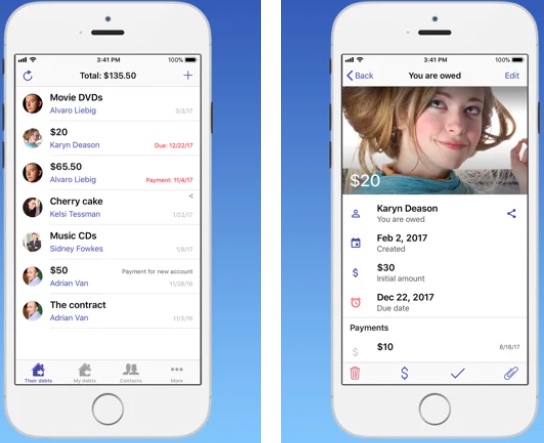 IOU lets you borrow/lend money and things with ease. Besides, you also have the option to share your debts securely with anyone. Using email or SMS, you can communicate with debtors with the desired privacy. As the app also offers cloud synchronization, you will be able to keep your data secure and access it across devices. Putting everything in the right perspective, IOU has got all the qualities to be your reliable debt manager.
Why Shouldn't You Miss Out on IOU?
Recurring debts,
A history of settled debts
Partial payments
Cloud synchronization
Install: iOS and Android ($3.99/month)
Top Personal Finance Management Apps for iOS and Android
So, that ends this roundup of the best personal finance apps for Android and iPhone. As outlined above, these apps are flexible and allow you to manage your finance at your own pace depending on your specific goals. Featuring tools like a saving planner, spending tracker, and real-time alerts, they can go a long way in putting your finance back on track. So, which one of these finance apps are you going to choose to manage your money wisely? It would be a pleasure to know your top finance assistant.
---
Load More