Remember the time when you bought a software and then you owned it. Well, today it's not entirely the case. Due to one reason or another, the world is moving towards a subscription-based service, and while the users are divided on the whole subscription model, I believe it is good both for consumers and the developers. While the one-time payment forces developers to release a paid major update every couple of years, subscriptions give developers direct incentives to keep the app running and improving it regularly. I don't know about you, but I like my apps being updated constantly, and want to support developers so that my favourite apps don't die out with time. Even if you are against the whole subscription-based apps, you will agree that there are some services which won't be here without a subscription-based model. The rise of streaming services like Netflix and Spotify have been made possible entirely because of the subscription-based payment system.
However, that doesn't mean that subscription-based services come without their own set of problems. The biggest problem that is associated with subscription-based services is that how many of those you can subscribe to without loosing the track. Depending on when you subscribed to which service, it makes it impossible to keep track of their payment cycle and more often than not, you yourself are not sure about the amount of money you are owed at a certain time. It's also hard to keep track of how much you are paying for such services in a fiscal year. Of course, you can manually log and check every payment, but that's really cumbersome, and you also know that you are not going to do it. If only there was an easy way to do it. Well, there is a way to do it easily and in this article, we are going to show you just that. So, here is how to keep track of subscriptions easily:
Keep Track of Subscriptions Easily on iOS
Since everything is being done with the help of apps these days, is it any surprise to know that the solution to our problem is an app. While there are a lot of apps which can help you track your subscriptions, I found Bobby to be the simplest and the best app which does that. Bobby is currently available only for iOS devices, hence Android users should check out the other app on our list. If you are an iPhone user, you will love Bobby's simplicity and functionality. What I love about Bobby is that it does what it is supposed to do, and doesn't go overboard on features, just for the sake of it. So, let's check this one out, shall we?
1. First, download and install the Bobby app (Free, $1.99) on your device. Once you install and launch the app, you will be greeted by Bobby's simple interface.
2. There are just two buttons, one each at the top right and the top left corner. To add a subscription you just have to tap on the "plus" icon at the top right. Here you will find the list of most of the major subscription services divided into two panes, Popular and All.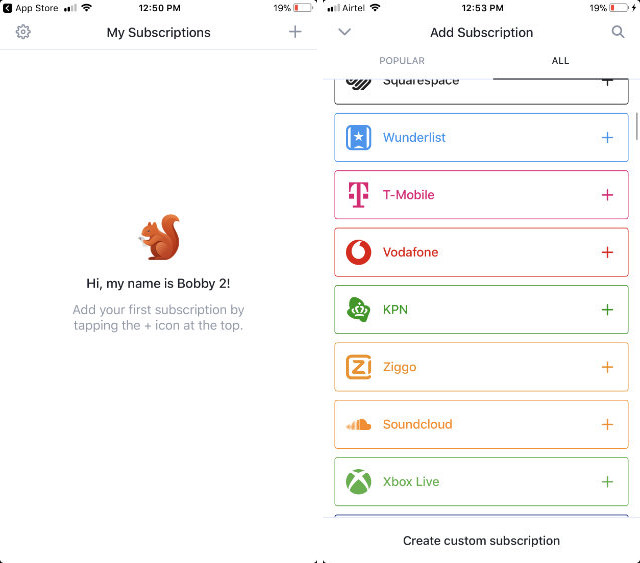 3. You can either scroll down to select your subscription or you can search for by tapping on the magnifying glass icon. If you don't find your service on the list, you can create your own by hitting the "Create custom subscription" button. Once, you find your service just tap on it and enter the requisite information. When you are done, just hit the "Add" button.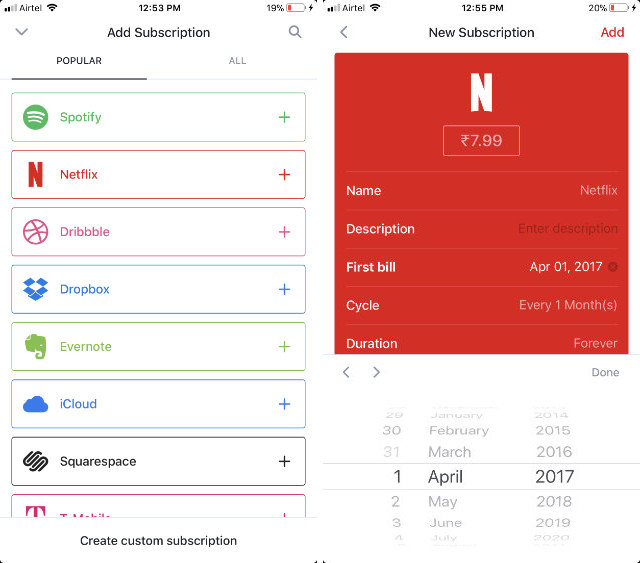 4. Similarly, add other subscriptions to your list. I was happy to see "Ulysses" in their subscription services list as I am currently subscribed to it. As you can see in the photos below, the app neatly organizes my subscriptions based on the time when they are due. It also shows my average monthly expense by calculating a cumulative of all my expenses.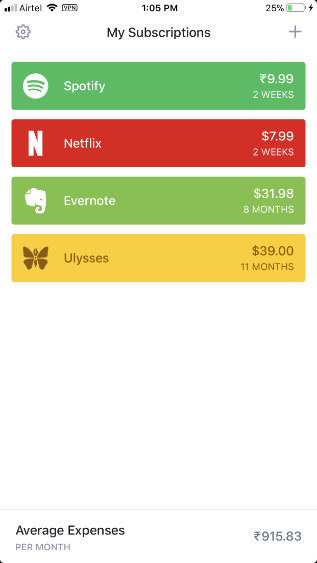 Other features of this app include iCloud integration and built-in support for TouchID & Passcode lock. The app is free to download and use, however, the free version restricts you to only 5 subscription services and the features are like app lock, themes, and iCloud support is available only if you buy the pro version. Thankfully, the pro version is pretty cheap and won't cost you much.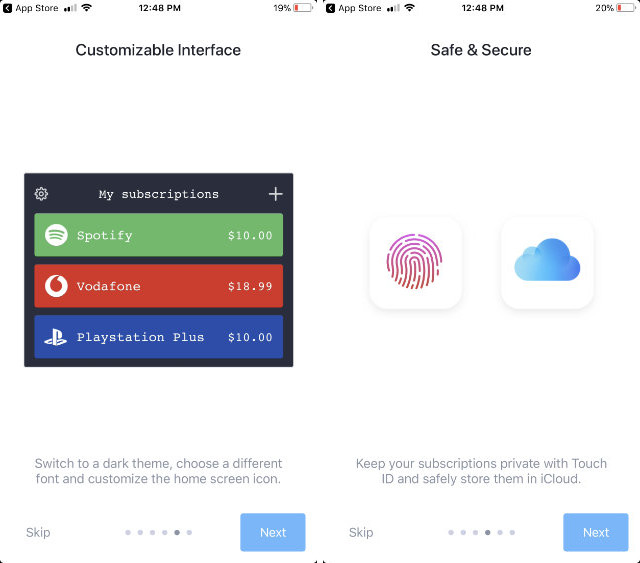 Keep Track of Subscriptions Easily on Android
If you are an Android user, the best app you can get is Billy: subscription manager (Free, $0.99). The premise of the app is the same as Bobby, as in it lets you add subscriptions and track your upcoming payment along with the average monthly cost. However, it doesn't support as many subscriptions natively as Bobby does. However, you can add those manually, just like you could in Bobby. Like Bobby, the app is free to download with in-app purchases to unlock extra features. In the free mode, the app only allows you to add two subscription services.
SEE ALSO: How to Use Apple Music Bot on Facebook Messenger
Keep Track Of Your Subscriptions on Android or iPhone
As you can see, the above-mentioned apps make it very easy to keep track of all your subscriptions and give you an exact idea when the next payment is due. Not only that, you can also easily see the total amount you are spending on all your subscription services. The debate on the subscription model is still out, and chances are that you might hate it. However, for better or worse, the model is here to stay, and if we cannot avoid it, at the least, we can make it so that it can be easily managed. But that's me, I would love to know your thoughts on the subject. Drop them down along with the names of the subscription services that you are using in the comments section below.
---
Load More