We have covered a lot of essential apps available for Mac. However, most of them deal with the execution of an already developed idea. But, what if you are struggling to find an idea or maybe you have a ton of them and you don't know where to start. Today, we are going to discuss a technique which will help you in either of the situations. This technique is called Mind Mapping.
By using it correctly, one can turn a vortex of illegible data points hovering in one's head into a decent framework which can be executed upon. Basically, you start with a central idea and then build branches around it. Thus you are creating visual connection and establishing a relationship between the data points, making it easier to remember and organize them. As always, there are tons of apps which can help you do that on your Mac. We scoured through them and found the 12 best Mind Mapping Apps for your Mac.
Best Mind Mapping Software for Mac
1. iMindMap
Very rarely we come across a tool which is leaps and bounds better than its competitors. iMindMap is a part of that rarity. Using this software is pure pleasure. It is packed with features and yet is so simple that even a child can get started. You start by creating a central idea and then create branches by just hitting enter. The branches are colour-coded and contain text input. You can attach images, videos, links, and notes. The best part is that attachments (even the videos) open in a pop-up window hence they do not require you to leave the app.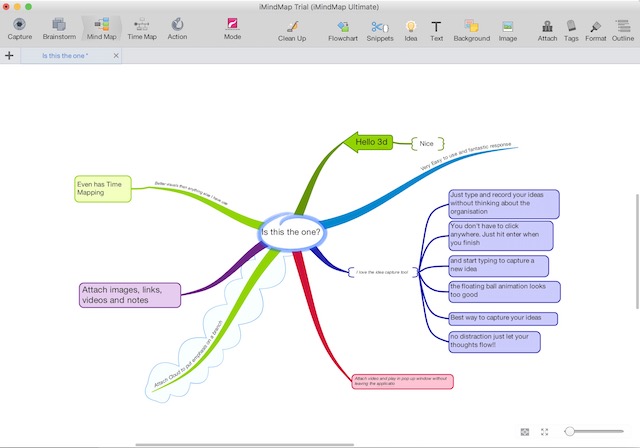 My favorite feature of this app is "idea capture". When you are in the idea capture tab, there are no distractions. You just type and hit enter to capture an idea and repeat the process until you are done. The ideas are captured in bubbles connected by a line which organizes them as sub-branches of a single branch.
There is also an inbuilt tab where you can brainstorm to come up with new ideas. It looks like a board with sticky notes attached to it. You can create sticky notes and move them between different categories.
All in all, this is the best Mind mapping tool you can buy today. None of the others come even close to it when it comes to functionality and features. The only negative I could find about this software is its load time. It takes a few second to load up when you launch it, however, after it loads there is no lag what-so-ever. A premium product like this commands a premium price. But if you purchase it, you won't regret your decision.
Install: (Starts at $100)
2. MindNode
If you want a software which will not put a hole in your pocket and yet can fulfill most of your needs, MindNode is the one for you. It has a beautiful UI and works buttery smooth. If you are just starting out, MindNode will help you learn the basics of the mind mapping technique without in your face instructions. It also has iCloud sync and an app for iPad and iPhone. Its interface is designed in such a way that you are not losing much functionality even if you are using it on mobile devices. The nodes are foldable hence allowing to create a large mind mapping tree without being overwhelmed by the data. For me, it provides the best value for money on this list.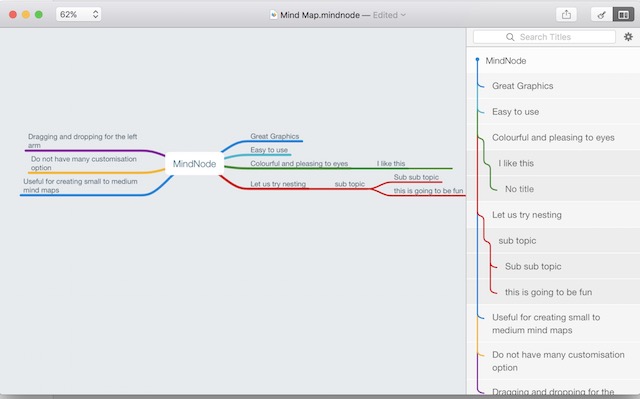 Install: (Free trial, $39.99)
3. XMind
XMind got itself on this list due to its theming capability. Of course, it does everything a mind mapping software is supposed to do. You can create mind maps, attach photos, links, and notes. You can share it or print it into PDF of OPML. It also allows you to directly share your mind maps to your Evernote account. You can choose from pre-formatted templates or you can create you own from scratch. You can change the theme of your mind maps at any given time. There are dozens of themes to chose from and each one looks better than the other. If you like theming, give it a go.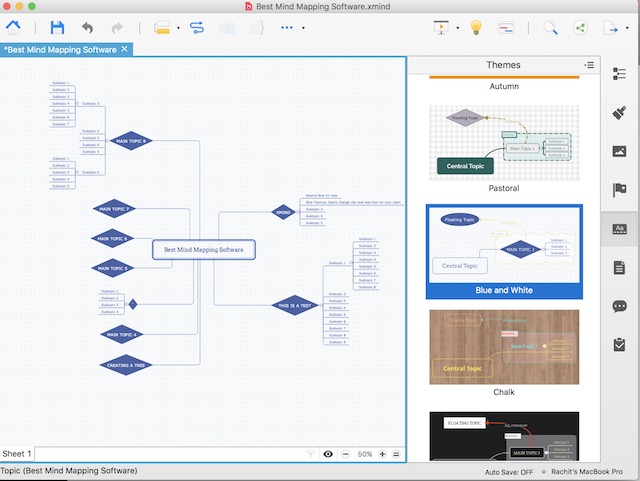 It also has a free version, however, it is fairly restricted. You are only allowed to create maps and you can neither save nor share them. You can read the full details in the link below.
Install: (Free/$79/$99)
4. Mindomo
Mindomo, like other apps on this list, does everything a mind mapping software is required to do. What sets it apart from others is that it allows us to attach audio notes, go into presentation mode and its cross platforms availability. It also has theming capabilities like XMind. Since it is available for both Android and iOS, you can be sure that you will have your mind maps with you all the time no matter which mobile OS you use. The only thing that holds Mindomo back is its pricing strategy. It follows a subscription based payment which is always a pain. While it does offer a free version, it's heavily limited, as it only lets you create 3 maps.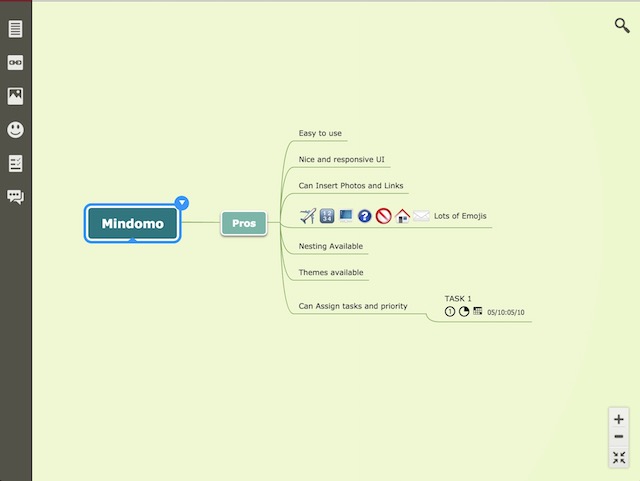 Install: (Free, Subscriptions start at $36/6 months)
5. SimpleMind
SimpleMind, as it name suggests, is a very easy to use software which gets the job done. It also has a iOS client and cloud sync. It has a very colourful UI which is pleasant to look at. The app also comes with a couple of themes to customize the look and feel of your mind maps. It does not have any complex features and the sync is almost instant allowing to hand over your work between Mac and iPhone. The best part is that it also has a free version which is as powerful as the paid one. The only big missing feature is that there is no cloud support for the free version hence you cannot sync your maps across devices.
6. The Brain
The Brain is a mind mapping software which is not suitable for the average user. This is for someone who wants to use mind mapping for business. It has a lot of inbuilt mind mapping templates dedicated to different aspects of business such as marketing, operations and much more. The best feature of this app is its nesting ability. It is far superior to any other apps on this list when its come to nesting. Hence, you can create a large multi-layered mind map without being overwhelmed. It also has very good organisational tools.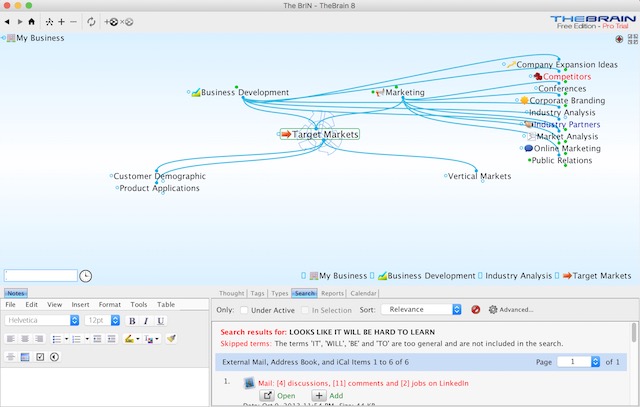 As mentioned, the app specifically targets businesses and it is also priced like one. If you need a great brainstorming, idea mapping and organisational tool for business, look nowhere else. For an average user, it is too costly and too complex to be used.
Install: ($219/month)
7. MindJet MindManager
This software is probably one of the first mind mapping software ever built. It has gone through a number of iterations to receive its current form. It used to be one of the best but now it has become very complex and is not suitable for an average user. Don't get me wrong, it is excellent when it comes to features and you cannot go wrong in choosing it. However, the learning curve is too steep and the price is too high. It might be suitable for big businesses, just like TheBrain, but not for individual users. You are better off spending your money somewhere else. The only reason it is on this list is because of its legacy and to inform our readers to not to make a choice depending on its past performance.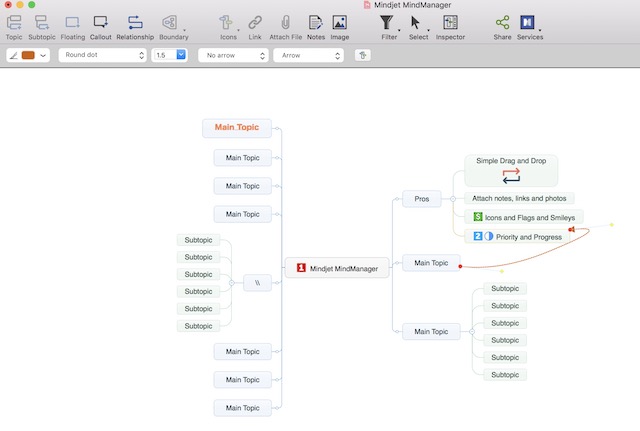 Install: ($Starts at $205)
8. FreeMind
If you are looking for a completely free mind mapping software without any strings attached, look no further.  FreeMind is an open source software, which is completely free to download and use forever. It has all the required features and goes head to head with the paid apps on this list. The only thing you are really sacrificing on is its UI and sync feature. The UI looks outdated, and creating a rich looking map which catches your eye is not possible. Also, it does not have any sync feature hence your maps will live only on your Mac. However, you can export the maps in PDF and share it. Considering it is a free software, it packs a punch way above its weight.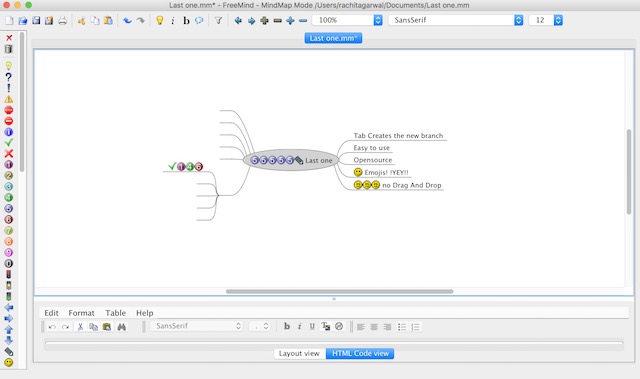 Install: (Free)
9. Scapple
Scapple provides you the closest experience of using pen and paper. It is at its heart a blank sheet of paper. You double-click anywhere to start typing and hit enter when you finish. Double-click again to start writing again and then repeat. Drag and drop one text field over another to create a link. There are no formatting tools, no colouring tools, no emojis, and no attachments.  You use it as you want to. This is the best tool for creating free-form mind maps. You will use it and you will love it. Try this if you love pen and paper.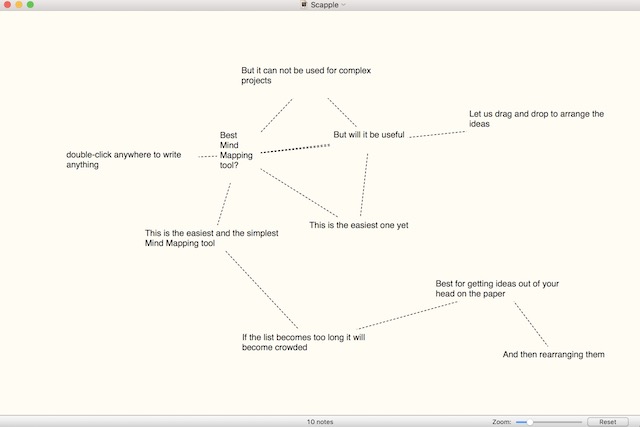 Install: ($17.99)
Web-Based Mind Mapping Apps for Mac
Apart from these native mind mapping apps for Mac, there are various web-based mind mapping apps for Mac which are really powerful and easy to use. While I normally don't suggest using web-based apps, in this case, I have no qualms in recommending them as they are too good to leave off the list. These web-based apps are especially important for users who want a cross-platform solution. Another benefit of using these apps is that you can access them from any device, as long as your remember your login credentials.
10. MindMeister
When it comes to online mind mapping, there are very few apps which can match the caliber of MindMeister. Using MindMeister, you can easily capture, share, and develop your ideas. From managing large projects to creating story plots to brainstorming and taking notes, MindMeister can handle everything. The app brings a great UI and despite being a web-based app, it's quite intuitive to use. Also, since it's a web-based app you never need to update it and can access it from any device. Whether you are using your Mac or are on a Windows or Linux device, you can get access to your mind maps as long as you are connected to the internet.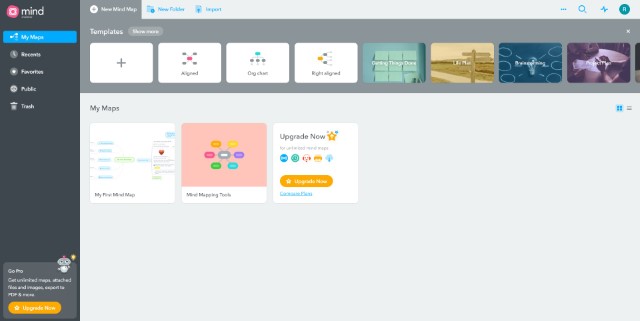 MindMeister also offers Android and iOS apps so you are not tied to desktops. Finally, MindMeister integrates beautifully with MeisterTasks which is one of the best task management apps on the market right now. This allows you to easily transfer data from your mind maps to your task lists thereby easily turning them into actionable items. Overall, I would say that this is one of the best web-based mind mapping tools that you can use on your Mac.
Visit MindMeister: Free, $4.99/month, $8.25/user/month for teams
11. MindMup
Another great web-based mind mapping tool for Mac is MindMup. MindMup is full of features and can help you capture and organize your ideas quite perfectly. It's easy to use UI along with powerful keyboard shortcuts ensure that you can capture thoughts as fast as you are thinking them. My most favorite thing about MindMup is that it allows users to heavily customize their mind maps both with preset themes and individual control. Also, all your mind maps are securely stored in the cloud and can be accessed from any device.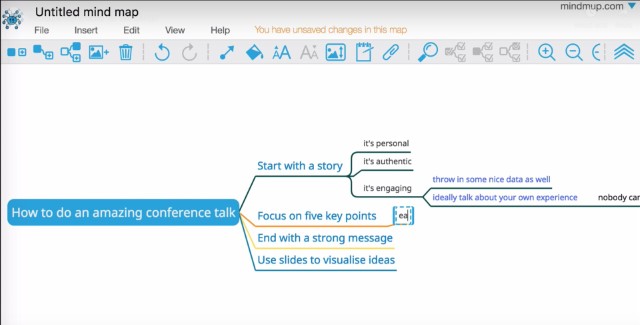 Another great feature of MindMup is its support for notes and attachments which allows you to add contexts to individual nodes in your mind map. It also allows users to create storyboards which turns your mind map into a sequence of slides. MindMup is also great for collaboration and sharing your mind maps. You can print your mind maps, share them via social media or collaborate privately with other users. MindMup is a really powerful mind mapping app and you should check it out.
Visit MindMup: Free, $2.99/month, $100/Year for hundred users
12. Bubbl.us
If you are looking for a simple and easy to use web-based mind mapping software then you should use Bubbl.us. The beauty of software lies in the fact that it doesn't pack a plethora of features which overcrowd the UI. It's a simple mind mapping tool which is made to do just that. This simplicity also makes Bubbl.us super-fast to use as it's not being bogged down with redundant features. Despite being so light, the software allows users to collaborate with others and brings a one-click presentation features which readily turns your mind maps into presentation slides. The app has a free version which should meet the needs of individual users. However, pro mind map users and teams will have to subscribe to the paid plans to use it effectively.
Visit Bubbl.us: Free, $4.91/month-billed annually
SEE ALSO: Microsoft Paint for Mac: 7 Alternative Drawing Tools To Use
Organize Your Ideas Using The Best Mind Maps Software on Mac
At any given time our mind is flowing with ideas. The only thing we need to learn is how to capture and organise those ideas to turn them into actionable items. Mind mapping is a tool which can help you do just that. You can also use mind mapping to create an outline for your novel, plan a project, for your business and much more. Once you master it, the sky is the limit. Give it a go, and let us know when you see its benefits. Also, do tell us in the comment section below if you have a favourite mind mapping software which is not on the list.