The Metaverse is an up-and-coming topic in 2022. With a plethora of users worldwide dabbling in this digital universe, it's only normal that gamers want a piece of the action. No matter if you're trying to enter the Metaverse through the Oculus Quest 2 or your PC, there's a way. Users looking for the best Metaverse games are in the right place. I have compiled a list of the best Metaverse games you can play in 2022. So gather your tech and let's dive right into it.
10 Best Metaverse Games for 2022 (Free and Paid)
While this article will list the best Metaverse games, I'll also take a moment to talk about what they are exactly. However, if you would rather just see them all at a glance, use the table below to do so.
Best Metaverse Games You Can Play Right Now
Let's kick things off with the list of best Metaverse games. Depending on the type, I have divided the games into two different sections so browse through accordingly.
1. Horizon Worlds
The Metaverse is a concept that has been pushed a lot recently by Meta (formerly Facebook). So a big entry inside the Metaverse is through the company's own app. Titled "Horizon Worlds", the app is a social experience in which Meta users can get together and have fun. The users inside this app can explore different areas, socialize and even play through interactive puzzles and play other intensive games.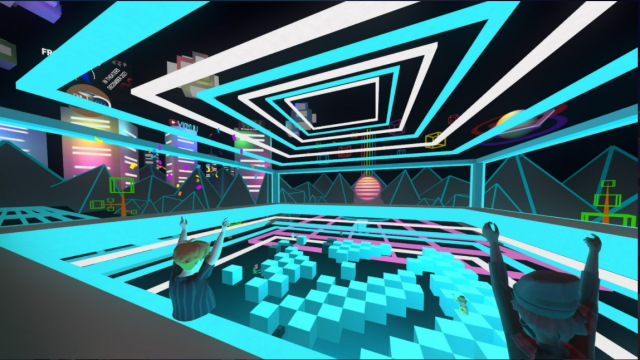 Moreover, Horizon Worlds allows users to create their own worlds and have fun inside them. Horizon Worlds is an app experience that dabbles in gaming and allows your avatar to interact as you with a plethora of users. If you're looking for a Metaverse game like the one described, get Horizon Worlds for your Quest 2 and dive in.
Install: Horizon Worlds (Free)
2. VRChat
If you like Horizon Worlds but it's not available in your country, then VRChat is another solid option. This community-based Metaverse game was initially released back in 2014. Since then, it has slowly made its way onto multiple platforms including the Oculus Quest 2. Hosting multiple worlds based inside the VRChat universe, this Metaverse game has users create their 3D avatars and interact with other users. Avatars in VRChat can be as silly as you want and feature multiple pop culture and anime characters.
While VRChat's gameplay is similar to Horizon Worlds, it currently has more variety since it's been here a long time. Players can visit countless worlds in VRChat which range from different yet beautiful locations. These worlds are mostly user-generated and are only limited by the creator's imagination. Moreover, the avatars in VRChat support almost a full range of motion so all the VR user's emotions are portrayed on their character. VRChat has been consistently played by many users looking to get into the Metaverse.
Install: VRChat (Free)
3. Rec Room
Rec Room is another community-based Metaverse game that offers a lot of variety. Like other Metaverse games, players can don an avatar and become a Rec Roomer. Rec Room is an entirely digital world where gamers gather to socialize and connect with each other. Rec Room incorporates elements of VRChat while introducing even more gamification to the genre. Besides just hanging out together, Rec Roomers can play an immense number of games that can be created by the entire community.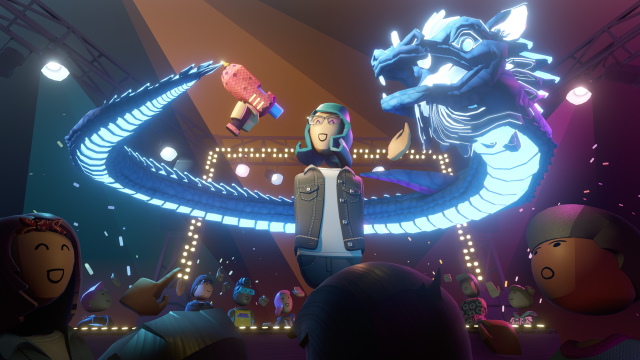 The game boasts millions of player-created rooms with the option to expand even further. Like VRChat, you can customize your avatar to personalize them even further. However, the best thing about Rec Room is that it can be cross-played on almost any platform. So whether you're using a mobile device, a PC, or even a VR headset, you can download Rec Room and play with any player on any platform.
Install: Rec Room (Free)
4. Fortnite
I am sure you're no stranger to Epic Games' Fortnite. This massively popular game that started out as a Battle Royale has now evolved into a door into Metaverse gaming. Over the years, Fortnite has slowly transformed into a game that can not only be played but experienced. From creating a black hole to introducing limited Fortnite Impostors, a lot has been introduced. However, the greatest entry into the Metaverse has been in the form of entire live concerts that have been held inside Fortnite.
If you're already a Fortnite veteran, you must have attended Travis Scott's live concert or even been there when Marshmello was in Fortnite. Events like these are slowly transforming the game into a Metaverse one. Players use their drop-in characters and not only play but interact with other players and take part in events like these. Want to be interested even more? Epic Game's CEO Tim Sweeney recently commented on the Metaverse and called it a multi-trillion-dollar opportunity.
"OVER THE COMING DECADES, THE METAVERSE HAS THE POTENTIAL TO BECOME A MULTITRILLION-DOLLAR PART OF THE WORLD ECONOMY"

TIM SWEENEY, EPIC GAMES CEO
Install: Fortnite (Free)
5. Roblox
Roblox is a sandbox game that will not require a VR headset at all. This gaming platform has recently exploded in popularity and continues to be a place where millions live their secondary life. Roblox allows users to create their own block-sized characters and play through a wide variety of different games. Roblox houses over half a million games that are divided into multiple categories.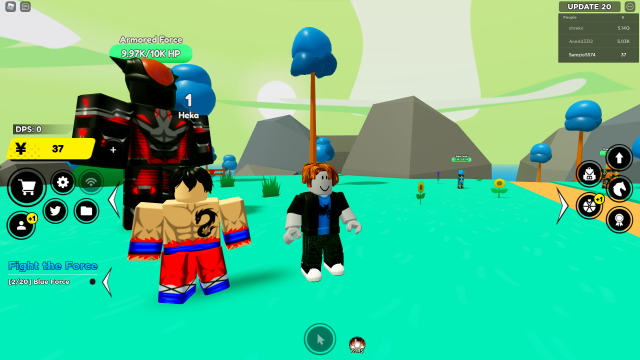 From the scariest Horror games on Roblox to action-packed ones, there's a lot on offer. Moreover, there are dedicated roleplaying Roblox servers where players gather and roleplay as different people inside the game. You can have your own Roblox house, virtually marry someone and live like a family. If you're looking for a simple yet fun Metaverse game, check out Roblox and get going.
Install: Roblox (Free)
Best Metaverse Play-to-Earn Games You Can Play Right Now
If you're a gamer interested in checking out NFT gaming, or the Blockchain games we talked about earlier, this section is for you. Now do be aware that these games will involve dealing with real money and hence we suggest proceeding with caution. Never share your wallet details with any third party and keep your crypto secure. Having said that, these are some of the best Metaverse play-to-earn games you can check out.
1. Sandbox
Based on the Ethereum blockchain technology, Sandbox is a Metaverse game that has quickly garnered a lot of popularity. Sandbox offers players a virtual world where they can build and monetize their own virtual experiences. Sandbox is also a Meta-verse game that offers players a plot of virtual land in the form of NFTs. Players can browse through the virtual map and choose a spot of land they feel they should get and buy it through their crypto wallet. There is also a virtual market in which players can browse and buy items in exchange for Sand; the game's official currency.
However, besides the virtual ownership, Sandbox offers a beautiful virtual world that gamers can explore at their own leisure. Like similar Metaverse games, you can create an avatar and go around socializing with folks. There are a variety of quests spread throughout the game and can be completed for various rewards. Sandbox is a crypto project that while early in its stages, packs potential for simple gamers and crypto gamers alike.
Install: Sandbox (Get)
2. Axie Infinity
Initially launched in 2018, Axie Infinity has proven to be one of the most popular play-to-earn games in the Metaverse. Based on a similar storyline as Pokemon, Axie is an NFT based game that allows users to build up a collection of Axie, creatures that can be used to battle, build and even hunt for treasure. Each Axie is a unique creature and has its own set of qualities and powers. Players can use their Axies to battle others and the game rewards players with NFTs.

These NFTs can then be sold for a profit to other players in exchange for crypto. Axie Infinity made headlines when it became massively popular in the Philippines during the COVID 19 pandemic. Since the scope of earning real money in Axie is high, a plethora of players used the game to earn a living thereby making it a reliable Metaverse game. If you're interested in Pokemon-esque game while dealing with crypto, check out Axie Infinity.
Install: Axie Infinity (Get)
3. Decentraland
If you liked the idea of owning virtual land in the Metaverse but didn't dig Sandbox, Decentraland is another great game. Decentraland is a Metaverse game that is fully decentralized where users own the world they live in. Like Sandbox, Decentraland offers players the option to build their own virtual environment. Gamers can choose from various pieces of real estate and buy them to keep as theirs. Players can even sell their virtual land or even put it up for rent in exchange for crypto.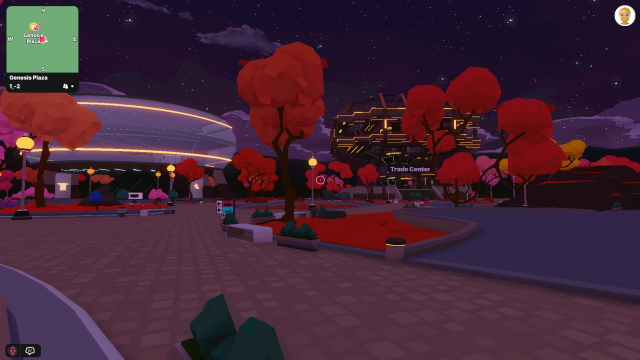 Moreover, Decentraland allows gives players the option to explore around and visit other properties to socialize with people. The game also holds various events around the clock where people can gather together as avatars and have all sorts of fun. Decentraland's art style lies in the middle of games like Roblox and Fortnite and is pleasing to the eye. If you want to add to your graphical experience, you can trade in avatar wearables and even names in the game's marketplace.
Install: Decentraland (Get)
4. Second Life
Second Life is a Metaverse game that has been here for a long time. This online platform gives players the chance to create an avatar and basically have a second life in the digital world. Second Life users are also known as 'Residents' and can be made lifelike to look like the real player. Moreover, Second Life allows players to have an entire Metaverse experience including meeting other players, attending various kinds of events, and essentially living another life in this world.
However, that's not all. Second Life has its own virtual marketplace in which people can buy, sell and trade virtual items and a lot of other elements. These transactions use Linden dollars which require real money to buy. Items range from virtual furniture, clothing, cars to even real estate. If you're looking for a Metaverse game where you can live a second life and make real transactions, Second Life is a good choice.
Check out: Second Life (visit)
5. Illuvium (Upcoming)
Illuvium is an open-world RPG game that is currently in active development. Based on uncovering facts and battles, the player's goal in Illuvium is to explore the game's world and collect creatures. Known as 'Illuvials' these deities like creatures might have powers and may be dangerous. The player must also discover the cause of the cataclysm that shattered the land of Illuvium. The game-like other play-to-earns is based on the Ethereum blockchain.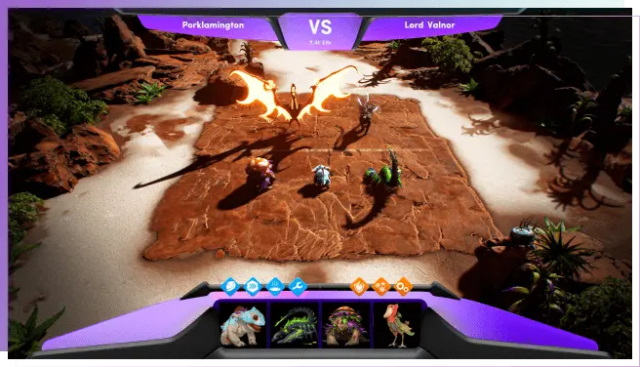 Illuvium will see players building their ideal team of creatures and then battling it out with opponents. The rewards will be varied and players can earn $ILV, the game's currency. The players may be able to sell these for-profit and play and earn at the same time. There are over 100+ Illuvials to catch and will all contain different classes and powers. If the game's website is anything to go by, Illuvim will be a vivid game full of beauty and variety.
Check out: Illuvium (Get)
What Are Metaverse Games?
Users who have read our guide on the Metaverse already know a thing or two about it. However, if you're new here then let me clarify things. The Metaverse itself is basically a collection of digital worlds that are connected. This connection means the Metaverse is made up of multiple apps and games that allow you to be part of an online community while being represented as an avatar yourself. Metaverse games can range from official Meta experiences to more popular dominant ones.
However, another popular iteration of the Metaverse is the inclusion of Blockchain and NFTs. The world of crypto gaming is also fast approaching and is slowly spanning another sector altogether. To cut a long story short, Blockchain-based Metaverse games are games that combine elements of the Metaverse and Cryptocurrency and Blockchain. These games are also based in the Metaverse and have their own world, avatars, items, and various other elements. Games like these offer various items in the form of Non-Fungible-Tokens that can be traded with other players. Often called Play-to-Earn games, Blockchain-based games hold an important value in the Metaverse because of their expansive nature and financial involvement.
How Can I Access These Metaverse Games?
Since Metaverse games dabble into multiple technologies, there are multiple ways you can access a Metaverse game. However, even at the basic level, there will be things you need to play the simplest of these games. Have a look at the list below and make sure to keep the following points in mind:
1. An Internet Connection
An important aspect of the Metaverse is that it's always online. So even if you log off and go to sleep, the Metaverse and its games will remain right there. Therefore, it makes sense that you will need to have a reliable Internet connection to access the Metaverse. Make sure you have this pinned down before proceeding.
2. A Virtual Reality Headset
While the Metaverse can be accessed through multiple technologies, the best way to experience Metaverse games is through a VR headset. Depending on the game, it may support different kinds of VR sets. However, I recommend getting your hands on an Oculus Quest 2 for the best possible Metaverse experience.
Get Oculus Quest 2 ($299)
3. PC or a Mobile Device
If you would rather not get a virtual reality headset for the Metaverse, then you'll be pleased to know there are other ways. You will require a mid-tier PC or a mobile or tablet device to open up select Metaverse games. Make sure you have these before you proceed.
4. A Blockchain Wallet
If you're interested in playing a Blockchain-based Metaverse game, then a wallet is a must. Essentially, a BlockChain wallet will allow you to manage your cryptocurrencies. This wallet will also enable you to trade items with other players in exchange for cryptocurrency. Depending on the game you pick, the preferred wallet could be different. Check out the play-to-earn games to know more.
Have Fun with These Best Metaverse Games
I hope you have lots of fun exploring these best Metaverse games and playing them to bits. However, if you don't find these games to your liking, you can play Steam games on your Quest 2 for even more variety. Just started out with VR? Figure out how to set up and use the Quest 2 first then. Have any suggestions for more Metaverse games? Drop them in the comments below!
---
Load More