I believe we can all agree that the last couple of years have made everyone lazy. With the work-from-home culture on the rise, most people have resorted to working from the comfort of their own beds and couches. Moreover, with so many of the best games on the iPad along with a portable console like the Steam Deck, this will only increase. So it makes perfect sense that working professionals and gamers alike would look for a comfortable laptop desk that they can rely on. If you're among those users, you're lucky to have stopped here. We have compiled a list of the best laptop desks you can purchase to complete your work or gaming setup. So go on and get yourself one of these.
The Best Laptop Desks You Can Buy (2022)
This article showcases a wide variety of laptop desks that all have their own features, some of which you might fall in love with. However, before we jump to all that, we also talk about what exactly should you look for in a laptop desk. If you already know what you want, check the table below and jump to your choice.
What to Look for in a Laptop Desk
While buying a laptop desk for your work or gaming setup is pretty straightforward, there are still some things you should pay attention to. Some of the primary ones are:
1. Space
This is by far the biggest factor when going for a laptop desk. Depending on the type of user you are, you might either want a lap desk that is compact enough for just your Macbook or a behemoth for all your devices. Before you decide to click that Buy Now button, consider breaking out a measurement tape and getting a rough idea of how large you want your laptop desk to be. Try putting your most-used devices on the same table to get an even better idea.
2. Weight
Always be aware, that the larger your lap desk is, the more it will weigh. Some of the laptop desks down below are not only large but chock full of extended features and slots. While that is amazing for a power user, if you're someone who wants stupid simple stuff then you're better off going for something lighter. Since this is subjective, it comes down to your personal preference. Weigh in your want of features versus your actual need and meet them halfway.
3. Added Features
Most laptop desks offer some comfort in one way or another. However, there are some products that have something specific you may want. For instance – In case you're looking for an added storage compartment or a cushiony grip, you will need to look out for that. The list given below has a mix of laptop desks each with its own advantages. So read with a keen eye and buy the one that takes your fancy.
The Best Laptop Desks
1. LapGear Home Office Lap Desk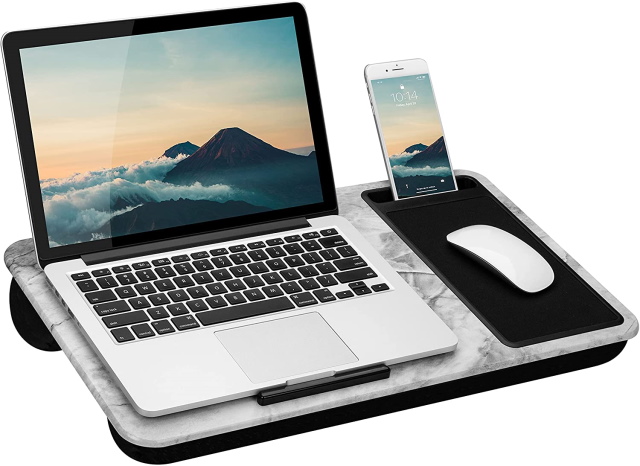 Definitely, one of the best laptop desks you can get in 2021, the LapGear home office desk is an amazing choice. Completely portable and extremely easy to use, this lap desk comes with a generous amount of space that will fit most standard laptops. However, more than that, the desk also contains a separate phone slot where you can place the device you cannot live without. Beneath the slot, the Lapgear laptop desk also provides a separate mouse pad for users who don't want to place a separate one.
Keeping couch surfers and lazy users in mind, this lap desk also has a horizontal device ledge to prevent laptops from slipping over. The foamy cushion beneath the surface makes using this desk for extended amounts of time easy. The LapGear home office lap desk is an excellent combination of features and price and we love it for that. Check it out right now.
Key Features:
Built-in phone holder
Dedicated mousepad
Device ledge to prevent slipping
Comfortable cushion for long usage
Compatibility – Up to 15. 6″ Laptops
Buy from Amazon: $29.99
2. HUANUO Lap Laptop Desk
Another great addition to this list, the HUANUO lap desk is one that is focused on providing a more relaxed experience. Intentionally angled towards the user, this laptop desk is not only suited for laptop users but regular artists who love to sketch. The HUANAO lap desk packs a massive device ledge that doubles up as a wrist pad for extended comfort. While this laptop desk doesn't give much in the way of a mousepad, it does have a dedicated phone holder right beside the laptop area.
The intention behind the sloping design is no doubt to provide the functionality to users who want a dedicated laptop desk for their couches. Moreover, if you're looking to store a drive or two, you can always use the handy storage pocket that is right behind the lap desk's cushion. And, for when you decide to go mobile, this laptop desk also has a fabric handle for portability. Try out this incredibly comfortable lap desk.
Key Features:
Massive device ledge cum wrist pad
Sloped design
Added storage pocket
Comfortable cushion for long usage
Compatibility – Up to 15. 6″ Laptops
Buy from Amazon: $29.99
3. LapDesk Schoolhouse Wood LapDesk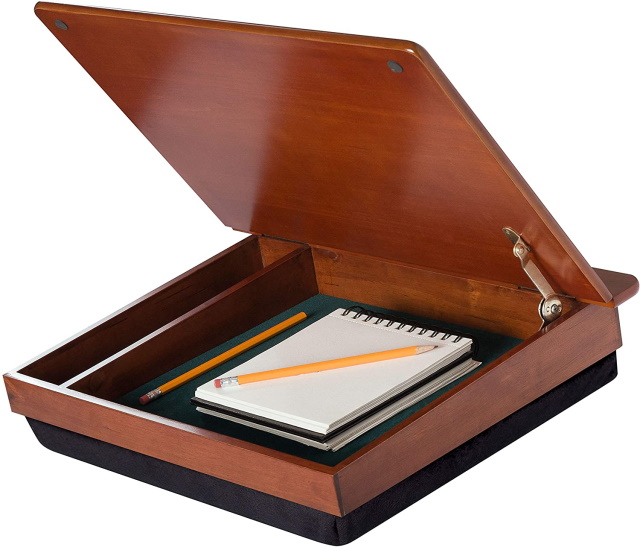 Parents looking to buy a laptop or study desk for their children can check this one out. Featuring a real wood veneer surface, the LapDesk schoolhouse lap desk is a classic throwback to the school benches we grew up using. This appealing laptop desk has more reach than traditional products and hence can accommodate wider laptops. However, what sets it apart is the two padded storage compartments that are right beneath the surface.
Most definitely made for students and laptop users, this schoolhouse lap desk also has pen slots and writing tool compartments for quick access. However, the desk also packs other regular features such as a comfortable cushion beneath, sturdy construction among a lot of other things. Lovers of classic furniture or school-going kids will definitely love this laptop desk.
Key Features:
Real wood veneer finish
Dedicated storage compartments 
Dedicated slots for writing tools 
Supports wider laptops 
Compatibility – Up to 17. 3″ Laptops
Buy from Amazon: $39.90
4. HUANUO Adjustable Laptop Stand
Gamers among you will love this particular laptop desk. Made by HUANUO again, this adjustable table laptop stand comes with an adjustment button. This puts the stand into various degrees of adjustment that range from simple angle change all the way to height elevation. However, one of the differentiating factors of this adjustable laptop desk is the inclusion of two dedicated USB cooling fans that have been designed to provide excellent ventilation to laptop gamers and power users alike.
The HUANUO laptop desk also has a removable mouse pad which is something not every gamer will like but is good to have nevertheless. However, the choice of putting this lap desk at almost any angle along with the dual fans makes this a solid choice. The stand supports all standard laptop sizes so you can go ahead and add this to your portable gaming setup.
Key Features:
Dual dedicated USB fans
Various levels of adjustments
Removeable mouse board 
Sturdy material
Compatibility – Up to 15. 6″ Laptops
Buy from Amazon: $35.99
5. SAIJI Laptop Bed Tray Desk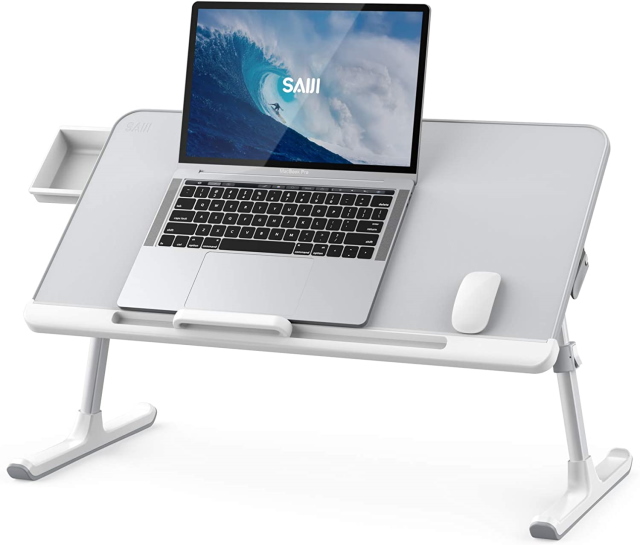 While being a bit on the higher side of pricing, the SAIJI makes up for that and more with its host of features. Starting with the construction, this laptop desk itself is made of sturdy material with PVC leather being used for the desktop. The desktop itself can be tilted up to 30 degrees and is comfortable. The two noticeable legs are height adjustable and remove the need for holding it all the time. Moreover, if you're a user who tends to forget their belongings, you can safely store your laptop peripherals in the storage drawer on the left side.
Aside from all this, the SAIJI laptop desk also comes with a moveable stopper so fellow lefties can place easily adjust their orientation. While built primarily for laptop use, this very handy lap desk serves a lot of purposes including working, writing, gaming, sketching, and more. So if you're a fan of changing your use case and want something packed with features, consider this laptop desk.
Key Features:
Height adjustable legs
Dedicated storage drawer
Moveable stopper
Leather desktop and nice overall finish
Compatibility – Up to 17″ Laptops
Buy from Amazon: $64.99
6. Cooper Mega Table
Made for the laptop user who really wants more than just one device, the Cooper Mega Table is a mammoth. Supporting up to 88 lb/40 kg at once, this mega laptop desk has a tabletop that is over 25 inches long. Given the massive size, the Cooper table can easily handle a large laptop along with a few other devices you might have in mind. Besides the extra size, the lap desk also has a few other features such as a side drawer with a phone stand, a book holder, and even a slot for iPad users.
Since the Cooper Mega Table can easily fold flat, users fans of changing their work location can take it anywhere they wish. However, do be aware that the laptop desk itself weighs in at 6.8 lbs (3.1 kg). Definitely, one of the largest and the best laptop desks available, the Cooper Mega Table is a good choice. Get it right now and be assured with the 3-year warranty.
Key Features:
Extra-large dimensions
Folds flat
Book holder and side drawer
Can withstand up to 88 lbs.
Compatibility – Up to 17″ Laptops and more 
Buy from Amazon: $74.95
7. LapGear Sidekick Lap Desk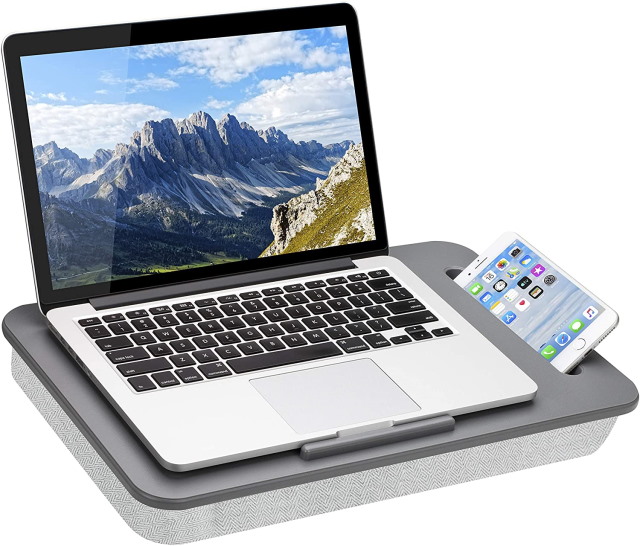 Taking things in the opposite direction, LapGear also has laptop desks in slimmer profiles and this product is one of them. The laptop desk's structure is lightweight and according to the page can even be carried by small children. The LapGear Sidekick is a compact laptop desk that can house standard laptops along with a small phone slot. There are back and forward support bars on the desk to stop any devices from slipping over.
The foam cushion beneath the desk makes it a comfortable lap desk. Moreover, if you feel like carrying it out, the back strap will come in handy. Besides these features, however, the lap desk doesn't pack a lot, and for good reason. Made for portability, this is the laptop desk for users on the go. If you're a heavy laptop user, consider some of our other suggestions.
Key Features:
Small compact design
Dedicated phone slot
Comfortable cushion
Children friendly design
Compatibility – Up to 15.6″ Laptops 
Buy from Amazon: $17.99
8. Lavish Home Store Lap Desk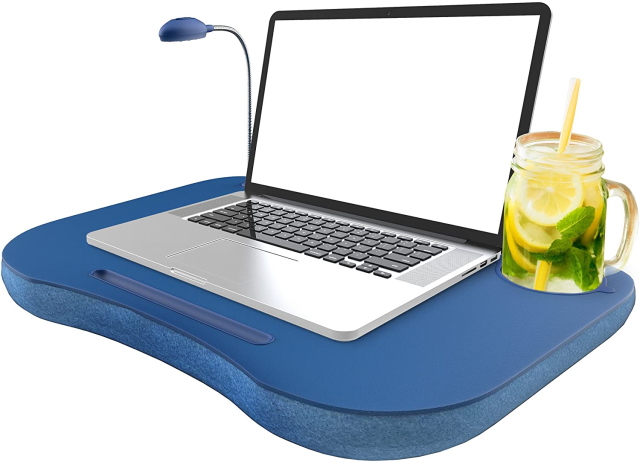 This laptop desk will please book readers and students. This lap desk while being simple in design comes with some handy features that users will love. The dedicated LED light present on the left is adjustable and can help light up your workspace. It's also removable so you can take it away whenever you wish. There is also a separate cup holder and a pen slot for the lazy lot among us. And don't worry about spilling that soda on your table since the desktop is water-resistant.
While the design of the Lavish lap desk isn't too big, it is convenient and features an easily portable design along with a separate handle. Moreover, you can place this desk on your bed or lap with the help of the built-in soft cushion with a fleece cover over it. This cushion also contains a zippered storage pouch that users can store their stuff in. If you like snacking or drinking beverages in bed, check out this laptop desk.
Key Features:
Removable LED light
Separate cup holder
Comfortable cushion
Children friendly design
Compatibility – Up to 14″ Laptops
Buy from Amazon: $18.27
9. Laptop Desk Nnewvante Table
Looking for a stylish laptop desk to complement your interiors? We got you covered. Made entirely out of quality bamboo, the Nnewvante laptop desk is a stylish yet functional addition to any workspace. This intuitive laptop desk has been divided into two parts both of which have their own unique features. The left side of the table is height adjustable with five different tilting angles. Therefore, readers can easily bring the top up to their faces if they need it. Along with the top, the legs themselves can be raised to a height and locked in place.
Laptops users tilting the table will find an adjustable baffle that will stop their device from slipping. And if you like to store your mouse or glasses somewhere, then feel free to use the side drawer as additional storage space. Suited for laptop users and readers alike, this laptop desk is highly recommended. Check it out below.
Key Features:
Height adjustable tabletop
Side drawer for storage space
Leg locks for safety
Made out of Bamboo wood
Compatibility – Up to 15.6″ Laptops
Buy from Amazon: $57.66
10. Akilla Home Laptop Desk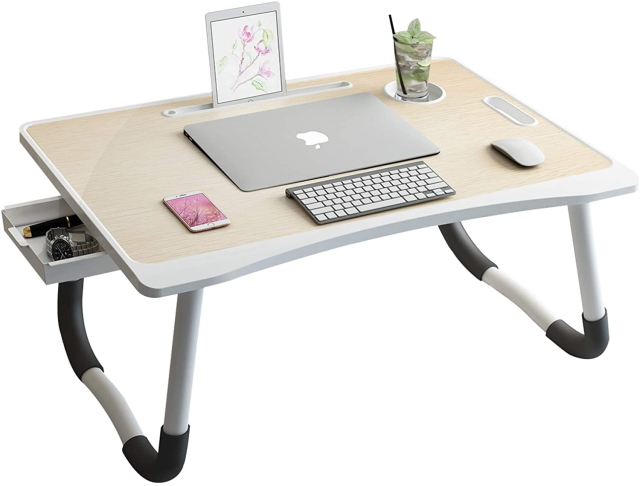 The Akilla home laptop desk is the perfect choice for users seeking simplicity. Featuring foldable legs that have been covered by foam, this lap desk has no extravagant features and flaunts that fact. For an everyday laptop user looking for a desk that can hold their device or two, this one is it. While you won't find any height-adjustable legs or tops, you will get the standard table functionality along with a few added bits.
Having said that, however, the Akilla home laptop desk has quite a lot of table space that can hold even larger laptops. The table also features various slots on the top where you can store your mobile devices a cup of beverage. And if that storage isn't enough, you can always open up the storage drawer on the left and store away. Laptop users looking for a no-nonsense table can safely go for this.
Key Features:
Mobile and cup holder
Side drawer for storage space
Easily foldable legs
No-nonsense design
Compatibility – Up to 17″ Laptops
Buy from Amazon: $38.99
11. Mind Reader Adjustable Laptop Desk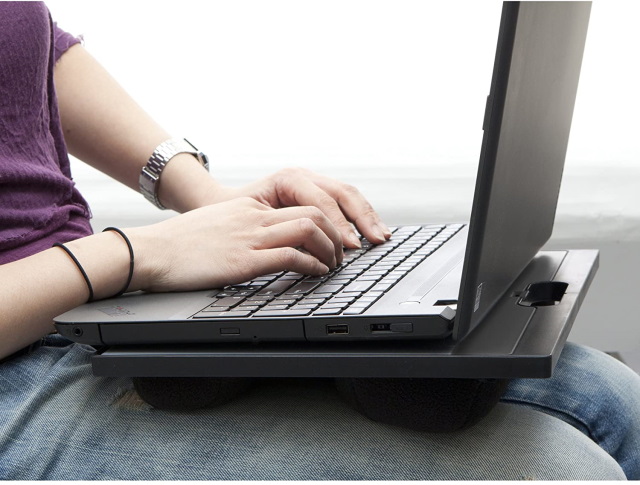 While this table can easily be used to work on your laptop, we recommend pairing it up with your iPad or Kindle to get the most out of it. The Mind Reader laptop desk is a very simply designed desk. Featuring a tabletop that can be adjusted on eight different angles, the table is perfect if you're having a late-night read or a movie session. The lap desk itself is based on complete mobility and hence has two separate foam pillows for comfort instead of legs.
If all that tilt has you worried about your iPad falling over, don't be. Like all our recommended laptop desks, the Mind Reader lap desk also comes with a device wedge that will stop that. While it is nonadjustable, you can safely close it if you want. Check out this lap desk for a simple experience.
Key Features:
Closeable device wedge
Eight angle options
Dual foam pillows
Perfect for reading
Compatibility – Up to 15.6″ Laptops
Buy from Amazon: $17.99
12. Le Crozz Height Adjustable Laptop Stand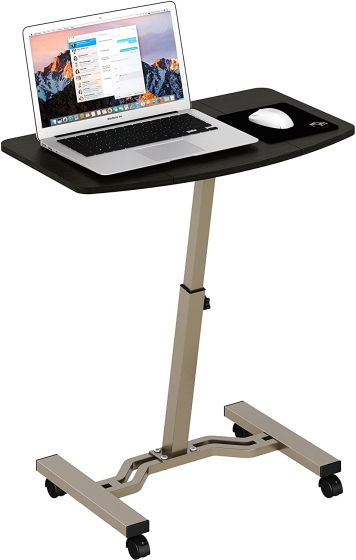 Sometimes you feel like changing your area of work but don't necessarily want to lie down on your couch. This is where the Le Crozz stand comes in. Different from every other lap desk we have suggested, this particular laptop desk is based on the idea of a rolling cart. So while you are getting a tabletop you can place your laptop on, you can also roll it around to another area. Being especially useful as a standing desk or a makeshift area, this is an amazing laptop desk.
Besides being rollable, the table itself is completely height adjustable and can go as high as 32 inches on its highest setting. However, you can also lower it down for times when you want to sit and work. The tabletop is quite large and can easily accommodate a standard laptop and some devices. While there are no slots or drawers, I love this table for its simplicity and ease of use. If you've been looking to get into standing desks, this one is it.
Key Features:
Rolling cart design
Standing desk-friendly
Wide tabletop
Height adjustable
Compatibility – Up to 15.6″ Laptops and more devices
Buy from Amazon: $44.87
Get These Best Laptop Desks and Relax
Well, these were the best laptop desks that you can buy from Amazon right now. We have tried to include laptop desks of various types, including cushioned laptop desks, height adjustable desks, and more. Plus, we have also ensured that there are options across different price brackets, so you should be able to find something that suits your needs fairly easily. So, which laptop desk are you planning on buying? Let us know in the comments.