The E3 2017 was a clear representation of the fact that indie games are a bigger deal than ever. Indie games are developed by individuals, small teams, or small independent companies, which are primarily smaller than mainstream AAA or AA titles. This genre enables any small team of developers and designers to get together and create a game, which is the reason why the indie game library is pretty huge. While indie games are mostly known for their quirky gameplays, interactive story lines and innovation throughout, the fact that almost anyone can develop a game does allow a lot of ridiculous games to enter the market under this genre. If you're a PC gamer and a fan of the indie genre looking to try out some new games, then read on, as we bring you a list of 20 best indie games for PC you should play:
1. Rocket League
One of the most loved and highly acclaimed games of the modern era, Rocket League is the perfect blend of FIFA with Need For Speed. Coming off as the sequel to "Supersonic Acrobatic Rocket-Powered Battle-Cars", a game that practically no-one ever played, Rocket League came as a surprise hit, and easily became the Game Of The Year in many eyes. The concept is simple, you drive super-charged sports cars, onto a football field, and the objective is to score goals. Sounds super simple, right? Well, it isn't.
The game is quite simple to learn, but crazily hard to master. The online multiplayer of this game is truly breathtaking, and you compete against one another in team game modes of 1v1, 2v2, 3v3 or 4v4. If you still need any more praise about Rocket League, just understand the gravity of the statement when I say that Rocket League is one of the 60 games to be a part of the ESL Tournaments worldwide.
Buy: ($19.99)
2. Limbo
Limbo is probably one of the best games to ever grace the indie genre. The game has absolutely no dialogues, no text, and no explanation, yet manages to engross the user into the gameplay. You control a young boy who wakes up in a forest with no indication of who he is, how he got there, or where he's going. You're within this new hostile environment, and you must explore to find ways to proceed the game.
Set in a dark black and white setting, Limbo is childish yet surprisingly delightful. The game broke nearly all records for an indie game and has been made available for mobile platforms as well.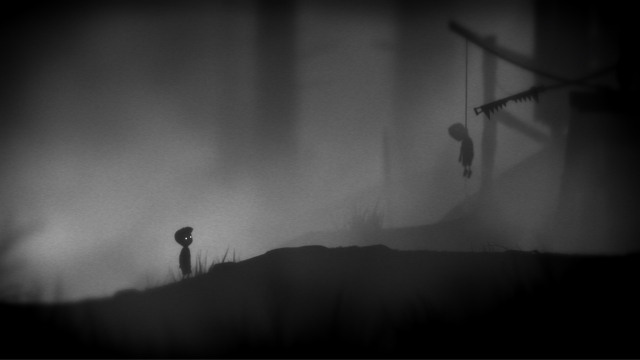 Buy: ($9.99)
3. Super Meat Boy
You've probably been introduced to the indie genre by the all-time classic Mario. Well, Super Meat Boy, the sequel to the 2008 flash game Meat Boy, is an indie game that shares its core objective with that of Super Mario Bros – a jumping and running platformer where the main player has to reach the Bandage Girl by crossing multiple obstacles, who is located in, yes, you guessed it right, in another castle.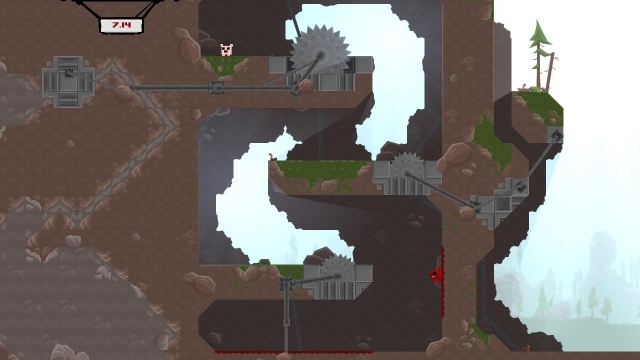 Super Meat Boy, essentially, might look like a simple game with a fairly old concept, but once you start playing, you'll realize that it is indeed something totally different. The player is required to make precision moves, and one wrong step and you'll have to restart the stage all over from the beginning. While initial impressions might make you nostalgic, the game will give you plenty other reasons to continue playing it.
Buy: ($14.99)
4. Stardew Valley
Remember playing Harvest Moon back in the day on Super Nintendo Entertainment System? I do, and frankly speaking, it was one of the best farm simulator games ever made. Wouldn't it be great if you could experience the same relationship building, crop growing, mining, combat, nature spirits, fishing and house expansion on your PC? Well, thanks to Stardew Valley, you can. The game offers everything that Harvest Moon was built for, and then some. You start the game by inheriting your grandfather's old farm plot in the Stardew Valley and continue building and growing amidst the shambles, in the hope to restore the Stardew Valley to greatness.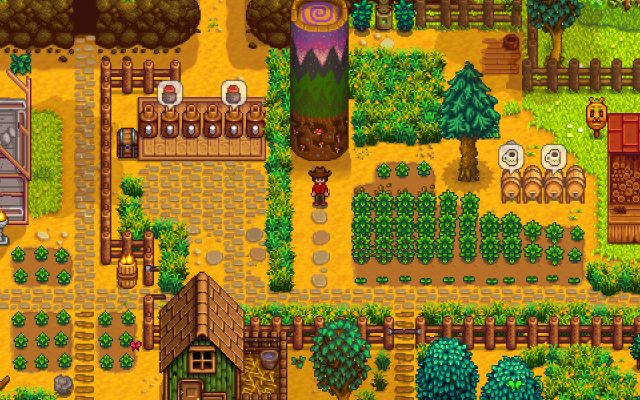 Set in a 16-bit land environment, Stardew Valley offers its users a relaxed, composed, yet captivating experience, something that is missing from most RPG-indie games of the current generation. Within merely a year, the game has grown to become one of the most loved games of the indie genre. If you have already played Stardew Valley and you're looking for similar games, you can check out our list of the best games like Stardew Valley.
Buy: ($14.99)
5. World of Goo
Launched back in the fall of 2008 by 2D Boy, World of Goo is a puzzle indie game that quickly became one of the most awarded and loved indie games. So much so, that the mobile versions of the game, for both Android and iOS, held the spot of the top games for a very long time. The game is divided into five chapters, each consisting of various levels. The objective of the game is quite simple – to build large structures using balls of, well, goo.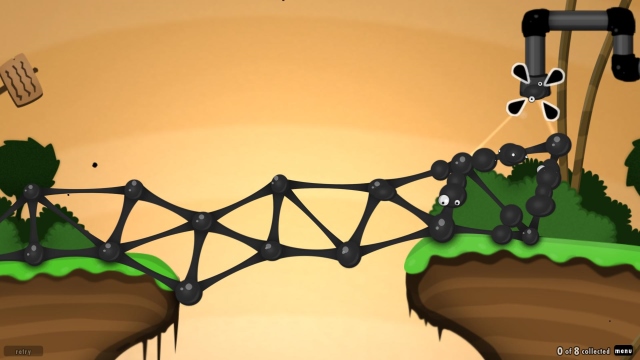 While the idea sounds super idiotic (which is the case with most indie games), the game itself is super fun. There is also a level called World of Goo Corporation, where the players compete with each other in real-time to build the highest tower possible made up of goo.
Buy: ($9.99)
6. Superhot
Most indie games are meant for casual gameplay and very few indie games are developed in the FPS manner. But then comes along Superhot, literally, the game changer. Its fast paced action moves almost make you wonder why is it an indie game and not an AAA title. The game revolves around a simple tagline – "Time Moves When You Do". What that basically means is that whenever the player is in motion, the time is also in motion. As soon as the player stops, the time stands still. While still, the player still has the ability to rotate the camera, analyse the environment and shoot the enemies.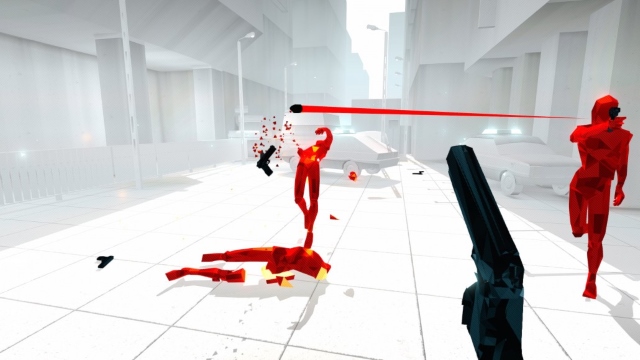 While you may have played games where the main character may have some super abilities to slow-down time, Superhot takes that concept to the next level by literally stopping time as per the gamer's desire. If FPS is your forte, you should definitely give Superhot a shot.
Buy: ($24.99)
7. Machinarium
Launched initially for Windows, the game attained its true fame on the mobile platforms. The game is basically a point-and-click adventure story, like most low-budget interactive games, where the object is to solve a set of puzzles that are linked together in a big world full of machines. The game consists of no dialogues, and there are just a few notable walkthroughs in the form of series of sketches.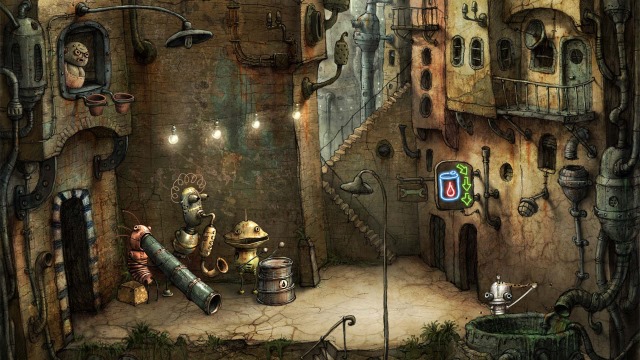 The puzzle solving concept has been around indie games for a long time, but the way Machinarium executes it is something very interesting. The main hero, a tiny little robot, is simply trying to achieve greatness in a world full of machine scraps, and it is up to you, to help him achieve that goal.
Buy: ($9.99)
8. The Binding of Isaac: Rebirth
The Binding of Isaac: Rebirth is the sequel to the highly praised and fan-loved game, The Binding of Isaac. The game follows up on the stupid and childish concept, where you control a little boy who has been scolded by his mother and is now trapped inside his house's basement, fighting off made-up poop enemies with the help of his tears. Yes, "Tears Hurt", indeed.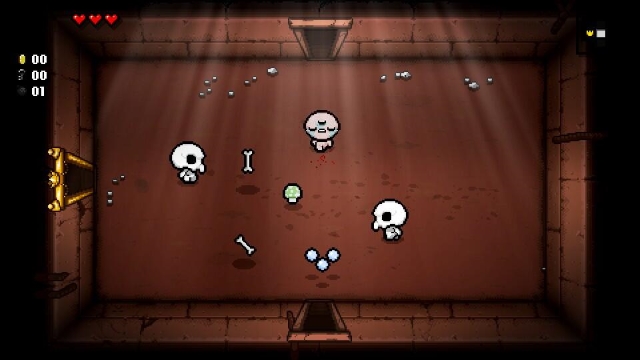 You progress through various randomly generated rooms in your basement, and meet several different types of spiders, hostile faces, ghosts, zombies, centipedes, blobs, floating heads, burrowing worms, shielded skull-inhabiting fleshy creatures, and it is up to you to figure out a way to tackle each one of them differently. The Binding of Isaac: Rebirth is a worthy successor to the original game, and keeps the player involved in plenty of hours.
Buy: ($14.99)
9. Don't Starve
Don't Starve is a survival game that invokes the player to figure out how to survive on their own while being lost inside a jungle sort of environment. You start in a randomly generated home base and work your way through mining the environment, outfitting your character, and fortifying your home base, until reaching the inevitable death. There are no rewinds or save games, for once you are dead, it is truly, game over.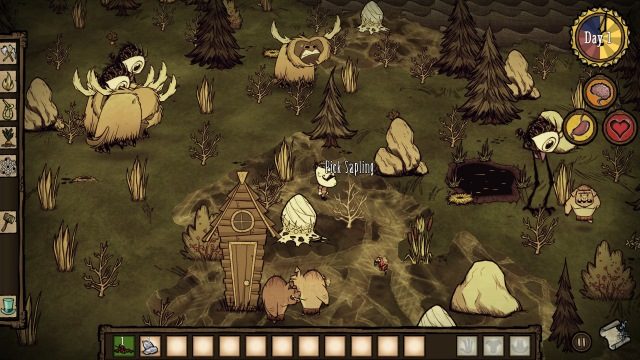 Every single time you start this game, a new world is generated which is nowhere similar to the previous one. Countless hours spent on this game, and I am still amazed by the randomness of it. While the game appears to be simple in the first run, soon you realize that everything around you is just trying to kill you, and there is practically no support for you. Well, at least in this version, because Klei Entertainment did release a multiplayer version of it as well – Don't Starve Together, where the concept remains the same, except that you play along with your buddies, to well, survive.
Buy: ($14.99)
10. Capsized
Capsized is a less original concept, more original style indie game that revolves around an old but famously loved game-style. You start off as a tiny space-exploring astronaut, who's spaceship has crashed on a hostile alien environment. You hike, jet-pack and grapple your way around the planet, whilst stranding off against enemies, trying to find your means of escape.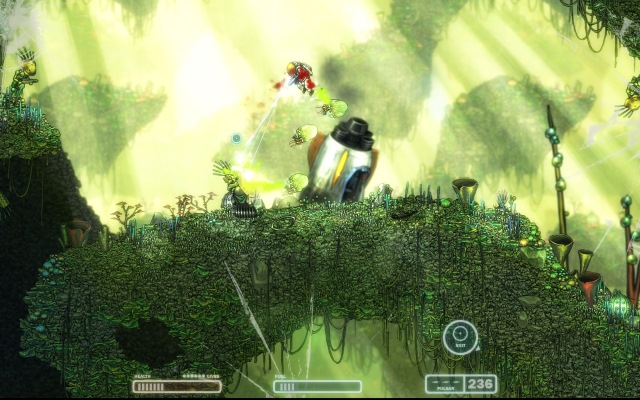 The game's comic style artwork and space-theme inspired music help in providing an enriching user experience, that really sets it apart from the herd. Capsized is a perfect blend of a shooter as well as a platformer, and the gameplay is something that will keep you engrossed for hours and hours of gameplay.
Buy: ($9.99)
11. Kerbal Space Program
Rocket Science is a phrase that is generally used to represent something that doesn't come easy, something that's theoretically as well as practically hard to master. Kerbal Space Program builds upon the same concept, literally, as it puts the player in-charge of a space program, where the user is supposed to design rocket ships and successfully make them take off into the space.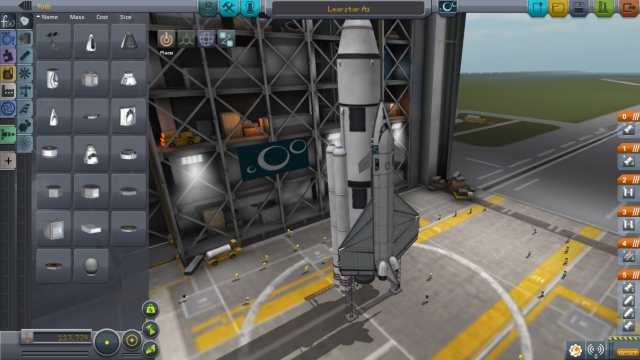 The game is one of the most toughest games ever, but unlike Flappy Bird that made you smash your device, Kerbal Space Program would rather have you enjoy this constant failure, and leave you wanting to try again and again.
Buy: ($39.99)
12. Inside
Brought to you by Playdead, Inside is the long-awaited sequel to Limbo. Set in a 2D world environment, Inside builds upon the similar dark and scary environment of Limbo, but improves upon it with seamlessly crafted and precisely designed graphics. While the game still has no tutorials, the gameplay is much more refined than the original Limbo.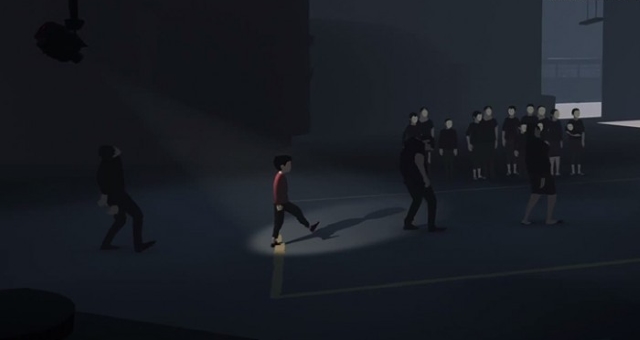 As opposed to its prequel, Inside is a story of a boy that finds himself as a part of a dark project, and must find his way out of it or be hunted. If Limbo was something you liked, Inside is definitely something you would fall in love with.
Buy: ($19.99)
13. Beat Cop
Pixel style games will always succeed in giving you a retro feel, because it is something you associate with the old graphics system of computer gaming. But enter Beat Cop, a 16-bit style game, published by 11 Bit Studios, launched in 2016, focused on providing a great storyline with absolutely classic graphics. You play as Jack Kelly, a Brooklyn Cop, and you've been framed for murder. It is now up to you to find out who is behind the murder, and save yourself.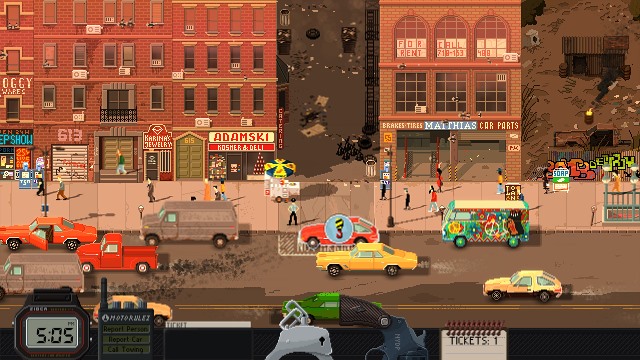 Set in a 80's background, the game offers a deep storyline, with interactive conversations and immersive gameplay. Beat Cop is a perfect mixture of modern engineering designed in a retro style, made to give you the best of both worlds.
Buy: ($14.99)
14. Thomas Was Alone
Originally released as a flash-based browser game in October 2010, Thomas Was Alone is a puzzle-platformer. The statement about its history should be enough to explain how simple the controls and gameplay of this game are. In the game, the player controls one or more simple polygon shapes representing several out-of-control artificial intelligence entities, working with the shapes to get each to their individual end points on each level.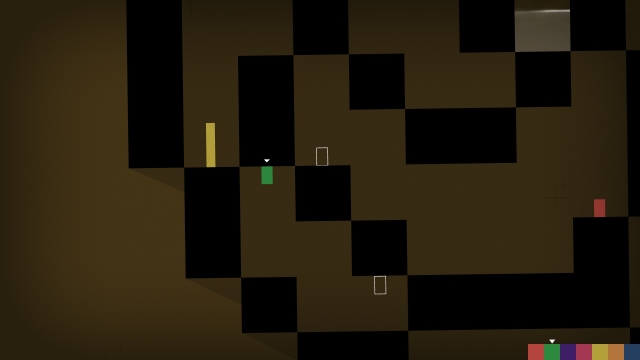 Thomas Was Alone is an indie minimalist 2D platformer about friendship and jumping and floating and anti-gravity. You guide a group of rectangles through a series of obstacles, using their different skills together to get to the end of each environment. The basic yet beautiful structure of this game promise hours of enjoyable gameplay experience.
Buy: ($9.99)
15. Hollow Knight
Hollow Knight is a 2D action-adventure game set in a vast ruined kingdom full of insects and heroes, called Hallownest. Players control a cute little insect (probably a beetle or a rabbit) who is a knight, and explore through twisting caverns, battle tainted creatures and befriend bizarre bugs, while finding their own way.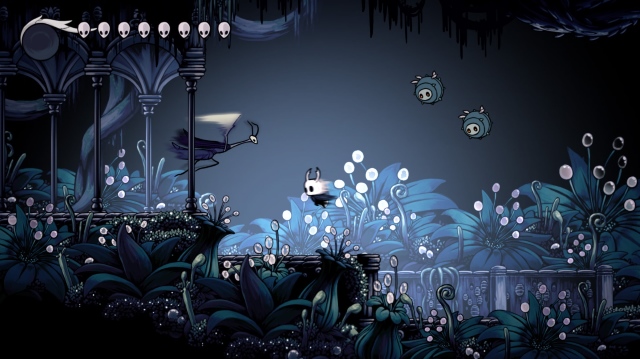 Hollow Knight encourages you to go explore as you wish. Most areas of the map are accessible early on, with certain areas in them only being accessible after acquiring items and abilities elsewhere. Taking some hints from Dark Souls, Hollow Knight offers a solid experience through and through. Hollow Knight was launched on 24th February 2017, and is quickly shaping up to be a strong contender for the Best Indie Game of 2017.
Buy: ($14.99)
16. Insurgency
Insurgency is essentially a multiplayer FPS game that can be considered as a far more expanded version of Valve's Counter Strike. While Counter Strike's maps are pretty much straight forward in terms of shooting locations, Insurgency is a game that attempts to bring realism to the same concept, and does it so beautifully that you're left to wonder how it isn't an AAA title.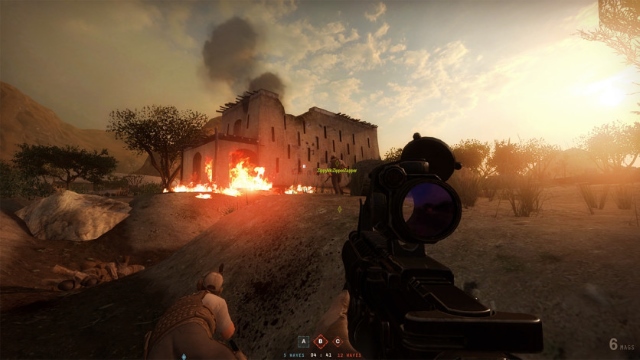 Players get to choose from multiple game modes such as Push, Firefight, Skirmish, Occupy, Ambush, Strike, Infiltrate, Flashpoint and Elimination. Furthermore, the game also features five co-op modes such as Checkpoint, Hunt, Survival, Outpost and Conquer. The breath of realism is too much, with an added factor of an instant kill on a headshot. If you're a fan of online FPS games, then Insurgency is a must try.
Buy: ($9.99)
17. Out There : Ω Edition
Initially launched in 2014 for the mobile platforms by Mi-Clos Studio, Out There was a critical hit, which won awards and praise all across the globe. An year later, the studio decided to port the game to PC users as well, combined with added features and new content, and is available as the "Ω Edition". Out There is essentially a space explorer game, combined with melodious soundtrack, comic style story narrations and seamlessly hand-drawn graphics that please the eye.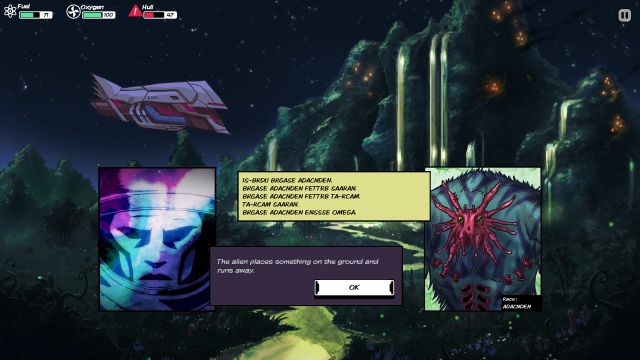 The objective of the game is for the astronaut to travel to different stars, collecting fuel, oxygen and mineral supplies in order to try and survive. The end goal is to reach a distant system that promises to reveal secrets about not only the astronaut's destiny, but the fate of mankind. Although the gameplay might prove tiresome after a while, the overall combination of the story's elements and the interesting presentation will keep you engrossed for hours.
Buy: ($9.99)
18. Spelunky
Spelunky is an indie platformer, a game that might remind you of Mario at the first glance, but just 2 minutes into the gameplay and you'll figure out Spelunky has absolutely nothing similar to Mario. In Spelunky, you journey deep underground and explore fantastic places filled with all manner of monsters, traps, and treasure. You'll have complete freedom while you navigate the fully-destructible environments and master their many secrets.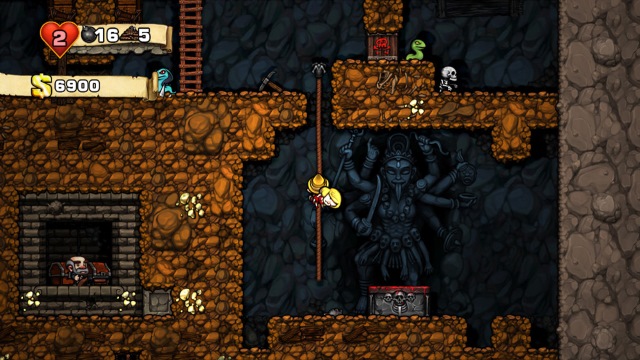 This is a 2D platformer for the Dark Souls fan, basically a player who's obsessed with death and still continues to play. Spelunky might feel like a waste of time, considering that you can go for hours and hours failing miserably and not winning anything, but the pure way that Spelunky still keeps the user involved and captivated to the game is remarkable. Each level is randomized, and while you might get the feel that the game is getting easier, it is simply that the user is evolving and learning new tricks everytime. Spelunky is easily a must recommend for anyone who is fan of platform games.
Buy: ($14.99)
19. I Am Bread
While most people would disagree with me adding this game to this list, I am sorry, but I Am Bread is one of the most ridiculous, pointless and craziest game ever made. As a player, you control a loaf of bread. Your objective? To reach the toaster and become a toast. Why? 'Coz bread evolves into toasts, duh!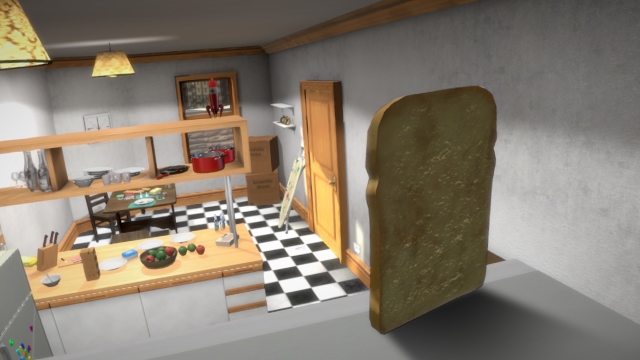 The game does have a story, or more precisely, just various different levels and obstacles where the objective remains the same, to reach the toaster. Your health is represented by your edibility, for example, you touch the floor or any dusty item and your edibility decreases. The controls of the game is what make the game absolutely crazy, which make controlling the bread just too darn difficult. Forget about completing the objective, it will take you upwards of 30 mins just trying to figure out the controls. I Am Bread is one of those games where even after finishing one level, you'd feel like you've accomplished something far too great.
Buy: ($12.99)
20. Insanely Twisted Shadow Planet
To call this game a platformer would be an understatement, since Insanely Twisted Shadown Planet is just much more than that. It's one of the most perfect blends of action, adventure, exploration and complementing soundtracks. In Insanely Twisted Shadown Planet, you explore unique environments and battle bizarre creatures as you make your way toward the center of the mysterious Shadow Planet! Solve complex puzzles and upgrade your ship with alien technology as you fight to save your home world.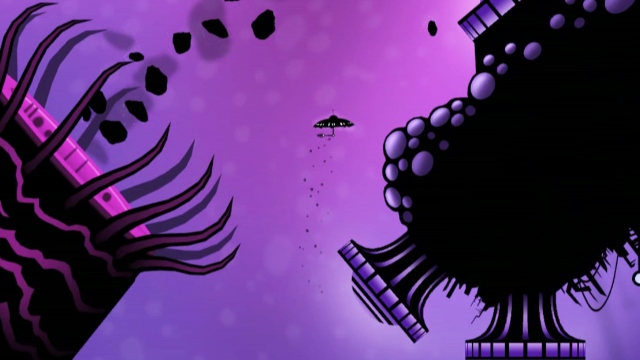 The game is a Metroidvania style game, meaning as you go on you unlock abilities that open up previously unaccessable areas. This aspect allows for great replayability, making sure that even after you complete the main game, there is much more to do. Furthermore, the game comes along with a multiplayer co-op mode as well, which is a pleasant experience in itself.
Buy: ($14.99)
BONUS:
Besiege
Anyone who loves LEGO (which is practically the majority of this world), knows the joy of building something with a concept in your mind and bringing it to life. Besiege takes that exact joyous feeling, and brings to you a platform to build engines and vehicular warfare machines to bring havoc upon your enemies.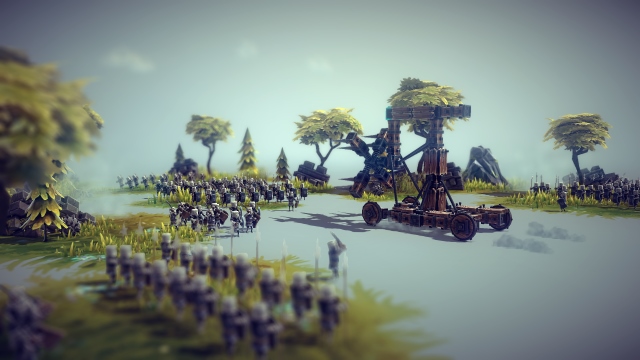 Completing Besiege's objectives require you to construct medieval siege engines and lay waste to immense fortresses and peaceful hamlets. Build a machine which can crush windmills, wipe out battalions of brave soldiers and transport valuable resources, defending your creation against cannons and enemies of all sorts.
Buy: ($7.99)
SEE ALSO: 15 Best Split-Screen (Couch Co-Op) Games for PC
Best Indie Games You Can Play
In a world full of gamers, indie games hardly get any credit, since the market is hugely dominated by the likes of AAA and AA games. If you're a true gamer, and are looking to traverse to the road less taken, indie games offer a great solution for you to relax yourself and experience something new and beautiful in itself. Share with us your opinions about the indie genre, and which indie game is the best according to you in the comments section below.
---
Load More