Gmail is one of the top email clients available today and it offers reliable features to fulfill everyday emailing needs. However, if you are looking for more features, then there are many third-party tools that can make emailing on Gmail better. You can track emails, stop others from tracking your mails, gain back your privacy, customize emails and many other things to be more productive on Gmail. In this post, we'll share the 12 best Gmail tools that will surely enhance your Gmail experience:
1. Unroll.me
Unroll.me is my go to service whenever my Gmail account starts filling up with junk email. Unroll.me is a free service that shows all your email subscriptions in an easy to gulp interface and lets you unsubscribe from them with a single click. Simply login to Unroll.me with your Gmail account and start unsubcribing from junk newsletters.
Apart from unsubscribing, it also gives you complete control over how you want to receive email newsletters. You can schedule time when you will receive all the newsletters and also adjust frequency of how often you would like to be updated by a service.
Try it here
2. Boomerang
Boomerang is basically an email scheduler and tracker tool that comes with tons of features to make emailing perfect. Talking about its core features, Boomerang lets you schedule an email to be sent on any given time or date, and you can be notified when the receiver opens the email or click on any of the links inside. It also has a built-in AI to scan your emails and gauge effectiveness of the tone you are using, including politeness, reading level, positivity, question count and more. It can also remind you to write up an email at a specific time or follow-up to a customer if you didn't receive a reply.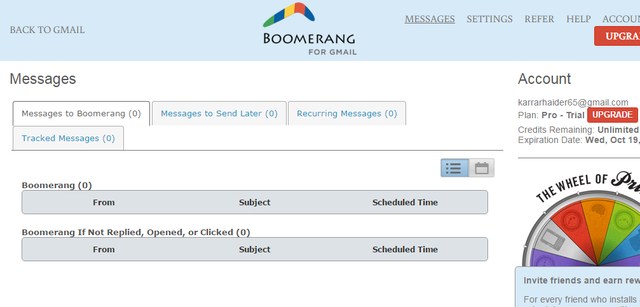 Some of its other features include send recurring emails, delay emails, automatic response and automatic follow-up email. You can only send 10 emails using the free Boomerang account. You will need to upgrade to paid subscriptions starting from $4.99/month to get unlimited access.
Try it here
3. Rapportive
If you don't like to be surprised every time you receive an email from an unknown person, then give Rapportive a try. Rapportive is an add-on by LinkedIn that provides basic information about the person who has emailed you. The Gmail too shows you a picture along with other details from their LinkedIn profile.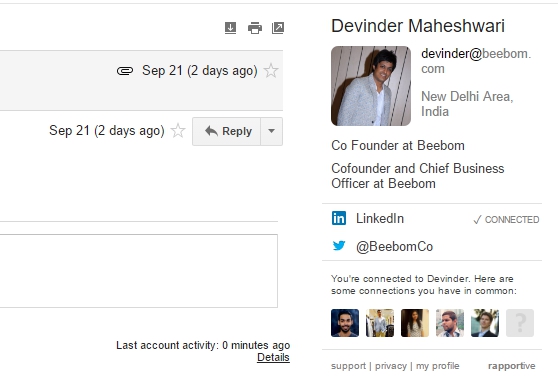 Furthermore, it will also show you if you have any mutual connections with them to get a better understanding. If available, it is capable of telling the current location of the sender to let you meet them in person, if need be. Although Rapportive also supported data from other social media channels, but LinkedIn recently removed them owing to some issues. If you use Gmail for business purposes, Rapportive is still a great option.
Try it here
4. Find Big Mail
If you have less space to store emails in Gmail and you are not planning on buying any more space, then deleting some of the bigger emails might help. Find Big Mail is an online service that will find all big emails in your Gmail account and show them under different labels. You can then delete the emails that are of no use to you anymore.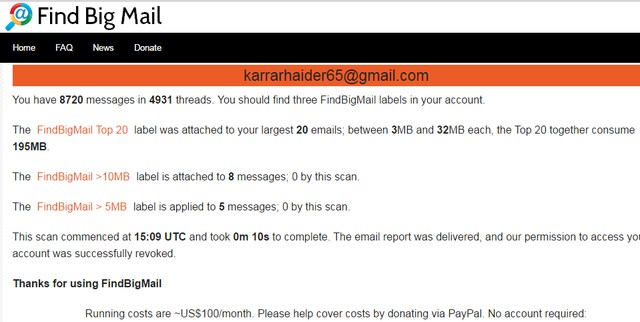 Just provide your email account info and allow access to it. Find Big Mail will then scan and create three labels showing you the top 20 huge files and files that are under 10 MBs. The labels will be shown in the left panel of your Gmail account. I was able to find big emails of over 250 MBs and most of them were of no use to me. Find Big Mail also confirms that they never view your passwords and always delete the scanned information in less than 31 days.
Try it here
5. Charlie App
Charlie is a must have app for anyone who has to meet new clients for business purposes every now and then. It takes great advantage of your Gmail account and Google Calendar to understand your interactions and schedules, to give insights on people you are about to meet. It will create a briefing of people that are on your meeting schedule and let you know their social presence, hobbies, interests and what they tweet or post.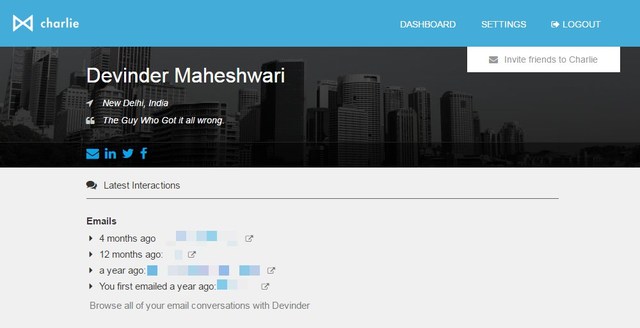 If there are any mutual connections between you and the clients, it will also list them. You can also request manual briefing on anyone in your Google contacts and you should receive the briefing in less than 10 minutes. Furthermore, it will also automatically brief you right when the meeting is about to start (following the Google Calendar schedule).
Try it here
6. Secure Mail for Gmail
Privacy is a big concern these days and encryption is usually the best answer to keep your privacy. Secure Mail for Gmail by Streak is an open-source Chrome extension that lets you send encrypted emails to other Gmail users that can only be seen by the recipient after providing a password. The encrypted email cannot be seen by anyone snooping on your emails, even Google can't view it.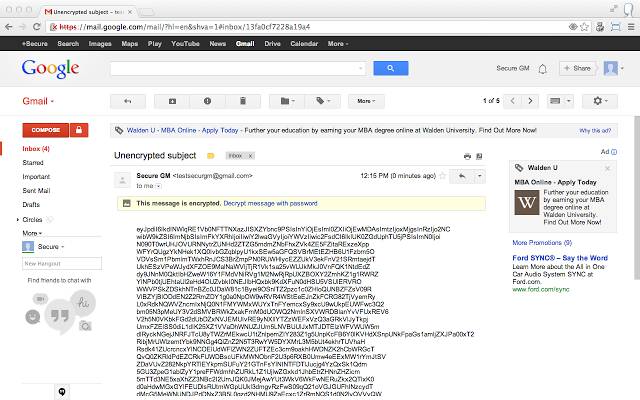 After installing the Secure Mail for Gmail Chrome extension, you will see a "Padlock" icon next to the "Compose" button in Gmail. Click on the button to compose an encrypted email and send it to any Gmail user you like. You will have to provide the password by any other means (like a phone call maybe) and the receiver can use that password to decrypt and read the email. It is the perfect free tool to send emails with sensitive content.
Try it here
7. Ugly Email
There are many tools available today that let you track when the recipient opens your email or click on the links inside. This is perfect for understanding behavior of the receiver and creating strategy according to it. However, this technology can also work against you when you are the recipient and the sender is tracking the email. This is where Ugly Email comes into play. The Gmail tool helps you identify all emails that are being tracked by the sender.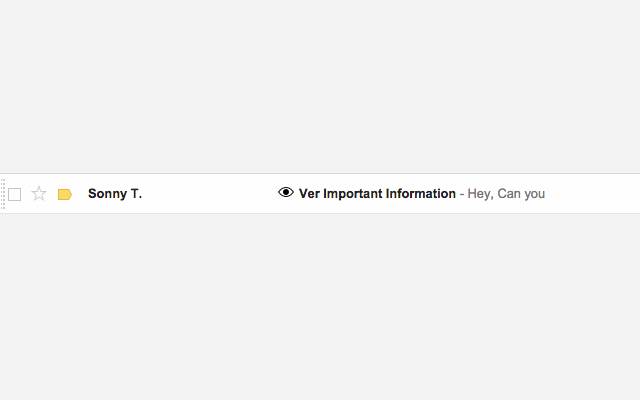 Ugly Email will add an "eye" icon next to each email that is being tracked. You can use this information to only open tracked emails when you are ready to reply to them. Ugly Email works as a Chrome extension and integrates well in Gmail. Unfortunately, it cannot track emails from all the tracking apps, some of the compatible apps include Yesware, Streak, MixMax, Tinyletter, MailChimp and few other popular ones.
Try it here
8. Todoist
Todoist is one of the best to-do list apps you can find on any device. And best of all, it can work directly from your Gmail inbox. You can turn your emails into tasks and collaborate on them with ease. Todoist has a very light and intuitive interface and makes creating tasks a breeze. You can share tasks, add reminders, deadlines, create custom notifications, create recurring tasks, do comments and use labels and filters to organize all the tasks.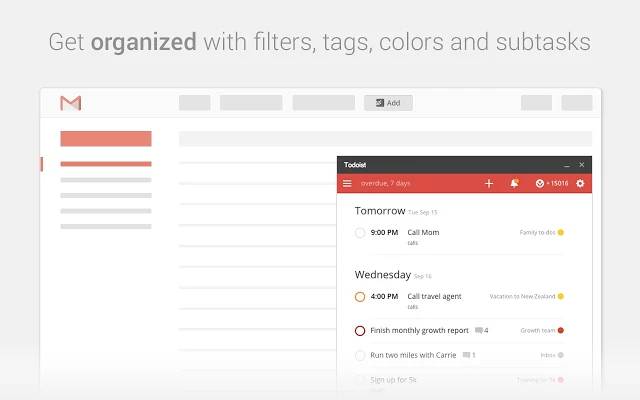 Furthermore, Todoist uses natural language for creating tasks, for example you can type "at 7 PM coming monday" to schedule the task for Monday 7 PM. Apart from the Gmail plugin, Todoist has apps and extensions for over 10 operating systems and all the data is synced over them. Although its free app works fine, to use advanced tools like comments, labels and filters, etc. you will have get a paid subscription.
Try it here
9. Sortd
Sortd is a to-do list and email organizing app exclusively for Gmail. But instead of working as a separate app in Gmail, it completely overhauls the Gmail design to focus on what is important. All your emails are shifted to left side with three columns in the middle where you can drag and drop emails or create tasks. You can rename columns to whatever you like, by default they are To Do, Follow Up and List.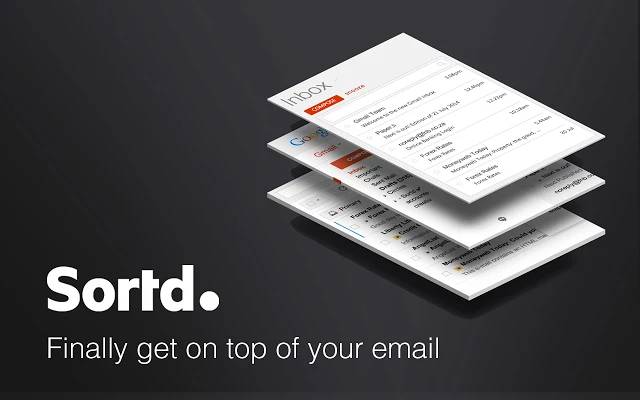 Sortd will automatically try to guess your work partners and prompt you to invite them as well. You and your team can create tasks, collaborate on them and schedule tasks. If you are a Trello user, you will surely love Sortd.
Try it here
10. Snapmail
Snapmail is similar to Snapchat but works for emails. Snapmail will add a button next to the "Send" button in the compose email window. When you use this button to send an email, all the text of the email will be encrypted and sent with a 60-second self-destruct countdown. The countdown will start when the reader opens the link to read the email. After 60 seconds, the email will be deleted from both the reader's account and Snapmail servers. For now, Snapmail can only encrypt text inside an email and attachments are not encrypted.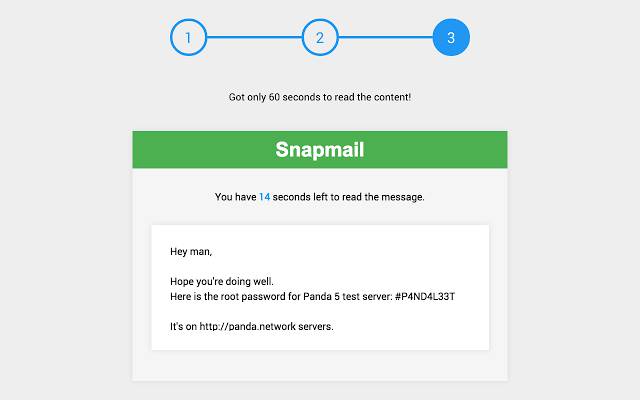 Try it here
11. Gmail Offline
As the name suggests, Gmail Offline is a Chrome app that lets you use all the features of Gmail without an active internet connection. When you install and launch the app, it will create a complete offline database of your Gmail content, so that you can access everything offline. You can also make changes and send emails offline and they will be put in action as soon as your PC is connected to the internet. Gmail Offline actively tries to sync all the Gmail data for offline use and any changes made while offline will take effect only when you go online.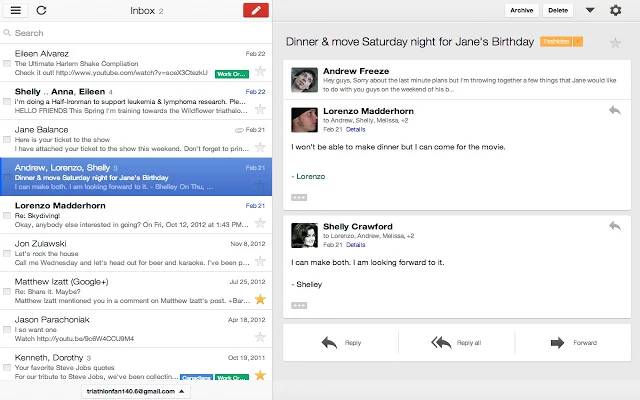 Try it here
12. GMass
GMass is a mass emailing tool that works directly from your Gmail account. GMass lets you send customized emails to your clients with proper salutation with their name. All the mass emails you send can be imported in Google Sheets for easier view. You can also track emails opened and schedule emails based on time and actions.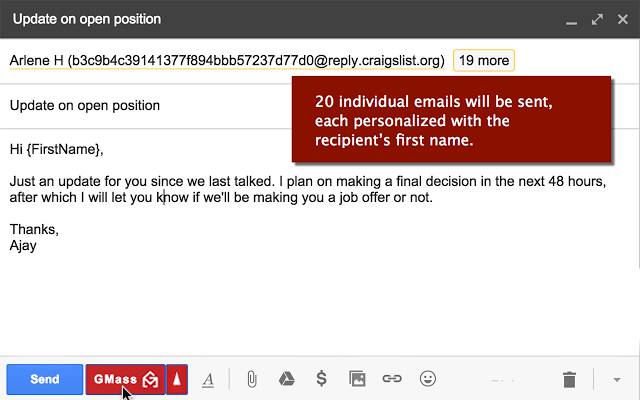 It also has a great follow-up feature that allows you to automatically follow up to people who don't respond. Furthermore, it can also build email lists from your emails and allows you to send emails to over 10,000 people at a time. GMass is a subscription service with packages starting from $6.95/month.
Try it here
SEE ALSO: 18 Chrome Extensions to Enhance Your Gmail Experience
Try out these Gmail tools to enhance your email experience
Both individuals and people working in a company can take advantage of these Gmail tools. I personally use Unroll.me and Find Big Mail once in a while when I need to declutter by Gmail account. Although I am thinking of keeping the Charlie App with me for the valuable information it can provide on all my Gmail contacts. Which one of these Gmail tools you like? Share with us in the comments section below.