Flaunting an ultra-compact design that easily fits into your pocket and unfolds into a full-fledged modern smartphone, Samsung Galaxy Z Flip 3 is an elegant offering in its own right. And though Samsung has improved the hinge durability and added water resistance into the mix, wouldn't you still want to safeguard your pricey foldable phone with a sturdy case? Well, if you have bought this foldable smartphone and are looking for matching cases or covers to style and protect the device, you have come to the right place. Take your pick from the best Galaxy Z Flip 3 cases and covers listed below.
Best Galaxy Z Flip 3 Cases and Covers You Can Buy (2021)
It looks like accessory makers had been waiting for months to launch a variety of cases and covers for the Galaxy Z Flip 3. From clear and sleek colorful covers to heavy-duty rugged and kickstand cases, you have a ton of options to choose from.
As to what type of case you should buy for the Galaxy Z Flip 3, take into account your needs and budget. If budget is not a hindrance for you, go for the premium covers. If you are on a tight budget, though, look for reasonably good yet cheap Z Flip 3 cases. Keeping this handy buying guide in mind, let's explore the roundup!
 1. Samsung Silicone Cover with Ring
Made out of high-quality silicone material, this official case has got everything to be an elegant companion for your Galaxy Z Flip 3. The compact form-fitting design, along with the matte finish, enhances its appearance. With the smooth finish, you will feel comfortable holding the foldable phone. Moreover, there is also a ring to provide a secure grip and prevent accidental falls.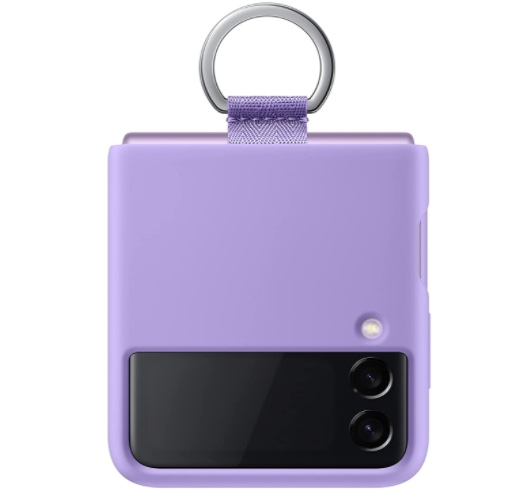 The neat cutouts ensure you have hassle-free access to all the ports and buttons of Z Flip 3. Despite featuring a slim form factor, the silicone cover is good enough to protect your foldable phone against shock and ward off scratches on the outer display. What's more, Samsung's silicone cover comes in five attractive color variants – lavender, green, coral, transparent, and olive green. So you can choose a color to match your device.
Buy from Amazon: $40
2. Spigen Air Skin
Should you wish to give more freedom to your GALAXY Z Flip 3 to showcase its nice-looking design and attractive colors, Spigen Air Skin should be an ideal pick. Sporting a clear design, the case allows the smartphone to shine through. Aside from the impressive transparent design, the case also has the cushion needed to withstand shock during drops and protect the Z Flip 3 glass body from scratches.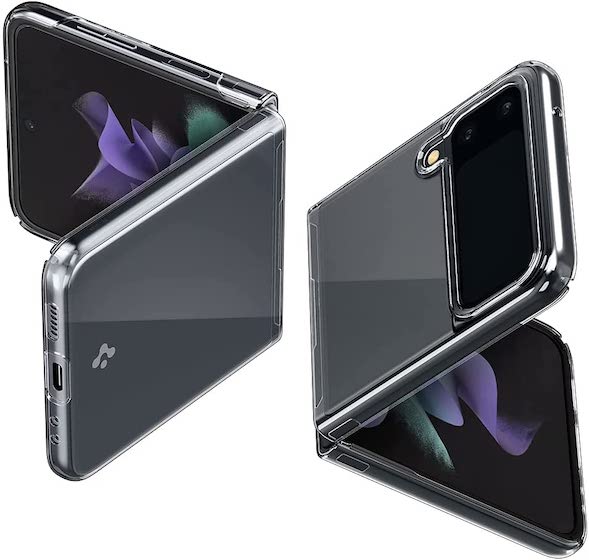 Made of polycarbonate material, the Spigen Air Skin case has a urethane coating that offers an additional shield as well as the required grip. Hence, the case won't feel slippery in your hands. So yeah, this is probably one of the best clear cases for Galaxy Z Flip 3 in the market right now.
Buy from Amazon: $25
3. Incipio Grip
As the name implies, Incipio Grip is designed to offer an enhanced grip to ensure you get an anti-slip hold. So, whether you have butterfingers or are looking for a case to give you some peace of mind when you pick up the phone, this could be the top-notch option. That aside, Incipio Grip is also up to the task when it comes to withstanding impact and fighting out scuffs. Moreover, the case also features a raised-edge bezel to provide an additional safeguard to the 6.7-inch foldable screen of your Galaxy Z Flip 3.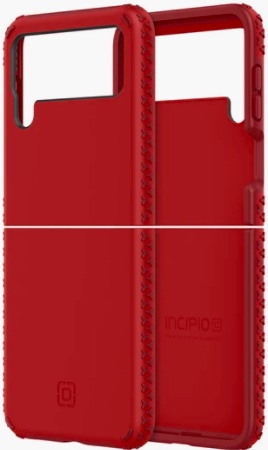 Another feature that makes Incipio Grip a premium cover is the antimicrobial technology that prevents 99.9% of surface bacterial and germs. At a time where extra care is needed to fight out the pandemic, antimicrobial technology is worth having at your disposal. While the $70 price tag puts it in the expensive category, you can't go wrong with the impressive specs.
Buy from Incipio: $70
4. Ringke Slim Case for Galaxy Z Flip 3
I prefer cases that offer a sleek design and all the protection you need at a relatively affordable price. This Galaxy Z Flip 3 case from Ringke seems to have checked off all the boxes to be a notable choice. And that too at a lower price than many of its rivals. The case has a slim profile and gives the Galaxy Z Flip 3 a clean look. But if you think it has put protection on the back burner in favor of elegance, you can't be more wrong.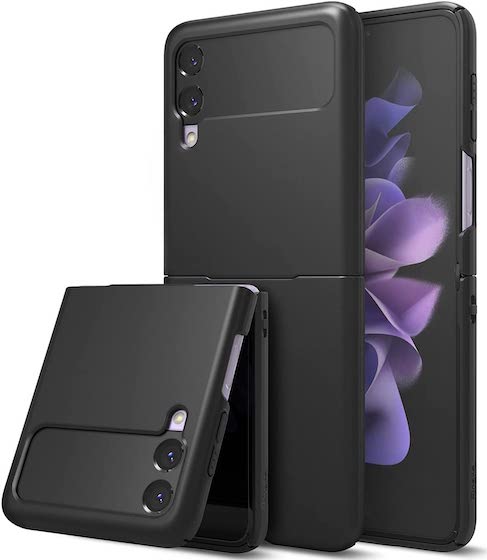 Ringke Galaxy Z Flip 3 case is made of durable PC material that enables it to endure impacts during accidental drops. And with the gripping micro-dot anchor, the case also provides the enhanced hold so that the smartphone doesn't feel slippery in your palm. Priced at $20, this slim cover comes in three colors – black, clear, and matte clear.
Buy from Amazon: $19.99
5. VRS Design QuickStand Active
Times when you are on the move and want to prop up your smartphone securely for fun-loving gaming or movie streaming, a kickstand case comes in handy. And that's why VRS Design QuickStand Active could be a great pick for those looking for a utilitarian case for Galaxy Z Flip 3. QuickStand allows you to prop up your phone both horizontally and vertically. So you can use the stand to place your device in the preferred orientation.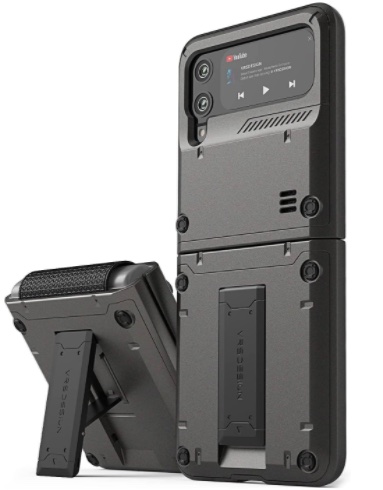 Moreover, the VRS QuickStand has a rugged construction and offers the essential defense to absorb shocks and keep scratches at bay. Plus, it also comes with raised bezels to prevent scuffs or impacts from damaging the expensive display. Finally, QuickStand doesn't look too bulky, and its reliable protection doesn't come at the cost of style.
Buy from Amazon: $30
6. Samsung Leather Case
For folks who have set their eyes on a premium leather case for Galaxy Z Flip 3, this official case from Samsung seems to be the way to go. The cover is beautifully crafted and has a precision finish that gives it a form-fitting look. And with the rich leather texture, the exterior feels comfy to the touch, while also ensuring you have a secure grip.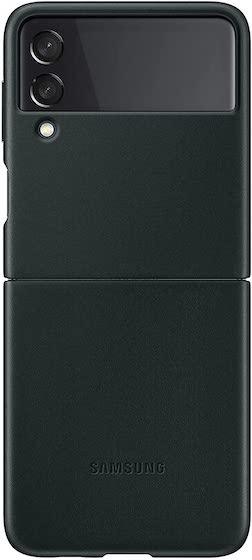 In terms of protection, the leather case can endure minor shock and can be trusted to protect the cover display against scratches as well. Thanks to the neat cutouts, you can easily access the ports and buttons of your Z Flip 3. Further, it also supports wireless charging, so you don't need to go through the pain of removing the cover before putting the device on charge. Lastly, you can choose this official Galaxy Z Flip 3 leather case in 3 colors – green, mustard, and black.
Buy from Amazon: $80
7. UAG Civilian Armor Case
If ultimate protection is your top priority, look no further than the UAG Civilian. Yeah, you read that right! This heavy-duty Galaxy Z Flip 3 case is what you need to defend your foldable smartphone against all kinds of drops, bumps, and scuffs. The exceptionally rugged exterior, coupled with the fortified corners, makes it an ideal asset during adventures.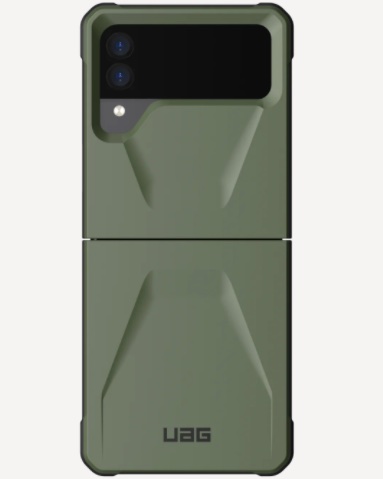 While UAG Civilian does add some bulk to your smartphone, you won't complain as the impact-resistant muscular body is there for a reason. The rugged outer shell and durable frame of the case provide a much-improved grip. Furthermore, the cutouts are precise and allow easy access to ports and buttons. Lastly, you can pick this protective Galaxy Z Flip 3 case in three colors, including black, mallard, and olive.
Buy from Amazon: $60
8. Spigen Tough Armor
Believe me, there are very few protective Samsung Galaxy Z Flip 3 cases that look as stylish as the Spigen Tough Armor. Despite having an impact-resistant design, the case retains a relatively slim design. For extra protection, it has a beveled edge that prevents the device from sliding when placed face down on a flat surface. Besides, the raised bezel also shields the camera bump and outer display against scratches.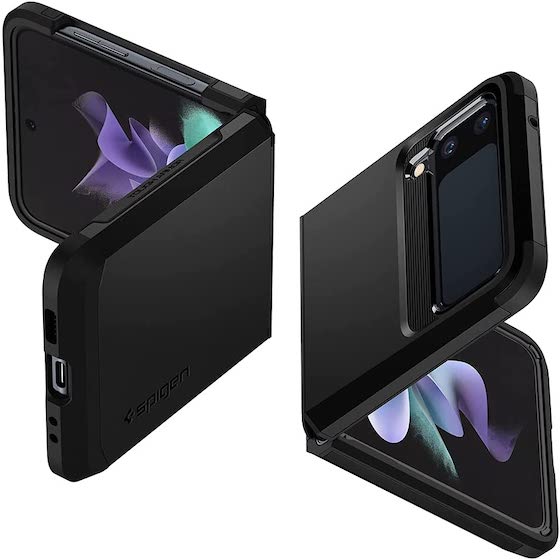 Thus, you will be able to safeguard your foldable smartphone against shock without hurting your style statement. Beyond durability, Tough Armor features responsive buttons and precise cutouts to provide quick access to ports and buttons. Not just that, Tough Armor also doesn't obstruct wireless charging. Taking everything into account, it deserves to be rated as one of the top protective cases for Galaxy Z Flip 3.
Buy from Amazon: $36
9. Incipio's Kate Spade New York Hardshell Case
How about picking up a premium designer case for your Galaxy Z Flip 3? If you have a penchant for beautifully designed cases, chances are you wouldn't want to miss out on Kate Spade New York. The fascinating flower pattern on the case has got the looks to arrest attention.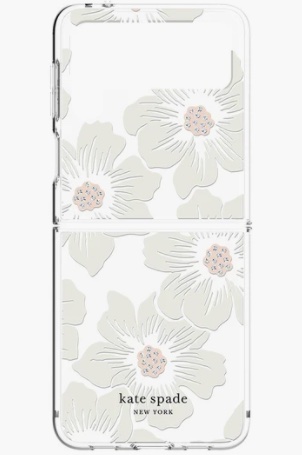 Beyond the eye-catching design, Kate Spade New York hardshell case is equally up to the task in terms of withstanding impact. Besides, it also fits comfortably in the palm, thanks to the grippy exterior. And with wireless charging compatibility onboard, this designer Galaxy Z Flip 3 case leaves little room for complaint.
Buy from Incipio: $70
10. Samsung Silicone Cover with Strap
It's hard to overlook a case that looks as cool as the Galaxy Z Flip 3 silicone cover with a strap from Samsung. The case has a snap-on design that wraps around the Galaxy Z Flip like a comfy glove. But what stands it apart from many other covers is the shockproof construction. Hence, you can bank on it to amp up your fashion quotient and provide the needed safeguard to take on drops and bumps with ease.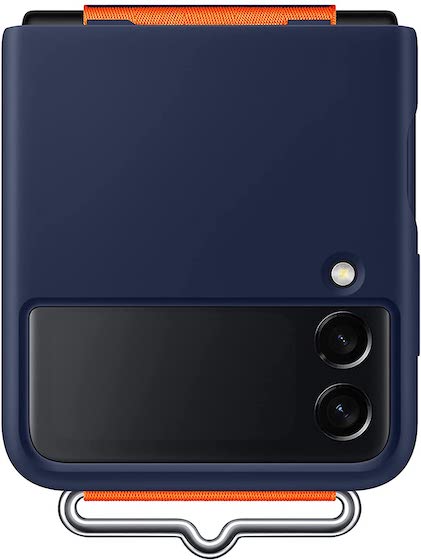 Style aside, the strap comes in handy in letting you securely hold your smartphone. Thus, you can snap selfies without worrying about the accidental falls. Oh yes, it also comes in two flamboyant colors, white and navy, to let you choose a befitting pair for your Galaxy Z Flip 3.
Buy from Amazon: $40
11. Osophter Clear TPU Case
And here comes the cheapest Galaxy Z Flip 3 clear case! If you want a cheap yet good clear case for your Galaxy Z Flip 3, I would recommend you to check out this case from Osophter. Made of pretty soft TPU material, the case flaunts a crystal clear design that enables the new colors and design to be visible in all their glory.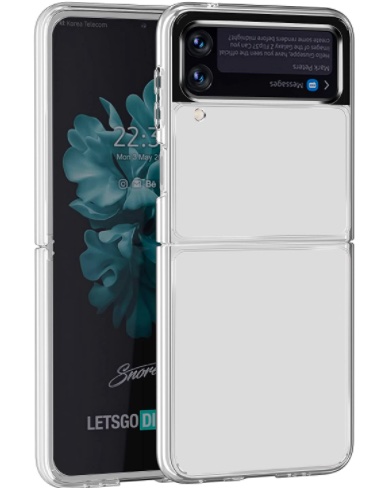 But how does this clear case fare in terms of protection? Well, you can count on the Osophter TPU case to absorb low volume shock and protect against scratches. With the soft exterior, the cover also offers an anti-slip hold. Add to that the responsive buttons as well as precise cutouts, and it seems to be hard beat at $13.
Buy from Amazon: $13
12. Foluu Leather Case for Galaxy Z Flip 3
Last but least, Foluu offers a reasonably good leather case for Galaxy Z Flip 3 at a low price point. So, if you find Samsung's premium leather case way too expensive, this one can fill up the void with ease. It's made of PU leather and hard polycarbonate. Courtesy of the dual-layer of construction, it has got enough cushion to protect your smartphone against drops. With the neat finish and spot-on cutouts, it makes a form-fitting pair with the Flip 3. You can choose this affordable cover in three colors – black, brown, and yellow.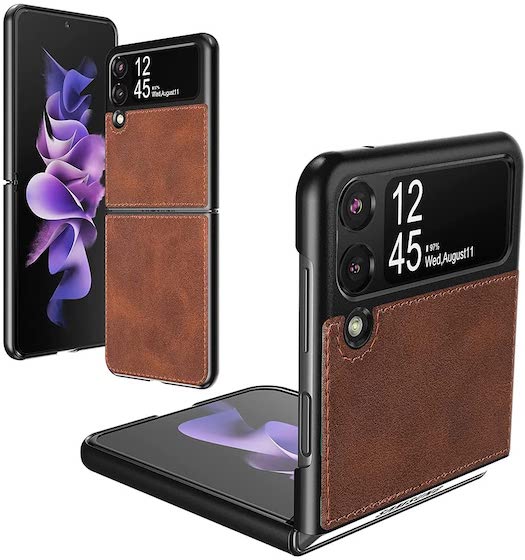 Buy from Amazon: $12
Top Galaxy Z Flip 3 Cases and Covers You Can Buy
So, there you go! These are the best cases designed for Galaxy Z Flip 3. With a variety of top-notch covers at your disposal, I hope you have discovered a matching case for your brand new foldable phone from Samsung. It would be nice to know what case or cover caught your attention and why in the comments section. Besides, if you find any notable Z Flip 3 case missing from the roundup, do let me know about that in the comments below.