Google Chrome is undoubtedly the most widely used browser out there. But, I am not alone when I say using Chrome gets overwhelming at times, especially the incessant popups to grant location access, cookie collection for tracking users across different apps, and user profiling. For privacy enthusiasts like me, Chrome is a straight-up nightmare. This is where the Sidekick browser comes into play. Imagine a browser that's centered around user privacy and packs incredible productivity features such as advanced tab management, split-view, customizable shortcuts, and workspaces.
If I have caught your attention, let's see why Sidekick is not only the browser that you should use in this dopamine-driven digital economy but also the browser that you deserve to browse the internet in a distraction-free and productive environment.
Sidekick is a Chromium-based browser that is available for Windows, macOS, and Linux. This new-in-town browser promises three times faster browsing speed than Chrome (yeah!) and notches up workflow organization to make it your perfect companion during a hectic workday.
Furthermore, you can integrate tools like Slack, Notion, Evernote, Google Drive and Docs, Slack, Discord, and even ChatGPT to get more done without frantically switching between different apps. Here are some of the features that made me a fan of the Sidekick browser.
Sidekick Browser: Productivity Features
Sidebar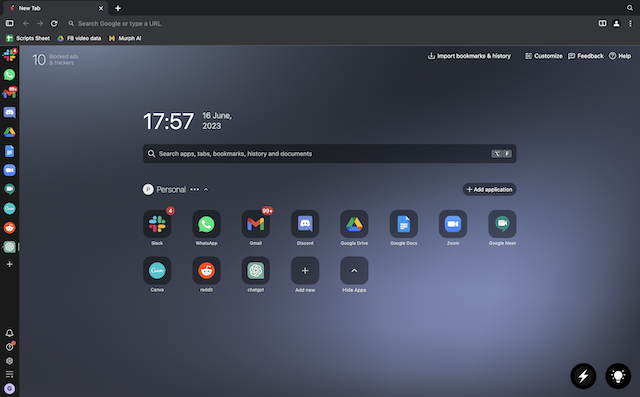 Sidekick's most enticing feature is the sidebar in the browser that brings all your favorite and go-to apps to a centralized place. So, no more switching windows to open certain apps that you need to use often. You can place web pages and apps like WhatsApp, Gmail, Google Drive, Evernote, Slack, Notion, Microsoft Teams, Asana, and more in the sidebar for quick access.
Moreover, Gmail in the sidebar supports multi-account mailboxes, making it simpler to access personal and work emails without switching tabs.
Split-View
Multi-tasking with Google Chrome is not a cakewalk exactly. Sidekick's Split-View feature is something that would save tonnes of time for you. You can assign a task on Asana and reply to an email at the same time without ever leaving your existing browser window. This feature is intuitive and works flawlessly, and I would highly recommend you integrate it into your workflow to shoot up your productivity.
Built-in Task Manager
Then comes the in-built task manager in the Sidekick browser, which is the ultimate productivity feature I have ever seen in a browser. You can pin important tasks for the day, create a to-do list, and much more. Moreover, you can also run a Pomodoro timer to manage your day efficiently. This is exactly what I need when assigning work and writing or editing stories at Beebom.
Sessions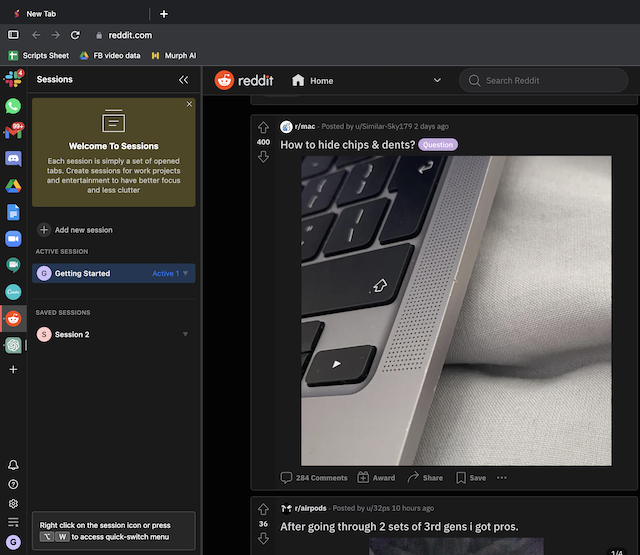 Another great productivity feature that Sidekick bundles in its browser is called Sessions. It is a group of tabs opened at a time. With this feature, you can group tabs together to sort them into work, entertainment, and personal spaces to keep your browsing organized. You can activate a Session as and when required and open particular sessions while keeping the clutter away.
Workspaces
Sidekick has also incorporated a Profiles feature similar to Google Chrome. Named Workspaces, it allows you to create different spaces for work, personal, and education. Accounts, cookies, tabs, apps, and settings are separate for different spaces. This feature is actually great for those who like to draw a boundary between their personal life and work life.
Focus Mode
There is also a Focus Mode in Sidekick for the times when you really need to channel your inner Buddhist monk energy to keep yourself away from distractions. With Focus Mode enabled, the tab or app you are working on gets displayed on a full screen and notifications get muted.
Sidekick Browser: Privacy Features
Now comes the most important set of features, which I believe are truly the reasons why one should move on from Google Chrome to keep your digital privacy intact.
AI-based Tab Suspender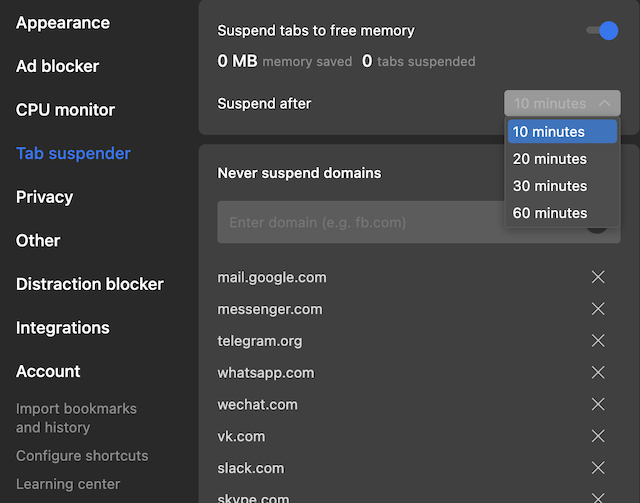 Sidekick makes a bold claim that it is three times faster than Google Chrome and, in my usage, it feels faster. The browser does it by using an AI-based Tab suspender & memory optimization feature. If you've used Chrome, you must know that Google's browser also offers a tab freeze feature that suspends any tabs that you have not used for a while, thus, saving up your precious RAM and battery.
While I have personally seen Chrome's tab freezer feature in action when I opened 65+ tabs during a browsing session, Sidekick browser's tab suspender works better. I didn't witness any dip in performance even when I opened more than 70 YouTube tabs on Sidekick, which is a testament to the company's claims.
The browser learns your habits and understands which tabs to offload. It also knows which tabs to keep open for you so that you don't lose your unsaved work.
Fingerprint Defense
Remember I mentioned that privacy is at the core of Sidekick? I know a privacy-focused browser sounds like an oxymoron but the Sidekick browser has tried to keep things simple instead of deploying trackers all over the browser. Aside from the usual privacy tricks like blocking ads and trackers, disabling third-party cookies, and an in-built VPN, there are several other privacy features in the browser.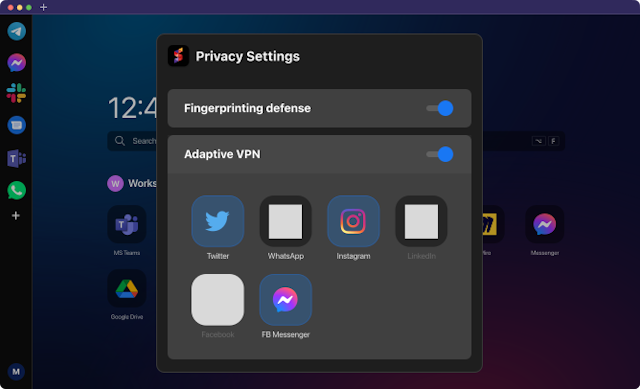 Sidekick has a unique fingerprint defense mechanism to ensure the privacy of users is not compromised at all.
"A fingerprinting protection algorithm makes every request look like it's coming from a different device. This is called fingerprinting protection. As a result, it will be very difficult to correlate your visits to different sites and build your behavioral profile. And building your device fingerprint is near to impossible when you use the best privacy web browser," reads Sidekick's website. Moreover, Sidekick claims that it does not share data with Google or any other tech giants.
Sidekick Browser: Perfect for ADHD-ers
Psst! ADHD folks, the Sidekick browser has something extra for you in store. Sidekick has been designed by keeping people with ADHD in mind. Its overall approach towards a clutter-free and distraction-free web browsing experience is something that can benefit people with ADHD. You get an in-built Pomodoro timer to keep you from slacking away and procrastinating on important tasks.
With an in-built Distraction Blocker, you can choose to mute notifications or enter Focus Mode altogether to keep yourself focused on a single app or webpage devoid of any distractions. A great feature that ADHDers would definitely like is the range of customization options offered by Sidekick. You can create a consistent color scheme using the customization options and also choose a specific shade that is not too bright and doesn't pop out.
There's also a built-in calendar to keep track of time, manage your schedule and not float away in a dreamy state while working on an assignment.
Since everything is situated in the taskbar, it means less distraction and even less switching of tabs to work on different projects. Efficient task management is the strong suit of Sidekick and if you're someone who tends to find it difficult to manage your workflow with pending deadlines and piling up tasks, you should definitely give Sidekick browser a try.
Download Sidekick browser