Since Apple finally made the move to USB-C with its MacBook Pros in 2016, we are seeing more and more USB-C devices being launched. Almost all the major Android smartphone makers including OnePlus, Samsung, LG, Huawei, and more have switched to a standard USB-C connection while laptop manufacturers including Dell, HP, Lenovo, and more are launching more and more USB-C only laptops. Meant to be a universal connection interface for all devices, USB Type-C not only has a smaller and reversible connector design, but it also offers increased data and power transfer speeds. The exponential increase of devices with USB-C also means that now the accessories market for USB-C is mature enough to offer us quality and useful accessories. If you own a USB-C device, you must invest in good accessories to make the best of this port. To help you with that cause, we are bringing you the list of 20 best USB Type-C accessories that you can buy.
Note: From here onward, the terms "USB Type-C" and "USB-C" have been used interchangeably, throughout the article.
Best USB Type-C Accessories in 2020
1. Libratone Q Adapt USB-C in-Ear Noise Canceling Headphones
As more and more smartphones are killing the headphone jack and adopting the new USB-C standard, it will do you good if you would invest in a pair of good USB-C earphones. If you are looking for a premium pair of earphones, currently your best option is the Libratone Q Adapt which brings built-in active cancellation making it great for traveling. The best part is that there are three different levels of noise reduction which you choose depending on how much outside noise you want to let in. The earphones also sound great thanks to its great sound profile which brings great bass, full midrange, clear vocals, and crisp high tones.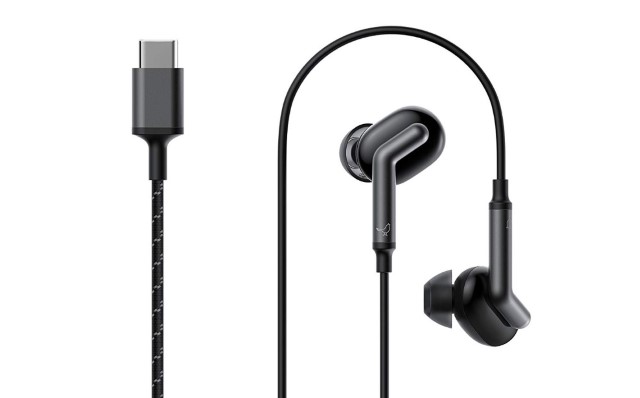 If you are looking for something cheaper, you can check out the Acessorz USB-C earphones ($24.99) which despite their low asking price sound really great. I also love the design of these earphones as they tend to fit snugly in my ears without causing any pain even when I wear them for a long duration. There are many other options too and you can check them out by reading our article on the best USB-C earphones which we have already published.
Buy From Amazon: $129
2. Satechi Slim Aluminum USB Type-C Hub
Since more and more slim and light laptops are now only coming with USB-C ports, it has become paramount to invest in a good USB-C hub which can give you access to all those legacy ports which are still in operations. While there are many good hubs out there, my favorite is the Satechi slim aluminum USB-C hub which looks as great as it performs. Made from aluminum, the hub will match the aesthetics of most premium laptops. When it comes to ports, it brings one USB-C port, two USB-A ports, and an HDMI port for connecting external displays. Overall, I love this hub and consider it to be the one USB type-c accessory everyone should own.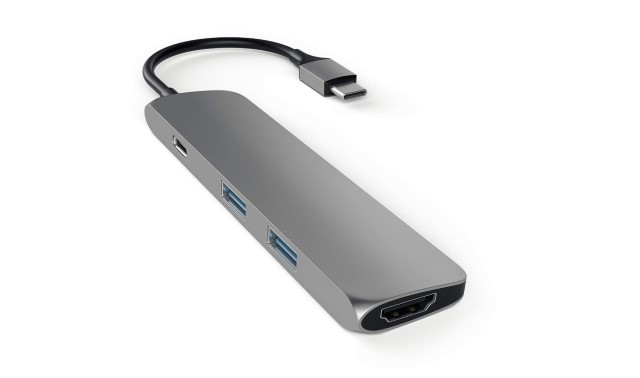 Buy From Amazon: $59.99
3. VOGEK USB-C Card Reader
If you are a photographer then this is a must-have accessory for you. The VOGEK USB-C card reader is exactly what it sounds like. The accessory basically helps you to plug in your SD or micro SD cards to your computer. The reader is shaped like a small pen drive and is very easy to carry. I also love that there's a USB-A and micro-USB port on the other side so you can easily connect your cards to older devices which don't have either USB-C or card reader ports. This is one of the most versatile and portable USB type-c accessories you can buy.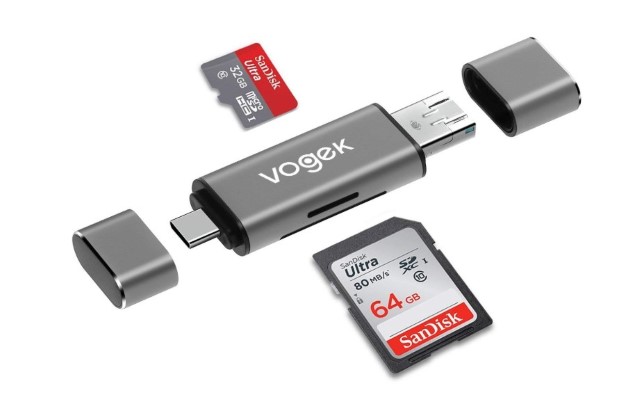 Buy From Amazon: $9.99
4. Razer Core X: Thunderbolt 3 External Graphics Enclosure
One of the biggest benefits of using a USB-C port in a laptop is that it supports higher data throughput allowing users to do crazy things like using an external graphics card. That means you can have a thin and light laptop which you can take with you anywhere while at the same time have a powerhouse at home when you plug in an external graphics card. To use an external graphics card, you will need to buy an external graphics enclosure which will make the connection possible. While there are a number of options, my favorite is the Razer Core X which can house any graphics card that you want to use. Do remember that you will need to check graphics compatibility on your laptop before you invest in a graphics card. For example, Macs only support AMD cards so buying NVIDIA card will only cost you money.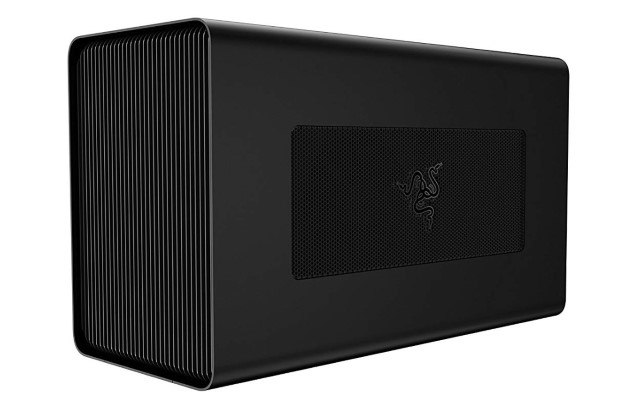 Buy From Amazon: $299.99
5. KOOPAD USB-C to Headphone Jack Adapter
For the folks who are still using 3.5mm equipped headphone jack earphones, KOOPAD USB-C to 3.5mm adapter would be worth checking out. What makes it so handy is the intelligent DAC chip that converts digital audio signals into analog audio signals to maintain the original sound quality. Moreover, it also suppresses noise to enhance the listening experience. Thanks to the durable aluminum connector and braided cord, it can resist wear and tear as well. In a world which is loosing the headphone jack, this is the best USB type-c accessories you can buy.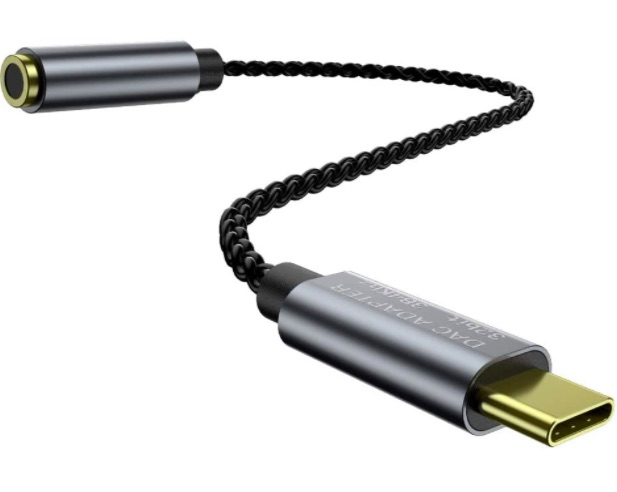 Buy From Amazon: $9.99
6. Samsung T5 SSD
As I mentioned before, one of the benefits of USB-C is that it supports high-speed data transfer and if you want to take benefit of that speed, you will need to invest in a good SSD. My favorite which also happens to be one of the fastest external SSDs on the market is the Samsung T5 SSD. The SSD comes in a small size and can be easily carried around in your pockets or bag. The enclosure is made of aluminum which makes it both premium and sturdy. When it comes to speed, it supports both read and writes speeds to up to 540 MB/s. Depending on the laptop you currently own, it's quite possible that Samsung T5 will give you faster transfer speeds than your internal drives. I love this product and consider this as a must-have USB-C accessory.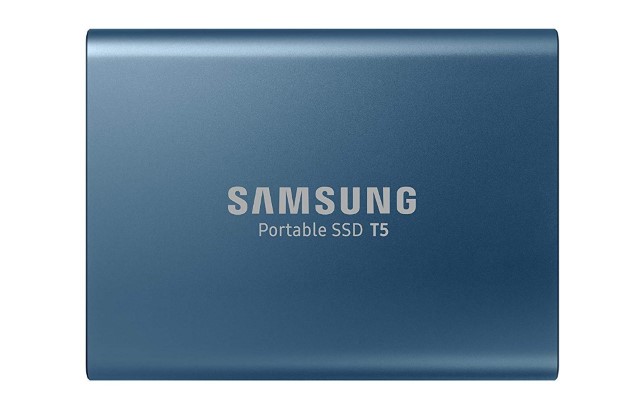 Buy From Amazon: $99.98 (for 256 GB)
7. Anker PowerCore+ USB Type-C Power Bank
Although our gadgets are getting more powerful by the day, "battery life" is something in which a needs to be done. Consequently, power banks are almost essential these days. And that's where Anker's PowerCore+ USB Type-C Power Bank comes into the picture. Having a behemoth 20100 mAh capacity, this USB-C power bank can not only charge multiple smartphones simultaneously, but even laptops like the new Macbook. In addition to a USB-C port, it comes with two regular USB-A ports. And thanks to the "PowerIQ" feature, the Anker PowerCore+ USB Type-C Power Bank can automatically detect the connected devices to be charged, and regulate the charging current accordingly. How cool is that?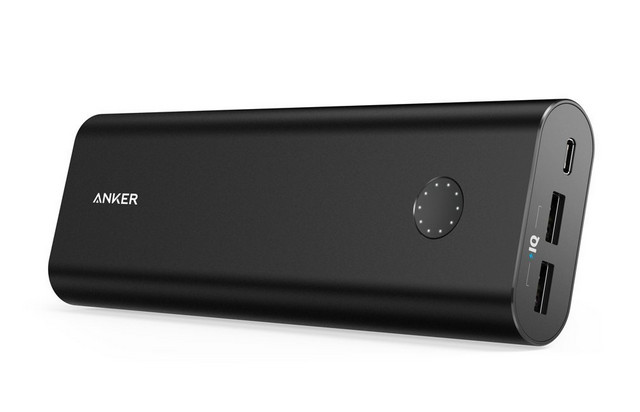 Buy From Amazon: $68.99
8. AUKEY USB-C Charger with 30W Power Delivery
One of the best things about USB-C is that it supports higher power throughput. It means that if you have a smartphone of tablet that supports fast charging, you can use a USB-C power adapter to charge it faster than usual. The USB-C PD brick that we are featuring here is by Aukey and it has the capacity of delivering 30W power. That means you can not only charge your smartphones and big tablets but even power some ultrabooks. The charger is pretty slim and looks really cool. Once you start carrying this adapter, you will not use the original power bricks that come with your smartphone.
Buy From Amazon: $21.89
9. UGREEN USB-C to USB-C Cable
While the above power adapter is great, it's of no use if you don't have a USB-C to USB-C charging cable. If you are in the market for one, check out this excellent USB-C to USB-C cable that can handle up to 60W of power delivery. That is twice the capacity of the Aukey brick featured above so you are good to go. My favorite thing about this cable is that it features a braided design which means that it will last you longer and will not break easily.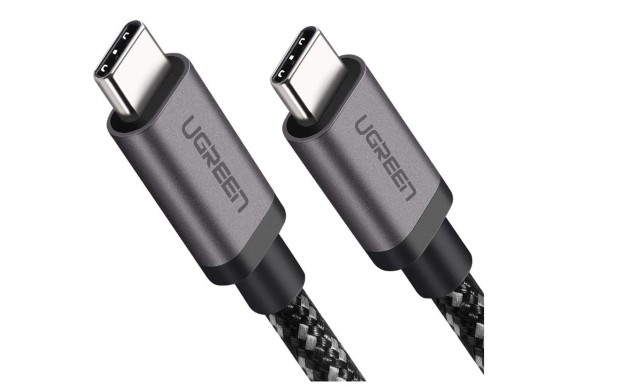 Buy From Amazon: $10.99
10. Belkin 3.0 USB-C to USB-A adapter
The Belkin 3.0 USB-C to USB-A adapter provides a hassle free way of connecting USB-A devices to gadgets having USB-C ports. As an example, it can be used to connect flash drives, keyboards/mice etc to devices like new Apple Macbook and Google Chromebook Pixel. Thanks to the USB 3.0 support, the adapter offers data transfer speeds of up to 5 Gbps between connected devices. It fully supports all USB Type-C devices. However, the price is a bit on the higher side, especially for such a small adapter.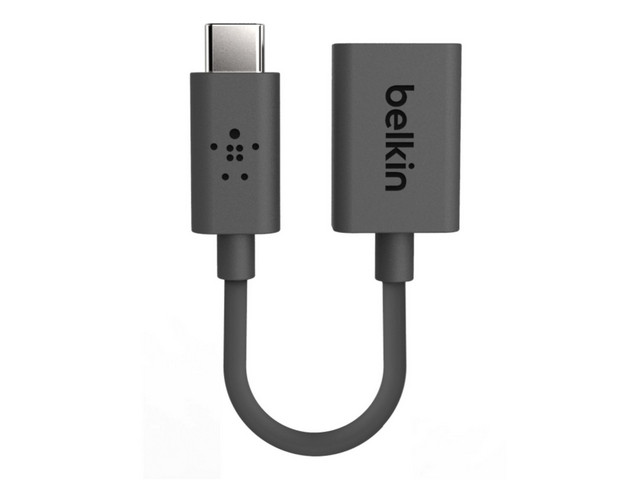 Buy From Amazon: $9.95
11.
Kingston Data Traveler USB 3C Flash Drive
If you're looking forward to adding some extra storage to your new USB Type-C laptop or smartphone (via USB OTG), the Kingston Data Traveler USB 3C Flash drive is just what you need. The flash drive offers data transfer speeds (up to 100 MB/s read and 15 MB/s write) based on the USB 3.0 standard, and is available in multiple capacities (16, 32, and 64 GB). Then there's the fact that it comes with a five year warranty as well.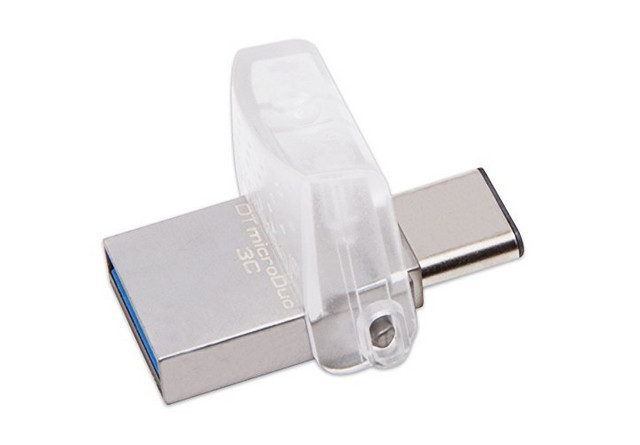 Buy From Amazon: $15.99
12. Anker USB-C Multiport Hub
More often than not, we need to connect so many peripherals (e.g. mice, speakers, external hard disks) to our computers, that they run out of ports. If that's something you can relate with, the Anker USB-C Multiport Hub is perfect for you. It hooks up to a USB-C port on your computer, and in turn, lets you connect up to 3 USB-A type devices (e.g. flash drives) to the PC. Not only that, the Anker USB-C Multiport Hub has an Ethernet port and and HDMI port as well. The device is compatible with all major Operating systems, and also includes an eighteen month warranty. This is the best USB type-c accessory for your laptop.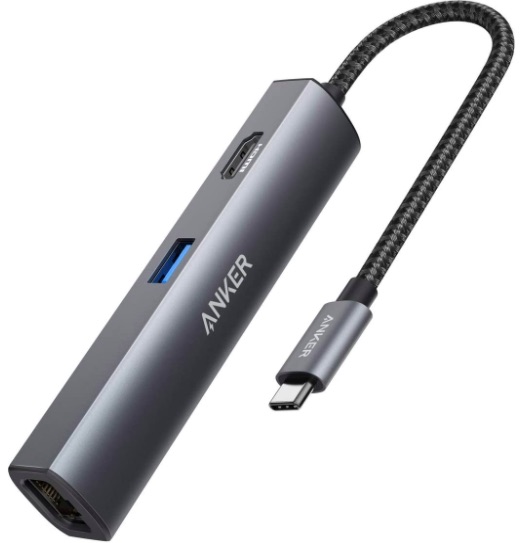 Buy From Amazon: $32.99
13. Playa USB-C to Lightning Cable
While most smartphones have already embraced USB-C, iPhones are still waiting in the wing – for the reasons best known to Apple. And that too despite the fact that Apple's smartphones support fast charging. That said; if you want to turbo-charge your device and are looking for a reliable USB-C to Lightning cable, it can live up to your billing. Being MFi certified, it's fully equipped to power up your device securely. In terms of durability, it features a nylon braided design that prevents tangling.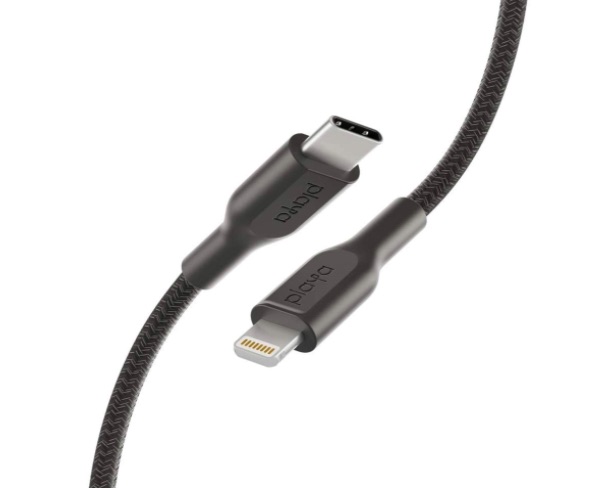 Buy From Amazon: $14.99
14. TechMatte USB-C to Micro USB Adapter
Providing an easy and quick way of converting your old Micro USB cable to a USB Type-C one, the TechMatte USB-C to Micro USB Adapter is light yet sturdy, and has been professionally tested to confirm to the USB Type-C standards. Compatibility isn't an issue either, and the adapter works with all USB Type-C devices such as the Nokia N1, Apple Macbook, and the Microsoft Lumia 950/950 XL. You can buy either a single adapter, or in packs of 2 or 4.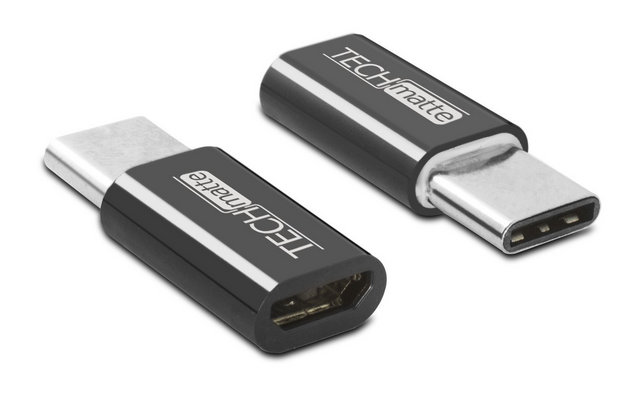 Buy From Amazon: $6.99
15. Orzly USB-C to USB-A Cable Multipack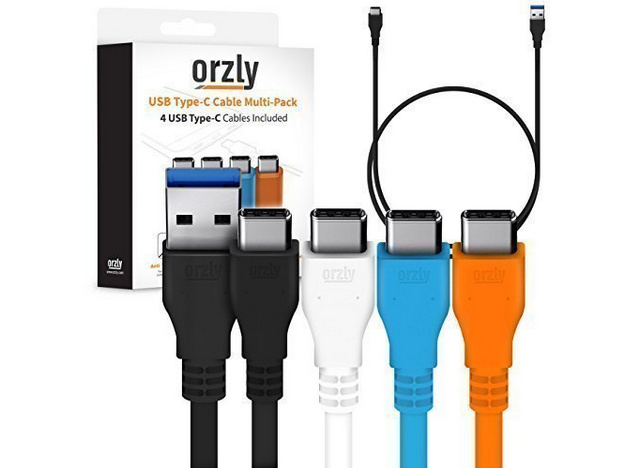 The Orzly USB-C to USB-A Cable Multipack is a great accessory kit for all USB Type-C devices. The pack includes a total of four cables in different colors, with each being certified with the USB 3.0 standard. They are also fully compliant with the USB Type-C standards, so you can safely use them with all your devices. There's also a 12 month replacement warranty, so that's a good thing as well.
Buy From Amazon: $14.99
16. Apple USB-C Digital AV Multiport Adapter
There are multiple reasons why you may want to have this USB-C digital AV multiport adapter. First and foremost, it allows you to connect your USB-C enabled device like your iPad Pro or Mac to an HDMI display. Thus, you can mirror your Mac display to your HDMI-enabled display or TV. Additionally, you can also use the USB port to connect your devices like a flash drive, camera or even a USB cable for syncing or charging your iOS devices.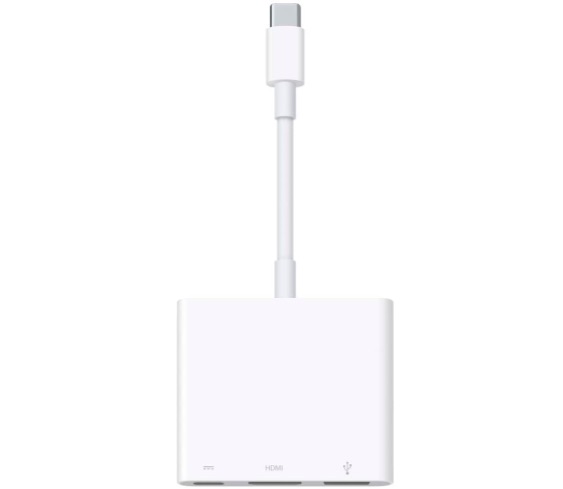 Buy From Amazon: $60.15
17. Benfei USB C to USB 3.0 Adapter
What makes Benfei so useful is the ability to transform any device' USB-C port into 3.0. As a result, you can sync your music, movies or any other files with up to 5 Gbps transfer speed. With the much-improved chipset and EMI design, it syncs data fast and securely. Featuring a pretty small yet durable form-factor, the adapter can easily slip even into a tiny packet. That's not all, it comes in three packs at just $8 which makes it one of the cheapest USB-C to USB 3.0 adapter.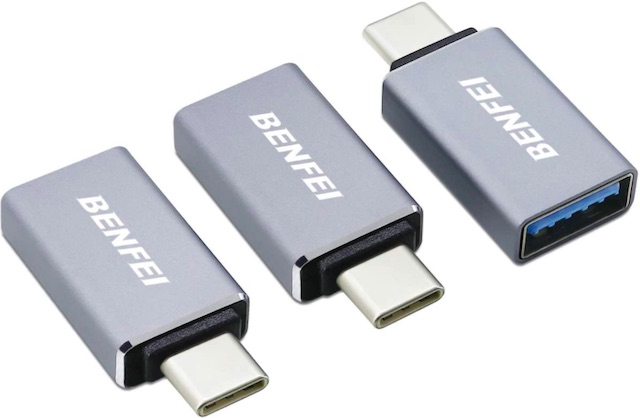 Buy From Amazon: $7.95
18. Sony Noise Cancelling Headphones WH1000XM3
Touted to have the industry-leading active noise-canceling technology, Sony WH1000XM3 stands out on many fronts. For starters, the wireless headphones sport a premium design that can be the envy to most. The ability to automatically adjust the ambient sound according to your activity plays a vital role in enhancing your music listening or hands-free calling experience. With the handy attention mode, you can cover the right ear cup to quickly disable music for uninterrupted conversation. On top of all, WH1000XM3 delivers up to 30 hours of battery life. And they come with a USB-C charging port allowing you to charge your phone, laptop, and headphones with a single cable.
Buy From Amazon: $348
19. USB C Female to USB Male Adapter
Whether you want to securely charge your device or transfer data at a good speed, this USB-C female to USB male adapter can come in really handy. Well, you can use this nifty little dongle to transform your legacy devices into a USB-C enabled platform. It delivers data transfer speeds of up to 480 Mbps between connected devices and supports 2 amps power output to charge your device. Lastly, this aluminum-alloy-bodied dongle comes in a variety of colorful variants to choose from.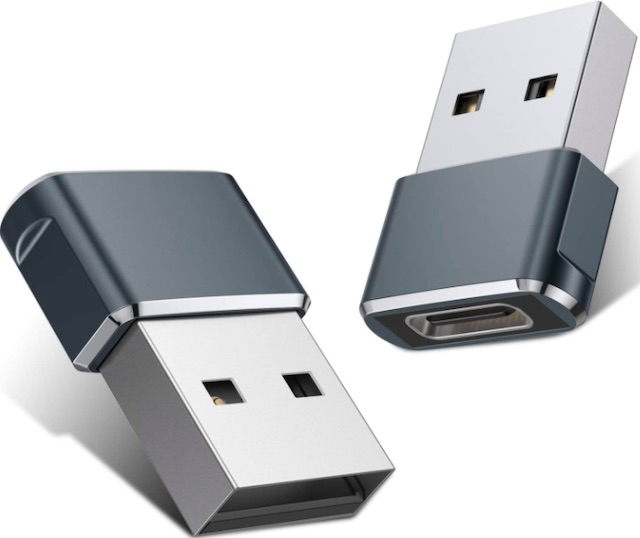 Buy From Amazon: $9.99
20. NEEZUKAR 2 in 1 USB Type C to 3.5mm Headphone Audio and Charger Adapter
There is a lot to like in this super handy USB-C to 3.5mm headphone audio and charger adapter. First and foremost, you can use this adapter to have an enhanced music listening experience and also power up your devices at a rapid speed. Thanks to the support for both PD and QC fast charging, it's fully equipped to juice up your devices fast and also with the desired efficiency. And with the built-in DAC chip, it delivers stereo sound as well.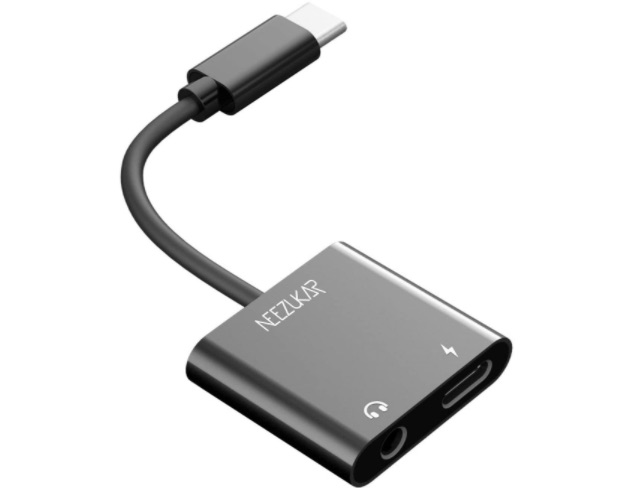 Buy From Amazon: $19.99
Get more out of your USB Type-C devices
That ends our list of the best USB Type-C accessories that you can buy to enhance your experience. While some of the accessories on this list are important for maintaining backward compatibility with your older gear, some of them are meant to enhance the performance of your devices using the power of USB-C port. Do check this list and let us know your favorite accessories by writing in the comments section below.