Dave is one of the most popular apps for paycheck advances and budgeting assistance, but it is hardly the only one. There are several apps that also offer similar functionality, often with slightly different features and terms. In this article, we tell you about some of the best cash advance apps that are great alternatives to Dave. Most of them provide small payday cash advances like Dave, but some also offer personal loans if your cash requirements are more substantial.
Best Apps like Dave for Advance Cash (2023)
The apps we mention in this article are all available on the iOS App Store or Google Play Store. Make sure to look at various options and carefully compare their features before you start using any of the cash advance apps on this list. With that said, check out the best cash advance apps like Dave you could use to borrow money in case of emergencies.
What are Cash Advance Apps and How Do They Work?
Also known as Payday (or Paycheck) Advance Apps, Cash Advance apps offer users the option to get paid early for the work they have already done. They typically allow you to borrow $100 – $200 from your next paycheck for use during emergencies. For example, you can use the app to borrow $100 a few days before your payday. The app will then deduct it directly from your paycheck once it arrives a few days later.
While some apps also offer personal loans, payday advances are not loans per se. That's because you are accessing your own hard-earned money, even though your employer is yet to transfer the earnings to your bank account. Since you are using your own money, the apps do not charge interest. However, most of them typically have membership fees between $1-$10 per month to use their services.
One of the leaders in the segment is Dave, which charges $1 per month for small cash advances of up to $100 per pay cycle. It also offers a whole host of other features, including overdraft warnings and budgeting tools. Dave is considered the industry leader with the best rates and the most dedicated (and growing) userbase. But it is far from the only cash advance service in the segment. So, here are the best apps like Dave you can use to borrow cash right now:
Best Cash Advance Apps Like Dave
Note: The apps listed below largely offer their services in the USA. A few, like Branch, may be present in other markets, but their services and rates may differ significantly. Do your research before signing up. If you are in India and looking to receive money from relatives in the US, check out how you can transfer money from the US to India using Google Pay.
1. Brigit
Brigit is one of the best and most popular apps like Dave where you can borrow money, offering small paycheck advances of up to $250. It doesn't charge interest on the loan itself, but you will have to pay a hefty monthly membership of $9.99. It is significantly more than the paltry $1 charge you pay for Dave, but it does offer free account monitoring services. That will include budgeting tools to help analyze your earnings and spending habits.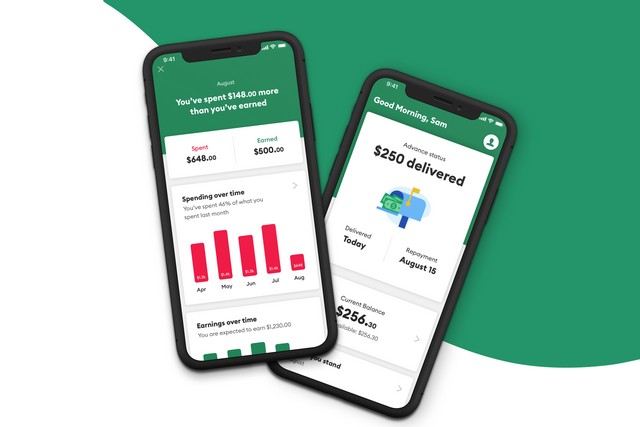 Brigit works with more than 15,000 US banks and financial institutions, including Bank of America, Wells Fargo, TD Bank, Chase, and more. It deposits cash automatically into your account when your balance is low and in danger of dipping below zero, thus, helping prevent overdraft fees.
Brigit also offers early repayment options, as well as due date extensions. The app uses 256-bit encryption and says it does not share or sell your personal information with third parties.
| Pros | Cons |
| --- | --- |
| paycheck advances up to $250 | expensive monthly membership charge |
| free account monitoring | |
| access to budgeting tools | |
| helps prevent overdraft charges | |
Download: Android (Free), iOS (Free)
2. Earnin
Originally known as ActivHours, Earnin is a great alternative to Dave for folks who do not want to pay a recurring membership fee. Instead, the app requires you to pay a tip that you think is fair for the service. The app offers paycheck advances of up to $100 per day that you have already earned, up to a maximum of $500 per period.
Earnin also offers other helpful features, such as Balance Shield Alerts that can notify you if your bank account balance dips below a certain threshold. There's also a Cash Out feature that can automatically deposit up to $100 in your bank account to help avoid overdraft fees.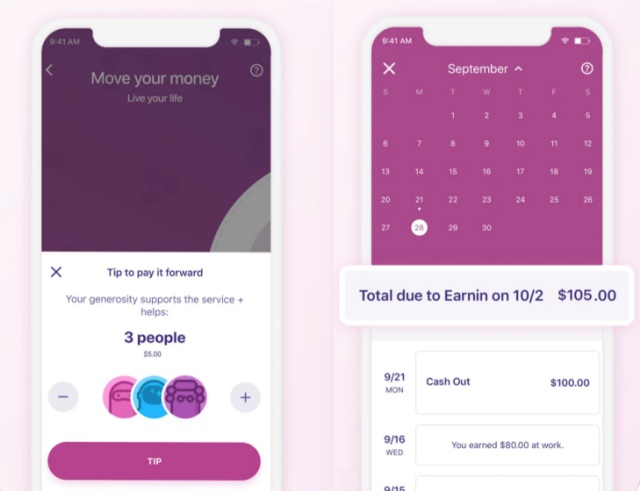 For all its positives, there are a few downsides to Earnin as well. To be eligible to receive paycheck advances, you must have a regular pay schedule (weekly, bi-weekly, semi-monthly, or monthly). Your employer must also have an actual physical work location or use time-tracking software for you to be eligible to use the service. Additionally, you must also send at least half of your paycheck to your checking account via direct deposit.
| Pros | Cons |
| --- | --- |
| paycheck advances of up to $100 per day | must have a regular pay schedule |
| supports tipping instead of fees | employer needs to have a physical workspace |
| account balance alerts | |
Download: Android (Free), iOS (Free)
3. MoneyLion
MoneyLion is an all-in-one mobile banking app that offers users an easy way to borrow, save, invest, and earn. Like Dave, it offers easy cash advances and early paycheck access with its 'Instacash' feature. It lets you borrow up to $250 of your next paycheck with no interest and no credit check. The company claims to transfer the money to your account instantly, irrespective of the time of day. Its RoarMoney feature also gives you access to your paycheck up to two days early.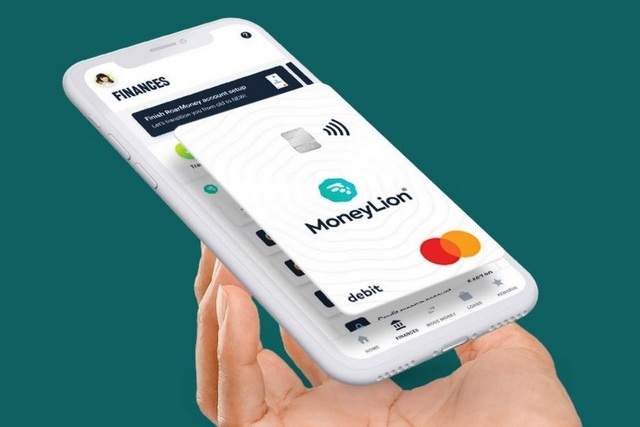 The best part about MoneyLion is that it has no minimum balance requirement. The app doesn't charge you any fees for standard transfers, foreign transactions, mobile check deposits, or card replacement.
Moreover, the app also helps with your investments by letting you transfer money from your savings account into exchange-traded funds custom-picked for your needs and risk tolerance. The app charges a monthly $1 charge for a basic subscription, while its 'Credit Builder Plus' membership, which offers access to loans of up to $1,000, costs $19.99 per month.
| Pros | Cons |
| --- | --- |
| all-in-one banking app | slightly expensive $20 subscription tier |
| no minimum balance requirement | |
| borrow up to $250 of your next paycheck | |
| reasonable $1 monthly charge | |
Download: Android (Free), iOS (Free)
4. Branch
One of the best cash advance apps like Dave, Branch, also offers personal loans in most countries it operates in. In the US, it offers a cash advance of up to $150 per day or up to $500 of your paycheck. It offers no-fee checking, a debit card, and free ATM access at more than 40,000 locations across the US. You can also receive money, transfer funds, and pay bills through the Branch app. It charges $2.99 to $4.99 for instant advances to your debit card, while standard advances to your bank account are free of charge and take up to three business days.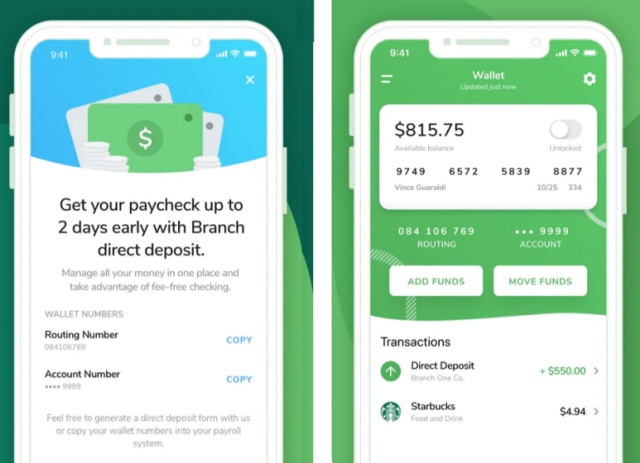 The branch app does offer helpful features but has stringent requirements for its cash advance facility. Firstly, you need to have received a salary for two consecutive months from the same employer. You should deposit it into a checking account at a supported bank and have a debit card for that account as well. Unfortunately, the app does not offer its services to remote workers. That means if your employer does not have a physical workplace, you will likely not be eligible to use the app.
Alongside the US, Branch also offers its services in several other countries, including India, Kenya, Nigeria, and more. In most of these markets, the app offers personal loans at interest rates up to a whopping 360%. Depending on your loan amount, you have the option to choose repayment terms ranging from 60 days to 336 days. In India, the app offers free monthly CIBIL scores and personalized tips, helping you monitor your credit and stay on top of your finances.
| Pros | Cons |
| --- | --- |
| cash advance up to $150 per day | stringent requirements for cash advance |
| free monthly CIBIL scores (India-specific) | interest rates as high as 360% in some markets |
| standard transfers are free of charge | |
Download: Android (Free), iOS (Free)
5. Even
Yet another cash advance app like Dave, Even helps you get payment on-demand by working with thousands of employers who have partnered with the company. There's no interest involved, but the app charges a membership fee of $8 per month. Some employers, however, subsidize some or all of that cost. Alongside cash advances, the Even app also helps you with budgeting from paycheck to paycheck, sends notifications about upcoming bill payments and how much you need for them.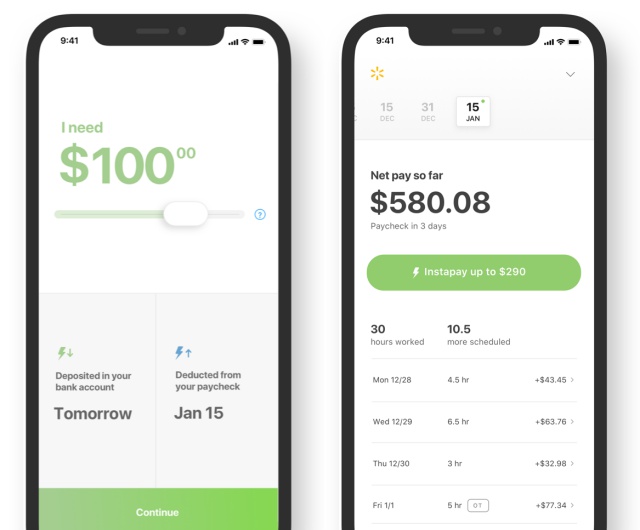 It is important to note that Even is only available through select employers that have partnered with the app. It also works with more than 18,000 banks for its InstaPay feature that deposits cash to your bank account within one business day. However, the Even app does not disburse loans, unlike some other apps on this list. It only allows quick access to wages that you have already earned.
| Pros | Cons |
| --- | --- |
| quick access to earned wages | charges a membership fee of $8 |
| no interest cash advance | |
| over 18,000 partner banks | |
Download: Android (Free), iOS (Free)
6. Empower
Yet another popular app like Dave, Empower offers interest-free cash advance of up to $250. The money can be sent to your Empower checking account for free or to a bank account for a fee of $3. The Empower app does not charge late fees, and there are no credit checks. However, it does have a membership charge of $8 per month after a free 14-day trial period. What's more, you have to make regular direct deposits to your Empower Checking Account to be eligible for cash advances.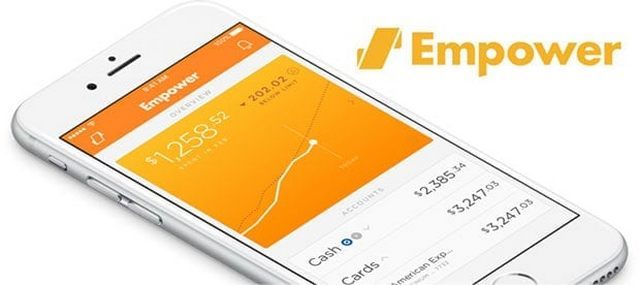 Other notable functions include an Early Paycheck Deposit feature that allows users to get access to their paycheck up to two days faster. It also offers a 10% cashback offer on eligible purchases at hundreds of restaurants, grocery stores, and gas stations.
Alongside the cash advance and related features, the Empower app also functions as a budgeting app, helping you limit your spending based on your income. It also suggests an overall spending limit for each category and sends you alerts when your spending is about to go over the limit. You also receive monthly reports showing your expenditure on each category.
| Pros | Cons |
| --- | --- |
| interest-free cash advance up to $250 | membership charge of $8 per month |
| get paycheck up to two days early | |
| offers budgeting features | |
| no credit checks | |
Download: Android (Free), iOS (Free)
7. Axos Bank
Unlike some other apps on this list, Axos Bank is a full-service digital banking service that offers high-yield checking and savings accounts. You also get investment options, loans, personal finance management, etc. While Axos does not offer a true cash advance option per se, it has a feature called Direct Deposit Express. It lets you access your money up to two days early when your paycheck is deposited in your bank by your employer.
Axos also offers 'CashBack Checking', enabling users to earn up to 1% cashback on all transactions made with signature-based purchases. Moreover, Axos also lets you deposit checks, transfer funds, and pay your bills on schedule as part of its financial services portfolio. It also offers investment recommendations tailored to your risk tolerance.
The security features include two-factor authentication (2FA), Face ID, fingerprint (or Touch ID on Apple devices), and account monitoring to prevent fraud. The app does not charge a monthly service charge or overdraft fees. Axos Bank also does not have a minimum balance requirement, although, you do need a minimum $50 balance to open your account.
| Pros | Cons |
| --- | --- |
| access paycheck up to two days early | minimum $50 balance to open account |
| earn up to 1% cashback on all transactions | |
| does not charge monthly fees or overdraft charges | |
| enhanced security to prevent fraud | |
Download: Android (Free), iOS (Free)
8. DailyPay
Next on our list of the best cash advance apps like Dave is DailyPay. This app helps you access your salary before your next payday. Like Even, it offers Earned Wage Access and needs to be supported by your employer. Like other apps in this sector, DailyPay lets you transfer your yet-to-be-paid earnings instantly to your debit card, bank account, prepaid card, or paycard.
DailyPay puts the money into the bank, and the amount already cashed out is then taken from the paycheck on payday. However, it charges a fee of $2.99 to use the service.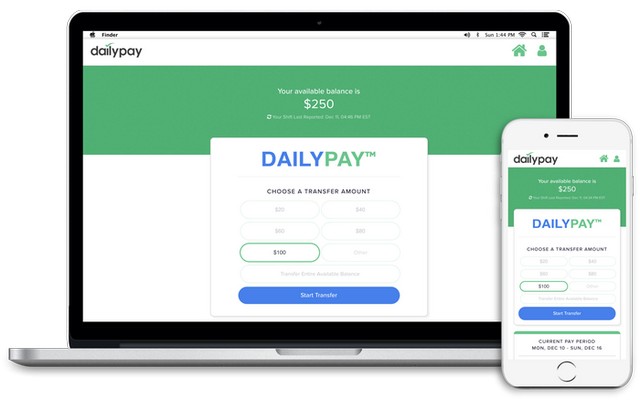 DailyPay uses 256-bit level encryption, and its payment network and customer support channels are PCI-compliant and SOC II-audited. It is one of the most well-respected names in the business, having had an 'honorable mention' on Fast Company's 'World Changing Ideas' list this year. Some of the leading companies that offer employees early access to salaries via DailyPay are Burger King, Uber, Doordash, and ShiftGig, among others.
| Pros | Cons |
| --- | --- |
| transfer yet-to-be-paid earnings instantly | needs to be supported by employer |
| 256-bit level encryption | |
| low $2.99 monthly fee | |
Download: Android (Free), iOS (Free)
9. Chime
Another app that offers Earned Wage Access to users is Chime. It works similarly to Even and DailyPay and offers you access to your salary two days earlier than the scheduled payment date. It does not provide you a cash advance like Dave. Chime is free to use and charges no monthly maintenance fees, minimum balance fees, or foreign transaction fees.
The Chime app also lets you send money to friends, family, or roommates with no transfer fees. It offers users access to over 38,000 ATMs across the US with Moneypass and Visa Plus Alliance. However, you need to pay out-of-network ATM withdrawal fees where applicable.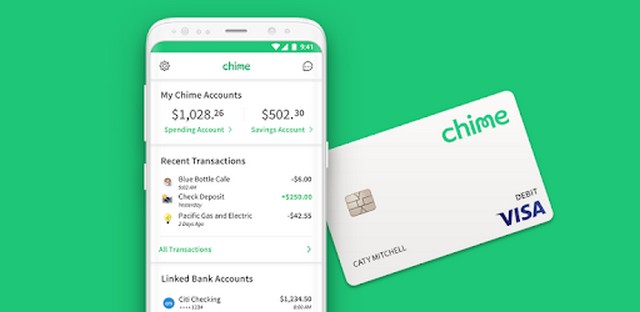 Chime also has a 'SpotMe' feature that allows all eligible users to overdraw their account up to $200 based on their repayment history. However, to be eligible to use SpotMe, you have to receive $500 or more in direct deposits in the previous 31 days. Another notable feature here is a money-rounding function that will automatically round the change up to the nearest $1. For example, the app will charge you $15 for a purchase of $14.49, and the additional 51 cents will then automatically be transferred to your savings account.
| Pros | Cons |
| --- | --- |
| free-to-use | need to pay out-of-network ATM withdrawal fees |
| access paycheck two days early | |
| overdraw account by up to $200 | |
| impressive money-rounding feature | |
Download: Android (Free), iOS (Free)
10. PayActiv
The final app on our list of best advance cash apps like Dave is PayActiv. Like DailyPay and Even, it is also aimed at employers who can use the service to offer their employees early access to their wages. However, folks whose employers aren't enrolled in Payactiv are also eligible to use its services. In that case, you can apply for the PayActiv card and receive your paycheck up to 2 days early. All users are eligible to use PayActive's savings tools, prescription discounts, and financial counseling.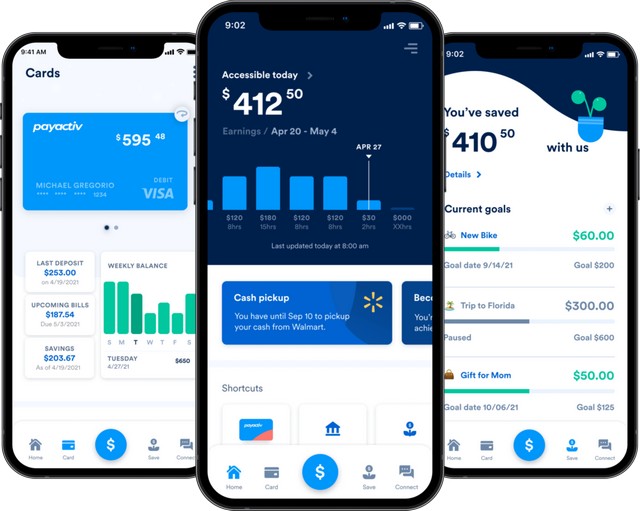 Folks who have PayActive at work will see 'hours worked' and their current earnings in the app. They can also transfer the accessible amount to their bank, card, or get cash. Funds accessed using the app will then be deducted from their next paycheck. Like most apps in this category, Payactiv uses time and attendance data to provide earned wage access to employees. Some notable PayActive partners include Subway, Uber, Hilton, Pizza Hut, Walmart, Murphy USA, NYC Taxi, and more.
| Pros | Cons |
| --- | --- |
| offers early access to wages | the app looks a bit cluttered |
| no setup or recurring charges for employers | could lead users to spend more |
| offers saving tools and financial counselling | |
Download: Android (Free), iOS (Free)
The Best Dave App Alternatives for Cash Advance
There are many financial assistance apps like Dave that offer small cash advances and personal loans to help you get a few extra bucks in cases of emergencies. Some of the apps in this list also offer various other tools, including access to financial instruments, banking, investment, stock trading, and more. While we have tried our best to ensure correct, up-to-date information for all apps on this list, our article is meant for general informational purposes only. It is, in no way, a substitute for professional advice. So, do make sure to do thorough research before handing over your financial info to the services listed above.
---
Load More