Gaming headsets, especially the ones with surround sound functionality, have always been considered as a marketing gimmick by several users ever since it came into existence. If you ask me, I would both agree and disagree to those claims. The surround sound gaming headsets that used to come out in the beginning, like a few years ago, were definitely the worst headsets you could possibly buy for gaming. Some of them were termed as "True" surround sound headsets crammed with 7 dedicated drivers for your two ears. These headsets barely did anything in terms of delivering "real" surround sound experience. as the drivers were too close to each other in the headset.
However, in the recent years, virtual surround sound headsets are gradually becoming the real deal, which makes use of dedicated software to emulate a surround sound experience that actually helps quite a lot in fast-paced competitive multiplayer games. Yes, you can pinpoint the exact location of your enemies with most of these headsets and kill them before they even know it. Well, we're talking about the big guns in the headset market that are actually worth the price if you're looking for a surround sound experience on a headset. So, if you're looking forward to buy one in the near future, here are the 10 best 7.1 surround sound headsets for gaming you can buy:
1. SteelSeries Siberia 800 Wireless Gaming Headset
The Siberia 800 is by far, the best gaming headset you can buy, if the price point is within your reach. An enthusiast-grade headset that looks more professional rather than being gamer-esque, is targeted towards the adult gamers, who don't prefer the flashing red and blue lights on their gaming accessories. The Siberia 800 comes with a stylish transmitter featuring an OLED display, which will always be required if you want to connect to any device, as the headset directly connects only to the transmitter. This transmitter has a compartment for charging your battery and since the company provides two batteries along with the headset, you can quickly swap between the two batteries once you run of juice, without having to wait for the headset to charge.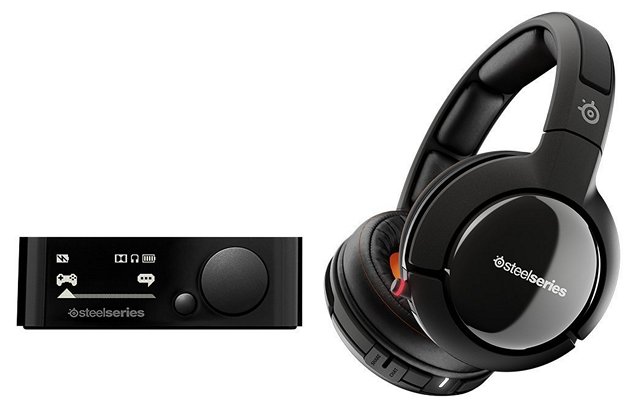 The Siberia 800 features Dolby Virtual 7.1 surround system, which precisely gives you the location of your enemies in multiplayer games. However, an additional DTS Heaphone X option for surround sound would have made it better. The headset packs a decent built-in retractable mic, but for the price point, it could have been much better. If you're a multi-platform gamer you'll enjoy using the Siberia 800, as the headset offers surround sound experience across PC and consoles. Addition of Bluetooth functionality would have made this "the one headset to rule them all", but the Siberia 840 can offer that for a whopping 130 bucks more. The wireless range is rated at 12m and the battery life is rated at 20 hours for each battery that the headset ships with, which is way higher than most of the competition. That being said, if you can shell out over 200 bucks on a gaming headset, what are you waiting for?
Buy from Amazon: ($234.99)
2. Sennheiser PC 373D USB Gaming Headset
Sennheiser is one of the most popular brands in the audio industry. Audiophiles mostly prefer their headphones for studio monitoring purposes. The company makes the world's most expensive headphones, priced at nearly $65000 and although they might not have the same stature in the gaming headset segment, the company still makes some of the best surround headsets in the market. Meet Sennheiser's flagship gaming headset, the PC 373D. This headset features an in-line control to active Dolby 7.1 virtual surround sound with the company's Transducer technology, which lets you hear even the finest details in the game. The headset makes use of the Sennheiser Surround Dongle Software for the 7.1 profile. The plush velvet ear cups make this one of the most comfortable headsets to wear, as your ears wont start sweating or experience discomfort even after hours of gaming.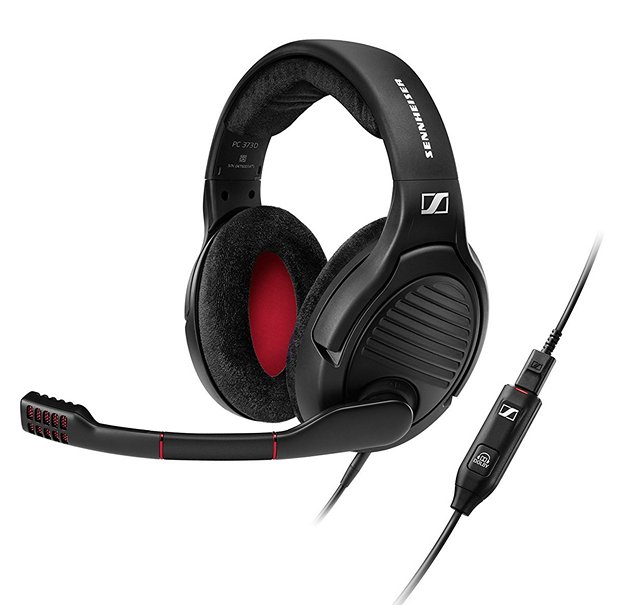 As much as we love and enjoy the impeccable audio quality of this headset, it has it's fair share of downsides as well. First of all, it's a wired headset. Being the most expensive one in the list, it's unacceptable that Sennheiser didn't add a wireless mode. Apart from this, the boom microphone's huge size and non-removable aspect is a major downside, because the competition does it much better. However, the sound quality of the noise-cancelling microphone is crystal clear and outshines almost all other gaming headsets in the market.
Other than that, the PC 373D, just like all other Sennheiser products doesn't disappoint in terms of build quality. The price tag of nearly 240 bucks nearly manages to make our jaws drop, especially considering this is a wired headset. That being said, if you have the cash and if you're a loyal fan of the Sennheiser brand, nobody should stop you from purchasing this headset.
Buy from Amazon: ($239.99)
3. Logitech G933 Artemis Spectrum Wireless Headset
This is pretty much considered as the "bang for the buck" gaming headset for a life-like surround sound experience, that gives the higher end competition like the Siberia 800, a run for its money. It boasts DTS Headphone X, which the Siberia 800 lacks, as well as the Dolby Virtual surround at a much more affordable price. Certain games like Battlefield 1 have exclusive sound profiles for the Logitech surround sound headsets that you can take full advantage of. The plastic build might disappoint some of you, but this was probably done in order to keep the headset as light as possible. The RGB lighting on the back on the headset is neatly done, which might appeal to the younger gamers out there. The memory foam on the inside will be good enough for long, comfortable gaming sessions.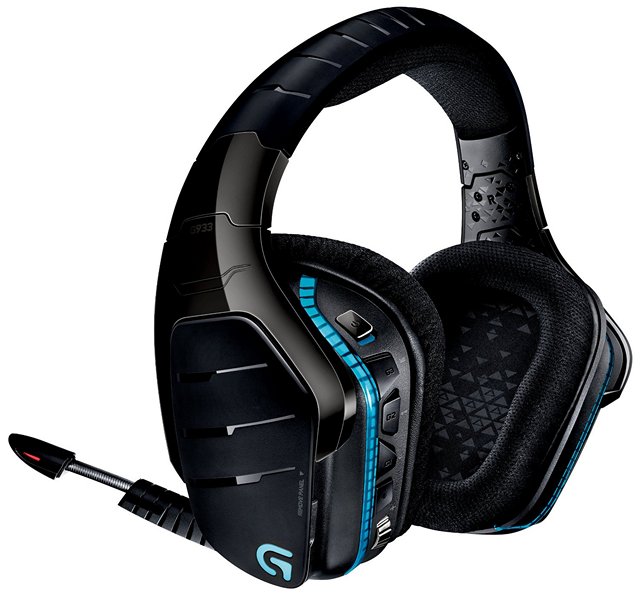 The battery on the Logitech G933 should be good enough to last you for up to 12 hours on a single charge, with the lighting turned off or 8 hours with the lighting turned on. The headset features a retractable boom microphone that sounds better than most of the other headsets in the price range. With a punchy bass that you can feel through your bones, this is the best gaming headset you can buy if you're bass-hungry. The Logitech G933 is primarily for PCs, but you can use it on your consoles as well, at the cost of surround sound, as the headset requires the Logitech Gaming software to emulate that. It was initially launched with a $199 price tag, but the prices have dropped over the last few months and it's currently available on Amazon for just over $130.
Buy from Amazon: ($132.99)
4. HyperX Cloud II 7.1 Gaming Headset
This is the best headset you can possibly buy, for under hundred bucks. The HyperX Cloud II is rightly named, as it "feels like a cloud" once you're wearing it. Without doubt, it's the most comfortable headset featured in this list, and if you're used to long gaming sessions, this might very well be your obvious choice for comfort. The Cloud II is made out of solid, durable aluminium frame, making it one of the best built gaming headsets out there. Unlike the other headsets that we previously discussed, this one's a wired headset, so you don't have to deal with waiting for your headset to charge up or replacing your batteries.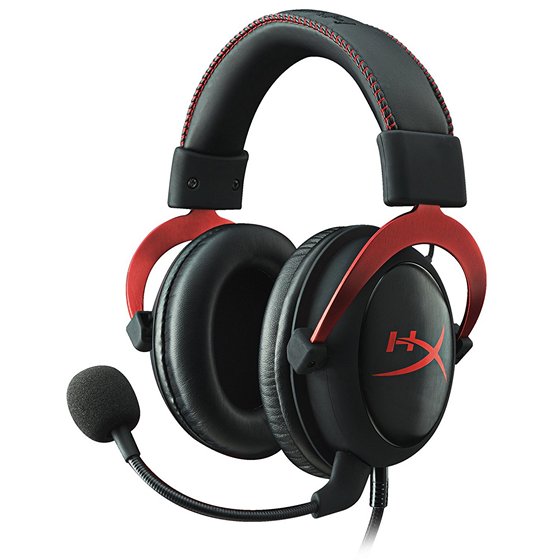 The HyperX Cloud II boasts 7.1 virtual surround sound, which is made possible with the help of USB audio control box that's provided along with the headset. It can be used across a variety of devices from PC and consoles, to even smartphones. The removable microphone with a pop filter is definitely an added bonus, so you can listen to music on your smartphone without looking awkward in public, once you remove the mic. However, the mic quality is just average like most other gaming headsets. For an asking price of under hundred dollars, you just cannot go wrong, if you decide to purchase this headset.
Buy from Amazon: ($96.79)
5. SteelSeries Arctis 5 RGB Gaming Headset
If you're on a budget, but you don't want to miss out on RGB lighting or surround sound features, Arctis 5 is without doubt, the best headset you can go for. The RGB lighting cannot be done any better, and we're pretty sure this headset can turn some heads if you're going to take it to the eSports arena. Coming from the makers of the current best 7.1 gaming headset, the Arctis 5 certainly does not disappoint, boasting DTS Headphone X surround sound experience for enhanced gaming sessions. The headset makes use of Steelseries Engine 3 for the surround sound configurations.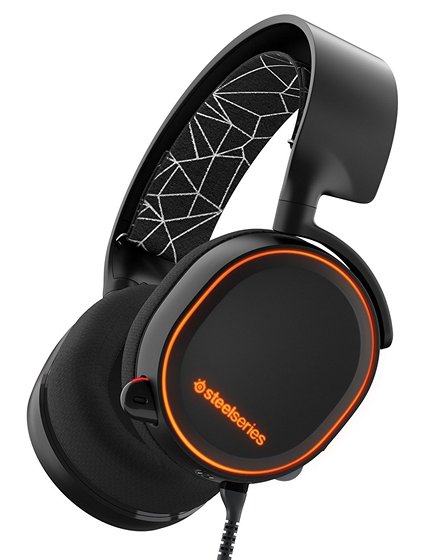 The Steelseries Arctis 5 is a wired headset, which means there's no need to worry about battery life. The sound quality of the retractable mic is impressive and better than most of the competitors, especially considering its price tag. It comes along with a detachable USB sound card that lets the user easily balance the in-game as well as chat volume, without interrupting the gameplay. The matte black finish on the headset definitely gives the headset, a more premium look and the build quality isn't any disappointing either. The price has dropped since its original launch and it can be currently purchased for just over 70 bucks on Amazon.
Buy from Amazon: ($71.99)
6. Razer Kraken 7.1 Chroma V2 Wired Gaming Headset
When it comes to build quality and design, it's hard to match the level of Razer, and the Kraken 7.1 Chroma V2 headset is no exception. Built out of durable unibody aluminium frame, it replaces the original Kraken 7.1 Chroma that launched well over 2 years ago. Compared to its predecessor, the V2 packs larger 50mm audio drivers for a much more balanced in-game audio. It features RGB lighting, but only on the Razer logo that should be good enough to satisfy the hardcore fans of the company. Surround sound on this headphones is quite impressive, to say the least, as you can easily pinpoint where you're hearing the sound from. You will be making use of Razer's Synapse software for customizing your surround sound configurations.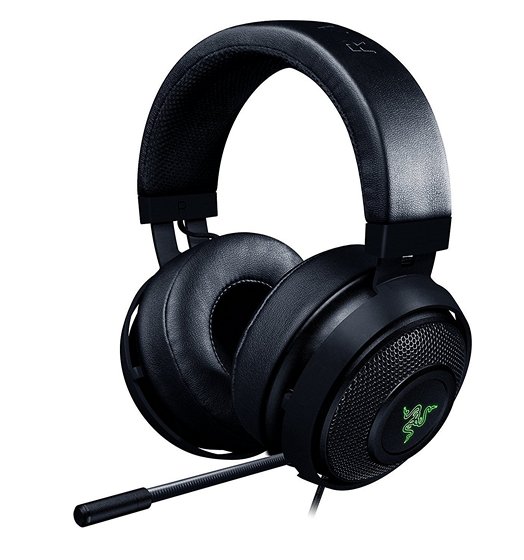 The Kraken 7.1 Chroma V2 features a retractable microphone with active noise cancellation to eliminate the background noise while communicating with your friends over VOIP services like Discord and TeamSpeak. Razer lets you choose between round or oval ear cushion before purchasing it on their website. This is a wired headset as well, so there's no wasting time around with batteries. That being said, there's a major downside regarding its compatibility, as it works only on PC or Mac, because of the necessity of Razer's Synapse software. This headset can be currently purchased on Amazon for under hundred bucks.
Buy from Amazon: ($71.99)
7. Corsair VOID RGB 7.1 Gaming Headset
The wired version of Corsair VOID 7.1 gaming headset is the most affordable one featured in this list and well worth the asking price. For this price, you might be expecting mediocre build quality and inferior design, but you cannot be more wrong here. Corsair has nailed it in both the departments. The VOID features fancy RGB lighting that illuminates the Corsair logo and Dolby 7.1 surround sound support, which is impressive to say the least. Pinpoint accuracy while spotting enemies is easily possible with the help of Corsair Utility Engine software's surround sound emulation, which this headset utilizes.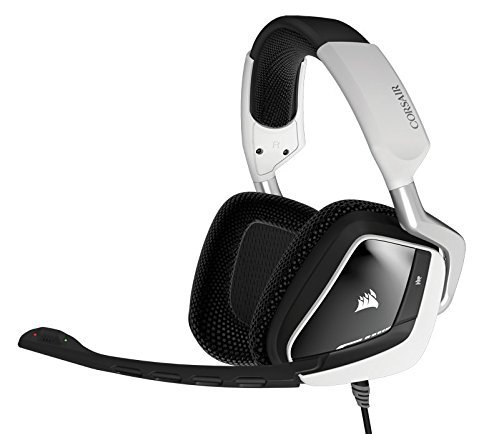 You might like the angular ear cups used by Corsair on this headset, as the company claims the "true form" shape will give you a snug fit, without irritating your ears after long gaming sessions. Just like the Kraken V2, the VOID packs 50mm audio drivers for immersive sound quality. On the flip side, it's pretty disappointing that Corsair offers a non-retractable microphone, which cannot even be detached, like the one on the HyperX Cloud II headset. However, the microphone has decent sound quality and features noise cancellation to eliminate the background noise, to make sure that only you're in the spotlight. For an asking price of under 50 bucks, there isn't any better option from a reputed manufacturer. So, the Corsair VOID takes the crown on that regard. If you want the wireless version of this headset, it's available for 30 bucks more.
Buy from Amazon: ($49.99)
8. Asus ROG Strix Wireless
Asus might not have the majority of the share in gaming headset market, but this ROG Strix Wireless headset checks most of the boxes for the gaming enthusiast. It packs a completely unique design that stands out from the rest of the competition, thanks to the ear cups which look like raging eyes. The orange accents on this headset give it a nice touch, but the build quality is pretty average, as it's made out of plastic. The Strix Wireless boasts 7.1 virtual surround sound by making use of the company's Sonic Studio software. Wireless transmission is made possible via a 2.4 GHz wireless connection, rather than Bluetooth, to avoid interference and lag.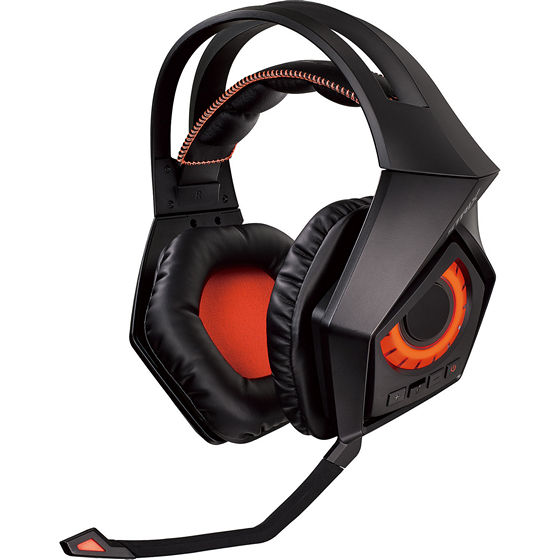 The headset is powered by a 900 mAh battery which promises battery life of up to 10 hours, which is decent considering its price. The microphone on the ROG Strix Wireless is detachable if you want it away from your face. Just like the Corsair VOID, the Strix Wireless adopts angular design for the ear cups instead of circular or oval, which should be good enough to cover your whole ear. The memory foam used on these ear cups make it one of the most comfortable headsets for long gaming sessions. The Strix wireless headset can connect to your PC and PS4 wirelessly, and it comes with 3.5 mm adapter to connect to Xbox One, smartphones and other older consoles. For an asking price of nearly 120 bucks, there are better options you can go for, but if you're a loyal fan of ROG peripherals, we won't stop you from buying it, as it's still a great surround sound headset.
Buy from Amazon: ($119.99)
9. Sony PlayStation Platinum Wireless Headset
Focusing on gaming headsets for PCs was not our intention and we also want to show some love for all the console fans out there. That's why we've added some dedicated virtual surround sound headsets just for our console gamers. Coming from Sony, this is undoubtedly the best gaming headset you can buy for the company's greatest console. It promises an immersive virtual 7.1 surround sound experience, but that's not the only thing that the headset boasts about. The most important aspect of this headset is 3D Audio, which takes surround sound to the next level, providing positional audio for the top and bottom in addition to all the sides, which we can never experience on other surround sound headsets. So, while playing fast paced shooters, enemies above you can be accurately detected. However, you can only experience 3D Audio on supported devices.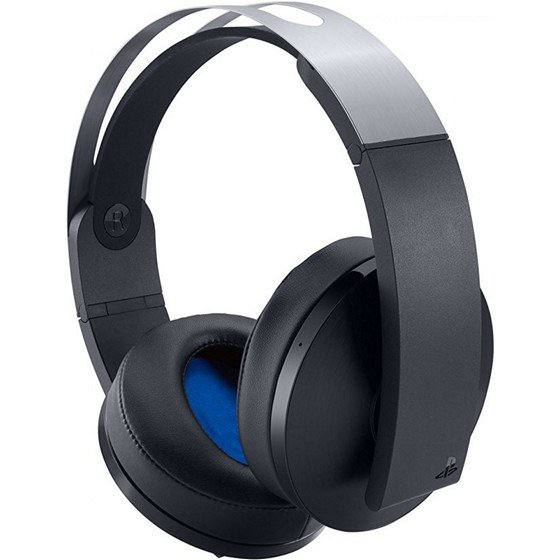 Sony never disappoints when it comes to design and build quality, and the PlayStation Platinum Wireless Headset is no exception in that regard. The ear pads are oval-shaped, in order to properly fit your ear without causing irritation during long sessions of gaming. The headset packs an integrated pinhole microphone instead of a boom mic, but it has noise cancellation to remove all the background noise. Although you can connect to multiple devices like PC, smartphones and tablets, you will be missing out on the surround sound and 3D audio features.
As far as battery life is concerned, you can expect approximately 12 hours out of the headset after a full charge. The headset doesn't come for cheap, as it costs approximately 170 bucks, making it one of the most expensive headsets featured in this list. However, if you want a dedicated PS4 headset for gaming on your favorite console with outstanding 3D Audio capabilities, no other headset can come close.
Buy from Amazon: ($169.85)
10. Turtle Beach Ear Force Elite 800X Wireless Headset
Now that we've discussed about a dedicated high-end headset for PS4, it's time to show some love to all our Xbox fans. When it comes down to dedicated Xbox One gaming headsets, the options boil down to only a few, and the Turtle Beach Ear Force Elite 800X sits right at the top. Turtle Beach headsets are well known for their stellar build quality and adequate comfort for long hours of usage and the Elite 800X is no different. Only a very few can match this headset in terms of sound quality. The virtual surround sound experience is made possible with the help of DTS Headphone X, which lets you spot the enemies' location accurately at the blink of an eye.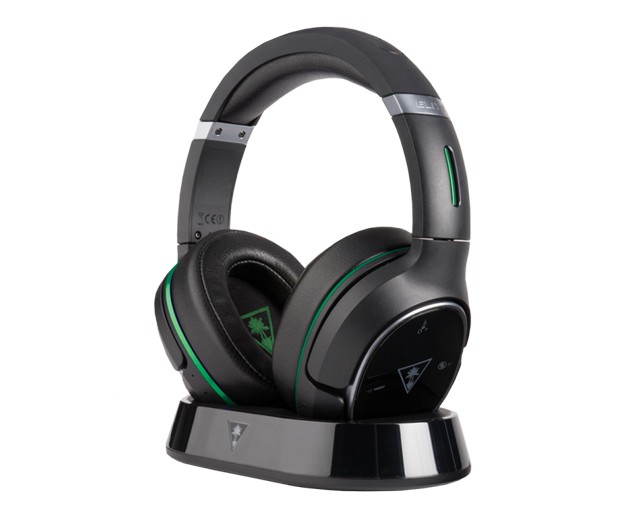 The oval-shaped ear cups are made of synthetic leather and memory foam, so you can keep playing for hours and hours without any irritation to your ear. As far as connectivity is concerned, it offers wireless connectivity for the Xbox one and you can make use of Bluetooth on this headset to connect across multiple devices. If you're a multi-platform gamer, this might be a headset that you might find really hard to choose, because of lack of surround sound compatibility on PC and PS4.
The 10-hour battery life offered by the headset is mediocre to say the least, as it looks pale in comparison to the similarly priced Siberia 800's 20 hour battery life, For an asking price of over 200 dollars, this one's hard to recommend, but if you're a loyal Xbox fan, who doesn't have a PC or PS4 to play games on, the Turtle Beach Elite 800X should definitely be part of your plans.
Buy from Amazon: ($209.97)
SEE ALSO: 11 Cool Headphones That Sound Great
The Best Surround Sound Gaming Headsets You Can Buy
Well, if you want the best 7.1 surround sound experience while gaming, you cannot go wrong with any of these headsets that we've discussed. Keep in mind that sound quality of these headsets are highly subjective, as it varies from person to person. Some of you might prefer punchy bass, whereas others might hate it, but when it comes to surround sound, positional audio is the top priority and all of these virtual surround sound headsets manage to do a great job at emulating it. So, are you planning to purchase a surround sound headset in the near future? If so, which one are you going for? Make sure you let us know by shooting your thoughts in the comments section down below.