Gaming headsets, especially the ones with surround sound functionality, were once considered a marketing gimmick. However, in recent years, virtual surround sound headsets, which make use of dedicated software to emulate a surround sound experience, are becoming the real deal by helping a lot in fast-paced competitive multiplayer games. They are also becoming more affordable and more mainstream by the day. With that in mind, we have rounded up the 12 best 7.1 channel surround sound gaming headsets you can buy right now.
Best 7.1 Surround Sound Headsets (Updated February 2021)
The best gaming headsets let you pinpoint the exact location of your enemies and kill them before they even know it. Well, we're talking about the big guns in the headset market that are actually worth the price if you're looking for a surround sound experience on a headset. So, if you're looking forward to buy one in the near future, here are the 12 best 7.1 surround sound headsets for gaming you can buy in 2021.
1. Sennheiser PC 373D USB Gaming Headset
Sennheiser is one of the most popular brands in the audio industry. Audiophiles mostly prefer their headphones for studio monitoring purposes. The company makes the world's most expensive headphones, priced at nearly $65000 and although they might not have the same stature in the gaming headset segment, the company still makes some of the best surround headsets in the market. Meet Sennheiser's flagship gaming headset, the PC 373D.
This headset features an in-line control to activate Dolby 7.1 virtual surround sound with the company's Transducer technology, which lets you hear even the finest details in the game. The headset makes use of the Sennheiser Surround Dongle Software for the 7.1 profile. The plush velvet ear cups make this one of the most comfortable headsets to wear, as your ears won't start sweating or experience discomfort even after hours of gaming.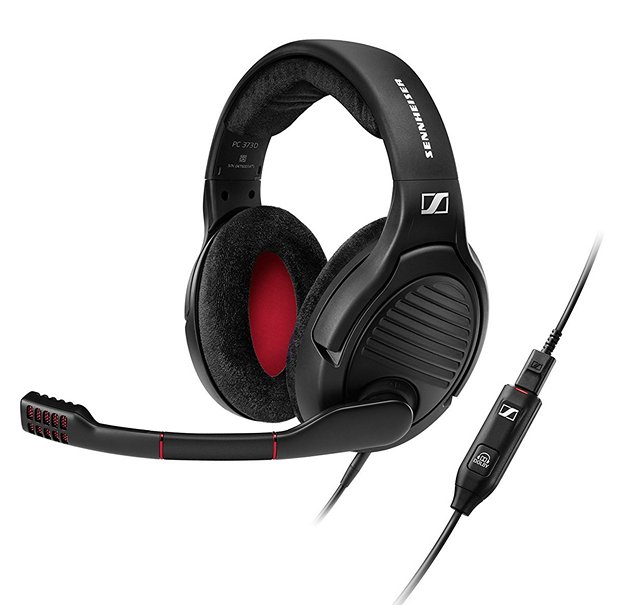 As much as we love and enjoy the impeccable audio quality of this headset, it has it's fair share of downsides as well. First of all, it's a wired headset. Being the most expensive one in the list, it's unacceptable that Sennheiser didn't add a wireless mode.
Apart from this, the boom microphone's huge size and non-removable aspect is a major downside, because the competition does it much better. However, the sound quality of the noise-cancelling microphone is crystal clear and outshines almost all other gaming headsets in the market.
Other than that, the PC 373D, just like all other Sennheiser products doesn't disappoint in terms of build quality. The price tag of nearly 240 bucks nearly manages to make our jaws drop, especially considering this is a wired headset. That being said, if you have the cash and if you're a loyal fan of the Sennheiser brand, nobody should stop you from purchasing this headset.
Pros
Crystal clear voice
Mic is pretty solid
Noise-cancelling mic
Can be easily muted
Very comfortable for most users
Cons
Expensive
Some users find it uncomfortable
The Bottom Line: Get it if you don't want to compromise with the sound.
Buy from Amazon: ($239.99)
2. Logitech G933 Artemis Spectrum Wireless Headset
This is pretty much considered as the "bang for the buck" gaming headset for a life-like surround sound experience, that gives the higher-end competition a run for its money. It boasts DTS Headphone X as well as the Dolby Virtual surround at a much more affordable price. Certain games like Battlefield 1 have exclusive sound profiles for the Logitech surround sound headsets that you can take full advantage of.
The plastic build might disappoint some of you, but this was probably done in order to keep the headset as light as possible. The RGB lighting on the back on the headset is neatly done, which might appeal to the younger gamers out there. The memory foam on the inside will be good enough for long, comfortable gaming sessions.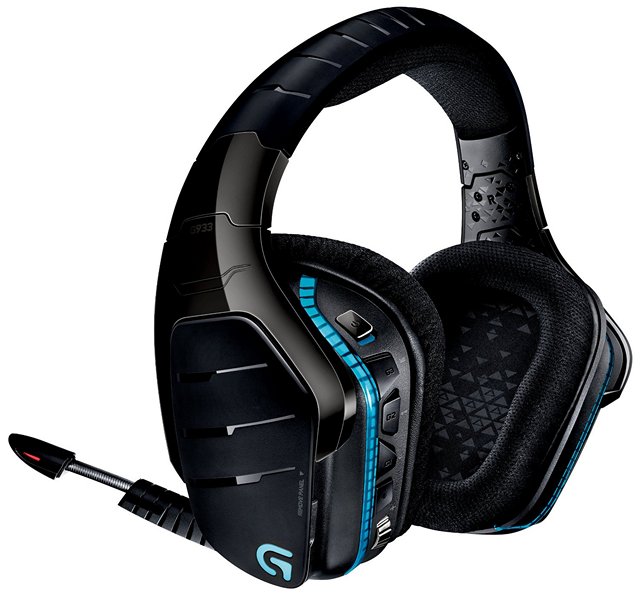 The battery on the Logitech G933 should be good enough to last you for up to 12 hours on a single charge, with the lighting turned off or 8 hours with the lighting turned on. The headset features a retractable boom microphone that sounds better than most of the other headsets in the price range. With a punchy bass that you can feel through your bones, this is the best gaming headset you can buy if you're bass-hungry.
The Logitech G933 is primarily for PCs, but you can use it on your consoles as well, at the cost of surround sound, as the headset requires the Logitech Gaming software to emulate that. It was initially launched with a $199 price tag, but the prices have dropped over the last few months and it's currently available on Amazon for just over $80.
Pros
Both wired and wireless options
Lightweight and comfortable
Long battery life
Multiple source audio mixing
RGB lighting
Cons
Doesn't fit well for some users
Average range in wireless mode
The Bottom Line: If you want a great sounding headset with both wireless and wired options then it's a perfect pick.
Buy from Amazon: ($229.99)

3. HyperX Cloud II 7.1 Gaming Headset
This is the best headset you can possibly buy, for under hundred bucks. The HyperX Cloud II is rightly named, as it "feels like a cloud" once you're wearing it. Without doubt, it's the most comfortable headset featured in this list, and if you're used to long gaming sessions, this might very well be your obvious choice for comfort.
The Cloud II is made out of solid, durable aluminum frame, making it one of the best built gaming headsets out there. Unlike the other headsets that we previously discussed, this one's a wired headset, so you don't have to deal with waiting for your headset to charge up or replacing your batteries.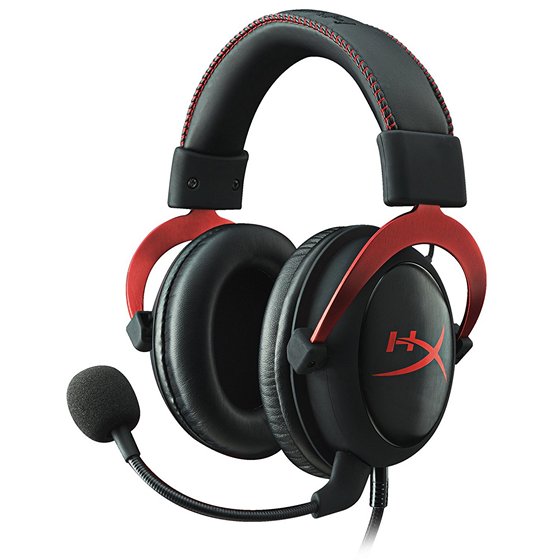 The HyperX Cloud II boasts 7.1 virtual surround sound, which is made possible with the help of USB audio control box that's provided along with the headset. It can be used across a variety of devices from PC and consoles, to even smartphones.
The removable microphone with a pop filter is definitely an added bonus, so you can listen to music on your smartphone without looking awkward in public, once you remove the mic. However, the mic quality is just average like most other gaming headsets. For an asking price of under hundred dollars, you just cannot go wrong, if you decide to purchase this headset.
Pros
Affordable yet sounds amazing
Can hear highs and lows
53nm drivers
Noise-canceling microphone
Cons
No volume control on the headset
Average build quality
The Bottom Line: The best affordable gaming headset that you can buy.
Buy from Amazon: ($99.99)

4. SteelSeries Arctis Pro
"SteelSeries" is well-known for producing both affordable and premium headsets. And guess what, its Artis Pro looks just in line to give strong competition to the flagship 7.1 surround sound headsets.
What makes this gaming headset worth giving a close look is the pretty good built quality coupled with impressive sound. Add to that the lossless high fidelity audio and it becomes fully equipped to help you take on your rivals while being indulged in an intense battle royale gameplay or high-octane racing games.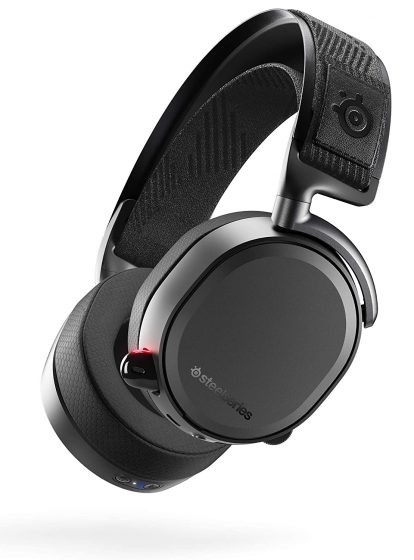 That's not all, the SteelSeries Arctis Pro also lets you personalize your audio preferences with a large collection of EQ presets and sound modes. As someone who loves to try out cool presets while taking rivals just to prevent monotonous feelings from spoiling the whole gaming experience, I'm glad that SteelSeries offers a bevy of EQ presets.
On top of all, the 20 hours of long battery life make sure you can take on zombies or enjoy music to your heart's liking without having to power up the battery frequently. Everything considered SteelSeries Arctis Pro is what you need to amp up your gaming experience.
Pros
Wireless and lightweight
Lossless high fidelity sound
Pretty long battery life
Rechargeable batteries
Features one of the best mics
Cons
Expensive
Bass is average, at best
The Bottom Line: If you want high-quality DAC sound in a wireless headset then it's for you.
Buy from Amazon: ($329.99)
5. Mpow Iron
For the folks who are on the lookout for the cheapest 7.1 surround sound headset, this offering from Mpow appears to be a better choice for multiple reasons. First and foremost, the headset delivers clear sound quality thanks largely to the 50mm audio drivers. Thus, you will always feel like being in the thick and thin of gaming, ensuring no action misses your attention.
Another notable feature that makes Mpow Iron super handy is universal compatibility. Featuring the 3.5mm audio jack along with a useful USB port, it's designed to work with a variety of devices including Nintendo Switch, PlayStation 4, Xbox One, PSP, Mac, Windows PC, smartphones, and tablets, it ensures your gaming experience never hits an incompatibility issue.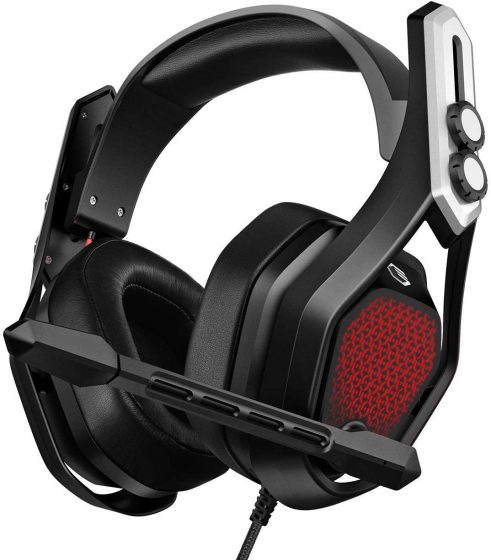 Moving onto the built quality, I find it quite good, if not super trendy. With the presence of over-ear pads, it feels pretty comfortable to wear. So, even after a marathon round of games, chances are you may not feel worn out.
As the headband is fully adjustable, you can easily slide it down to wear it. And with the inclusion of the flexible microphone, you also get a clear voice-pick up during gameplay. Courtesy these useful features, Mpow Iron seems to be a done deal at $50, doesn't it?
Pros
Best budget 7.1 headset
50mm driver
Audio mixing
Noise-canceling mic
Lighting effects
Cons
Build quality is not on par with flagship headsets
The Bottom Line: If you are on a budget, you can't get anything better than Mpow Iron.
Buy from Amazon: ($49.99)
6. Redragon H510 Zeus
Yet another gaming headset that looks primed to give a strong competition to the premium rivals. Redragon H510 Zeus might not appeal to your fancy at the very first glance nor will it deliver the best audio experience but when it comes to meeting essential requirements, the headset can pack a huge punch – way higher than its price point.
And that's exactly what has made me include this headset in this roundup of the top 7.1 surround sound headsets. Equipped with 53mm drivers, the headset is able to deliver a wider frequency range and better fidelity sound.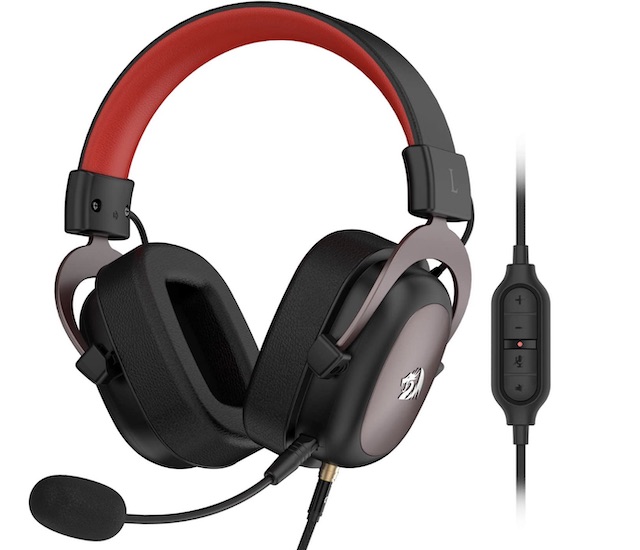 The detachable noise-cancellation microphone will keep you in sync with your teammates or comfortably listen to every insidious move of your enemies. Being fully adjustable, H510 Zeus is quite convenient to wear.
The incorporation of the steel frame endows its durability but without adding any unnecessary weight to the headset, which is a plus if you have the habit of playing games for hours.
Besides, it also comes with memory foam filler so that your ears can breathe easily and also remain away from sweat. Just like Mpow EG1, H510 Zeus also supports multiple platforms including PC, PS4, Xbox One, smartphones, and tablets.
Pros
Pretty affordable
53mm drivers
Immersive sound
Detachable mic
In-line controls
Foam ear pads
Cons
The Bottom Line: Again, a stellar headset with 7.1 surround sound system at an affordable price.
Buy from Amazon: ($49.87)
7. Razer Kraken Tournament Edition THX
When it comes to built quality and design, Razer headsets have always been top-notch, and Kraken Tournament Edition THX headset is no exception. Made of the durable aluminum frame, it sports a trendy design that can go nicely with your style quotient. Compared to its predecessor, the headphones pack larger 50mm audio drivers for a much more balanced in-game audio.  You will be making use of Razer's Synapse software for customizing your surround sound configurations.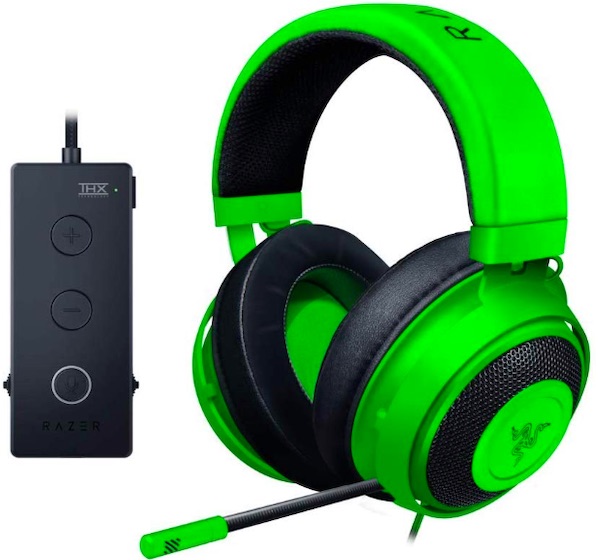 The headset features a retractable microphone with active noise cancellation to eliminate the background noise while communicating with your friends. Thanks to the cooling gel-infused cushions with indents for glasses, it also prevents overheating, allowing you to play games to your heart's liking for hours.
And with the in-line audio controls, you can comfortably control audio while being indulged in the action-packed gaming. On top of all, Kraken Tournament Edition THX offers cross-platform compatibility so that you can use it on virtually any platforms.
Pros
50mm drivers
DAC included
Spatial audio experience
Noise-canceling mic
In-line audio controls
Cons
Sometimes, the sound distorts
The Bottom Line: A pretty good 7.1 gaming headset and you can get it if you want DAC.
Buy from Amazon: ($74.54)
8. Corsair VOID RGB Elite Wireless Headset
What makes Corsair VOID RGB Elite an impressive contender for your choice is the ability to tick off most essential boxes including trendy design, sound quality, and comfort without stretching your budget. So, if you want to get a high-quality gaming headset under $100, it wouldn't be wise to miss out on this one.
Packed with 50mm high-density neodymium Audio featuring an expanded frequency range of 20hz-30, 000Hz, the headset is up to the mark when it comes to delivering clear and crisp sound. Besides, it also comes with an omnidirectional microphone so that you can stay in tune with your buddies during an action-packed collaboration.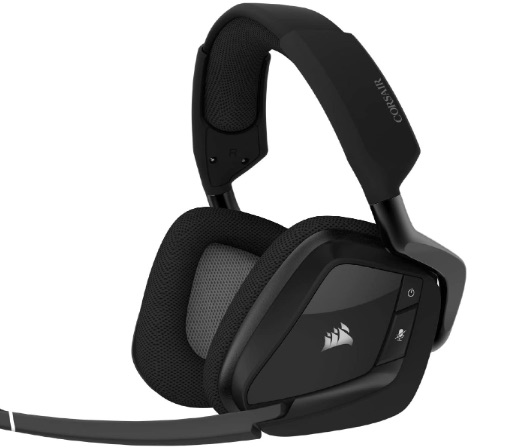 With the on-ear volume and mute functionality, you can make quick adjustments without taking your eyes away from your enemies. VOID RGB Elite features a breathable microfiber mesh fabric and plush memory foam earpads so that you can feel comfortable while wearing the headset.
Another feature that gives VOID RGB Elite an edge over many other rivals is the dynamic RGB lighting that allows you to customize your look on each ear cup. As for durability, you can trust the aluminum yokes to help the headset take some beating effortlessly. Once fully charged, it will last up to 16 hours, which is yet another plus for those who like to use headphones for hours.
Pros
Stylish and comfortable
Affordable
50mm drivers
Multi-directional mic
LED mute indicator
Multi-channel audio output
RGB Lighting
Cons
The Bottom Line: Corsair Void has got both style and sound. On top of that, it costs pretty less than the competition.
Buy from Amazon: ($79.99)
9. Asus ROG Strix Wireless
Asus might not have the majority of the share in the gaming headset market, but this ROG Strix Wireless headset checks most of the boxes for the gaming enthusiast. It packs a completely unique design that stands out from the rest of the competition, thanks to the ear cups which look like raging eyes.
The orange accents on this headset give it a nice touch, but the build quality is pretty average, as it's made out of plastic. The Strix Wireless boasts 7.1 virtual surround sound by making use of the company's Sonic Studio software. Wireless transmission is made possible via a 2.4 GHz wireless connection, rather than Bluetooth, to avoid interference and lag.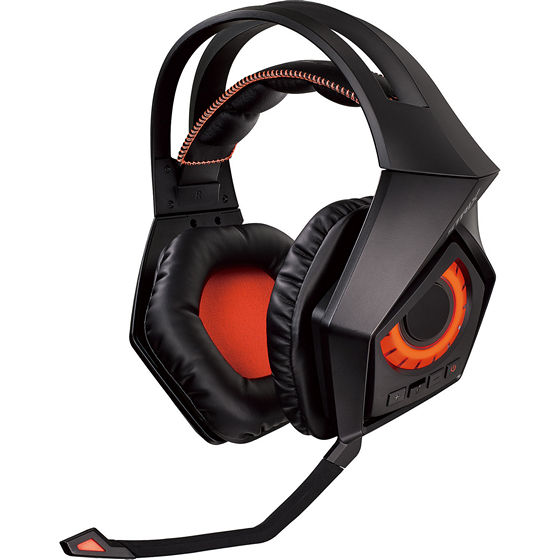 The headset is powered by a 900 mAh battery which promises a battery life of up to 10 hours, which is decent considering its price. The microphone on the ROG Strix Wireless is detachable if you want it away from your face.
Just like the Corsair VOID, the Strix Wireless adopts angular design for the ear cups instead of circular or oval, which should be good enough to cover your whole ear. The memory foam used on these ear cups makes it one of the most comfortable headsets for long gaming sessions.
The Strix wireless headset can connect to your PC and PS4 wirelessly, and it comes with a 3.5 mm adapter to connect to Xbox One, smartphones, and other older consoles. For an asking price of nearly 180 bucks, there are better options you can go for, but if you're a loyal fan of ROG peripherals, we won't stop you from buying it, as it's still a great surround sound headset.
Pros
Looks pretty cool
Low-latency sound
Both wired and wireless options
Detachable mic
Audio customization
Cons
The Bottom Line: If you want the looks with a crystal clear sound for gaming Asus ROG Strix is a done deal.
Buy from Amazon: ($119.99)
10. Sony PlayStation Platinum Wireless Headset
Focusing on gaming headsets for PCs was not our intention and we also want to show some love for all the console fans out there. That's why we've added some dedicated virtual surround sound headsets just for our console gamers. Coming from Sony, this is undoubtedly the best gaming headset you can buy for the company's greatest console.
It promises an immersive virtual 7.1 surround sound experience, but that's not the only thing that the headset boasts about. The most important aspect of this headset is 3D Audio, which takes surround sound to the next level, providing positional audio for the top and bottom in addition to all the sides. So, while playing fast-paced shooters, enemies above you can be accurately detected. However, you can only experience 3D Audio on supported devices.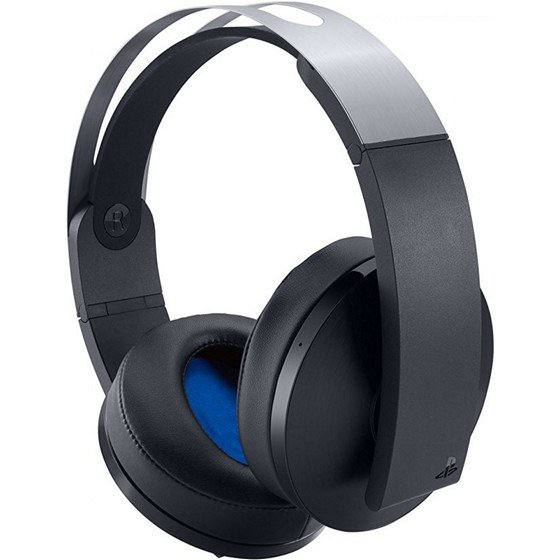 Sony never disappoints when it comes to design and build quality, and the PlayStation Platinum Wireless Headset is no exception in that regard. The ear pads are oval-shaped, in order to properly fit your ear without causing irritation during long sessions of gaming.
The headset packs an integrated pinhole microphone instead of a boom mic, but it has noise cancellation to remove all the background noise. Although you can connect to multiple devices like PC, smartphones and tablets, you will be missing out on the surround sound and 3D audio features.
As far as battery life is concerned, you can expect approximately 12 hours out of the headset after a full charge. The headset doesn't come for cheap, as it costs approximately 170 bucks, making it one of the most expensive headsets featured in this list. However, if you want a dedicated PS4 headset for gaming on your favorite console with outstanding 3D Audio capabilities, no other headset can come close.
Pros
Best for gaming on PS consoles
Both wired and wireless options
The soundstage is pretty wide
Build quality is exceptional
Cons
Battery life is average
Only wired option for PS3
The Bottom Line: If you primarily play games on PlayStation then it will work great.
Buy from Amazon: ($114.90)
11. Sennheiser GSP 350
The Sennheiser GSP 350 is one of the more affordable devices in out list of the best 7.1 channel virtual surround sound gaming headsets for 2021. The device has a closed-back design that prevents sound from escaping and keeps you undisturbed while playing. It comes with a USB Surround Dongle that provides Dolby 7.1 Surround Sound processing to deliver spatial realism to enhance your game. The headset is backed by customizable surround sound options, including downloadable 7.1 Dolby Surround software. There's also a noise-canceling microphone that provides high clarity for in-game communication. There's also the flip-to-mute function that shuts off in-game communication to seamlessly mute/unmute the microphone.
In terms of build quality, the GSP 350 is built out of plastic and comes with XL Memory foam and leatherette ear pads for acoustic seal and comfort. In terms of specifications, the headset comes with an over-ear Impedance of 19 Ohms, frequency response range of 15Hz – 26kHz and sound pressure level of 113 dB. As for the bi-directional microphone, the frequency response ranges from 10Hz – 15kHz and the sensitivity is -41 dBV/PA. Do note that the headset is only advertised to work for PCs, so keep that in mind if you intend to switch between PC and consoles.
Pros
Noise-cancelling mic
Comfortable padding on the earcups
Passive noise cancellation
Value for money
Cons
Flimsy Build quality
Unimpressive looks
Non-detachable mic
The Bottom Line: Great value-for-money 7.1 surround sound headset with crystal clear audio and great sound isolation, but with some compromises in terms of build quality and software.
Buy from Amazon: ($90.12)
12. Astro Gaming A50
Widely regarded as one of the best 7.1 surround sound gaming headsets in the market, the Astro A50 comes in two versions – one for PS5/PS4 and another for Xbox X | S and Xbox One. Both versions support PCs and, offer premium acoustics with an immersive audio and sound experience that delivers dialogue, music and in-game sound clearly. It also comes with Dolby Audio that delivers a cinematic, high-resolution gaming audio experience. The Xbox version also comes with Dolby Atmos that provides Object Audio for a more accurate and immersive sound experience.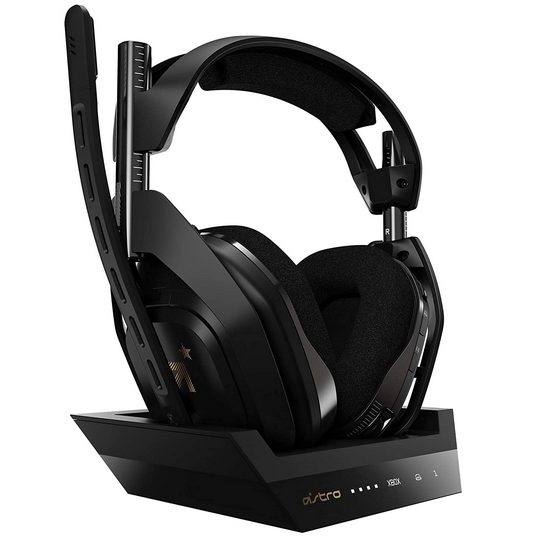 The Astro A50 comes with an all-new base station that provides clear, low-latency voice communication, while making headset pairing and charging simple. As with other premium Astro headsets, the A50 is supported by the Astro command center software, which gives players complete control over their Audio experience, including voice communication and game Audio settings. The company claims a battery life of over 15 hours for the headset. There's also an optional A50 mod kit that allows users to add synthetic leather headband ear cushions for improved noise isolation.
Pros
Great build quality

Large sound stage
Comfortable for long periods of use
High-quality microphone
Cons
Expensive
Bulky design
Base Station needed for the headset to work
The Bottom Line: These headphones are designed for gaming, but also work great for listening to music. However, the requirement of the dock means that you cannot use it on-the-go.
Buy from Amazon: ($299.99)
Frequently Asked Questions
Q. Are 7.1 Headsets Good for Gaming?
7.1 headsets are generally recommended by gamers because of its positional audio. If you are seriously into gaming, I would strongly suggest you to get one.
Q. Are 7.1 Headphones Worth It?
Many gamers find 7.1 or 5.1 surround sound system a gimmick. However, in the last couple of years, the multi-sound system has been enhanced by complex algorithms which work pretty well and allows you to find the direction of your enemy with near-perfect accuracy. So, I would say, yes, 7.1 headphones are worth it.
Q. What is The Best Gaming Headset 2020?
If I don't have a budget constraint then I would easily pick the Sennheiser PC 373D. However, for budget users, the Mpow Iron is a great gaming headset in 2020.
Q. How Do I Get My Headphones to 7.1 Surround Sound?
It depends on the type of headset and the manufacturer of the sound equipment. If you have support for stereo sound then you can enable 7.1 surround sound system usually from the Spatial Settings page. You can find the audio utility from the manufacturer's website.
Best 7.1 Surround Sound Gaming Headsets You Can Buy
Well, if you want the best 7.1 surround sound experience while gaming, you cannot go wrong with any of these headsets that we've discussed. Keep in mind that sound quality of these headsets are highly subjective, as it varies from person to person.
Some of you might prefer punchy bass, whereas others might hate it, but when it comes to surround sound, positional audio is the top priority and all of these virtual surround sound headsets manage to do a great job at emulating it. So, are you planning to purchase a surround sound headset in the near future? If so, which one are you going for? Make sure you let us know by shooting your thoughts in the comments section down below.