If you are an artist who likes to draw and create models, maybe it's time for you to upgrade from your usual pencils to a 3D pen which will make your art look even more alive. 3D pens are also good for designers, as they allow them to showcase their designs in 3D, which is much easier to understand and explain. I am no artist but I can still see how 3D printing pens can not only serve professionals but also amateur creators who are looking for a way to take their hobby to the next level. So, whether you are a professional, an amateur creator or just someone who want to dabble into the world of 3D design, here are the 10 best 3D printing pens you can buy right now:
Best 3D Printing Pens You Can Buy
1. AIO Robotics Full-Metal Premium 3D Printing Pen
In a sea full of 3D-Pens, the AIO Robotics 3D printing pen stands out for me for a couple of reasons. First, the build quality on this thing is impeccable. I really like how it feels in hand. Since there are so many things going inside a 3D printing pen, I like mine to evoke a feel of sturdiness and it certainly does that. I also love the fact that the pen brings physical buttons for most of the controls that you are going to use which makes this a very functional 3D printing pen.
There's also an OLED display which shows you all the important information including speed of printing, the temperature of the nozzle, and more. Do note that the pen only supports PLA material, so if you want to use ABS you will have to look at other pens on this list that support the material. Other than that, I don't think this pen has any other flaws and if you are thinking of buying a new 3D printing pen, this is a very good choice.
Buy From Amazon: $59.99
2. MYNT3D Professional Printing 3D Pen
If you want a pen which supports both PLA and ABS materials, this 3D printing pen from MYNT3D is a good place to start. The best part is that the pen also supports wood or bronze infused filaments, that is, as long as the material melts at 130-240°C and uses a 1.75 mm filament size. Coming to the pen's design, it sports an ergonomic design which keeps all the controls at your fingertips. The pen is also very easy to maneuver thereby allowing you to easily create complex 3D designs.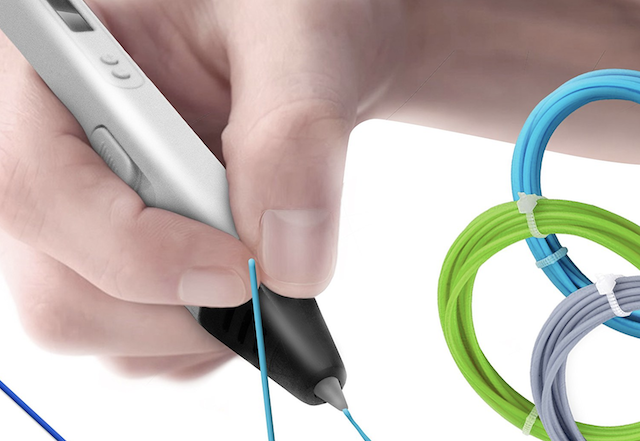 Just like the AIO Robotics 3D printing pen, this one also comes with a screen which allows you to take a quick look at the pen's settings and other relevant information. I also love the stepless speed control button on this thing which allows you to manage the extrusion speed according to your needs. Finally, the pen can also be powered using battery power banks which output 2A current which makes this a portable 3D printing pen which is just great. It is one of the best 3D printing pens that you can get.
Buy From Amazon: $59.99
3. Soyan 3D Printing Pen for Doodling
If you are not a professional and are looking for a relatively cheap 3D printing pen either for you or for your kids, this is the pen for you. The Soyan 3D printing pen lets users transform their ideas into amazing 3D arts. Soyan markets this pen as a doodling and learning tool for kids and I couldn't agree more. The pen is really easy to use as it supports one-button printing and doesn't offer any complex controls. However, that also means that you will find this pen less than emphatic as you don't have as much control over its settings as you have with some of the other pens on this list.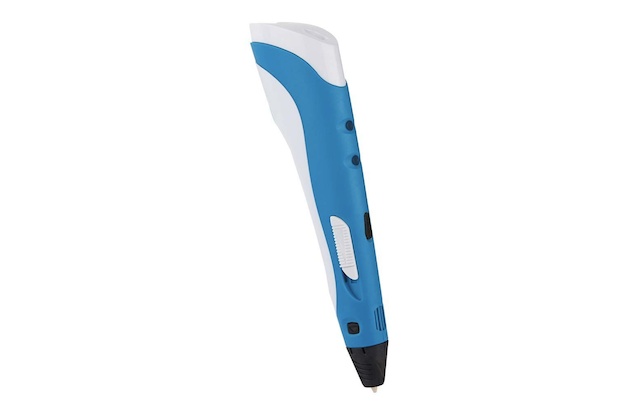 That said, the pen is not made for professionals, it's made for kids and for its target audience, the pen's controls are great. The pen comes with three 1.75 mm ABS filaments, each one with a different random color. It also brings 5 paper stencils which house basic designs for things like bicycle, chopper, and more to help get kids started on their 3D printing journey. Even after packing all these features, the pen is fairly cheap which makes it a great product for kids.
Buy From Amazon: $19.60
4. Scribbler 3D Pen V3
The Scribbler 3D Drawing Pen is lightweight and easy to manage 3D printing pen which is a professional grade 3D printing tool. The pen brings an exceptional design which not only makes it look cool but also fairly easy to handle. Just like the MYNT3D pen, the Scribbler 3D pen brings support for regular 1.75 mm filament which can use materials including ABS, PLA, flexible, wood, and bronze. The operating temperature range of the pen is between 140-240 degrees Celsius. The best part is that even at higher operating temperature, the pen only feels warm to touch and never gets so uncomfortable that you won't be able to work with it.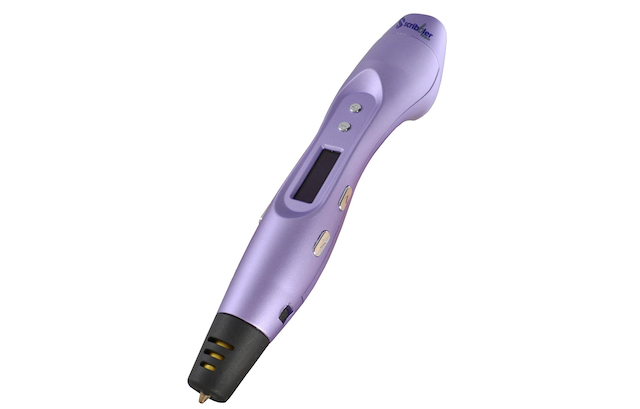 There's also a large OLED screen which gives the user complete control over all details of their drawing experience including temperature, feed settings and material type options. Lastly, the pen brings 3×1.75mm PLA filaments in different colors which is enough to get you started. Overall, I am quite happy with the pen. There's no doubt that this is one of the most feature-packed pens on this list and it certainly justifies its premium price. I love the pen's design and the fact that it comes in different colors makes me even happier. If money is no bar for you and you want the best of the best, do check this pen out.
Buy From Amazon: $99.00
5. 3Doodler Create 3D Pen
The 3Doodler 3D pen is one of the most popular 3D printing pens on the market and for good reasons. It is one of the smallest, lightest, and toughest 3D printing pen available in the market right now, and if you hate large 3D pens, you will certainly find its relatively slim design quite manageable. The pen is very versatile and easy to use, allowing creators to sketch in 3D, trace shapes from templates to create works of art, wearable pieces, architectural models, and more. The best part about using this pen is that it supports all kinds of plastic.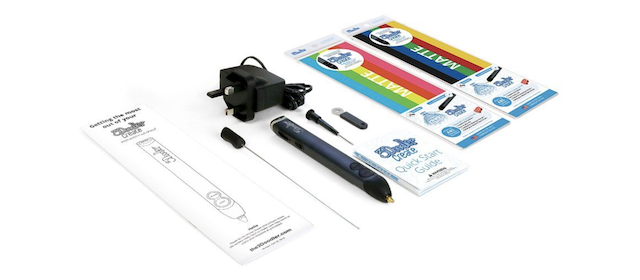 The company offers the widest range of plastic filaments with 65 different color options in multiple finishes including matte, glossy, clear, glow, flexy, and sparkle. The pen brings 50 free plastic strands in a selection of multiple colors and materials which is just awesome. The pen also supports different filament sizes so you are not stuck with the single 1.75 mm filament which is the case with other pens on this list. However, do note that the pen only comes with one filament size so you will have to spend more if you want the other sizes. Also, the pen only supports plastic so if you want to work with other materials, this is not the pen for you.
Buy From Amazon: $69.99
6. dikale 3D Pen with PLA Filament Refills
This is one of my favorite 3D printing pens on the list as it comes with so many cool accessories right out of the box that it seems like a perfect gift for kids. The box not only brings the 3D printing itself but also packs 12 PLA colors filament (two of them glow in the dark) of 10 feet each along with an eBook which contains 250 stencils for design. While the pen only supports 1.75 mm filaments, it does support both PLA and ABS materials. By far, my favorite feature of this pen is the one key operation function which is different from the long press button print buttons present on other smartphones.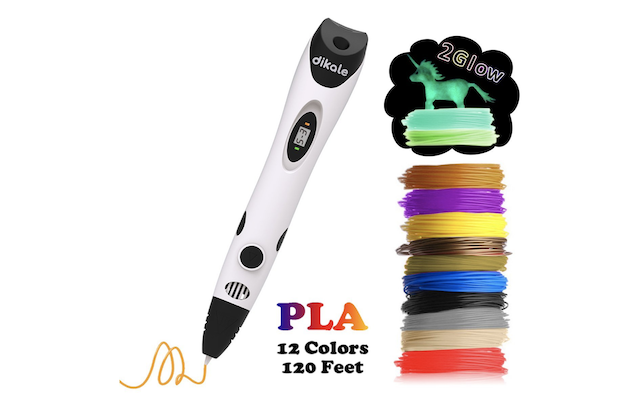 With this one, you can just press the button once and the printing material will come out automatically. Although this makes it a little harder to control, it's good for kids fingers as they don't have to keep pressing on a button for long periods of time. When it comes to temperature and speed controls, there are 3 speed and temperature modes available which again is easier for kids to understand. Finally, there's a built-in LCD screen for displaying information such as speed and material being used. If you are looking for an easy to use 3D printing pens for your kids, you should definitely take a look at this one.
Buy From Amazon: $38.99
7. Canbor 3D Pen
Canbor 3D pen is yet another great budget 3D printing pen which will be good for kids and amateurs alike. The pen features a nozzle which is compatible with 1.75 mm PLA and ABS filaments with adjustable temperature controls to give a quality printing experience. There's also support for stepless speed control which lets you dial in the optimal speed for normal drawing. One of the good things about this pen is that the nozzle is replaceable so in the events where your 3D pen gets clogged, you could easily replace the nozzle for a fraction of the cost of a new pen.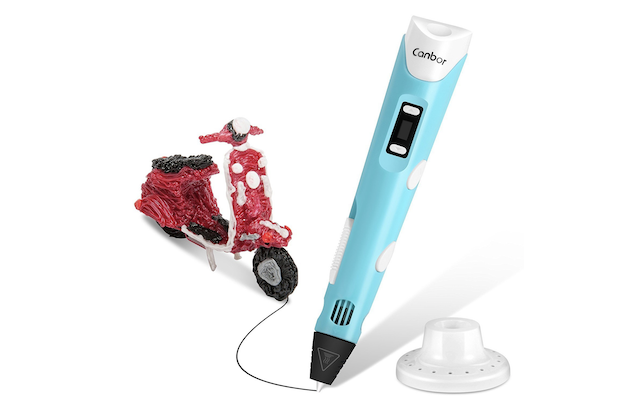 The pen has a display however it only displays the type of material being used. Do remember to always select the right material as the pen automatically sets the temperature depending on the material type that is being used. The pen brings everything that we have come to expect from a good 3D printing pen by now and it's a good option that you should consider before making the final purchase.
Buy From Amazon: $27.00
8. 3D Printing Pen From Tecboss
If you are a professional who wants greater control over the printing speed, the 3D printing pen from Tecboss is the pen you are looking for. The pen brings 8 step speed control which gives users a precise control over their creations allowing them to carve their 3D structures at the rate they are comfortable with. Just like most of the other pens on this list, this pen also supports both ABS and PLA filaments. One of the best things about this 3D printing pen is that it can also be powered using a standard battery power bank thus allowing you to take it with you wherever you are going. There's also a built-in OLED screen which not only shows the types of material you're using but also displays the temperature. I also prefer its design as it looks more comfortable to grip and use than some of the other pens on this list.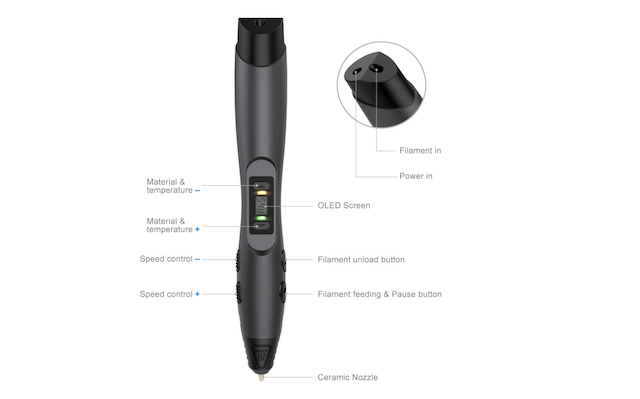 Buy From Amazon: $49.99
9. Vellerton 3D Pen for Kids
As its name suggests the Vellerton 3D pen has been specially designed for kids to help them explore their inner creativity. The pen is very light and weighs only 55 grams which makes it ideal for kids. It also comes in a kid-friendly metal design which will not break easily even if your kids handle it a little bit rough. Coming to the specifications, the pen brings all the usual features. There's an LCD screen for the info, support for both ABS and LPA filaments, simple physical buttons for controlling things like temperature and speed, and can also be used with power banks. That said, one of the drawbacks of this pen is that it doesn't pack any filaments in the box so you have to buy them separately. However, if you want a pen which can stand some abuse by your kids, this is your best option.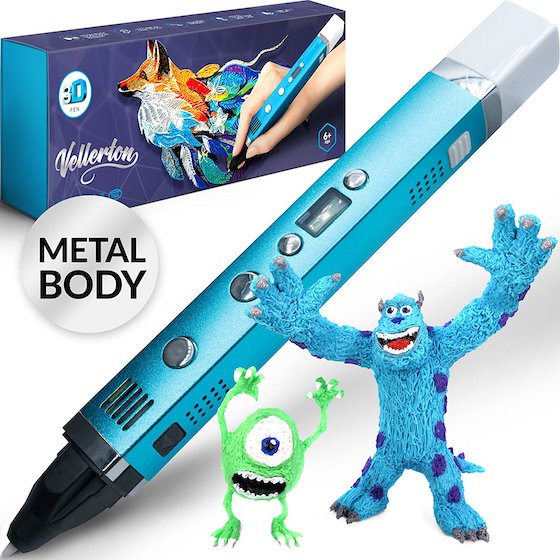 Buy From Amazon: $29.99
10. 7TECH 3D Printing Pen
The last 3D printing pen on our list is from a company called 7TECH which brings a budget 3D pen which lets you easily control extrusion speed, temperature, and filament to let you create amazing 3D structures. The pen is also fairly lightweight and only weighs 55 grams which makes it also good for kids. The pen's nozzle features advanced unclogging mechanisms technology which prevents nozzle jamming. As far as I can tell, the pen only supports ABS material so if want PLA filament support, you should look at other options. Other product features include 160 to 230-degree adjustable temperature range, advanced thermal control, silent design, and more. It's nothing exceptional, but if you are looking for options, this a good alternative to all the other budget 3D printing pens mentioned above.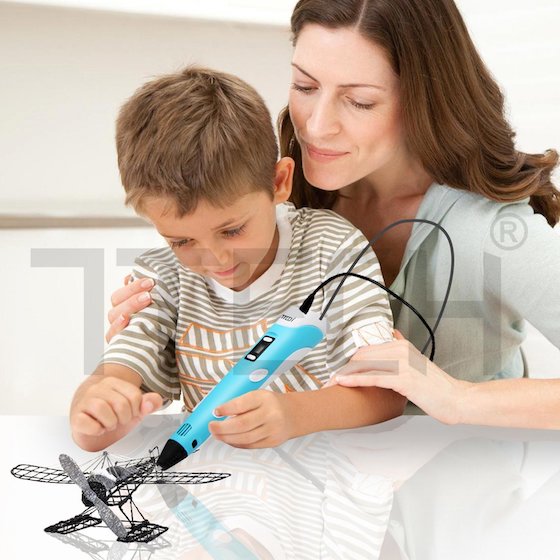 Buy From Amazon: $39.99
SEE ALSO: 10 Best Gaming Laptops You Can Buy in 2018
Wake Up Your Inner Creative with These 3D Printing Pens
That ends our list of the best 3D printing pens that you can buy right now. I have tried to include pens for everyone here. Whether you are looking for 3D printing for a kid, an amateur, or a professional, you will find one pen for everyone here. Do check this list out and let us know which is your favorite pen amongst them all by writing in the comments section below.
---
Load More