Though iPad Mini 5 doesn't boast high-end specs, the ultra-portable tablet has got enough to be a super handy device for not only reading articles and books but also for playing games and watching media. To me, the biggest highlight of this compact iPad is the multi-touch fully laminated display with a 2048 x 1536 resolution. At 500 nits, the tablet is 25 percent brighter than its predecessor – iPad mini 4. To help you keep the impressive Retina display of your iPad safe against bumps and unexpected scratches, we have listed the 10 best iPad Mini 5 screen protectors that you can buy in 2020.
Best iPad Mini 5 Screen Protectors in 2020
Before picking out a screen protector for your 5th-gen iPad Mini, there are few things you need to keep in mind that can help you find the right screen guard for your device.
Which Screen Guard is Better for Your iPad Mini 5?
Though tempered glass screen protectors are always in high demand due mainly to their unmatched hardness, PET Film screen guards excel in offering better responsiveness. So, if your priority is to provide a highly reliable defender to your iPad Mini 5's screen, look no further than the ones made of top-quality tempered glass.
However, if you want to have a paperlike texture so that your Apple Pencil can deliver the best, PET films are the way to go. Moreover, PET film screen guards are anti-glare to reduce light reflection. So, choose the screen protector while keeping these pivotal things in mind. That said, let's explore the best iPad Mini 5 screen guards!
1. amFilm iPad Mini 5 Screen Protector
When it comes to top-notch screen protectors, amFilm has long been a noted name. And its screen guard for the iPad Mini 2019 boasts all the qualities to be the best in the business. The screen defender is fortified by a high-quality tempered glass and comes with 99.99% transparency, which means you will have an enhanced viewing experience.
Another feature that sets amFilm screen guard apart is the solid 9H hardness that makes it strong enough to withstand not only bumps but also ward off even nasty scratches effortlessly. Not to mention the oleophobic coating that keeps smudge, oil away and also reduces fingerprints. As a result, the screen continues to look pristine for long and also keeps the touch sensitivity intact.
Pros:
High-quality tempered glass
99.99% transparency
9H hardness
Oleophobic coating
Cons: 
May develop bubbles during installation
Dust resistance could be better
Buy From Amazon: $6.99 
2. iPad Mini 5 Screen Protector by JETech
JETech has always been one of my favorite screen guards due mainly to its impressive durability. Having used many of its screen guards on my devices, I can vouch for its quality. Talking about this JETech tempered glass screen protector, it's a bit on the thicker side (0.33mm thickness) in order to survive impact with ease.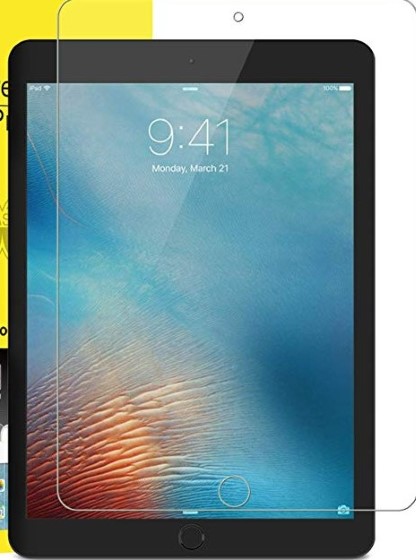 Thanks to the robust durability, it can also take on even ugly scratches. As it's both dust and fingerprint resistant, the screen remains highly sensitive, allowing you to use your 2019 iPad Mini smoothly. Moreover, this screen defender is also bubble-free so that you don't have any problem while applying it on your iPad Mini 5.
Pros:
Highly durable
0.33mm thickness
Scratch-resistant
Fingerprint resistant
Cons:
A bit thicker
The cutouts aren't perfectly aligned
Buy From Amazon: $6.98 
3. iCarez Screen Protector for iPad Mini 5 (2019)
If you are willing to get a maximum resolution from your iPad Mini 5's Retina display, "iCarez" would be a better way to go. This screen guard is made of PET film and sports TrueTouch sensitivity to let you use your tablet with the desired smoothness.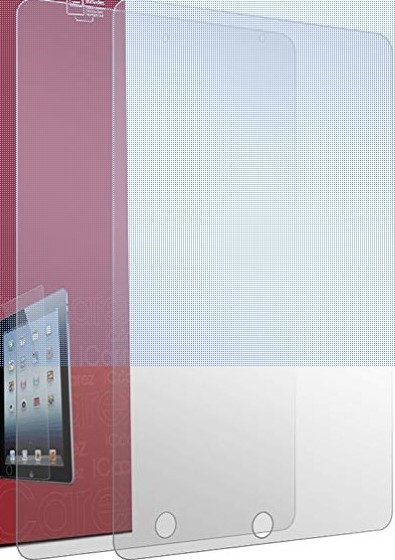 The high sensitivity will also allow your Apple Pencil to glide smoothly on the screen. Besides, it's designed to be anti-glare so that you have a more convenient viewing experience in any environment. On top of all, iCarez screen guard has picture-perfect cutouts ensuring it doesn't become a roadblock for sensors.
Pros: 
High-quality PET film
Anti-glare
TrueTouch sensitivity
Precise cutouts
Cons: 
Less protective
Features only 3H-4H hardness
Buy From Amazon: $7.95 (pack of 2) 
4. OMOTON iPad Mini 5 Screen Protector
For providing a trusted safeguard to the Retina display of your ultra-portable iPad, you can't go wrong with OMOTON as it packs a solid punch in most aspects. What puts it in the forefront is the exceptionally durable tempered glass that can absorb shock and also put scuffs away.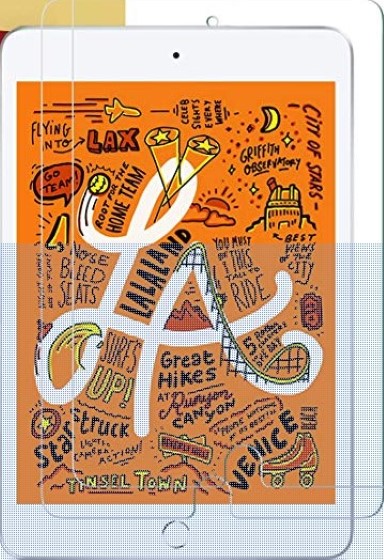 That means your tablet can survive both bumps and also remain scratch-free. On top of all, OMOTON iPad Mini 5 screen protector comes with a hydrophobic and oleophobic coating so that fingerprints and smudge won't be able to damage the sensitivity and clarity.
Pros: 
Durable tempered glass
Hydrophobic and oleophobic coating
Shock-absorbing design
Equipped to fight out scratches
Cons:
Tends to develop bubbles during installation
May turn yellow overtime
Buy From Amazon: $6.99 (pack of 2)
5. Supershieldz Tempered Glass Screen Protector
"Supershieldz" is known to deliver one of the best screen guards in the market. So, I'm glad to include its highly efficient screen protectors for the iPad Mini 5. Well, the highlight of this screen defender is the maximum resistance against impact and the 2.5D rounded edges which not only makes it a bit easier to install but also enhances user experience.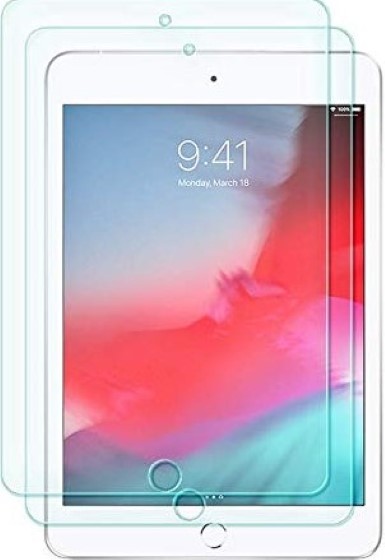 Another thing worth noting about it is the additional coating that works admirably in fighting out sweat and dust. As a result, Supershieldz screen guard doesn't lose clarity and smoothness.
Pros:
2.5D rounded edges
Impact-resistant
Feels smooth to the touch
Sweat-resistant
Cons:
Lacks top-notch sensitivity
Comparatively expensive
Buy From Amazon: $9.99 (pack of 2)
6. Tech Armor iPad Mini 5 Ballistic Glass Screen Protector
Simply put, "Tech Armor" belongs to an elite league of screen protectors and therefore it deserves a safe spot in this roundup. What gives this screen defender an edge over a plethora of rivals in the overcrowded market is the dependable resistance against accidental bumps and also scuffs thanks largely to the ballistic glass.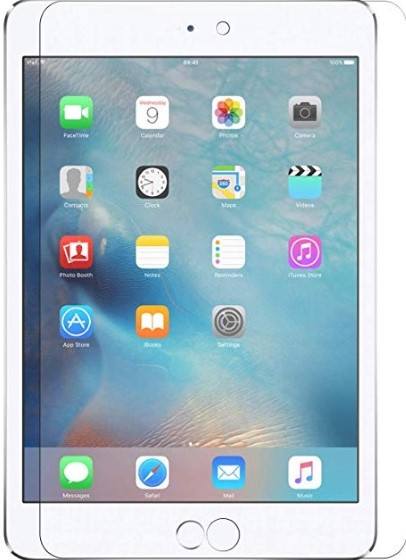 So, when it's perfectly applied to your iPad Mini 5's Retina Display, you should remain worry-free. Furthermore, it's also got an additional layer of defense to stop things like oil and dirt from damaging the responsiveness of the screen.
Pros: 
Shock-absorbing design
High clarity
High-responsiveness
An extra layer to resist sweat and smudge
Cons: 
May fail to keep bubbles away
Relatively expensive
Buy From Amazon: $12.95
7. Spigen iPad Mini 2019 Screen Protector
Whenever the word "Spigen" strikes my mind, the thing that instantly comes to the picture is an affordable yet highly efficient range of cases. However, this reputed accessory maker also offers appreciable screen protectors. And I have found its screen guard for iPad Mini 5 up to the task.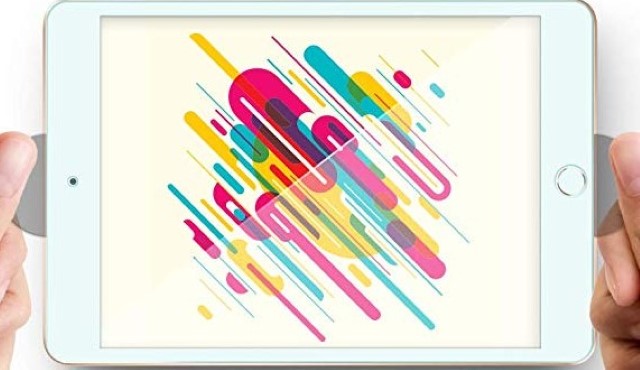 Whether it's absorbing shock or withstanding scratches, it shouldn't disappoint you at all. Courtesy the high-quality tempered glass, it's got 9H impact resistance and also features a special coating to prevent sweat and smudge from building up on the screen.
Pros:
Touch-responsiveness
Oil-resistant
Top-notch clarity
Case-friendly
Cons:
A touch overpriced
Buy From Amazon: $12.99 
8. AINOPE
Made of high-grade tempered glass, AINOPE screen protector promises to be a worthy asset for the iPad Mini 5's Retina Display. The screen is 0.33mm thick and boasts 9H hardness to absorb impact. The company touts that it's 6X stronger, which makes it a robust shield. So, you can bank on it to offer the desired protection to the screen against drops.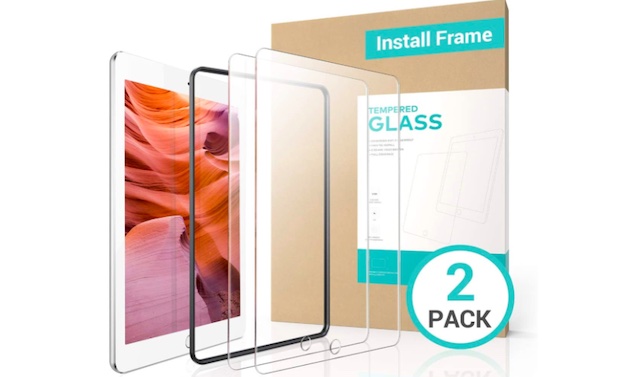 Protection aside, AINOPE screen protector is also touch-sensitive. Featuring oleophobic coating, it doesn't allow fingerprints, oil, and dust to build on the screen. Therefore, clarity and responsiveness don't get affected.
Overall, AINOPE is one of the strongest screen guards for iPad Mini 5.
Pros:
6X stronger
0.33mm thickness for extra durability
Industry-standard hardness
Cons: 
The cutouts should be a bit more precise
Doesn't resist glare perfectly
Buy From Amazon: $11.99  (pack of 2)
9. Ailun
Another iPad Mini 5 screen guard that can claim to be affordable yet very efficient is Ailun. Yeah, you got that right! The screen defender is made of tempered glass and features 2.5D rounded edges for uncompromised coverage of the screen.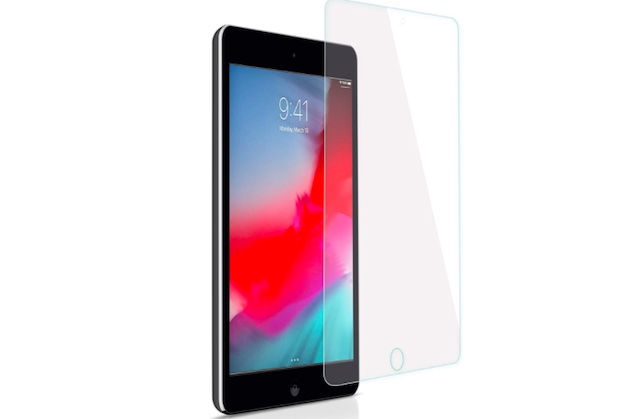 The rounded edges of the screen guard also play a vital role in helping it get installed comfortably. Convenient installation aside, it delivers high clarity so that you can get the most out of the 7.9″ Retina Display. Notably, it's designed to work with most iPad Mini 5 cases, which is yet another plus from a user-experience perspective.
Pros: 
2.5D rounded edges
Delivers high-clarity
Full coverage
Case-friendly design
Cons: 
Comparatively less sensitive to the touch
Fingerprint resistance needs improvement
Buy From Amazon: $7.99  (pack of 2)
10. ZTOZ
Last but not least, ZTOZ scores well in most aspects including protection and responsiveness. So, it deserves a shot on your iPad Mini 5 as a solid safeguard against shock and scratches. Apart from featuring high-end hardness, it also comes with an additional layer to keep smudges and dust away.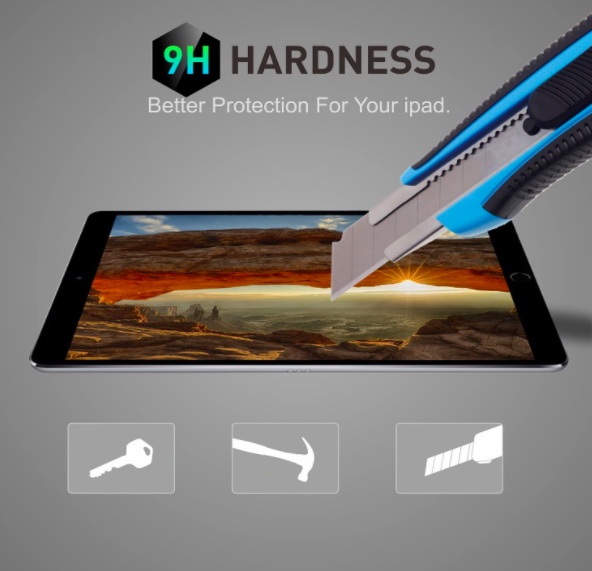 Due largely to the extra layer, ZTOZ prevents dust and fingerprints from harming smoothness. Being high-quality tempered glass, it makes sure the screen is able to deliver the original clarity. Priced at $8.99 for two-pack, it's a fairly good buy considering the notable features.
Pros: 
HD Retina Clarity
Anti-smudge coating
Anti-scratch
Bubble-free
Cons: 
The cutouts aren't aligned precisely
Buy From Amazon: $8.99  (pack of 2)
Frequently Asked Questions
Does iPad MINI 5 need a screen protector?
Yes. iPad MINI 5 needs a screen protector to keep the 7.9″ Retina Display protected from impact and scratches.
Does iPad MINI 4 screen protector fit IPAD mini 5?
Well, the answer to this question is both – Yes and No. It's because the camera and mic's buttons are a bit different. However, most iPad Mini 4 screen protectors can comfortably fit iPad Mini 5.
What is the Best iPad Mini 5 Case?
Though it's really hard to choose the best case among a ton of top-quality covers in the market, I would go with ProCase. Priced at $14.99, it has a pretty slim profile and makes a nice match with the compact tablet.
What's the Difference Between iPad MINI 4 and IPAD Mini 5?
In terms of look, both iPad Mini 4 and 5 look quite similar. However, there is a big difference in terms of innards and optics. For instance, iPad Mini has a much faster six-core, 2.49 GHz Apple A12 "Bionic" processor, and M12 coprocessor. Moreover, it also features an 8-megapixel rear camera and 7-megapixel front-facing camera.
Shield the Retina Display with Best iPad Mini 5 Screen Protectors
There is an old saying, "An ounce of prevention is worth a pound of cure." So, never fail to provide the much-needed defense to your all-new iPad Mini 5 as an accidental bump or an unexpected scratch may damage the entire screen. Knowing the high cost for a screen repair, it's always better to go for uncompromised safeguard upfront rather than repent later. By the way, let me know your favorite screen guard for iPad Mini 2019 and what makes it stand out for you.
---
Load More