Summary: Windows 10 has arrived with better features and improved interface. Most people are opting for the upgrade but may not know how to get the best out of it. That's why, we list here 19 beginner tips for people who are new to Windows 10 and are looking for more excitement. Let's check them out.
Windows 10 is new. Windows 10 is better. Than ever!
Windows 10 is the latest release from Microsoft that really rocks – especially when it's compared to its predecessors. It has the potential to win over the most dedicated devotees of Windows' old releases and even other operating systems like OS X and Linux. Windows 10 introduces numerous features, brings many good changes and fixes various problems that ranks it better than others and superior to its predecessors. The new product very well respects the legacy that Windows together with the traditional desktop has earned over the past years.
Windows 10 features an improved Metro UI, and brings back the Start menu that everyone missed in Windows 8. It also offers many new features like Cortana – the digital assistant, Microsoft Edge – the new and fast browser, Virtual Desktops, Notification Center, Windows Hello – support for biometric authentication, and the best of all – unified apps and unified store, i.e., apps and store that supports and runs on all the Windows 10 devices. It claims to offer the mix match of both Windows 7 and 8 in a new way that's useful, improves productivity and looks stunning than ever!
The questions arise – how to use these new features? How the new features can be helpful? How to improve the Windows 10 experience? To answer these questions, we've compiled a list of 19 tips that helps the new Windows 10 users to get familiar and make the most of their upgrade, and use the new Windows to ease their life. Let's have a look of what's in the store.
Windows 10 Tips and Tricks for Beginners 
1. Switch on Cortana
Cortana is the Microsoft's digital assistant for Windows, same as Siri is for iOS and Google Now is for Android. It can listen to your voice commands and perform the actions required to help you. But by default, Cortana voice listening capabilities are switched off in Windows 10.
You can switch on its abilities using these steps: Click the Search bar in taskbar > select the Notebook icon > select Settings, and then enable the "Let Cortana respond when you say 'Hey Cortana'" option. Your computer needs to have a working microphone to support the voice listening feature, of course.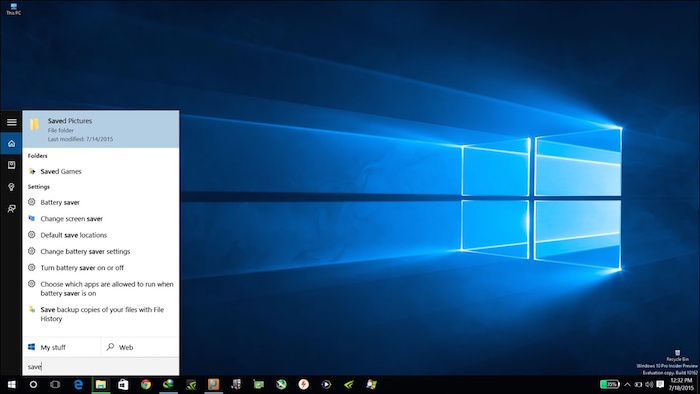 2. Start using Windows 10 Virtual Desktops
Microsoft has finally brought out-of-the-box support for virtual desktops, which was available in Linux and OS X for very long time. Virtual desktops feature allows you to better manage the opened applications and windows by clubbing them in groups.
Any one of the virtual desktop (or the app group) can be active at a time, and thus offers an uncluttered Tasks View. To get started with virtual desktops, open the Tasks View by clicking on its icon on the taskbar (present at immediate right of the Search bar) or hold down Win + Tab keys.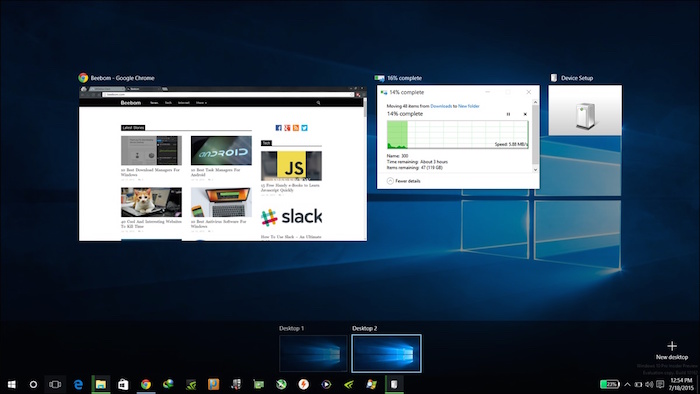 3. Customize the Sync Settings
Windows 10 has improved over the sync feature debuted in Windows 8. It allows you to sync your settings and files over the other devices you sign in using the same Microsoft account. You can customize your sync settings from Start menu > Settings > Accounts > Sync your settings. There are seven different sync modes to choose from – the first option switches off all the syncs, and the other options are the individual sync settings used to enable or disable a particular type of sync.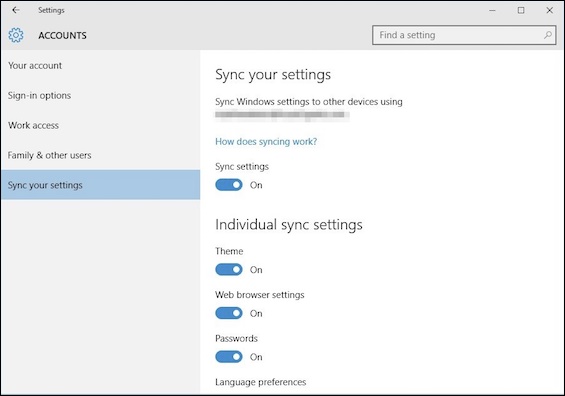 4. Learn new Windows 10 Keyboard Shortcuts
You can become more productive if you learn the shortcuts to perform various regular tasks such as using virtual desktops, snapping apps and more. Below are the shortcuts to help you do things faster.
Win + Tab (open Tasks View)
Win + Left + Up (move app to top-left quadrant)
Win + Left + Down (move app to bottom-left quadrant)
Win + Right + Up (move app to top-right quadrant)
Win + Right + Down (move app to bottom-right quadrant)
Win + Ctrl + Left or Right (change virtual desktops)
Win + Ctrl + D (new virtual desktop)
Win + Ctrl + C (speak to Cortana)
Win + S (view weather, news, sports, help, etc.)
Win + Ctrl + F4 (close virtual desktop)
Win + Up and Down (snap apps to top or bottom of screen or maximize them)
5. Get Familiar with the new Command Prompt
Command Prompt in the new Windows comes with the ever-demanding feature. It has become more accessible than ever by supporting the standard copy and paste options. From now on, you can easily copy and paste the text content in the command prompt (cmd.exe) using the Ctrl + C and Ctrl + V key combinations respectively. Moreover, it packs lots of customizations under the Properties option.
6. Improve Battery Life in Windows 10
Windows 10's battery saver feature can help you if your laptop's battery is running low. It is smart enough to throttle the background processes and threads to limit the power usage and save power to allow your machine to last longer. It is better than power-saving modes found in previous Windows releases and can be enabled using this procedure: click Start menu > Settings > System > Battery saver.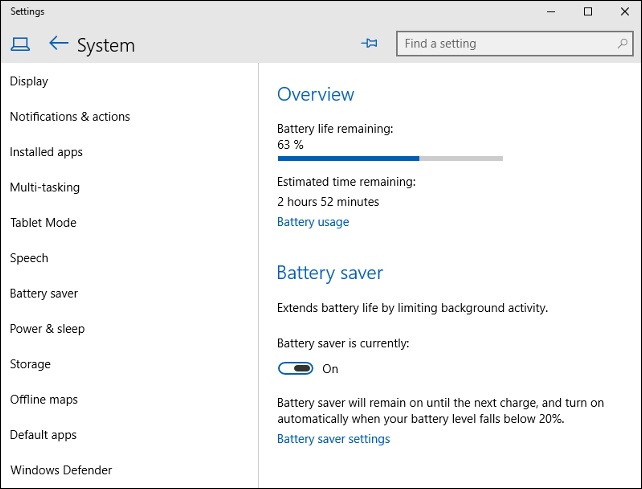 7. Change Windows 10 Default Browser or Programs
Windows 10 allows you to change the default browser or other programs to suit your choices of software. To change the default browser or programs, head on to Start menu > Settings > System > Default Apps. In the right pane, click Browser or other handler/protocol you want to change the default program for and choose your choice of program from the dropdown list.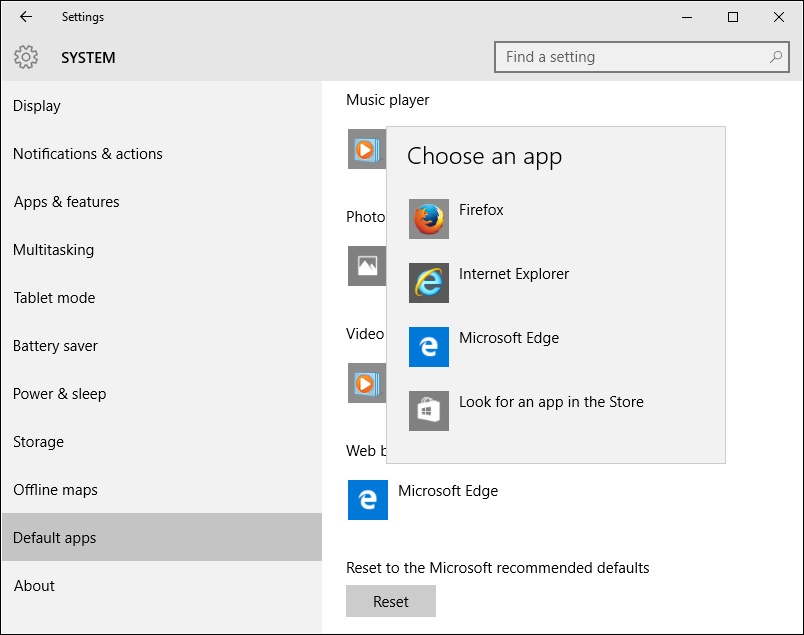 8. Sideload non-Store Apps in Windows 10
Windows 10 supports sideloading of apps, which allows you to download and install applications outside of Microsoft Store. There are lots of apps that are not available on the Store and those can be installed using this trick. Sideloading of apps is only allowed for developers, and thus you need to enable developer mode before installing non-Store apps.
To enable the developer mode, open Start menu > Settings > Update & Security > For developers, and select Developer mode. After you've become developer for your system, enable sideloading of applications by going through the steps: launch Start menu > Settings > Update & Security > For developers, and select Sideload Apps. That's all, you can now download and sideload apps.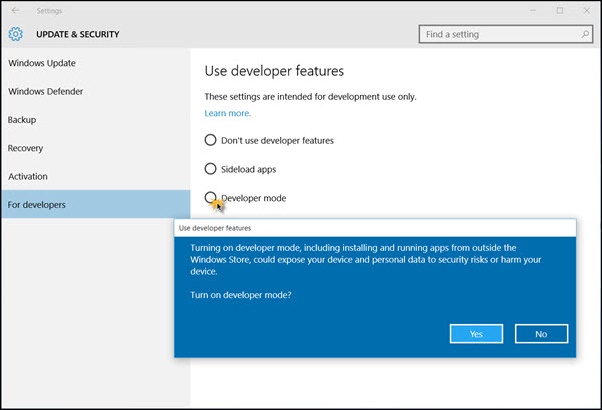 9. Turn off Windows 10 Notification and System Sounds
Notification and system sounds are used to alert the user whenever an important action is performed. In order to turn off the system sounds in Windows 10, you need to do the following steps: right click the Speakers icon on the taskbar > Sounds, and choose No Sounds under Sound Scheme and press OK button. To disable all the notification sounds for all the apps, open the Start menu > Settings > System > Notifications, and toggle off Show app notifications. Please note that it will also turn off all the notifications and not only the sounds for the notifications.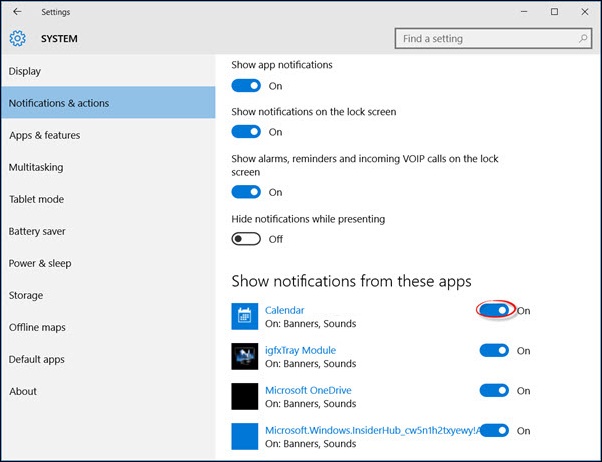 10. Change Screen Resolution
Screen resolution of the system needs to be correct in order to allow Windows 10 to facilitate better display of the content and the clarity of images on the screen. To change the screen resolution of your system, right click on the Desktop and select Display Settings > Advanced Display Settings. Choose one option from the Screen Resolution dropdown and click Apply to set the resolution.
11. Move or Install Apps to Another Drive
Windows 10 Apps are the Metro Apps that were introduced in Windows 8. They are by default installed in the C (System) partition, but if you want to make space by moving them to another drive, here is what you need to do: go to Start menu > Settings > System > App & Features, and click on the app you want to move, select Move, select a drive and click Move to move the app.
Moving apps one by one can be painful if you've lots of installed applications. You will find changing the default install location much easier and convenient than moving apps. To change the default location for installation of Windows 10 apps, open Start menu > Settings > System > Storage. Click on Save locations, select any drive for New apps will save to. This feature may not be available in some editions but possibly be offered soon through an update.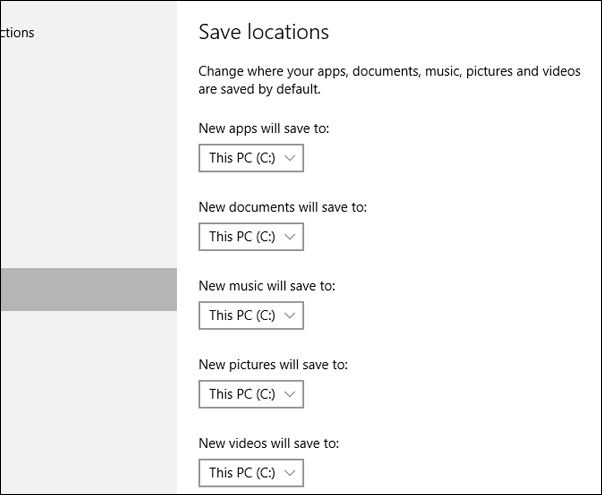 12. Apply Dark Theme as Night Mode
Windows 10 can be customized to be friendly for low light conditions by applying a dark theme. Here's how to enable the dark theme: Press Win + R to open the Run dialog, type in regedit.exe and hit Enter. Navigate to "HKEY_LOCAL_MACHINE\SOFTWARE\Microsoft\Windows\CurrentVersion\Themes" and right click Themes and select New > Key. Name the new key as Personalize, and then click on Personalize. In the right pane, right click the mouse and select New > DWORD value and name it as AppsUseLightTheme, and confirm that its value is 0.
13. Record Screen using Xbox app (Built-in Screen Recorder in Windows 10)
Windows 10 supports native screen recording via the Xbox app. To record the screen, open the Xbox app, click Win + G to open the Game bar, and select Start Recording from the options.
14. Change Windows 10 Taskbar Search Provider to Google
Windows 10 uses Bing as its default search provider, which you won't possibly like as a Google fan. You can set your favorite search engine as the taskbar search provider by going through these steps: install Google Chrome on your system, open Chrome browser and install Bing2Google extension. Now, change your default browser of Windows 10 to Google Chrome by going to Start menu > Settings > System > Default Apps > Browser, and selecting Chrome. Now you can make searches through Google directly from the taskbar's Search box.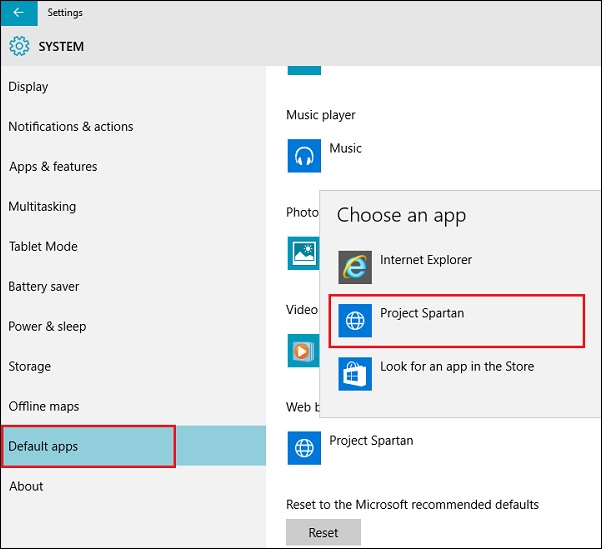 15. Enable Windows 10 Start Screen
Windows 10 boots directly to the desktop unlike Windows 8 that used to boot to the Start screen. You can enable the same in Windows 10 by enabling the tablet mode. To enable the tablet mode, click on Notifications icon on the taskbar and click on the Tablet mode. Now you can press the Win key whenever you want to launch the Start screen.
16. Use Snap Assist
Windows 10 has better snapping capabilities and tries to assist you while you snap apps using the mouse. When you try to snap an app and some part of the screen is still empty, Snap Assist feature shows up with a thumbnail list of open windows. You can choose any one app/window from the list to snap it to the left or right of the screen along with your previously snapped app's window.
17. Use Windows 10 Hello
Windows Hello is a system-level biometric authentication system. It's claimed to be much safer technology than traditional passwords, and provide you instant access to your Windows devices. However, your device needs to have support for fingerprint or camera for this feature. You can head to Start menu > Settings > Accounts > Sign-in options, find the entry for Windows Hello and options to setup either a face or fingerprint, and after setup, you can use yourself to login to your Windows 10.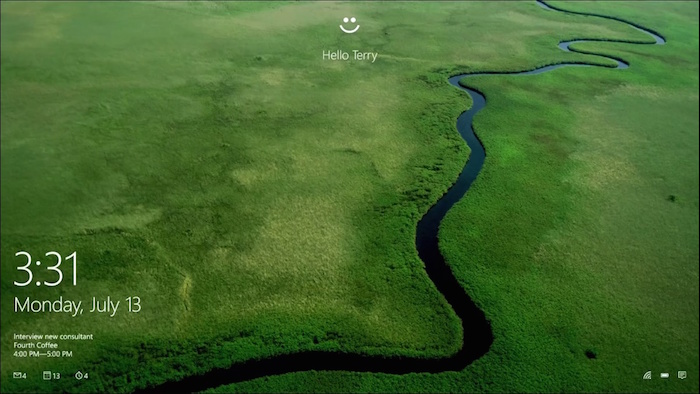 18. Customize Windows 10 Start Menu
Windows 10's Start menu is a melding of two worlds – the Start menu from Windows 7 and the Start screen of Windows 8. It's beautiful and user-friendly than ever, and comes with a bunch of all new customization options. To pin an app, right click it on Start menu and select Pin to Start. To unpin a tile, right click it and choose Unpin from Start. Right clicking a tile gives more options like resize, etc. To create a group of tiles, drag a tile to empty space in Start menu until a horizontal or vertical bar appears, and then you can drag more apps there to create a group.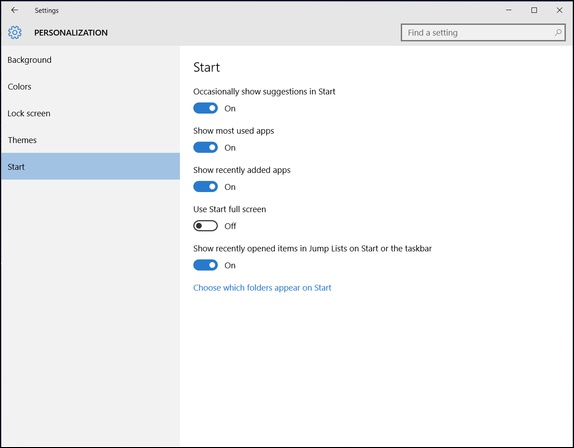 19. Solve Low Bandwidth Problem in Windows 10
Microsoft has announced a new update delivery method in Windows 10 that proves to optimize and speed up the download speeds for updates. But there's a catch – your computer may be used to deliver quick updates to other computers on your local network as well as the Internet. This may slow down your Internet as reported by many users, but this can be solved by tweaking a setting. Here's how to switch off the new update delivery feature: open Start menu > Settings > Update & Security > Windows Update > Advanced options, and select Choose how updates are delivered and toggle off Delivery Optimization option, and your computer will be out of this optimization scheme.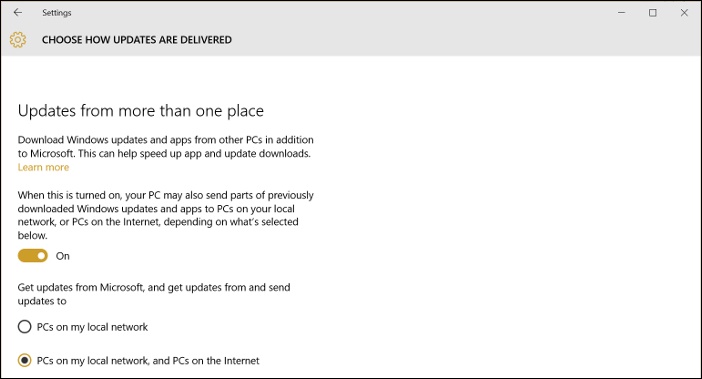 SEE ALSO: 9 Windows 10 Settings You Should Tweak
Which of the above mentioned Windows 10 tips helped you most? Do you know any other tip or trick for the all new Windows 10? We'd love to hear from you through the comments section.