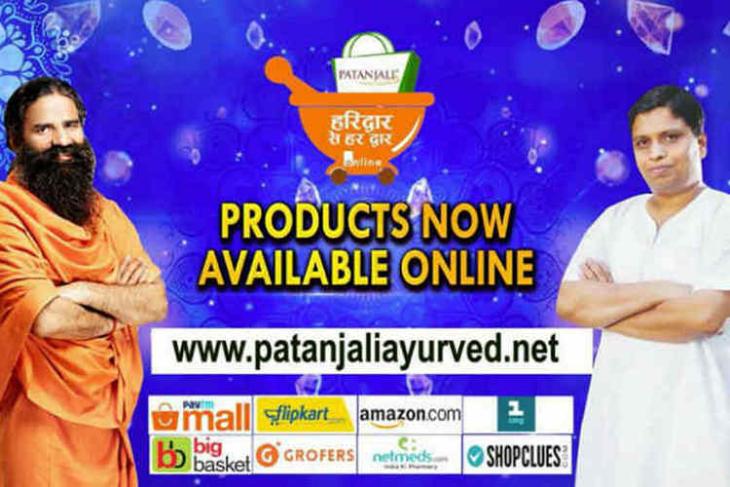 Haridwar-based Patanjali Ayurved has announced that it has tied up with a number of major online retailers to sell its popular ayurvedic products online.
The e-commerce companies that have reportedly signed on with the company, include heavyweights Flipkart and Amazon, as well as some of the smaller players, such as Shopclues, BigBasket, Paytm Mall, Grofers, 1mg and Netmeds. In addition to these, Patanjali's own portal PatanjaliAyurveda.Net will also be selling the company's wide range of products.
Patanjali says it is targeting online sales of over Rs. 1,000 crore this year after a stellar 2017 that saw the company increase its overall revenues to Rs. 10,561 crores. The company hopes to earn 15% of its total revenues from online channels this year.
According to Baba Ramdev, the founder and spiritual leader of Patanjali, "Online mechanism aims to provide convenient and efficient options along with extension of traditional retail market".

However, even as the company is expanding into the online market, it isn't ignoring traditional offline stores which will continue to remain the bread and butter for the company going forward. Ramdev says the company already has around 5,000 exclusive stores, and is planning to add more by the end of the year. He also said that the company's products, which are currently sold from around 15 to 20 lakh kirana stores around the country, will be available in over 50 lakh retail outlets by the end of 2018.
Baba Ramdev also said that the company will look to expand its presence in the rural markets in an effort to dethrone FMCG behemoth Hindustan Unilever (HUL) as market leader by the end of next year.
In addition to its current portfolio, Patanjali says it will also expand into new product segments this year. This includes an all-new brand of bottled water called 'Divya Jal' and an apparel and accessories brand called 'Paridhan'. The company has already started selling kids' and adult diapers, as well as affordable sanitary pads. Patanjali also recently announced that it will invest in a solar equipment manufacturing plant in the near future.
Ramdev also laid out ambitious plans to export Patanjali products abroad, saying that once its manufacturing facility at Miha in Maharastra becomes operational, the company will be ready to start exporting its products to the UAE, the US, Canada, Europe, South America and Africa.