Headphones come in all shapes and sizes, at all sorts of price points, and offering a wide-range of (sometimes standout) features. There are headphones like the Sony MDR-XB950B1 that put focus on a supremely heavy bass, there are headphones like the entire lineup from Audeze that focus solely on the audiophile market, and then there's the Audeara A-01 — these headphones aren't a bass-heavy pair of cans, and they're not aimed at audiophiles. The A-01 are aimed at anyone and everyone who wants to experience music at a much better sound stage than what most other headphones offer — a balanced, 'as-the-musician-intended' sound; but do they live up to that promise, and are they worth the asking price of £299 (~₹27,000)? Here is our review of the Audeara A-01.
Audeara A-01 Specs:
Before we dive into the review of these headphones, lets get the specsheet out of the way.
Driver
40mm Mylar drivers
Frequency Response
20Hz - 20kHz
Impedance
32 Ohm
Bluetooth
Bluetooth 4.2 with aptX support
Battery
1,000 mAh
65 hours (line + ANC)
45 hours (Bluetooth + Audeara Effect)
35 hours (Bluetooth + ANC + Audeara Effect)
Wired Connections
3.5mm
Noise Cancellation Technology
Active Noise Cancellation
Charging Port
microUSB
Price
499 AUD (£299, ~$313)
Anyway, with that out of the way, let's jump into the Audeara A-01 headphones.
Design and Build Quality
As far as the design and build quality goes, the Audeara A-01 are something of a mixed bag. For a pair of headphones priced the way these are, the build quality should've been a lot better. The Audeara A-01 we received came in a matte-black plastic body, and while I really like matte-black, these headphones use plastic that definitely doesn't look like it belongs anywhere near a pair of cans that retail for £299. Even though the plastic build itself isn't flimsy, it definitely looks like the kind of plastic you might expect to see on a cheap knockoff of some expensive headphones.
These headphones use plastic that definitely doesn't look like it belongs anywhere near a pair of cans that retail for £299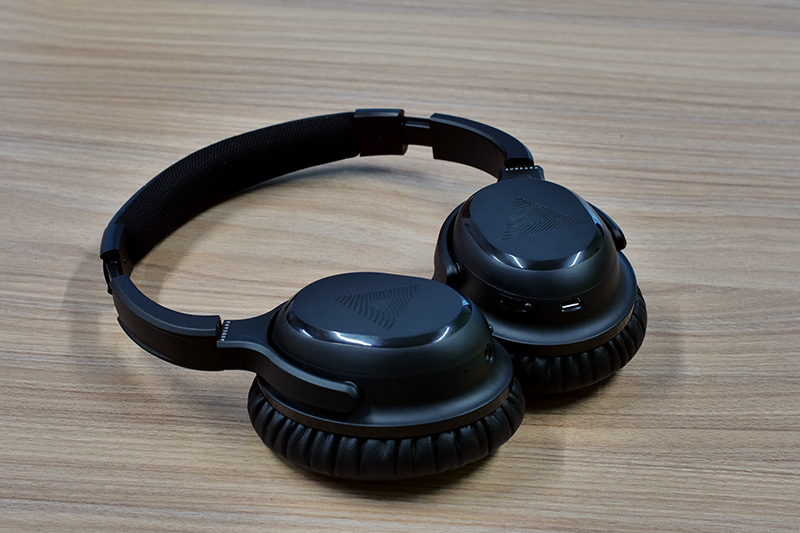 That's not all though, the build quality of these headphones consistently fails to impress, even by the simple fact that the finishing isn't quite as good as one would expect. Honestly, the Sony MDR-XB950BT that I use (and that are priced at $199; £127) have a build quality that's a lot better than these headphones that are priced more than twice that amount.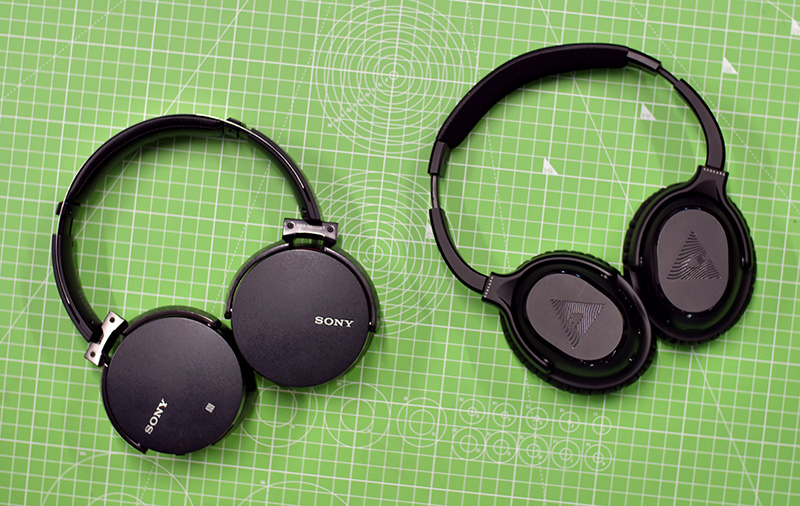 If I say that the Audeara A-01 are 'rough around the edges,' I mean it very much in the literal sense of the phrase. Take a look at the image below and you'll understand what I mean. The edges around the buttons and switches are rough, uneven, horrible to look at, and not at all what one would expect from a pair of £299 headphones.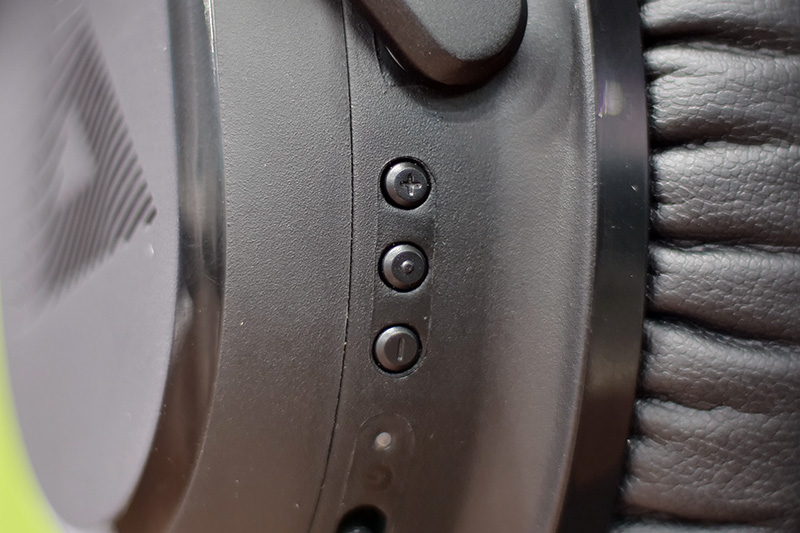 In terms of design, the headphones are pretty much what a pair of headphones look like. They aren't as exorbitant looking (or as exorbitantly priced) as the Sennheiser HD 800 headphones, but they're not aimed at that market anyway. These Audeara A-01 headphones look pretty much like your standard headphones, and that's not a bad thing at all.
The headphones can be folded flat for carrying around in the carrying case (which is really quite good) that's provided with them. However, unlike other headphones like the Audio-Technica ATH-M50x, they can't be folded inwards into the body to make them even more compact.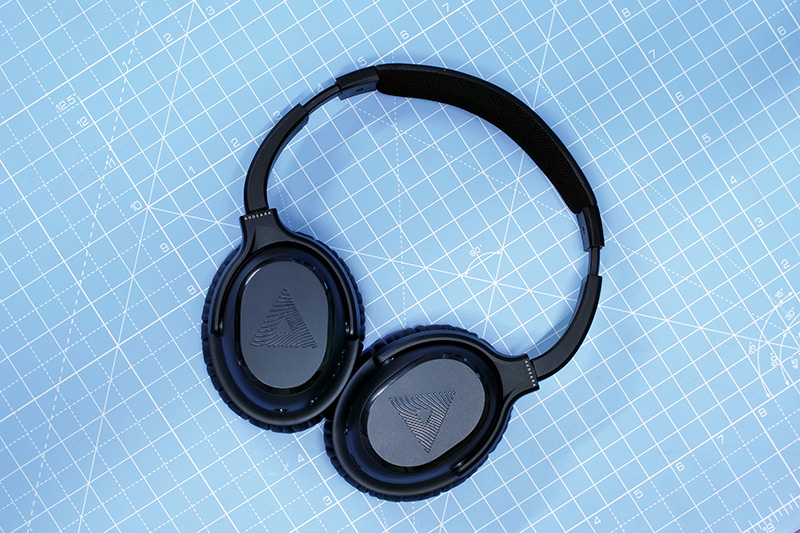 Objectively speaking, the design of the Audeara headphones is actually pretty nice, it's just that the company has, for some reason, made such compromises in the build quality that it overshadows the design elements of the headphones.
Comfort
One of the major issues with most headphones that I've noticed people encountering after a couple of days using them is comfort. A lot of times, headphones feel comfortable over a short period of time, but wear them for a few hours at a stretch and they show their true colors, so to speak. While this mostly happens with on-ear headphones, like the Sony MDR-XB450 that I personally tried and got annoyed with, it can happen with over-the-ear headphones as well.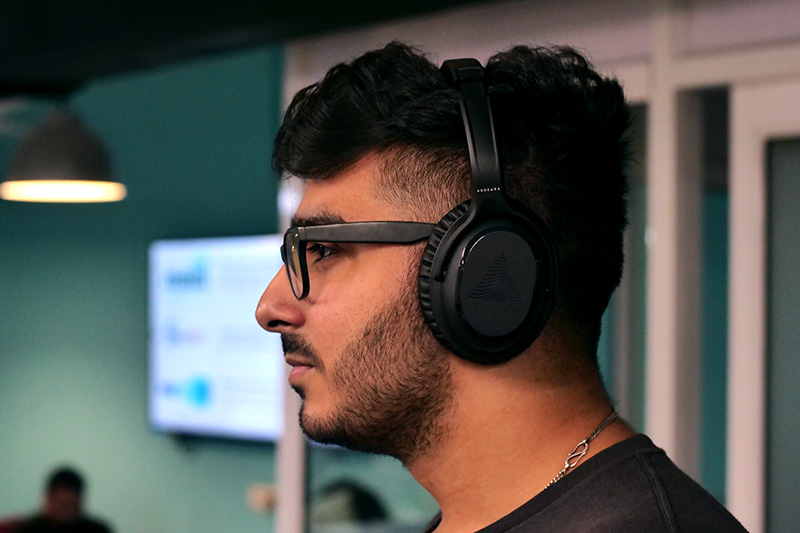 However, the Audeara A-01 do not get uncomfortable even on prolonged use — and I mean prolonged use the way I use headphones, which means putting them on and keeping them on for 3-4 hours at a stretch while I'm at work. The headphones maintain a pretty firm grip without being tight enough to be uncomfortable — that's something I really like about these headphones.
Audeara App
The main talking point about these headphones is the Audeara app. Unlike most app-connected headphones that don't really do anything useful with the app, the Audeara A-01 headphones make the app their USP.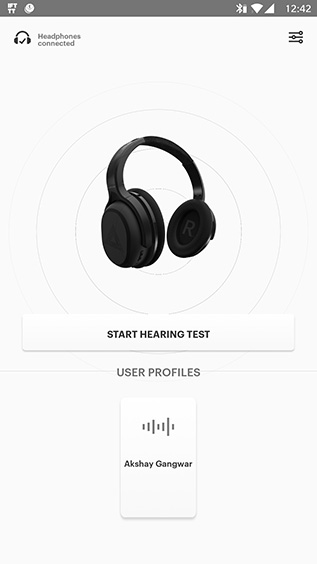 The app serves one main function — personalizing the audio experience according to your hearing levels. To do this, it makes use of a test to check your hearing at multiple frequencies, and adjusts the final output sound accordingly. Audeara claims this ensures the headphones pump out consistently beautiful sound that's tailored to your hearing level, and reflects the way the musician intended it to be heard. That's a bold claim to make, but one that the Audeara A-01 headphones actually achieve.
There are three different types of tests:
Standard
High Detail
Ultimate Precision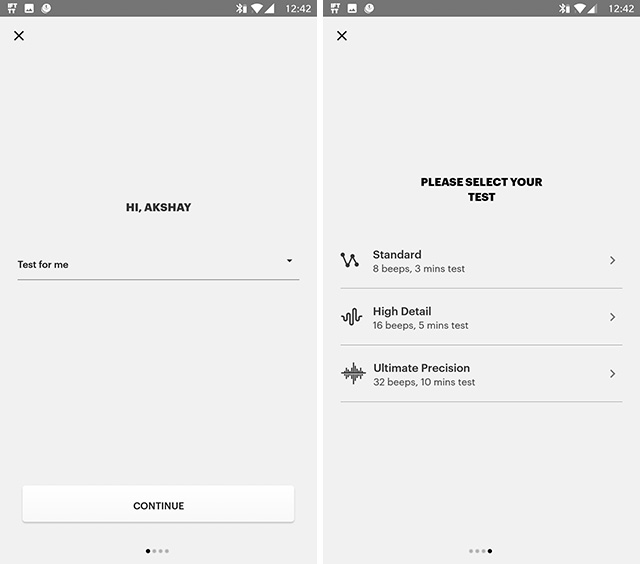 Based on the test you choose, the app will check a number of frequencies to adjust the headphone's sound according to your hearing levels. I went with 'Ultimate Precision' and the test is really quite comprehensive. The app checks hearing levels for frequencies starting from 100Hz, all the way up to 22kHz and well, suffice it to say that it's an incredibly detailed test of your hearing capabilities.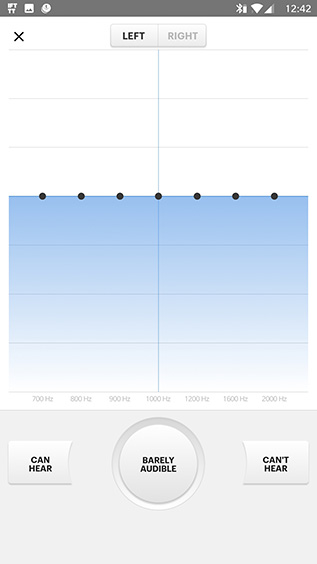 Based on these tests, the app adjusts the equalizer for the headphones (the company calls this the 'Audeara Effect'), ensuring you can hear every frequency in every song. It gives users the option to check out what the headphones sound like with 0% 'Audeara Effect' applied, 50% effect applied, and 100% effect applied, and whatever sounds the best can be applied to the headphones.
The best part about all this, is that the changes are made to the headphones themselves, and you don't need the app installed on every device you're using the headphones with — that's really great.
Audio Quality
Coming to the most important part of the headphones — the audio quality. One thing to understand about the Audeara A-01 headphones is that they're not aimed at audiophiles, they're not aimed at bass-heads, and they're not aimed at studio professionals. These headphones are aimed at anyone who wants to experience tailor-fit custom-adjusted sound on their headphones, and for the most part, the headphones deliver.
Regardless of their target audience, I tested the earphones under both the settings — Audeara Effect applied, and not applied.
Audio Quality without Audeara Effect Applied
Without the 'Audeara Effect,' the audio quality from the headphones is pretty much what you'd expect from any other off-the-shelf pair of cans. I'd not refer to it as bad audio, but I'd not go so far as to call it great. The sound comes out quite flat, and while I understand these aren't bass-heavy headphones, I felt like they lacked bass a lot more than a typical pair of headphones. I've used the Audio-Technica ATH-M20x in the past, and even though they are monitor headphones, they reproduced bass (and everything else) a lot better than the Audeara A-01.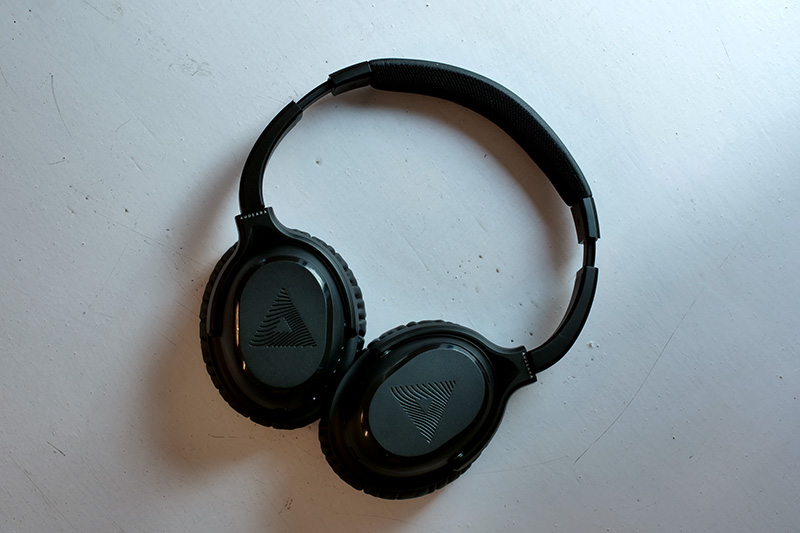 That said, the Audeara A-01 aren't your typical 'off-the-shelf' headphones, so it makes sense that they don't have anything special when it comes to using them like a pair of typical headphones.
Audio Quality with Audeara Effect Applied
As soon as I switched the slider in the app to 100% effect, the change was audible, and man if that wasn't a huge and welcome change. I won't be exaggerating if I said that with the Audeara Effect applied, the audio quality picks up so greatly, it feels like the headphones beamed you out onto a different planet.
I tested the audio quality with a number of songs, including some bass heavy mixes from Illenium, calm and deep songs from Coldplay, rock music from the likes of Linkin Park's Minutes to Midnight, and even metal music ranging from Metallica to Lamb of God and Eluveitie and I just can't explain the feeling.
True to the headphones' advertised 'Hear notes you didn't know were missing' line, I noticed a lot of things in songs I've heard a million times that I didn't know even existed on there. If you're ever trying these headphones out, I'd personally recommend you to listen to Up&Up by Coldplay on these, it's a blissful experience on the Audeara A-01.
Either way, there is one issue with the audio quality on these headphones whether or not your turn on the Audeara Effect. I noticed that at volumes higher than ~80%, bass started distorting quite a lot, and at some points even sounded like static. That's not something I expected from a pair of headphones priced this high.
I'd personally recommend you to listen to Up&Up by Coldplay on these, it's a blissful experience on the Audeara A-01
Active Noise Cancellation
Yet another thing that justifies the high price of these headphones is the fact that they come with active noise cancellation, which, in essence, cuts out ambient sound from the environment making the overall experience of listening to music far better than a normal, non-noise cancelling pair of headphones can possibly afford.
That said, the noise cancellation on the Audeara A-01 isn't all that it could be, or all that it should be. It's good, there are no doubts about that, and the difference was audible when I flipped the ANC switch to 'On' position, but it wasn't nearly as impressive as I'd have liked. If there was no music playing, I could still hear ambient sounds around me, including the sound of keyboards clacking.
Maybe I'm putting too much thought into this, or maybe my expectations were so high that this seemed to be an issue to me; either way, I'm not going to say that the headphones do not have a decent noise-cancellation. To be honest, most of the times you have headphones on, you're gonna be playing music on them, and with music playing even at low volume ambient noise was almost non-existent.
Connectivity
The Audeara A-01 headphones come with Bluetooth 4.2, and support aptX HD which means better quality, less latency, and an over all better experience of listening to music on these headphones.
Honestly, I don't have any issues with these headphones as far as Bluetooth connectivity goes. They pair just as easily as any other Bluetooth headphones will, and they maintain connection for a respectable distance. The company advertises approximately 10 meters of range, and while that's not what you'll get in the real world, you'll definitely get around 6-8 meters of range depending on the number (and type) of obstacles in the way.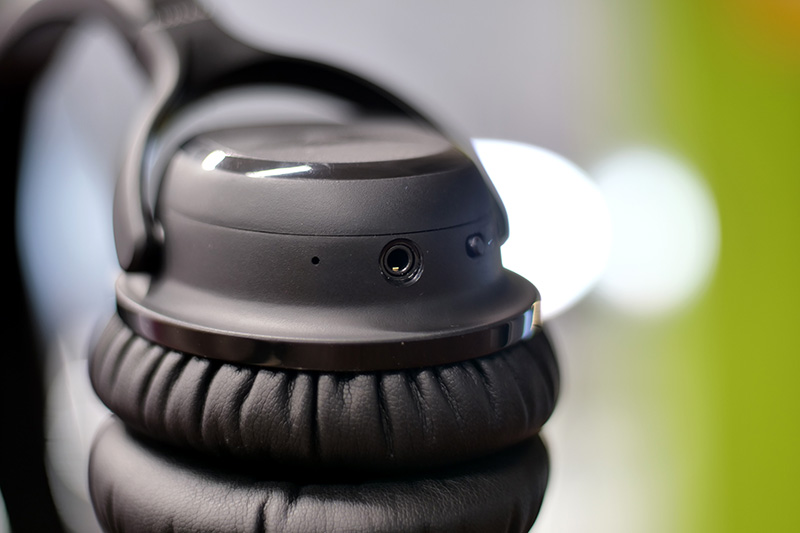 Other than Bluetooth, the headphones also support a standard wired connection with a 3.5mm headphone jack, and Audeara supplies an AUX cable with the headphones so you won't have to go out and pick one up for yourself. The box also comes with a 1.4-inch converter so you can plug these headphones in to amplifiers if you want to.
Battery
The Audeara A-01 pack in a 1,000 mAh battery which, according to Audeara, lasts up to 65 hours depending on the usage. This is how Audeara breaks down the kind of battery life you can expect from the headphones:
65 hours (Line + ANC)
45 hours (Bluetooth + Audeara Effect)
35 hours (Bluetooth + ANC + Audeara Effect)
I didn't test out the headphones in their Line + ANC configuration to be honest, but in all the other modes too, the headphones last quite long. For the most part, I've been using these headphones in the 'Bluetooth + ANC + Audeara Effect' mode, and they've drained down to about 70% in around 7 hours of listening. My Sony MDR-XB950BT headphones that I use on a daily basis, last around 18 hours on a full charge, with Bluetooth and Bass Boost turned on, and judging by that standard, I'd say the Audeara headphones don't really disappoint in terms of battery life.
They charge with a regular microUSB port, and that cable is supplied in the box as well. However, you will have to use your own adapter — but that's usually the case with Bluetooth headphones and earphones anyway.
Pros and Cons:
The Audeara A-01 offer some really great things, but they do make a lot of compromises as well. Let me just summarize the good and the bad about these headphones.
Pros:
Personalized audio
Great battery life
Active noise cancellation
Comfortable
Cons:
Sound distorts at higher volumes
Build quality is below-par
SEE ALSO: boAt Nirvanaa Tres Earphones Review: Great Audio, Lousy Build
Audeara A-01: Personalized, But Pricey Headphones
Everything considered, I think the Audeara A-01 (£299; approximately ₹27,000) headphones are definitely a pricey affair, especially when you take into account the fact that there are a ton of great headphones that fall well below the price point of the Audeara A-01. However, with these headphones, you're not paying for an out-of-the-box experience anyway. With these headphones, you're paying for a listening experience that is tailored to your personal hearing levels, and that personalization does make a huge difference in the way you'd listen to music.
These headphones are aimed solely at people who want their headphones to sound perfect to them, no matter what they might sound like to other people, and who are willing to pay a rather steep price for this personalization. If you're looking for a pair of headphones that will pump out a sound that's tailored to your hearing levels, and that offer you the ability to customize their audio output to such an extent that it's almost difficult to explain it, these headphones from Audeara are definitely not gonna let you down. For everyone else (including yours truly), there are a lot of choices out there, including those great Sony 'Extra Bass' series of headphones that I so love.
Buy the Audeara A-01 (£299)
---
Load More