If there's one anime that has constantly maintained a cult-like following without compromising on quality, well, it's Attack on Titan. There is a place for everyone in this fandom. From Levi's style to Eren's fierceness, and even Jean's misunderstood behavior, there is a dedicated fandom for every element of the AoT anime. And now, it is reaching its final course with Attack on Titan Season 4 Part 3 releasing in a few weeks. But will the finale satisfy the long-term fans or will it take the Death Note route? In this guide, let's find out everything you need to know about the final season of Attack of Titan!
Attack on Titan Season 4 Part 3: All You Need to Know (2023)
Use the table below to find all the details about the upcoming Attack on Titan Season 4 Part 3 anime, including the plot, release date, cast, and more.
Attack on Titan Season 4 Part 3 Release Date
As confirmed by the official Twitter account of Mappa Studios, the creator of the later season of the anime, the final season of Attack on Titan will start airing on March 3, 2023. It will first air on NHK General, a major TV broadcasting service in Japan, and soon follow the international release. Much like the earlier episodes of the anime, we expect it to release on Crunchyroll along with the official Japanese broadcast. Though, no confirmation of the same is available just yet.
Viewers in Japan can watch the episode live on TV at 12:25 AM Japan time on March 4, 2023. Internationally, you will be able to stream Attack on Titan's final season at the following times:
Australia – 1:55 AM ACDT (Saturday)
British – 3:25 PM GMT (Friday)
Central – 9:25 AM CT (Friday)
Eastern – 10:25 PM ET (Friday)
European – 4:25 PM CEST (Friday)
India – 8:55 PM IST (Friday)
Japan – 12:25 AM JST (Saturday)
Pacific – 7:25 AM PT (Friday)
AoT Season 4 Part 3 Cour 2 Details
Unfortunately, even with the airing date of the final season known to us, it seems like fans will have to wait to see the grand finale of Attack of Titan. As revealed by an official blog post, AoT season 4 part 3 will be split further into two parts. Out of which, Attack on Titan Season 4 Part 3's first cour will start airing on 4th March. Meanwhile, we will have to wait for the release date of the actual final part, Season 4 Cour 2, which will release later in 2023.
While we don't know the decision behind this delay, in the official statement, the product committee assured everyone that they are trying to "deliver works that meet your expectations." If the previous seasons of the anime are to be believed, this unexpected delay will be totally worth the wait. Just make sure to bookmark this page to stay up-to-date about the last part's release date.
Attack on Titan Final Season Trailer
Along with the release date announcement, the anime's official handle also shared a small teaser for the final part of Attack on Titan. Have a look at it here:
The teaser opens with a subtle flashback, where we can see younger Eren sitting with someone beneath a tree. It is a scene before the time when the first titan appeared inside the walls. Then, the setting shifts to the current day "rumbling," where hundreds of titans are moving toward the mainland to destroy the entire world. During this portion of the teaser, we can hear the adult Eren say, "Ever since I was born, there has been an annoying wall in front of me."
Then, we get glimpses of burning towns, fallen monuments, angry titans, and a close look at the Founding Titan. The titan slowly fades back into a younger Eren, who is shouting "This is freedom" towards the sky. At first glance, it looks like the end of Attack on Titan anime is going to be as emotional and action-packed as the fans expected. But, it also has a small chance of turning out to be way bigger than even the original manga ending.
Attack on Titan Final Season Plot
Spoiler Warning: This section contains major spoilers for the entire plot of Attack on Titan till Season 4 Part 2. So, please venture clear of it if you haven't caught up with the anime yet.
Where Did Attack on Titan Season 4 Part 2 End?
Before we discuss the final part of Attack on Titan, let's have a quick recap of where the last part ended. AoT Episode 87 teaches us that for Paradis island to reach the same level as the rest of the world, Eren has to present the power of Founding Titan (which is in his possession) with a temporary Rumbling. However, he can't use this power without the help of someone from the royal bloodline, so he also needs Zeke (Beast Titan, his half-brother) on his side. With this power, the island can expect to get around 50 years to catch up with the world in terms of technology without facing any threat.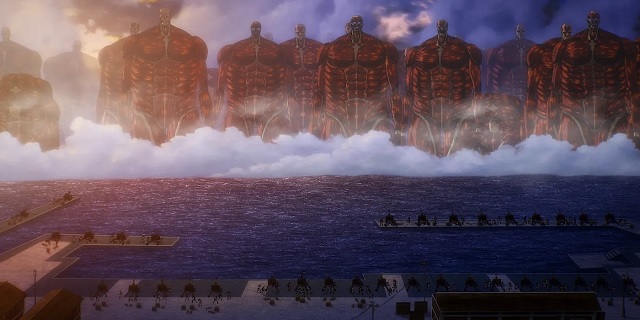 Unfortunately, Zeke is expected to die before that ever happens, so someone like Queen Historia will have to consume him to take over the power of Beast Titan. Though, even she won't survive more than 13 years after the transfer due to Ymir's curse, which forces her children to consume Historia to continue the cycle and keep Paradis island safe.
As you might expect, Eren doesn't accept this brutal plan. So he goes along with Zeke and his plan of sterilizing all Eldians (the inhabitants of Paradis island and Eldians in Marley) to end the titan bloodline. But Eren is not fond of this plan either. This is the point where we learn that Eren's true goal is to unleash the Rumbling and destroy all life outside the island. He thinks this is the only logical way to put an end to the hatred toward his community. Peace is no longer an option, says Eren. The episode ends with Eren as the Founding Titan, leading a fleet of rumbling titans going toward the rest of the world.
AoT Anime Ending Different Than Manga?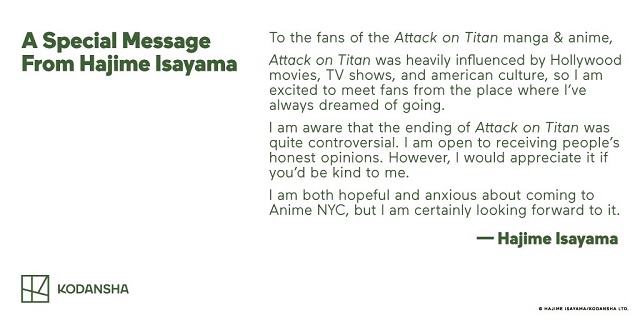 Unfortunately, many in the Attack of Titan fanbase have been hostile toward the original ending of the manga. This led mangaka Hajime Isayama, the creator of AOT, to release an alternate conclusion to the manga shortly after that. However, neither of those endings sat well with his friends. In a tragic turn of events, the situation escalated so much that Hajime had to apologize for letting down the fans in his panel at Anime NYC.
Turns out, he and his team received numerous death threats following the ill-received ending. We highly condemn the situation, where the fans are trying to strongarm the mangaka to change how he wants to end his story. Due to this hostility, it's safe to assume that Mappa may be looking for alternate options to end the anime and please the larger audience. This can be the cause behind the division of the final part into two segments. A confirmation of the same is yet to be revealed.
Attack on Titan Final Season Cast and Characters
The final season of Attack on Titan anime will feature the following main characters and Japanese voice actors:
Eren Yeager: Yuki Kaji
Levi: Hiroshi Kamiya
Armin Arlert: Marina Inoue
Zeke: Takehito Koyasu
Mikasa: Yui Ishikawa
Annie Leonhart: Yu Shimamura
Sasha Blouse: Yu Kobayashi
Hange: Romi Paku
Jean Kirstein: Kishou Taniyama
Connie Springer: Hiro Shimono
Reiner Braun: Yoshimasa Hosoya
Gabi Braun: Ayane Sakura
Falco Grice: Natsuki Hanae
How to Watch Attack on Titan Season 4 Part 3
We are yet to receive any information about the streaming rights and platform-specific release dates for the final season of Attack on Titan. However, looking at the current collection of AOT episodes, you can expect Season 4 Part 3 to stream on the following platforms:
Crunchyroll
Funimation
Hulu
Not to forget, you can watch all the previous episodes of Attack on Titan for free while you wait for the final season. This is possible with the help of the video distribution service "GYAO!," which will periodically release all the past episodes starting from January 17th. Go check out more details right here.
Shingeki no Kyojin Final Season Details
Now that we have a release date for the end of Attack on Titan, it's time to brace yourself for the inevitable void it will leave in your heart. Fortunately, there is already a destructive anime that's quickly gaining popularity among AOT fans. So, while you wait for the finale, we'd suggest you watch Chainsaw Man anime as a reliable alternative. Since its manga is still in its early stages, it's not going anywhere for a few years. But let's not venture too far from the topic at hand. If you have read the manga, do you want to see an alternate ending for the final season of Attack on Titan? Or was it satisfying enough? Tell us in the comments section below!