Apple Pencil was released along with the iPad Pro line and has proved to be a great tool for digital artists. Plus, it's got even better with the release of the new iPad Pro models in 2017. It's both pressure and tilt sensitive, allowing users to draw lines of different widths and shades, just like they could do with an original pencil. The design of the Apple Pencil is truly unique and different from any other stylus present on the market. The surface is clean and smooth with a shiny white paint job which makes it clearly stand out from its competitors. However, its slick design, which although looks good, also makes it a carrying hazard. There's no way to safely carry it and the chances of you losing it are only next to that of the AirPods. Thankfully, there are some great Apple Pencil accessories that can help alleviate this problem and then some. So, if you own an iPad Pro and the Apple Pencil, here are 10 best Apple Pencil accessories you should buy:
1. Apple Pencil Skins
Although the pure white colour of Apple Pencil looks really good, it never hurts to add some extra colour to it. Using a skin will allow you to do that. Not only that, the skins also help in protecting the Pencil against scratches and provide some extra grip. The two best companies making skins for the Apple Pencil are dbrand and SlickWraps. Although, SlickWrap has the larger collection dbrand's original pencil skin is my favourite. If you don't like the classic pencil look and want something unique, you can checkout the Creative Series Skins for Apple Pencil from SlickWraps. Apart from the Creative Series, SlickWraps also has the usual Carbon Fibre Series, Wood series, and Leather Series skins among others. Give your Pencil a unique look by using a skin.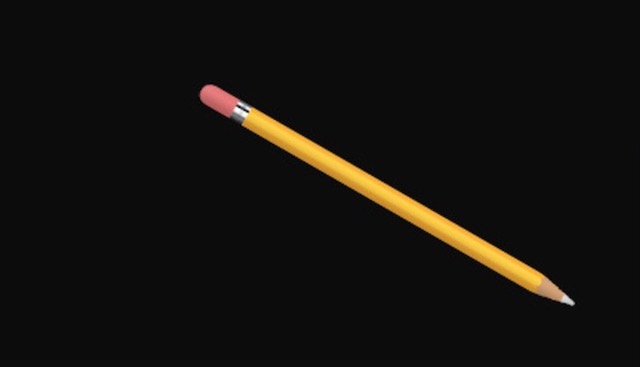 By From: (dbrand / SlickWraps)
2. MoKo Apple Pencil Holder Case
As I said earlier, carrying your Apple Pencil in your bag can be a nightmare. It is very easy to lose it inside the bag and the tips and caps come out very easily. If you are looking for a case which can help you in protecting and carrying your Apple Pencil, check out the Pencil Holder Case from MoKo. The outer layer is made of leather while the interior is lined with a non-scratch microfibre cloth. The case is also waterproof. You also get additional pockets to store accessories such as a charging cable or extra caps or tips. The Apple Pencil Case at this price range is a steal.
Buy From Amazon: ($7.99)
3. Belkin Carrying Case With Apple Pencil Holder
If you can afford to spend a little more on a case, this offering from Belkin is the one to buy. Not only the case holds your Apple Pencil securely, it also has space for storing an extra tip, cap, and lightning adapter. One extra feature that this case brings over the MoKo case is that it also has a stand where you can keep your pencil when you are in between usage (look at the picture). As for the case itself, the exterior is made up of glossy polycarbonate material, which is tough and also looks good while the interior sports a non-scratch fabric lining. Rest assured, your Pencil will be in good hands when you use this case.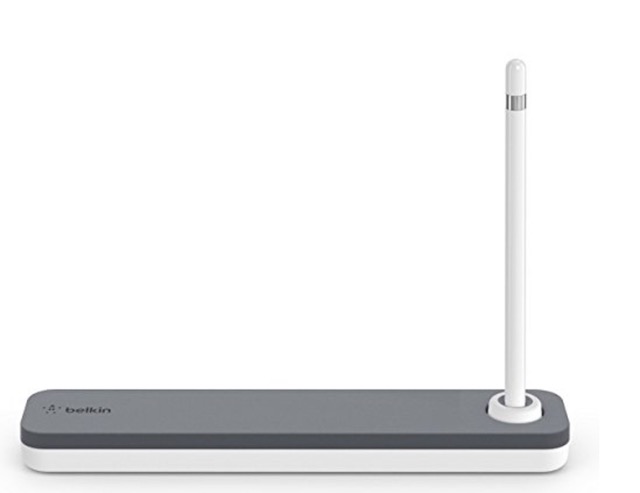 Buy From Amazon: ($29.99)
4. Fintie Apple Pencil Holder
If you don't want to carry the bulk of another case when traveling, take a look at Fintie Apple Pencil holder with an in-built USB adapter pocket. The holder is basically a leather sleeve for your Pencil with an elastic band which can be stretched to fit all the iPad Pros. The idea here is to strap the pencil to the iPad Pro 's case, so that you don't have to carry an extra one for the pencil. It also has a small pocket at the bottom which can store the USB adapter quite securely. This will help you to carry your Pencil secure without adding any extra bulk in the bag.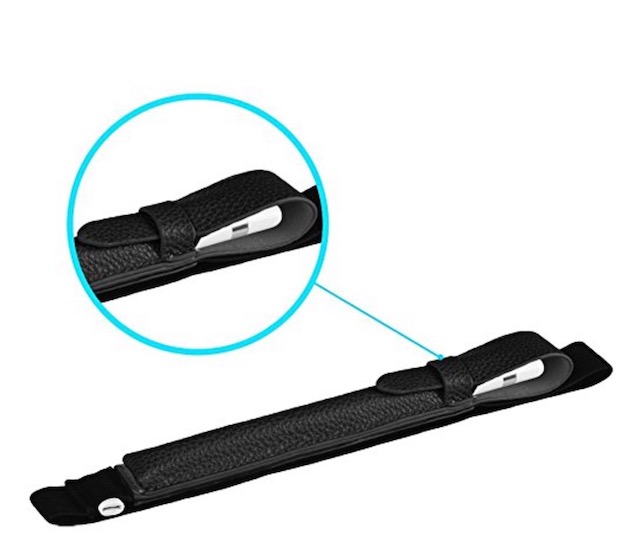 Buy From Amazon: ($6.99)
5. TechMatte Apple Pencil Charging Dock/Stand
We all know that the main thing which is wrong with the Apple Pencil's design is its charging solution. Either you will have to use a lightning adapter or you will have to charge it by connecting it to your iPad. While the first option is only mildly inconvenient, the second one is an accident in the waiting. The best way to charge your Pencil is to buy a charging dock. This offering from TechMatte is a good one as it gets the job done while looking stylish at the same time. The dock itself is made of aluminium and looks premium. The dock also comes with a 5ft long charging cable. Apart from charging, it can also act as a stand for the Pencil.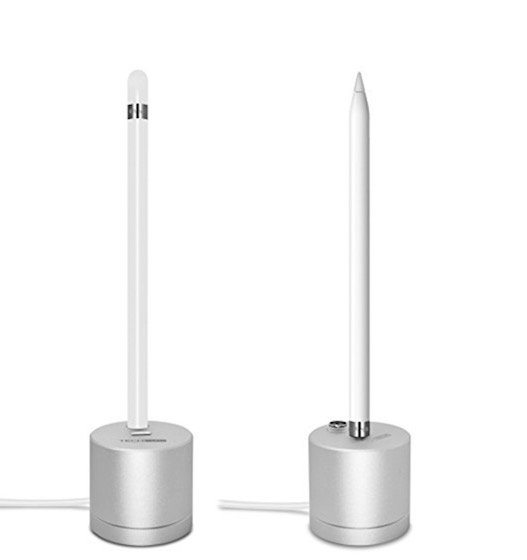 Buy From Amazon: ($19.99)
6. Plus Ergo Grip for Apple Pencil
Apple Pencil can become uncomfortable if you are using it for a long stretch at a time. The grip problem can be solved by using a skin but the discomfort will remain. If you are someone who works long hours using the Apple Pencil, I would advise you to buy an ergonomic grip for it, like this one from Plus. The grip is made of soft silicone material which has a curvaceous width allowing you to adjust the grip as per your preferences. A must have product for digital artists and designers who work with the Pencil daily.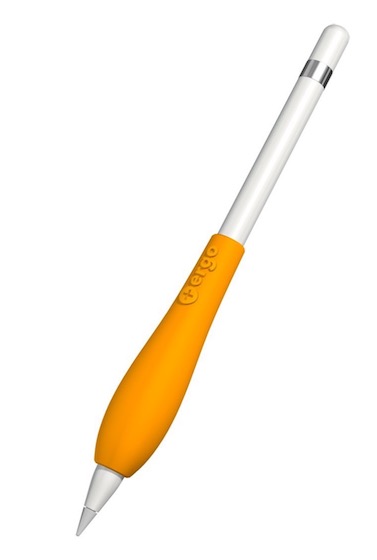 Buy From Amazon: ($25)
7. Apple Pencil Cap Case by Cozy Industries
As I mentioned earlier, Apple Pencil's case is very easy to losem as it gets removed regularly for the purpose of charging. The Apple Pencil cap case by Cozy Industries can help alleviate this problem. Basically, they offer caps with an extended rubber arm which can be attached to the Pencil itself. An extra unforeseen advantage of using this product is that it will stop the Pencil from rolling on a surface even when placed horizontally.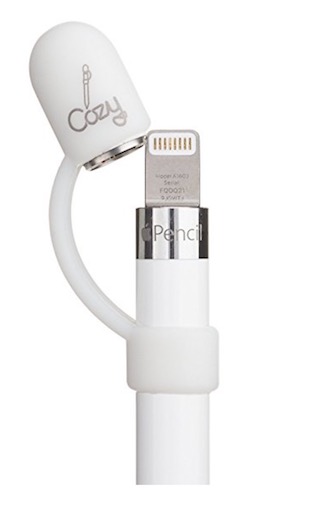 Buy From Amazon: ($4.99)
8. Apple Pencil Tips
No matter how many precautions you take, there's still a chance that you could lose the cap or the tip of your pencil. While losing a cap is not that big of a deal, as you can get a new one without breaking your workflow, losing a tip can stop you dead in your tracks. It is always better to keep some extra tips even if just for precautionary measures. You can buy a pack containing four tips from Apple itself.
Buy From Apple: ($19)
9. FRTMA Magnetic Sleeve for Apple Pencil
If you love the way the Surface Pen can stick to its parent machine and want to add that feature to your Apple Pencil, this sleeve will help you do just that. The sleeve is made using silicone with six magnets embedded inside it. The magnets are strong enough to attach the Pencil securely to the iPad Pro or any metal surface for that matter. The soft silicone material ensures that it will be comfortable to hold and also increases your grip on the Pencil. This one is a small but a smart accessory.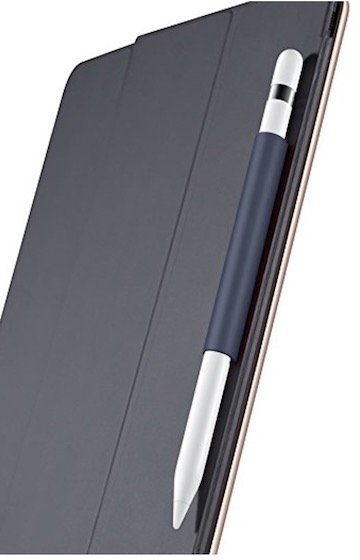 Buy From Amazon: ($12.99)
10. Chrome Clip
This one is a kind of DIY solution and not an accessory made for the Apple Pencil specifically. This is a chrome clip designed for Bullet pens but fits the Pencil perfectly. You can attach it to your Apple Pencil and make it easier to carry it in your shirt's pocket. You can also use the clip to store the Pencil securely inside your bag so that it is not tumbling around when the bag is moving.
Buy From Amazon: ($11.55)
SEE ALSO: 10 Best 10.5-inch iPad Pro Cases You Can Buy
Best Apple Pencil Accessories You Can Buy
Well, those were some of the best Apple Pencil accessories out there. You can use these accessories to enhance the aesthetics, protection, and usability of your Apple Pencil. Apple Pencil costs a lot and losing or breaking one will hurt you financially. It's better to be prepared before the tragedy hits you. Let us know in the comment section below which of the above is your favourite Apple Pencil accessory. Also, shoot any accessories you already own that deserves a place on this list.