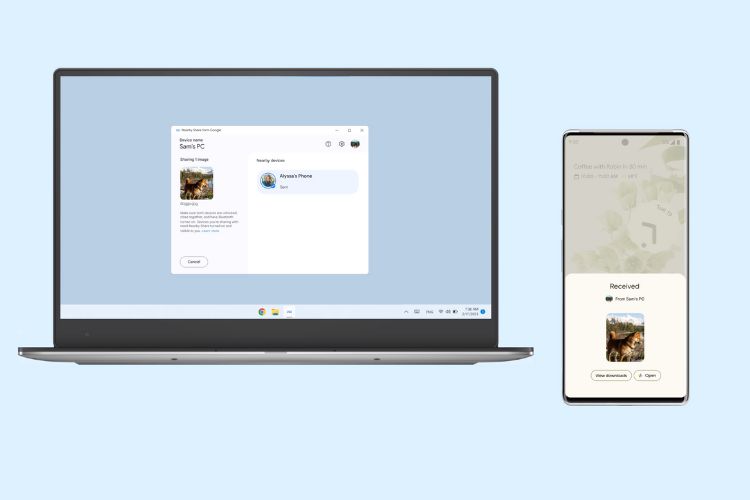 Google first introduced Nearby Share for Android in 2020 to counter Apple's AirDrop facility. In an effort to integrate Windows PCs into the mix, Google recently announced Nearby Share Beta for Windows. However, the rollout was geographically restricted with the US being the top priority. This has changed now. Nearby Share is finally available globally. Continue reading to know more.
Nearby Share for Windows Is Now Available Globally
Google has updated its support page and finally decided to introduce Nearby Share in more regions and is now available in 'most countries globally.' Now everyone around the globe will be able to use their Android devices to directly share files with their Windows PCs securely and seamlessly without any need for authentication. However, to receive files from others, you will need to approve their sharing request to be able to initiate the process.
But, there's an exception of a few regions like Cuba, Iran, North Korea, and Syria. One thing to note is that Nearby share for Windows PCs is still in its beta stage and a stable rollout could happen soon.
The file-sharing feature is supported on PCs with 64-bit versions of Windows 10 and 11, respectively, and Android devices with Android 6.0 and above. ARM devices are not supported.
For this to work, you are required to connect both the Windows and Android device to the Wi-Fi and Bluetooth. We have covered full details about the process and for a better idea, you can check out how to share files between Android and Windows. Since a stable version is expected to come out, more refinements and new features are in tow. It will be interesting to see how this turns out.
So, what are your thoughts on Android's Nearby Share? Do you think it will streamline your Android and Windows PC experience? Do let us know your thoughts in the comments below.