Shooting games are a lot of fun and if you looking for some great shooters for PS4, well, you've come to the right place because we bring you the best shooters for PS4 that you can play right now. If you are already bored with your favorite PS4 racing game then fret no more, because you can now enjoy some of the best shooters out there for your PS4, PS4 Slim, or PS4 Pro console. Go on and take a look at 20 of the best shooters for PS4 below.
1. Apex Legends
If you are on the lookout for fast-paced, super fun and competitive shooting games for your PS4, your search ends here. Apex Legends is the way to go then as it is easily one of the best battle royales out there. It amassed more than 25 million players within a week of its launch, a stat that is elusive for most games released to date.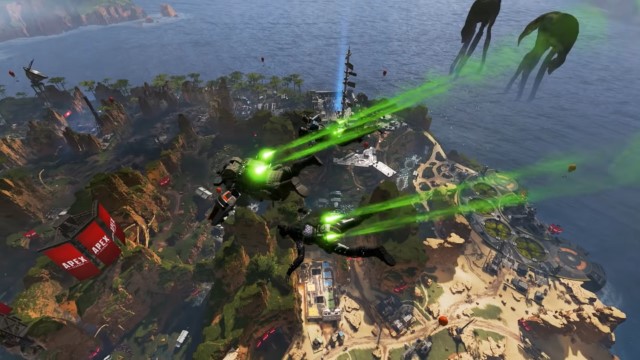 Apex Legends has achieved this by bringing a fast-paced shooter game where players play as one of nineteen legend characters. There was only a single map at launch, however, players can now play four separate maps, each with its own lore as well. Whether you're battling it out in King's Canyon, or riding on hoverbikes on Stormpoint, there are tons of different strategies that you can utilize to make the most of your environment and defeat your enemies.
You play in a team of three and each user has to choose a different legend. All the legends have their own unique characteristics and advantages and they are weighted perfectly so one doesn't have a clear advantage over the other. By the way, if you are thinking of playing it, definitely check out our tips and tricks article which will help you get started.
| Pros | Cons |
| --- | --- |
| Action-packed shooter | Lacks an exciting solo mode |
| Weapons collection is impressive | Doesn't have the most stable servers |
| A lot of options to customize characters | |
Download Apex Legends (Free)
2. Call of Duty: Modern Warfare 2
Call of Duty: Modern Warfare 2 is yet another CoD game set in the backdrop of the happenings of the 2020's remake, bringing both single-player and multiplayer modes. In the campaign, you'll find yourself controlling various perspectives, fighting against the force of cartels and ultranationalist forces Al-Qatala. Similar to other CoD games in recent times, Modern Warfare 2 multiplayer mode integrates with the Call of Duty: Warzone 2, along with a new mode called DMZ.
Compared to other Call of Duty games, Modern Warfare 2 offers grounded, slow gameplay in the single-player mode, while an all-out fast-paced shooter experience with enhanced mechanics and gorgeous graphics. The game brings one of the best ground combat experiences in the largest map Call of Duty has ever created, making it one of the best shooting games for PS4.
| Pros | Cons |
| --- | --- |
| Fast-paced, challenging gameplay | Expensive |
| Plenty of load-out options | Lacklustre content support from the developers |
| Amazing graphics | |
Download Call of Duty: Modern Warfare 2 ($69.99)
3. Far Cry 6
Though Far Cry 5 still remains one of our favorite Far Cry games, the latest entrant in the franchise, Far Cry 6 is definitely a shooter game for PS4 that you must play. Obviously, the game plays way better on the new PlayStation 5, but fortunately, Ubisoft has a PS4 version in the offing as well, and it's definitely worth checking out.
Similar to most Far Cry games, you get a vast open-world map, an absolute ton of guns, vehicles, and more, and yes, a storyline that will keep you hooked. Plus, there are a ton of side quests and missions. Also, for times when you're just looking to escape the mundane, you can go around in Yara (the fictional country where Far Cry 6 is set), and blow stuff up.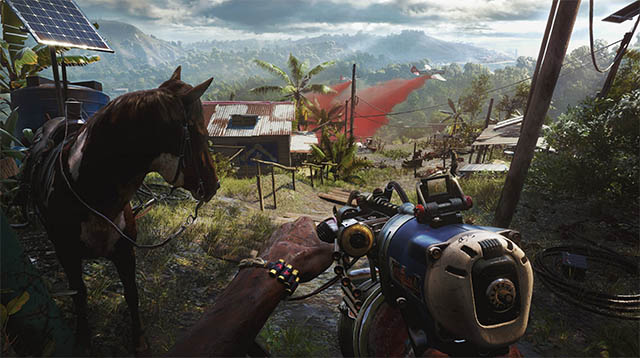 Far Cry 6 introduces a bunch of new mechanics into the game as well, including weapon modifications, and a lot of other interesting stuff within the game that make it a lot more interesting, though grind-intensive at times. Still, if you're a fan of open-world shooter games like I am, I would recommend you give Far Cry 6 a shot on your PlayStation 4 console.
| Pros | Cons |
| --- | --- |
| One of the best graphics | Inventory mechanics can be cumbersome |
| Branching storyline | |
| The lead antagonist 'Anton Castillo' is flawlessly portrayed by Giancarlo Esposito | |
Download Far Cry 6 ($59.99)
4. Battlefield 5
Battlefield V takes you back to one of the bloodiest events in our recent history. You will go back to World War II but this time you will not be alone. You will be able to play with your friends as your team takes on the challenge.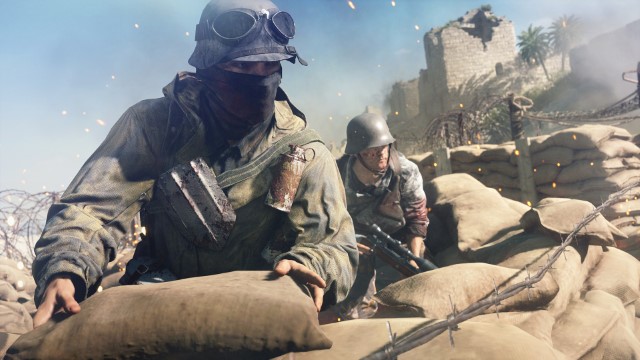 Battlefield V also brings a "Battle Royale" mode where you will team with three other players as 16 different teams drop in the arena and fight to eliminate and win the match. The game brings all the popular guns and game mechanics that the Battlefield franchise is known for you while upping the ante on combat situations to give you one hell of an experience.
Experience the Battlefield as you have never before and join your friends to victory. Even if you decide to go solo and just play the campaign, the stunning graphics and phenomenal storyline make it one of the best shooter games for PS4.
| Pros | Cons |
| --- | --- |
| Packed with top-notch guns | Vehicle gameplay feels less interesting |
| Action-packed combat | |
| Stunning graphics | |
Download Battlefield V ($39.99)
5. Overwatch 2
Overwatch 2 is probably one of the best arena shooter games for the PS4. This game is the perfect mix of MOBA elements and First-Person shooter which makes it one of the most exciting and action-packed shooters out there.
Overwatch 2 brings flashy graphics, over-the-top action, and fast-paced gameplay that's totally unmatched. In Overwatch 2, you get to play as a 5 team of 5 and each team has to be balanced.
Not everyone can be an assassin because you will need a tank and a healer to keep your entire team safe. So, every team has to be balanced otherwise the enemy will just steamroll you. It's one of the flashiest and most vibrant shooters out there right now and if you are looking for the best shooters on PS4 then Overwatch is definitely a must-have.
| Pros | Cons |
| --- | --- |
| Excellent arena shooter | In-game monetization |
| Many heroes and roles to suit different styles | No meaningful updates |
| Free-to-play | |
Download Overwatch 2 (Free)
6. Destiny 2
Destiny quickly became one of the hottest-selling games when it was first launched. So, it was only natural to expect the same from its successor – Destiny 2. Fortunately, Destiny 2 became even bigger than its predecessor and quickly became one of the best shooters available across multiple platforms including PS4.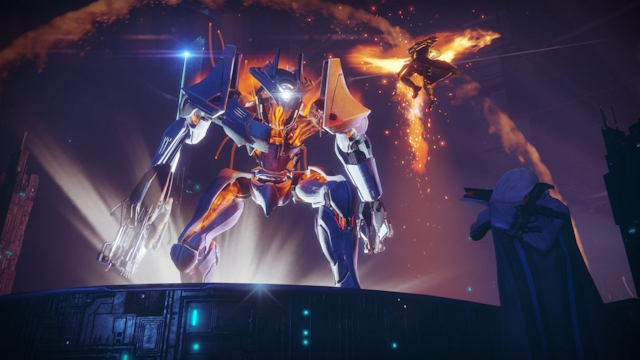 It's a futuristic shooter with RPG elements set in the solar system. Destiny 2 brings new features to the game including a great online experience and an amazing single-player campaign that surpasses even that of the original game.
Graphically, Destiny 2 is gorgeous and actually pushes the limits to the max. If you want an aesthetically attractive shooter with a great mix of RPG elements then Destiny 2 is the perfect game for you.
| Pros | Cons |
| --- | --- |
| Amazing single-player campaign | The vault needs improvements |
| RPG elements set in the solar system | Content quality can be dodgy |
| Much better public events | |
Download Destiny 2 (Free)
7. Titanfall 2
The original Titanfall was a great game, but it received a lot of negative reviews because it lacked a single-player mode with no campaign. This led to the game's demise. However, Titanfall 2 brings in a great single-player mode that gives you a great campaign to follow.
Titanfall 2 brings you to the Planet Typhoon where a human and his titan are the main characters. Nine different chapters in the single-player mode will keep you absorbed in the storyline of the game. The game offers a beautiful design and great gameplay.
If you are done with the single-player mode, you can jump into the exciting multiplayer mode that's the lifeblood of the game. A fast-paced shooter with destructive weapons and on top of all that, you can use skill-based maneuvers to outplay your enemies. Get ready to blast away your enemies in Titanfall 2. What's more, since Apex Legends is set in the same universe as Titanfall 2, you will get some great easter eggs for characters like Valkyrie.
| Pros | Cons |
| --- | --- |
| A fast-paced shooter with powerful weapons | Graphics don't look top-notch |
| Skill-based maneuvers | |
| Nine different chapters in the single-player mode | |
Download Titanfall 2 ($19.99)
8. Wolfenstein II: The New Colossus
The all-new Wolfenstein game is exactly how you do a perfect game. The script is great, the characters have been shaped in such a way that they feel both human and superhuman at the same time, and best of all, this game shows you how to tell a real story in such a way that it grasps your attention from the beginning.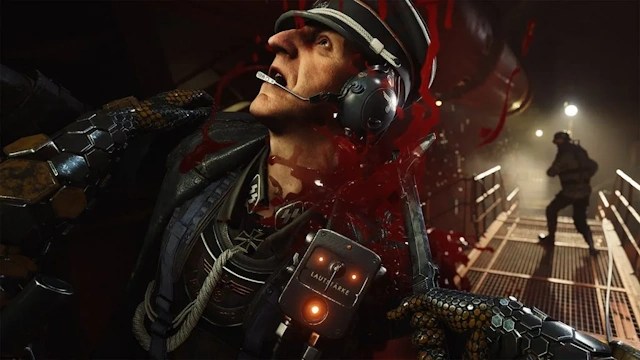 In this game, you get to slay Nazis and KKK extremists. The fun begins when you get your hands on an axe and start chopping down these bad guys. The game is quite gory and graphic in nature, but that also adds to the overall experience of the game.
It's a first-person shooter at the core and the story just reels you in for a long time. If you enjoy a great story with exciting gameplay then Wolfenstein II is the game for you.
| Pros | Cons |
| --- | --- |
| Intriguing gameplay | Requires some learning curve initially |
| Funny dialogues from the Nazi soldiers | |
| Improved weapons | |
Download Wolfenstein II ($53.49)
9. Star Wars: Battlefront II
Even though Star Wars: Battlefront II got a pretty bad rep right after its release because of shady loot boxes and in-game transactions. Everybody started hating on EA for trying to rip off buyers by locking important game content behind in-game purchases, but at least EA quickly learned their lesson and removed these purchases for the time being.
Apart from all that, Battlefront II is the perfect sequel to the first game and the gameplay is quite solid. The game received a lot of negative reviews due to the in-game purchases, but when it comes to gameplay it delivers solid gameplay and a great multiplayer mode where you can be your favorite Star Wars character and wreak havoc on your enemies.
Choose your sides in this great game, either be one with the force or join the dark side, it's all your choice.
| Pros | Cons |
| --- | --- |
| Looks visually stunning | Lacks private matches |
| Riveting gameplay | |
| Excels on the customization front | |
Download Star Wars: Battlefront II ($19.99)
10. Prey
Prey offers a completely unique and astonishing gameplay experience that you won't be able to find in any other shooter out there. It is considered a great masterpiece in the Sci-Fi genre and offers exciting gameplay that will keep you hooked for a long time.
The game offers a great first-person shooter experience with a decent mix of RPG elements. The story in the game is quite compelling. It quickly absorbs you in and you will find yourself playing all the side-quests and the main missions.
If you are looking for a shooter that offers solid gameplay and a great RPG mixture then Prey is the game you should try.
| Pros | Cons |
| --- | --- |
| Amazing gameplay | Some side quests seem to be there just to make numbers |
| A lot of side-quests | May seem very slow at times |
| Great RPG elements | |
Download Prey ($29.99)
11. Sniper Elite 5
While some PS4 shooting games pit you in a nerve-wracking deathmatch where you fight till the end to be the last man standing, others offer you challenging missions where your shooting skills and strategy are tested to the hilt. Sniper Elite 5 is one such game. Become one of the deadliest and stealthiest assassins and take out your enemies from far away. You will look at World War II like you have never experienced before anywhere. Travel around the Italian peninsula and hunt down your enemies from afar.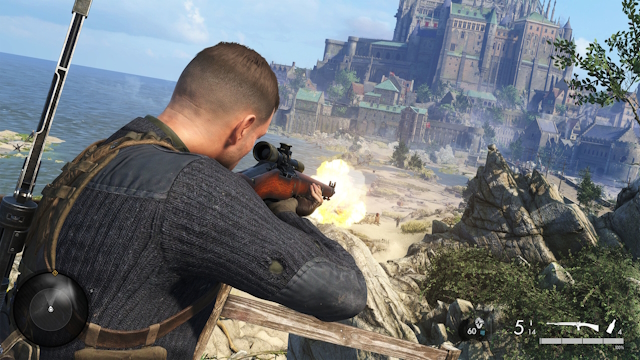 The graphics and story did feel a bit bland in its predecessor – Sniper Elite 4. However, it compensated for it with excellent gameplay mechanics. The good thing about Sniper Elite 5 is that it offers all three in a very balanced way, keeping you hooked for a long time. Of course, since the gameplay has always been the focus of the series, it's been executed more perfectly. If you want to experience a truly great shooter then Sniper Elite 5 is a must-try.
| Pros | Cons |
| --- | --- |
| The gameplay is packed with surprising elements | Can get real repetitive, real fast |
| Stealthiest assassins | |
| Offer a lot of opportunities to explore | |
Download Sniper Elite 4 ($59.99)
12. Tom Clancy's Rainbow Six Siege
Tom Clancy's action-packed Rainbow Six Siege is truly inspired by real-life counter-terrorist organizations and how these heroes face off against the deadliest of terrorists in close encounters.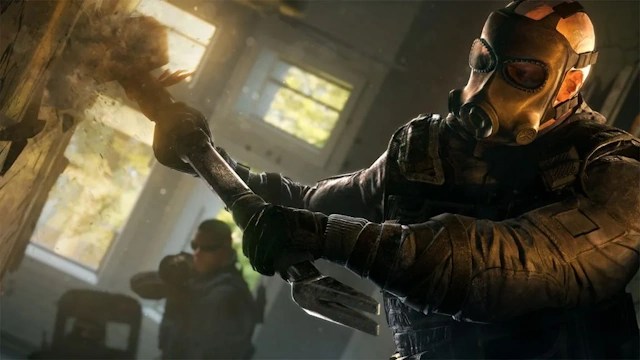 The stakes are always running high and tension is at its peak even if you are playing solo. However, the gameplay really shines when you are playing with a solid group with a decent synergy. It would be an understatement to say that the game's learning curve is pretty steep. Then again, that is exactly what makes it such an intense shooting game for your PS4.
You get to face off against terrorists or counter-terrorists depending on your team. Use brute force, cunning tactics, and explosive gadgets to devastate your enemies in this exciting shooter.
| Pros | Cons |
| --- | --- |
| Extremely challenging gameplay | Character customization is poor |
| Inspired by real-life counter-terrorist organizations | |
| Explosive gadgets | |
Download Tom Clancy's Rainbow Six Siege ($39.99)
13. Killing Floor 2
An amazing shooter that offers great graphics and exciting gameplay that's more fun when you play with your friends. The single-player might get bored because it could be a bit repetitive at times, but it's highly enjoyable with a group of friends. There is not a whole lot going on in terms of graphics. For the most part, it is just a mindless shooting game for your PS4 to play with friends.
The more teammates you have, the more fun you will have in Killing Floor 2. Enjoy the gore and bloody action in this action-packed game. Wave by wave-cut down all the incoming zeds and turn everything red. Call up your friends and partner up for this spectacular bloodbath.
| Pros | Cons |
| --- | --- |
| Impressive graphics | The gameplay demands some learning curve initially |
| Bloody action-filled gameplay | |
| Scores pretty well in terms of character customization | |
Download Killing Floor 2 ($29.99)
14. Doom (2016)
The old-school Doom returns to the current generation of consoles with a whole new style and challenging shooter experience that will amaze even hardcore shooter fans. Experience an unending onslaught of powerful demons and destroy them with your arsenal of deadly weapons ranging from powerful shotguns to bazookas.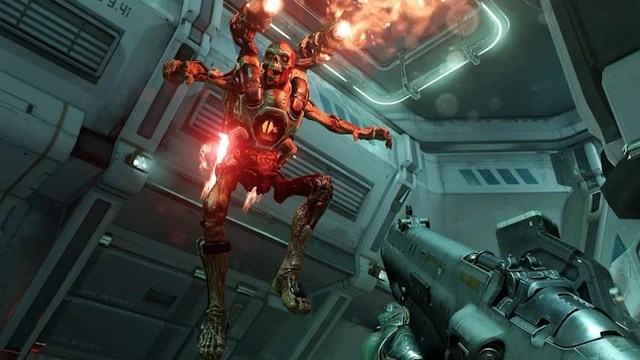 Apart from the adrenaline-pumping single-player mode, Doom also offers a plethora of exciting multiplayer modes where you can go up against your friends in an exhilarating bloodbath. Original Doom is still considered one of the best shooters and the return of the game has continued its legacy. The top-notch gore combined with a great story underneath sure does make it a must play shooter game for the PS4.
| Pros | Cons |
| --- | --- |
| Several multiplayer modes | Feels sluggish at times |
| Challenging shooter experience | |
| Powerful demons | |
Download Doom ($19.99)
15. SUPERHOT
Superhot is one of the most unique and exciting shooters of this generation. It actually blurs the line between tactical shooter gameplay and adrenaline-pumping mindless mayhem. This is a weird and gimmicky FPS that actually does everything right.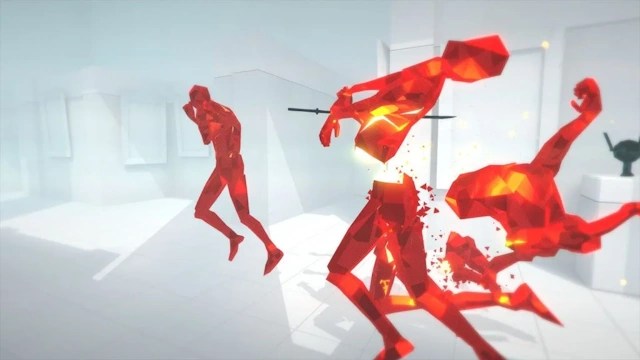 The gimmicks feel unique and fun when coupled with authentic gameplay. In this game, the time only moves when you move. It's just you against a horde of enemies, dodging, maneuvering, and slicing through enemy fire in slow motion as if you were Max Payne.
There are no regenerating health and no ammo drops, it's just you shooting your way through enemies in style. If you want a unique shooter experience on the PS4, then Superhot is the game to try.
| Pros | Cons |
| --- | --- |
| Scintillating gameplay | Short campaign |
| A great roster of weapons | |
| Awesome reward systems | |
Download Superhot ($24.99)
16. Payday 2
If an exciting heist game is what's on top of your mind, Payday 2 can fit into your expectation with ease. The game is action-packed and offers you enough opportunities to let you showcase your shooting prowess.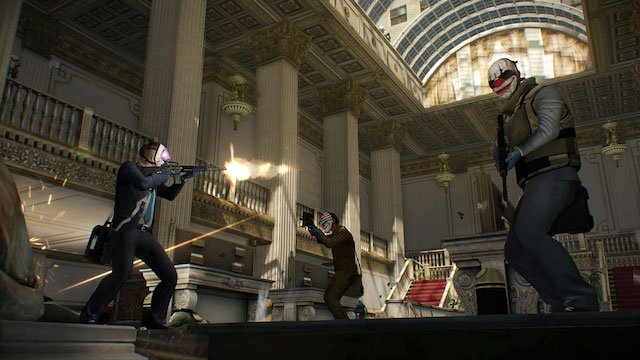 In this four-player co-op shooter, you have to team up with your buddies to rob banks. And if you succeed in cracking your mission, you get paid heavily. Not just that, you also get a ton of power-ups that keep you ahead of the game.
Apart from robbing the bank and getting plenty of rewards, Payday 2 also offers a lot of customization. So, depending on your taste, you can customize your avatar and even fine-tune your skill sets. That's not all, it has also got a solid roster of guns and gears to let you choose the preferred one.
Taking everything into account, Payday 2 deserves to be considered among the best shooting games for PS4.
| Pros | Cons |
| --- | --- |
| Thrilling heist game | Graphics look old-fashioned |
| Four-player co-op shooter | |
| Plenty of options to customize your avatar and even fine-tune your skill-sets | |
| A great roster of weapons and guns | |
Download Payday 2 ($19.99)
17. Doom Eternal
Sequel to Doom, which we have already mentioned here in this list, Doom Eternal sees the Doom Slayer taking the fight against the forces of hell once again after they invade Earth. The game canonically takes place in the same continuity as DOOM64 and features some great gameplay changes.
This time around, the game emphasizes more on exploration and bonuses, giving the Doom Slayer an edge over the forces of hell. Of course, the classic Doom 2016 gameplay returns, with more maneuverability options, more glory kills, and more variety of enemies. Furthermore, the two expansions bring a much-needed challenge for people that prefers it.
Additionally, the game runs flawlessly on PlayStation 4, without any hiccups and slowdowns. And while most people prefer such fast-paced shooters on PC, Doom Eternal is one that is worth not skipping. A masterpiece of a shooting game for the PS4 too.
| Pros | Cons |
| --- | --- |
| Fast, no-nonsense shooter | Micromanaging arsenal can get confusing |
| Gorgeous visuasl | |
| Satisfying combat and movement | |
Buy Doom Eternal ($39.99)
18. Bulletstorm: Full Clip Edition
Though Bulletstorm may not have topped the leaderboard, it is one of the most exciting shooting games for PS4. And if you like to take on a challenging shooting game, it has to be on your radar.
The game is about Grayson Hunt – an exiled member of the assassin group called Dead Echo. Post the crash landing on an abandoned resort planet, Grayson is forced to make a tough choice: revenge or survival. He can either fight with the commander for his betrayal or save his entire team.
Beyond gameplay, Bulletstorm offers you plenty of opportunities to carry out a stunning elimination campaign to take on evil forces. What's more, it has also got 30 competitive score challenges or 12 cooperative multiplayer maps to keep you pumped up for more.
| Pros | Cons |
| --- | --- |
| Challenging shooting game | Weapons customization could be better |
| 30 competitive score challenge | |
| 12 co-operative multiplayer maps | |
Download Bulletstorm ($39.99)
19. Fortnite
When you talk about the most popular battle royale shooting game, the one name that seems to strike the mind right away is Fortnite. And rightly so, as it's got almost all sorts of tricks to amp up your shooting spree. It doesn't matter if you are on a PC, PS4, PS5 or Mobile, you can play Fortnite on any platform, making it a super versatile shooting game for the PS4.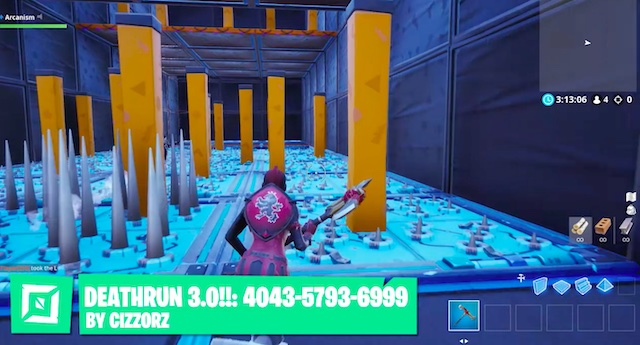 In this multiplayer game, you can join forces with your friends to build a powerful team to dominate your rivals. With plenty of customization on offer, you can give a unique look to your avatar. Notably, it has also got one of the largest collections of weapons which offers you the freedom to choose your top bet.
Times when you don't want to get into intense shooting battles, you can play Fortnite Creative which can get the most out of your creative thinking. Boasting eye-catching environments and exciting reward systems, it will keep you engrossed for more.
Everything considered; Fortnite is among the best PS4 games.
| Pros | Cons |
| --- | --- |
| Exciting gameplay | The graphics may not appeal to everyone's taste |
| One of the largest collections of weapons | |
| Option to customize your avatar to your heart's liking | |
| Fortnite Creative is fun to play | |
Download Fortnite (Free)
20. Killzone: Shadow Fall
Last but not least, Killzone: Shadow Fall is an intense PS4 shooting game. In this game, you play as Shadow Marshal Lucas Kellan – a brave soldier and a master spy. Your ultimate goal is to take control of the cold war by eliminating the evil forces.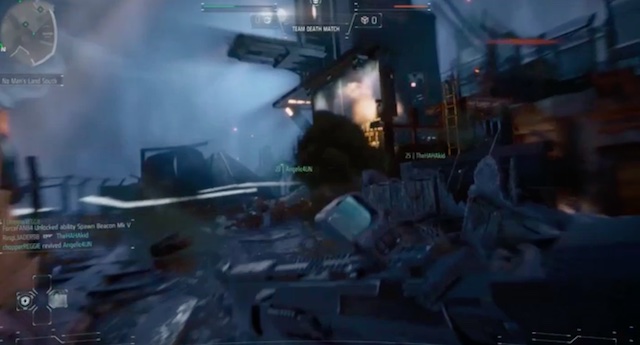 As each of your decision will have a huge impact on the world, so measure each of your decision before going for the kill. Beyond the action-packed gameplay, Killzone: Shadow Fall has got a large collection of weapons and gadgetry. Besides, it also offers a highly efficient drone that can play a vital role in keeping you ahead in the battle.
What's more, Killzone: Shadow Fall features amazing environments that you would enjoy exploring. Add to that the cool reward systems and you have got a shooting game that will never let you down.
| Pros | Cons |
| --- | --- |
| Intense shooting experience | Lacks firepower in the customization department |
| A large collection of weapons and gadgetry | |
| Features amazing environments | |
Download Killzone: Shadow Fall ($19.99)