Last month, we heard about the attractive launch offers for the Jio Fiber FTTH (fiber-to-the-home) broadband service. Jio is expected to offer FTTH with a high speed of up to 100Mbps, more than a terabyte of data per month, unlimited calling, and added benefits like Jio TV subscription for an attractive price of Rs. 1,000 per month.
While Jio was speculated to announce the Jio Fiber during the second half of 2018, new updates from The Economic Times suggest that Jio could launch these services very soon. The announcement is expected to be made on on July 5 at Reliance Industries' annual general meeting.
One can expect Jio to launch its broadband offerings at heavily subsidized prices, just like the Reliance Jio mobile service.
Earlier reports also suggest that users will be required to pay a security fee of Rs. 4,500, which instead of being refunded after disconnection, will be refunded back to the user as cashbacks or other rewards, so that service becomes "effectively free".
Meanwhile, Airtel is gearing up to compete against Jio and is ramping up its coverage, especially in non-urban areas. It has also announced up to 20% discount to customers paying for six months or the entire year with a maximum speed of up to 300Mbps.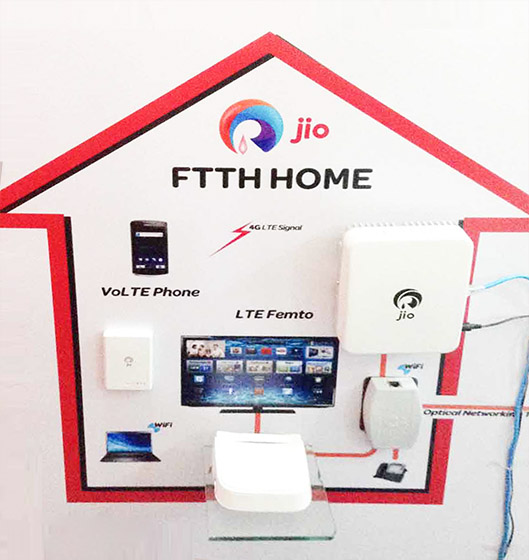 Along with these benefits, Airtel will also be launching a consolidated service called Home Platform, just like Jio's proposed FTTH Home. Under this, broadband service will be offered with postpaid connections and Airtel TV DTH service, all of which will be combined under a single bill to serve the needs of a family. The platform has not been announced yet but ET suggests that it will be offered soon.
Irrespective of the fate of Indian broadband industry, Jio's entry is likely to give a tough competition to the prevailing leaders. Its offerings will disrupt the market in two ways – first, by offering attractive pricing and second, by bundling broadband and mobility services together, Rohan Dhamija of Analysys Mason told ET.