As parents, it's hard to fully trust the fact that the world will be kind to your child. Anyone who has been a longtime Internet user will surely tell you that the web is filled with all manner of dangers. However, this is not restricted to just malware. Children especially tend to wander into the wrong rabbit holes and get caught up in undesired stuff. Also, gripping issues like social media addiction and cyberbullying plague the online world with people being excessively ruthless just because they are nameless and behind a screen. However, what exactly can you do to make sure your child is safe online without bugging them about it? Enter AirDroid, a parental control app that packs a ton of safety-oriented features for your child. But how does Airdroid's parental controls work, what are its features, and should you use it? Find out here.
AirDroid Parental Control: Overview (2022)
What is AirDroid Parental Control?
To put it simply, AirDroid Parental Control is a comprehensive app that is meant for families. The app allows parents to monitor and manage their kid's Android devices remotely. The scope of remote management is divided into various features that are designed to enhance the safety of kids while keeping things in their control at the same time.
Parents themselves do not need to perform any overwhelming steps and instead just need to download the AirDroid Parental Control app on both their own and the child's devices, which is called AirDroid Kids, respectively. This one-time registration process takes only 10 minutes and is super easy. Once done, you can give your child's smartphone back and need not ask for it again. Since AirDroid Parental Control is focused on not just a single child's safety, users can add multiple devices depending on your plan and keep a track of a variety of metrics for your kids.
If you think why you should trust AirDroid over other parental control apps, you'll love to know that the company has been in the Android device management business for over 10 years now. With 500+ million app downloads under their belt, AirDroid Parental Control is their newest innovation in forwarding children's online and offline safety. To get a better idea about AirDroid Parental Control, let's talk about its various features.
AirDroid Parental Control Features
1. Monitor Real-Time Location
It's always a feeling of anxiety when your loved ones head out somewhere with little idea of when they'll be back. Thankfully, the AirDroid Parental Control app allows parents to check their children's real-time location through their devices.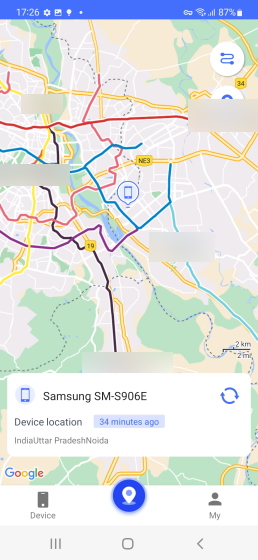 If your children follow a set routine with the same locations, you can even set certain geographic areas and receive instant alerts when your kids enter or leave those areas. The app even has location history support, so you can look back and check where your kids went before.
2. Daily Usage Report
Children have a tendency to be glued to their phones even when they say they are not. To verify how much time they are actually spending on their phones, AirDroid Parental Control shows the daily and weekly usage of the kid's devices to the parents.
Parents receive this in the form of a report on the dashboard, including statistics on screen time usage, which apps they use the most, the number of notifications, and cellular data usage. In this way, you can keep a track of how much time your child spends on the phone.
3. App and Screen Time Management
After looking through the usage report, if you feel like your child is using the phone or a certain app too much, AirDroid helps you out there too. The Parental Control app allows the parents to set a certain screen time limitations on their child's device. You can either lock out the device for a certain period or set an absolute time limit after which all apps will be inaccessible. If your child attempts to download any new apps, you will also be alerted to that.
Parents who want even finer control can set specific usage limits for specific apps. All you need to do is select an app from the list and then decide a time limit for it. Once your child reaches that time limit for an app, it will be locked. Want a total lockdown? You can even disable all the apps on your child's phone at once through a simple toggle. App limits if done correctly are an extremely efficient way of teaching your children healthy and sustain online usage habits that will ensure they become responsible Internet surfers.
4. Sync App Notifications
Speaking of notifications, instead of waiting for your child to access a certain app, AirDroid Parental Control also seamlessly mirrors the notification your child receives.
So if you believe your kid is being cyberbullied through some malicious messaging on Twitter or Snapchat, rest assured any message they receive will be forwarded to you. This also works with different kinds of social media apps, including Twitter, Facebook Messenger, and more.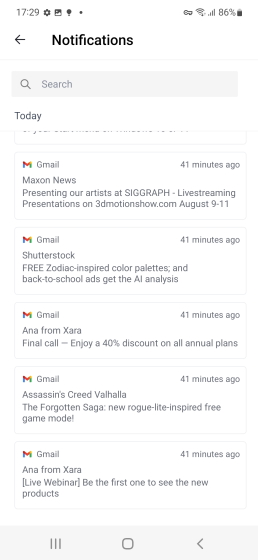 5. In-Depth Remote Monitoring
There are times when parental intervention is necessary to keep your children safe online. Fortunately, AirDroid Parental Control has built-in features for that as well. The app allows the parents to remotely monitor their child's camera and even microphone in real-time. So if you feel your children may be in some kind of danger, you can quickly access their camera and mic to check up on them.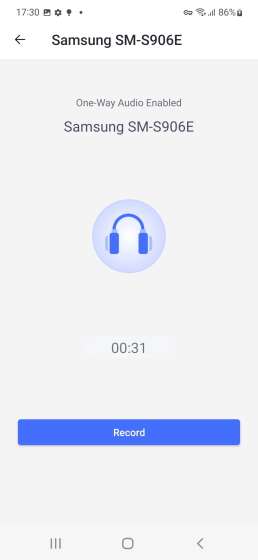 If you'd rather see what's happening on your child's screen in real-time, you can even use the screen mirroring feature to look at your child's screen at any time. However, I did notice that because of Android's privacy control, the child phone's camera and mic indicators along with screen casting light up when you use these features.
Setting up and using AirDroid Parental Control
If knowing about AirDroid Parental Control has you excited now, you will be glad to know that setting it up is equally easy. As mentioned above, Airdroid is divided into parents and kids apps, which are called AirDroid Parental Control and AirDroid Kids, respectively. To give you an idea of how easy it is, I will show you how to set up AirDroid Parental Control. Keep your child's phone alongside you and let's do this.
1. Head on over to AirDroid Parental Control from your phone and download the parent end up for Android or iOS.
2. Once done, you will be directed to the sign-up page where you must create an account. Unlike many other services, creating an account in the AirDroid Parental Control app doesn't force you to pay for it from the get-go, which is a plus in my book. Once done, you will be led to the device supervision page, where you will need to move to your child's phone and set it up.
3. Use the information you see on the supervision screen to set up your child's smartphone with ease. First, access the browser on your kid's phone and open the link you see on the supervision screen. You can then begin downloading and installing AirDroid Kids.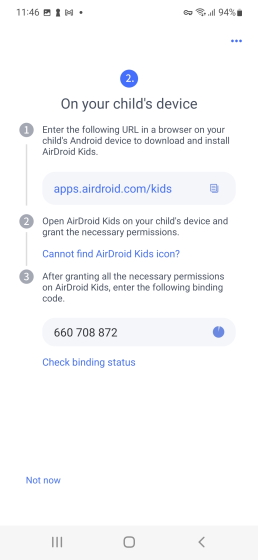 4. Once done, open the app and you will be led to the setup page, where you will begin granting the various permissions required for the app to function. Keep in mind that AirDroid Parental Control needs lots of permissions for it to work, so allow them all on your kid's device.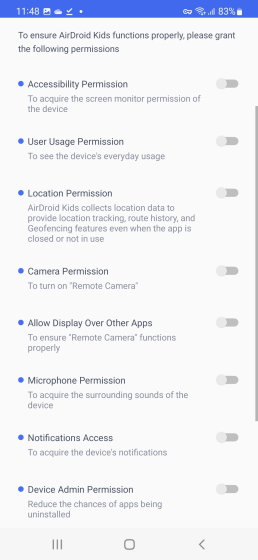 5. On the next screen, enter the binding code on the kid's phone that you saw on the parent's end. This will confirm the binding process and you'll receive a confirmation screen on the parent's phone.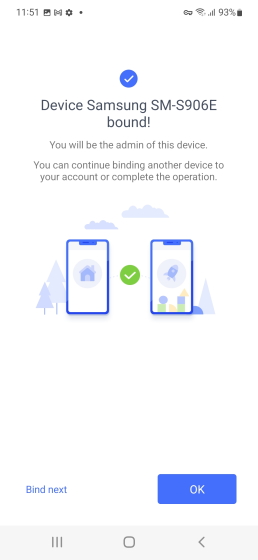 And it's as easy as that! AirDroid Kids is now installed and configured on your kid's phone. Now, you will be able to monitor and manage it without issues. Moreover, if you're wondering, kids won't be able to see the app installed on their phone or even its icon without you giving them a QR code or a secret code.
Hands-on Experience with AirDroid Kids
Once AirDroid is fully configured and bound to your child's device. You will be able to access the dashboard and all its services for free for the next 3 days. Using the app myself to test out its capabilities, I was impressed with its easy-to-understand app design, which helped me get started in no time. A good thing AirDroid does is easily categorize all the features on the home screen itself.
This means that all the features I mentioned above are accessible from a single screen. All you need to do is open up the app and select the feature you want to use. So if you want to quickly access the camera on your child's phone, click on the icon and you will be connected in no time. This works the same way for all the features and takes the guesswork out of navigating through the app. All the features work almost perfectly all the time with only the remote monitoring feature glitching occasionally.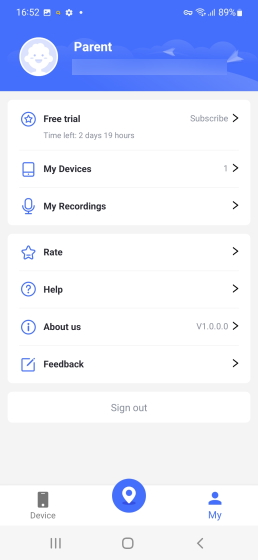 The "My" section of the app hosts your profile along with the list of devices you have connected. If you wish to buy a plan or sign in with a different account, you can do so all from the app itself. With its extremely painless set up process and seamless app navigation, AirDroid Parental Control is one app that remains easy to sign up for and even easier to use.
AirDroid Parental Control: Pros and Cons
| PROS | CONS |
| --- | --- |
| Comprehensive child monitoring features | Requires a lot of permissions on the child's end |
| Gives almost full access to the child's phone | Not good for the child's privacy |
| Easy sign-up and setup process | Remote monitoring glitches out occasionally |
| Gives you a 3-day trial | |
| Affordable annual plan | |
AirDroid Parental Control: Pricing
Since parents all across the world may have different time periods to monitor their children, AirDroid Parental Control comes in a variety of billing cycles. If you're someone going in for a long time, you can get the annual plan for as little as $59.99, which lets you bind 10 devices. Lower-term plans include the Quarterly plan for $19.99 for 10 devices and a monthly plan for $9.99 for 2 devices. With a healthy selection of paid plans provided by AirDroid, there's something for every parent.
| Plan Tenure | Price | Number of Devices |
| --- | --- | --- |
| 1-year plan | $59.99 (or $4.99 per month ) | 10 |
| Quarterly plan | $19.99 | 10 |
| 1-month plan | $9.99 | 2 |
AirDroid Makes Parenting Easy in this Online World
AirDroid Parental Control is one of those few apps that make the process of in-depth monitoring and management of your child's device an easy endeavor. With intricate yet seamless features such as remote monitoring, notification sync, app usage control, and more covered under an affordable price, AirDroid's Parental Control is an app you should give a try. With the annual plan starting as low as $59.99 (~$4.99 per month), this family solution app is one you should try and make sure your children remain safe for the years to come.
Try out Airdroid Parental Control (starts at $4.99 per month)
---
Load More