Samsung recently launched its latest flagship – the Samsung Galaxy Note 8. As you would expect, it is a great smartphone with all the latest specs. It packs in the Snapdragon 835 or the Exynos 8895 chip (depending on where you live), 6 GB RAM, and a 6.3-inch QHD display with Corning Gorilla Glass 5. It's also the very first Samsung smartphone to come with a dual camera setup, so if you are planning to buy it, you've made the right choice. Plus, there are a ton of accessories for the Note 8 that make sure you use the smartphone to its full potential. So, without any further ado, here is a list of the 16 best Samsung Galaxy Note 8 accessories that you should buy:
The Best Galaxy Note 8 Accessories
1. Gear S3 Frontier Smartwatch
If you are into smartwatches, then what is a better way than pairing your Note 8 with Gear S3 Frontier. It is a water-resistant Tizen-based smartwatch that comes with Samsung Pay built-in. You can use this to make payments anywhere you can swipe or tap a credit card. Using Gear S3 Frontier, you can also receive texts, emails, and alerts without ever having to reach for your phone. With its built-in speaker and microphone, making and answering calls hands-free becomes very convenient. There are some other useful features that you get with the smartwatch like a GPS tracker, always-on display and the S Health app.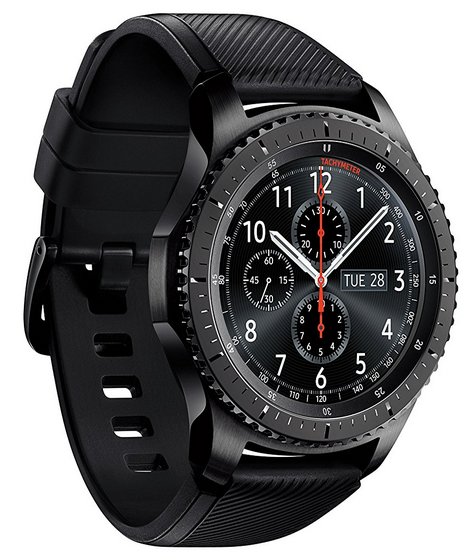 Buy from Amazon: ($285)
2. Gear 360 Camera
Gear 360 is a must-have accessory for all the photographers. If you are one of them, then I highly recommend you to buy this. It is a splash and dust-resistant 360° camera that can record videos up to 4K resolution. The camera has dual 180° lenses and can capture up to 15 MP photos. With its IP53 water-resistant rating, you can take it on any adventure and it will still survive. Moreover, you can use your Note 8 to control Gear 360 remotely. You can also share your photos and videos to Facebook, YouTube, and Samsung VR directly from your phone. An important thing to note here is that it requires a microSD card to work that you may have to buy separately.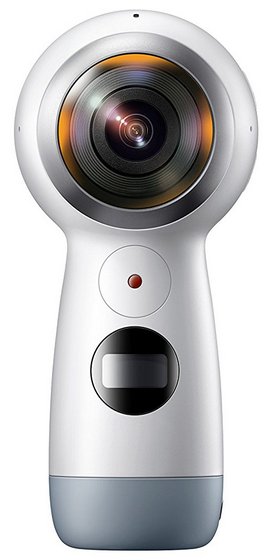 Buy from Amazon: ($147.50)
3. Gear VR with Controller
With the Super AMOLED screen and the 1440 x 2960 display of your Note 8, you can surely enjoy a high-quality virtual reality experience. To make this even better, why not go with Samsung's own Gear VR. It is powered by Oculus – the leader in virtual reality technology. Oculus regularly introduces new experiences like Hulu shows, guided meditations, and language tutorials that you can get access to with your Gear VR headset. The headset also comes with a handheld controller that you can use to explore the world, play games, and navigate with organic movements. To experience the virtual reality, all you have to do is place your Galaxy Note 8 into the Gear VR headset.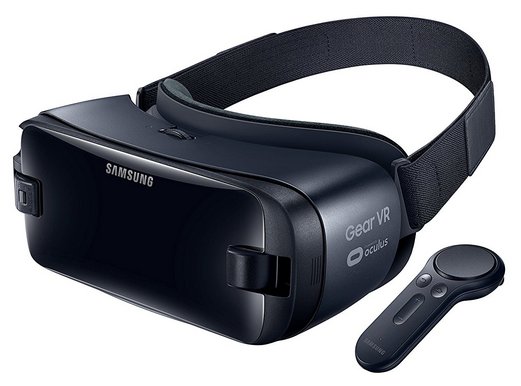 Buy from Amazon: ($99.99)
4. Samsung DeX Station
The Samsung DeX Station takes your Note 8 experience to a whole new level. Simply connect an external monitor to the DeX Station and then dock your smartphone to launch a special DeX mode. In this mode, you will be able to access your phone on the monitor. Not only that, the DeX Station comes with a LAN Ethernet, an HDMI output, and two USB-A 2.0 ports that you can use to connect a mouse and a keyboard to enhance your experience further. Also, you can open your app tray and launch them on the bigger screen. If all this isn't enough, you can use the DeX Station the other way round too. This means that you can also launch a virtual desktop application to mirror and control your desktop computer on your Samsung Galaxy Note 8.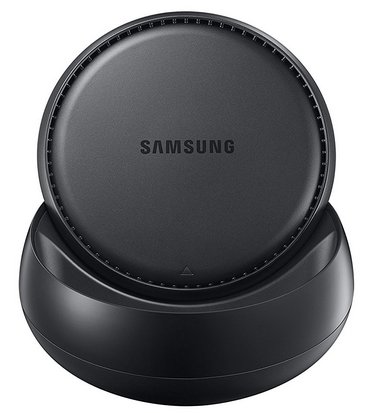 Buy from Amazon: ($92.99)
Galaxy Note 8 Connectors and Charging Accessories
1. Anker Micro USB to USB-C Adapter
Though the future of smartphone connectivity sure seems to be USB Type-C, most smartphones today still come with the good old micro USB ports. To make your Note 8, that comes with USB-C, compatible with micro USB devices, you should definitely buy the Anker micro USB to USB-C adapter. This is a plug-and-play wireless adapter that uses USB 2.0 protocol for charging and data transfers up to 480 Mbps. Moreover, you get two such adapters with a single purchase. The only downside of this is that the USB-C connector is incompatible with OTG devices.
Buy from Amazon: ($6.99)
2. 
Anker PowerCore Speed 10000 QC
If you are a power user and are likely to use your Note 8 a lot throughout the day, then its 3300 mAh battery may seem a little less for you. However, that should not stop you from using your phone any less. With Anker PowerCore Speed 10000 QC, you get a power bank with a capacity of 10,000 mAh. Theoretically, on a full charge, this should be able to charge your Note 8 three times. This will undoubtedly allow you to use your phone as much as you want to throughout the day. Moreover, the power bank comes with Qualcomm Quick Charge 3.0 to deliver the fastest possible charge for your Note 8 so that you can refill its juice quickly.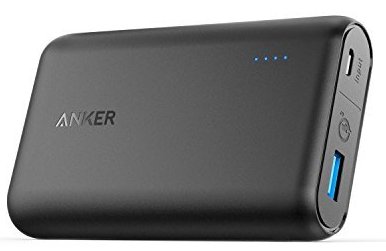 If you do not trust third-party accessories, then you can buy Samsung's 5100 mAh Fast Charge Portable Battery Pack ($59.99).
Buy from Amazon: ($35.99)
3. 
CHOETECH Fast Charge Wireless Charger Stand
So your Note 8 has wireless charging? But what good is it if you can't use it conveniently while it is charging wirelessly? So to overcome this, you can use the CHOETECH Fast Charge wireless charger stand. It has two coils which offer a wide charging area and allow you to place your device in either the portrait or the landscape position. You can also use your phone to read, watch, or type while your it is gaining some juice. Though the stand comes with two different charging modes, you get the better "Fast Charge Mode" for your Note 8. Lastly, it has over-charging and over-temperature protection that ensures that the wireless stand never overcharges your battery or wastes any energy.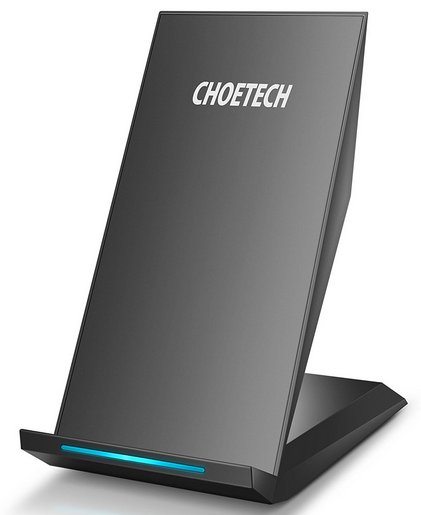 If you are looking for a similar product from Samsung itself, then you may want to go for the Fast Charge Wireless Charging Convertible ($89.99).
Buy from Amazon: ($15.59)
4. Samsung MicroSDXC EVO Plus Memory Card with Adapter
Today, we have reached a stage where, among other technological advancements, the microSD card slot is being removed from many flagship smartphones. Thankfully, your Note 8 stays away from that trend and offers supports for a microSD card of up to 256 GB. So to take full advantage of this, I would suggest you to buy Samsung's 256 GB EVO Plus USI-I microSDXC U3 card with adapter. The card offers read speeds of up to 100 MB/s and write speeds of up to 90 MB/s – both with UHS-I interfaces. It is categorized as a Class 10 card which is supposed to be the best one available today. Moreover, the card is designed such that it remains protected from water, high temperatures, X-rays, and magnetic interferences. Lastly, the adapter that you get along with it is handy for use in compatible computers.
If you are looking for a cheaper option and can compromise a bit on the transfer speeds, then the Silicon Power 256GB microSDXC UHS-1 memory card ($116.99) is another good accessory that goes with your Galaxy Note 8.
Buy from Amazon: ($179.99)
Galaxy Note 8 Cases, Skins and Screen Protectors
1. Clear View Standing Cover
The Clear View Standing Cover is an official cover by Samsung for the Galaxy Note 8. It isn't available for sale yet, but its images suggest that you can get it in four different colors. Among the official covers, I would recommend this one as it is a lightweight case and doubles as a stand. Well, not literally a stand as you fold the cover to hold your phone at an optimal angle for viewing media. A very useful feature of the cover is the swipe gestures that you can use to perform actions like music controls and answering calls without having to open it. Also, the time, date and notifications are displayed even on the cover.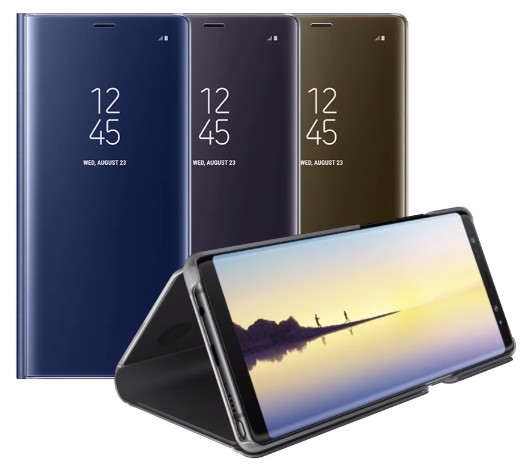 Buy from Samsung: (Coming Soon)
2. Spigen Rugged Armor Galaxy Note 8 Case
If you are looking to expand your choices with non-official cases, then I would recommend you to buy the Spigen Rugged Armor Case. Being a Spigen case, I have no doubts abouts its quality. This is a simple yet elegant-looking case with a carbon fiber back. This ensures that you'll have a firm grip over the large Galaxy Note 8. It also has raised edges that protect your Note 8's screen and camera from any damage in case you ever happen to drop the phone. As you would expect, you get a case that is built from high-quality TPU material.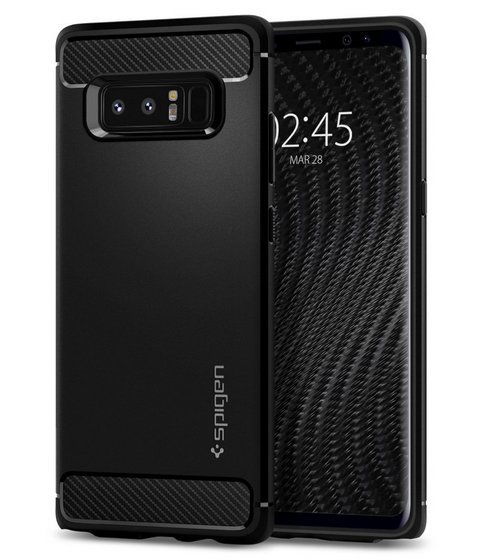 In case you are looking for some more cases for your Samsung Galaxy Note 8, then you can check out our dedicated article on that.
Buy from Amazon: ($12.99)
3. dbrand Skin for Galaxy Note 8
If you are not looking to add an extra bulk to your Galaxy Note 8 in the form of a case but still want to change its look, applying a skin is the way to go. And when it comes to skins, dbrand is, undoubtedly, the most popular choice among people. It allows you to customize your phone completely. Whether it is the back, the camera, front top, or front bottom – dbrand has you covered. Plus, you can choose from various skin textures like carbon fiber, dragonstone, metal, leather, true color, and wood. Lastly, applying a skin adds grip to your phone and makes it look cooler, so you get another incentive to go with this accessory.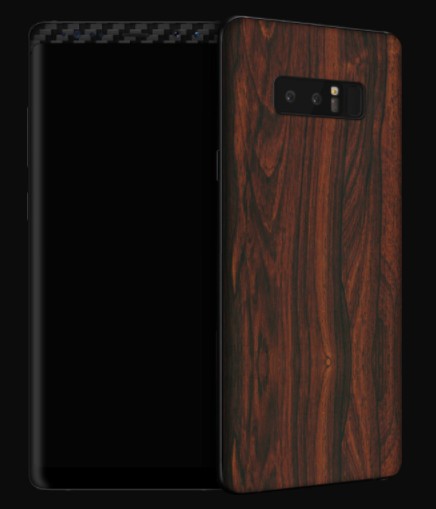 Buy from dbrand: (Starts at $0.95)
4. Galaxy Note 8 Screen Protector by MoKo
While the screen on Note 8 sure seems to be strong, you can apply a screen protector over the display for some extra protection. The Galaxy Note 8 screen protector by MoKo is designed to cover your phone from all sides. It boasts a 9H hardness and comes in as thin as 0.33 mm. This ensures that it will be resistant to scratches by keys, knives, or any other sharp objects – to quite an extent. MoKo boasts a 99.99% transparent clarity of your display on this screen protector. You also get an oleophobic coating which is meant to protect your phone from any smudges, fingerprints, or water or oil stains.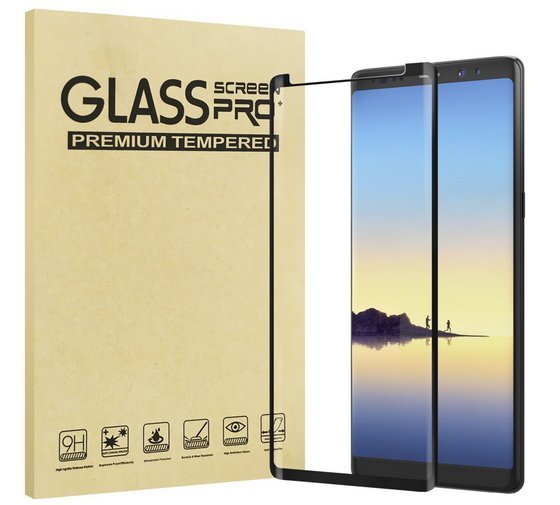 If you want a screen protector other than this one, then you can have a look at the best Samsung Galaxy Note 8 screen protectors.
Buy from Amazon: ($17.99)
Galaxy Note 8 Car Accessories
1. AUKEY Car Charger with Dual USB Ports
Having talked about portable battery packs, why waste its power when you can use a car charger to charge your Galaxy Note 8. The AUKEY Car Charger with Dual USB Ports allow you to charge two devices simultaneously. Both the ports offer Qualcomm Quick Charge 3.0 technology with AiPower Adaptive Charging to charge your phone in the shortest time possible. The car charger has built-in safeguards that protect your devices against excessive current, overheating, and overcharging.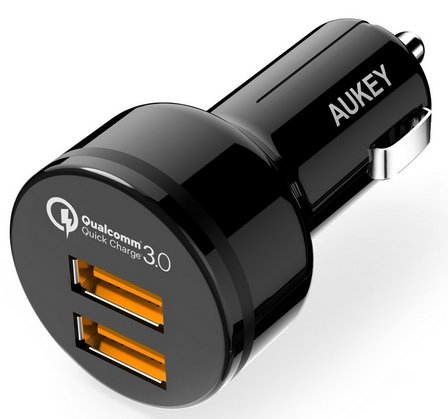 Like the Battery Pack, Samsung also has its own car charger – Fast Charge Vehicle Charger ($24.99) that you can buy.
Buy from Amazon: ($19.99)
2. TechMatte Magnetic Universal Car Mount Holder
The TechMatter Magnetic Universal car mount holder is a stylish accessory. It comes with strong neodymium magnets that produce an intense magnetic attraction to hold your Note 8 firmly. Unlike standard car mounts, you just have to attach it your car's air vent. It is made from a sturdy and high-quality rubber base that allows you to rotate your Note 8 while it is attached to the car mount. Unless you are looking to drive on rough roads, this is very good accessory that you can use.
If you are a loyal Samsung customer, then you can also try the Samsung Universal Car Cradle Dock ($97).
Buy from Amazon: ($7.99)
Galaxy Note 8 Earbuds and Headphones
1. SmartOmi Q5 True Wireless Earbuds Bluetooth Headphones with Mic
If you are into sports, then you know how helpful wireless earbuds can be. The SmartOmi Q5 True Wireless earbuds come with Bluetooth 4.1 for fast connectivity with your Note 8. You can use these up to a range of 10 m (33 ft.) from your smartphone. The earbuds come with a single button that can be used to perform actions like hands-free calling, redialing, and answering calls. Moreover, the audio that you hear, whether during calls or while listening to music, is very crisp and clear – making it one of the best in the market.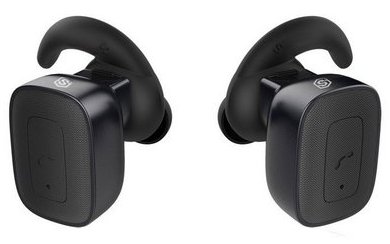 In case you are looking for a pair of Bluetooth earbuds from Samsung itself, you can buy Samsung Gear IconX ($89.99). It tracks your activity and gives you updates on essential data from speed, distance, and duration to heart rate and calories burnt via a dedicated voice guide.
Buy from Amazon: ($39.99)
2. Samsung U Flex Wireless Headphones
If you are looking for a pair of wireless headphones that go with the Samsung environment and make use of Bixby, then you should definitely try Samsung U Flex. The U Flex Active key gives you access to a lot of functions on your Note 8, including interaction with Bixby. Samsung U Flex has a flexible design, so it can be easily tucked into a small pocket. The headphones have P2i splash and sweat-resistant coating, so you don't have to worry about them getting dirty either. They also come with a 11mm woofer and a 8mm tweeter speaker for a great audio experience. Using Samsung's Scalable codec technology that continuously analyzes ambient WiFi frequencies and sends optimized data to the speakers, you get a seamless Bluetooth connection. Last but not the least, to control advanced settings like equalizer on these headphones, you can download the Samsung Level app (free).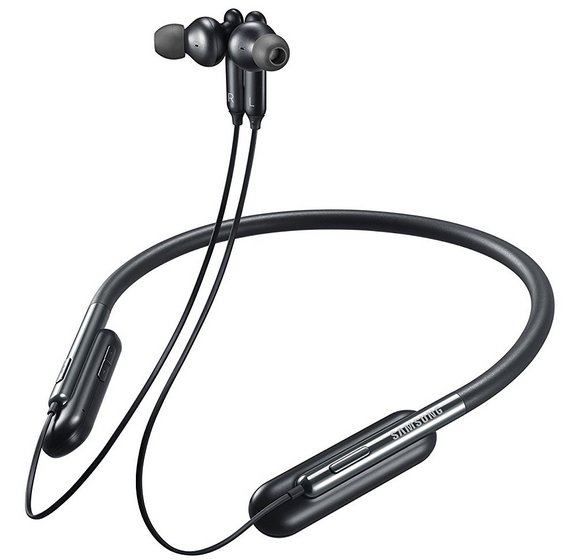 Buy from Amazon: ($77.60)
SEE ALSO: Top 8 Galaxy Note 8 Alternatives You Can Buy
Buy the Best Galaxy Note 8 Accessories
Samsung Galaxy Note 8 is already a beast of a phone. However, with these accessories, you can unlock your phone to a much higher potential. While there may be some other useful accessories also, I included the best ones in this list. So which ones did you choose? Do let me know in the comments section below.
---
Load More