Samsung Galaxy Note series has always been the device which pushes the envelope of what it means to be an Android smartphone. However, owing to the Note 7 debacle last year, Samsung decided to play it safe with the Note 8. Don't get me wrong, Note 8 still sits at the top of the Android food chain, it is just missing the X-factor which it always had. May be the most interesting thing about Note 8 this year is the dual cameras and that display. Samsung has always made great displays, but Note 8's display is something else. It is 6.3 inches of pure Super AMOLED beauty. The 1200 nits of brightness that this one kicks out is something that has never been seen before. In comparison, the iPhone X hits a mere 625 nits. Note 8's display also supports HDR and a 100% DCI-P3 Colour Gamut, something which you normally find on 4K TVs. Needless to say, Note 8's display is precious and you should protect it like one. The first thing you should do is to slap a screen protector on it. If you were also thinking the same and wanted to buy one, here are the 10 best Galaxy Note 8 screen protectors that you can buy today:
Best Galaxy Note 8 Screen Protectors and Screen Guards
1. iQ shield Galaxy LIQuidSkin Note 8 Screen Protector
In my opinion, iQ shield makes some of the best screen protectors in the market. Their LIQuidSkin screen protector for the Note 8 is simply one of the best. Firstly, this is a full coverage screen protector, hence you can be sure that your device is protected from top to bottom. The screen protector is also case-friendly, meaning it won't interfere with the case that you are using on your device. It provides bubble free installation provided you know how to install a wet screen protector. The product comes bundled with installation tray, a spray solution, squeegee, lint-free cloth and an installation manual to help you along the way. However, if you have never installed a wet screen-protector, it is going to seem like a tedious process. But once you go through the process, you won't be disappointed.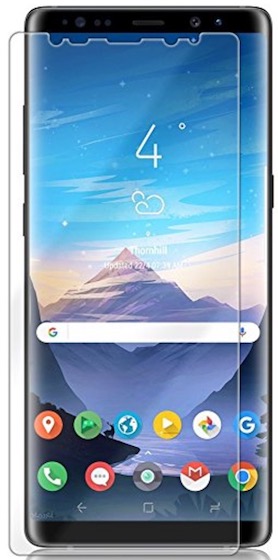 Buy From Amazon: ($11.95) (Pack of 2)
2. iAnder Galaxy Note 8 Screen Protector
If you are more of a tempered glass guy, you should definitely check out iAnder's Galaxy Note 8 screen protector. The screen protector is made from an ultra-thin (0.3 mm) of scratch-resistant tempered glass. The glass is chemically treated and has an oleophobic coating and hence does not entertain fingerprint or smudges. This also means that water and oil can be easily wiped off the screen. The toughness of the glass is enough to protect your Note 8 against minor drops and falls. The cut outs at the top are extremely precise and will fit your device without any problem. However, once this is installed, you won't be able to use any Poly Carbonate or hard shell/shockproof cases. The only cases you will be able to use are the soft TPU ones, so keep that in mind before buying this.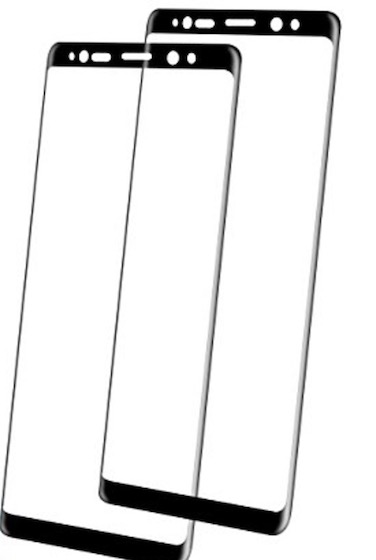 Buy From Amazon: ($25.99) (Pack of 2)
3. Liwin Tempered Glass for Galaxy Note 8
Liwin tempered glass for your Note 8 is an affordable screen protector which is really good. The tempered glass is very strong and hard should protect your device from most minor drops and falls. The glass is also scratch resistant so you don't have to worry while carrying it inside your pockets with your keys. The transparency is really good clocking at 99.9%, so even when it is installed, you won't notice it on your Note 8. The sides sport 2.5D curves and hence perfectly matches the curves of your Note 8. This one should also work with all your cases. This is one of the better screen protectors out there, and you should definitely check this one out.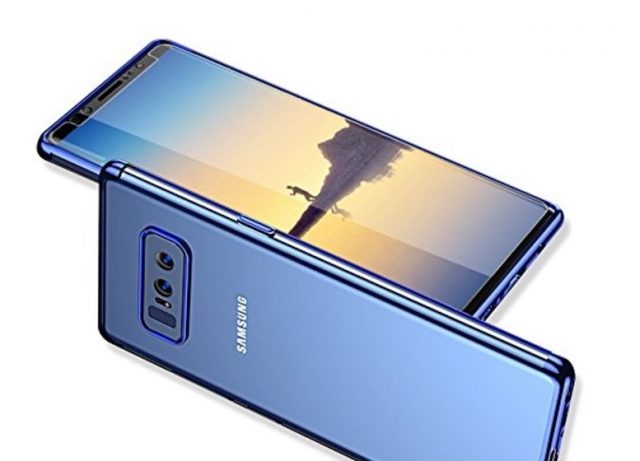 Buy From Amazon: ($9.99)
4. Acetend Screen Protector Galaxy Note 8
This one is a little different as it is neither made of tempered glass nor plastic. The screen protector uses soft TPU material which is normally used in cases. TPU material is known for being flexible and is good at absorbing shocks. So this one should easily protect your device from cracks, scratches, and scuffs resulting from a drop. The protector also has an oleophobic coating which means no fingerprints. I am a little bit worried about the transparency this screen protector offers as it's using a TPU material. However, they are using a ultra-thin film and boasting of 99% transparency, so that should not be a problem.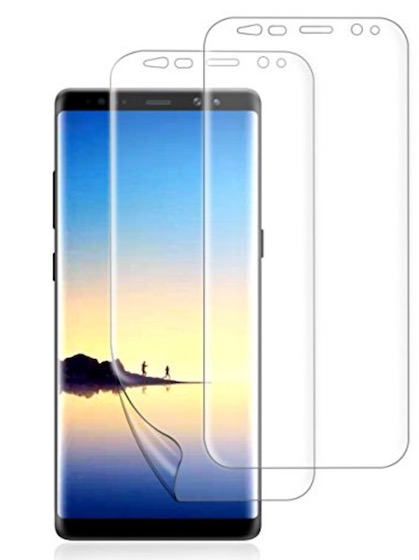 Buy From Amazon: ($8.99)
5. Spigen Galaxy Note 8 Screen Protector
Next up is a screen protector from a well-established company. Spigen makes excellent quality cases and screen protectors. It is a wet application screen protector with bubbles and rainbow-free clarity. The product is also compatible with all the note 8 cases so there's one less thing to worry about. However, they do recommend that you install the screen protector with the case on, so that might cause a little inconvenience. However, it is one of the cheapest on the list, that too from a well-known company, so you should definitely check it out.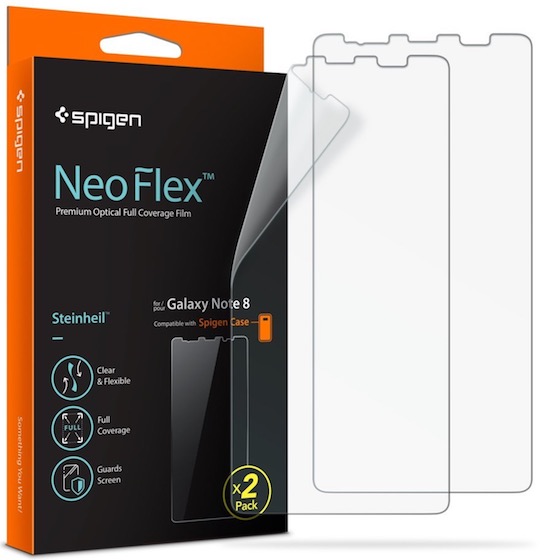 Buy From Amazon: ($8.99) (Pack of 2)
6. Samsung Galaxy Note 8 Tempered Glass Screen Protector
This one is a dry-application tempered glass screen protector so it will be very easy to install. The screen protector provides a full coverage to your device which will ensure that your device is protected against drops, bumps, scratches, and normal wear. It is ultra-thin with 99% transparency and has an oleophobic coating to keep your phone fingerprint free.The protector comes with a set of wet and dry wipes along with dust removal stickers to help you during the installation process.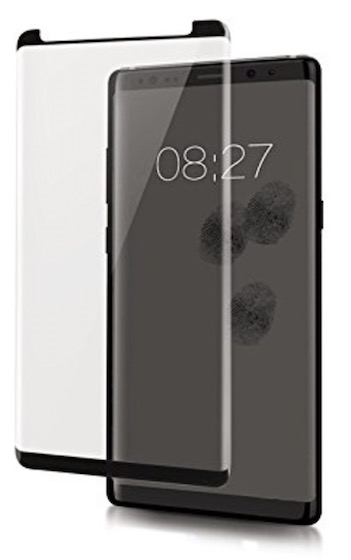 Buy From Amazon: ($11.99)
7. OMOTON Wet Applied HD Screen Protector
OMOTON's screen protector is made from ultra-tough, high definition, yellow-resistant material. Some screen-protectors do have a habit of turning a little yellow after a few weeks of usage. This screen protector will prevent any such occurrence. It also has both hydrophobic and oleophobic screen coating which protects the display against sweat and oil residue from fingerprints. They also boast of including the self-healing technology which allows a screen protector to recover from minor scratches.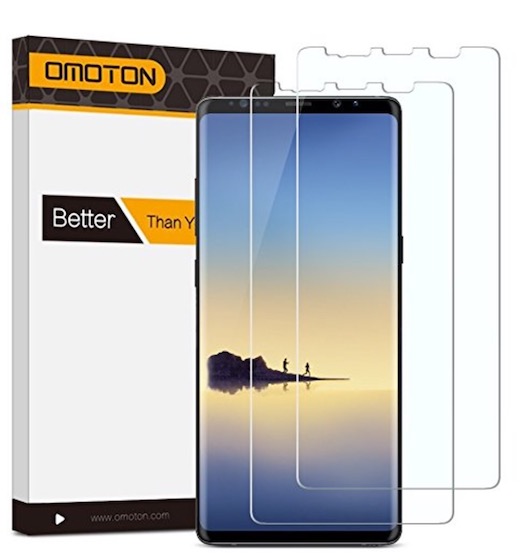 Buy From Amazon: ($7.99) (Pack of 2)
8. Herhea Tempered Glass for Galaxy Note 8
Herhea tempered glass has all those features which you expect from a good tempered glass. It is hard, has both oleophobic and hydrophobic coating, is compatible with most cases and is ultra thin. This also covers a 100% of the screen to provide full coverage and has extremely good transparency. It also retains high touchscreen sensitivity, and preserves your phone's original high-response touch feeling, without any interference. To wrap up the package, it is also pretty reasonably priced.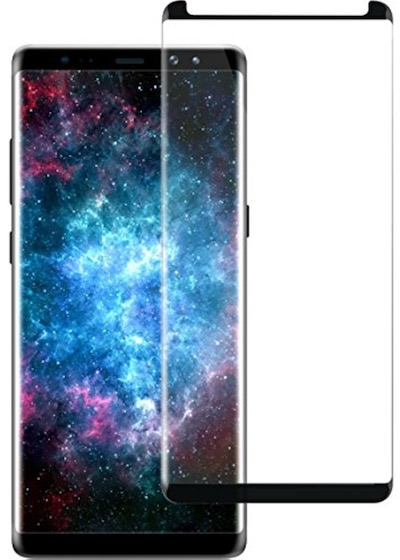 Buy From Amazon: ($8.89)
9. G-Color Wet Applied Galaxy Note 8 Screen Protector
This is another good wet applied screen protector for your Galaxy Note 8. It is a simple screen protector and isn't a tempered glass. This means that it will protect your device's display from scratches and scuffs but will not be reliable in case of drops. Since this is a wet applied screen protector same as before you will have to be a little more careful while installing it. If a few bubbles remain after installation then don't worry as they will vanish within 24 hrs as soon as the screen protector drys out.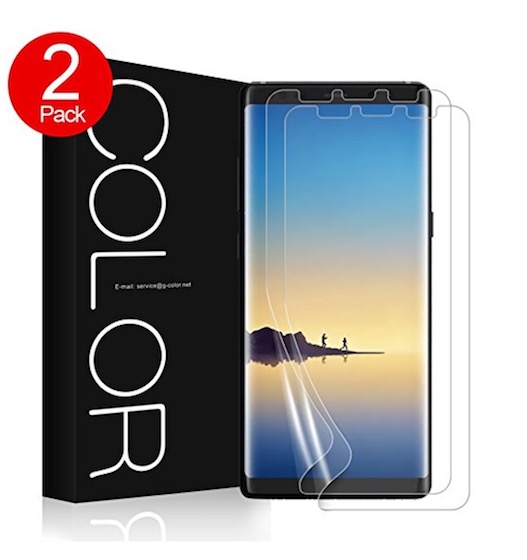 Buy From Amazon: ($8.99) (Pack of 2)
10. HYAIZLZ Privacy Screen Protector For Galaxy Note 8
The last one the list is the most unique screen protector on our list. This one is a privacy screen protector which protects your privacy by not allowing others to peek at your phone while you are using it. It does that by completely restricting the viewing angles, which makes sure that no one sitting beside you have any clue as to what's on your display. However, this protection comes with a caveat. The transparency of the screen protector will be limited and hence your display will not look as clear as with other screen protectors on this list. That's why this is the last one of the list. If you need the protection you should get it, otherwise don't even think about it.
Buy from Amazon: ($16.88)
SEE ALSO: 12 Best Samsung Galaxy Note 8 Cases and Covers You Can Buy
The Best Samsung Galaxy Note 8 Screen Protectors
As I mentioned above, Note 8's display is a beauty to behold. Maybe the only display that comes even close to Note 8's display is the POLED display on LG V30. Hence, you should protect it using a screen protector. We have compiled a list of the best screen protectors for you and you should choose the one based on your requirements. For example, some of you might prefer a dry-applied screen protector than a wet one and vice-versa. Choose the one that best fits your needs and protects your Note 8's precious display. When you are done with choosing and ordering, let us know your picks in the comments section below.