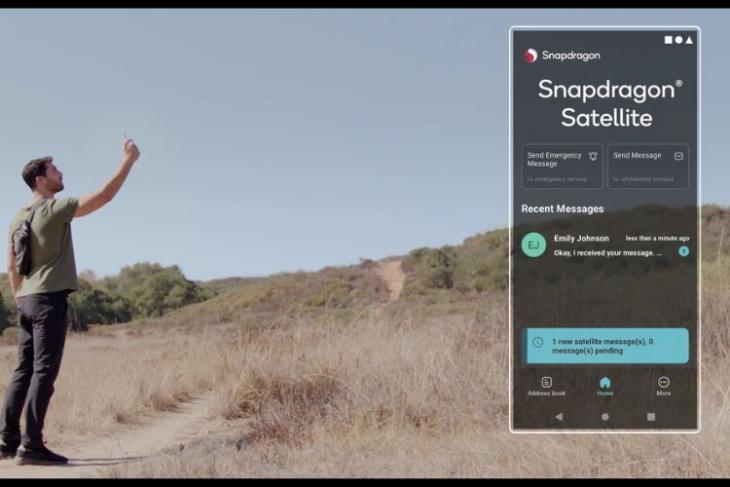 Back at CES 2023, Qualcomm introduced Snapdragon Satellite for Android phones to enable communication anywhere on Earth in emergency situations. And now, Qualcomm has announced the first few takers of the technology with an aim to soon implement the same on future smartphones. Check out the details below.
Xiaomi, Vivo, and More Collaborate with Qualcomm
Qualcomm, at MWC 2023, announced that it has partnered with Xiaomi, Oppo, Vivo, Motorola, Nothing, and even Honor to introduce satellite communication to their phones soon.
This will be enabled by Snapdragon Satellite, which is a two-way messaging service, which aims to deliver truly global coverage from pole to pole. This even supports third-party messaging platforms. To recall, Apple first brought satellite communications to the iPhone 14 series but it doesn't support third-party apps.
For this, Qualcomm has collaborated with Irium, which is a global satellite communications company. Snapdragon Satellite is backed by Snapdragon 5G Modem-RF Systems and Iridium's satellite constellations.
Francesco Grilli, vice president of product management at Qualcomm Technologies, Inc, said, "By incorporating Snapdragon Satellite into next-generation devices, our partners will be able to offer satellite messaging capabilities thanks to a mature and commercially available global LEO constellation, which can allow subscribers around the world to communicate outdoors with emergency service providers, as well as family and friends."
Qualcomm also plans to bring this tech to laptops, tablets, vehicles, and IoT-backed devices. Plus, it soon wants to support 5G Non-Terrestrial Networks (NTN). We are expecting Android phones to start getting satellite connectivity by the end of this year.
However, there's no word on when this will begin happening. None of the OEMs has provided any information regarding this. So, it's best to wait for more updates to arrive. Therefore, stay tuned!