At the Build 2021 developer conference, we didn't see a lot of Windows-related announcements. But, Microsoft CEO Satya Nadella confirmed that the "next generation of Windows" is coming soon. That's primarily because the next Windows 10 update codenamed Sun Valley (21H2) deserves a separate event given how dramatically it is expected to change the operating system. In fact, Microsoft even canceled Windows 10X and shifted its focus to Windows 10 earlier this year. While we expect Microsoft to host an event in the coming weeks, here's everything you need to know about the next big Windows 10 update, including the release date, new features, compatible devices, and more.
Windows 10 Sun Valley: Everything We Know So Far (2021)
If you consider the massive changes in the upcoming update, the executives at Microsoft, including the company's CEO and Chief Product Officer Panos Panay, are right in calling Windows 10 21H2 update the "next generation of Windows". Do you think it will be called Windows 11? Well, let's find out. Without further ado, here's what the second major Windows update for 2021 will have in store for us.
Windows 10 Sun Valley (21H2): Release Date
[UPDATE | 3rd June, 7:30 PM IST] – Microsoft has confirmed that the "next version of Windows" will officially be unveiled on June 24 at 11:00 AM ET (or 8:00 AM PT, 8:30 PM IST). It is expected to be a "significant update," as hinted by Microsoft CEO Satya Nadella at Build 2021 and CVP Yusuf Mehdi in a recent tweet. The teaser image (shown in the tweet below) has caused a stir among Windows fans, with many suggesting that the light seeping through the Windows logo forms the number 11. Could that mean that the next version of Windows will be Windows 11?
Join us June 24th at 11 am ET for the #MicrosoftEvent to see what's next. https://t.co/kSQYIDZSyi pic.twitter.com/Emb5GPHOf0

— Windows (@Windows) June 2, 2021
Microsoft typically releases two major updates for Windows 10 every year. Starting with the May 2019 update, Microsoft stopped using confusing marketing names such as Anniversary Update, Creators Update, or Fall Creators update. Instead, it opted to include the month's name in the update. Thanks to this, we now have sane names like Windows 10 May 2020 update and Windows 10 October 2020 update.
Microsoft has already started rolling out the Windows 10 May 2021 (21H1) update with minor improvements. 21H1 is a minor update because the development team is focusing on the forthcoming Windows 10 21H2 update. Going by past update timelines, we could expect Microsoft to release the 21H2 update in October this year, with Insider builds expected next month.
Windows 10 Sun Valley (21H2): Complete Timeline
If you want to learn the sequence in which the events will happen, here's a complete timeline for the upcoming Windows update:
Windows 10 21H2 Launch Date – Microsoft has confirmed that it will unveil the Windows 10 Sun Valley update on June 24.
Windows 10 21H2 Preview build Release Date – As per leaks, citing code references in preview builds, Microsoft will likely roll out the first Windows 10 21H2 preview build sometime in June. Insiders in the Dev Channel will be the first to get a taste of the new design overhaul (discussed below).
Windows 10 21H2 Stable update Release Date – As we discussed above, the company usually rolls out the second Windows 10 update in October each year. So yeah, that's when you should expect to receive the stable 21H2 update.
Windows 10 Sun Valley (21H2): New Name?
Following Azure's nomenclature, Microsoft names development cycles (semesters) for Windows based on elements in the periodic table. Cobalt is the semester name for January to June 2021 development period, and that's why you might have heard that Sun Valley is developed in the Cobalt release as well. Does this complicated naming scheme affect you as an end-user? Of course not.
Unless Microsoft wants to create a new marketing mess by calling the upcoming Sun Valley update something along the lines of Windows 11, we could expect the Redmond giant to release the update as "Windows 10 October 2021 update" with the codename 21H2. Also, the company previously said that Windows 10 is the last version of Windows and that it will "build, deploy, and service Windows: Windows as a service" going forward. So yeah, the next major update will likely be called Windows 10 October 2021 Update.
[UPDATE | 3rd June, 7:30 PM IST] – First, Nadella calling Sun Valley "one of the most significant updates of the past decade" at Build 2021. And now, with Microsoft organizing a standalone event to unveil the next version of Windows, the rumors of Sun Valley being called Windows 11 are at their peak right now. Do you think the same? Will Windows 10 21H2 officially be named Windows 11? Well, Rupesh from your team certainly thinks so. Check out his views on the upcoming update here:
Windows 10 Sun Valley (21H2): Supported Devices
Given the diverse ecosystem of Windows 10 devices, compiling an exhaustive list of supported devices is almost impossible. However, if your Windows PC or laptop is getting recent Windows updates, it's safe to assume that your computer is eligible for the 21H2 update. As always, it might take a few weeks for the update to reach your system to avoid compatibility issues.
Oh, and if you have been using an old Windows 10 build, you will first have to install key pending feature updates for the 21H2 update to show up on the Windows Updates page.
Windows 10 Sun Valley (21H2): New Features, Leaks and Rumors
UI Overhaul with Rounded Corners
The most attractive aspect for Windows 10 users in Sun Valley update will be the visual overhaul. You could expect rounded corners across key elements in the operating system, ranging from the start menu and apps to the jump list menu. Microsoft is also going for a floated start menu design this time around. It could look somewhat like what Windows Central's Zac Bowden tweeted below:
This joins the rounded/floating Start menu design that I posted about a few weeks back https://t.co/GeLidgd0Xh pic.twitter.com/ARcDjVMjTJ

— Zac Bowden (@zacbowden) February 15, 2021
New Action Center
One of my favorite Windows 10X features was the redesigned Action Center that's more functional and visually pleasing at the same time. Notably, you don't have to open the Settings page to switch Wi-Fi networks or Bluetooth devices on Windows 10X. Instead, you can simply expand these menus without leaving the Action Center. That is a huge usability improvement, and now that Windows 10X will no longer see an official release, we could expect a similar implementation on Windows 10 21H2. If you want to see how it will work, follow our detailed guide to learn how to install Windows 10X on your PC right now.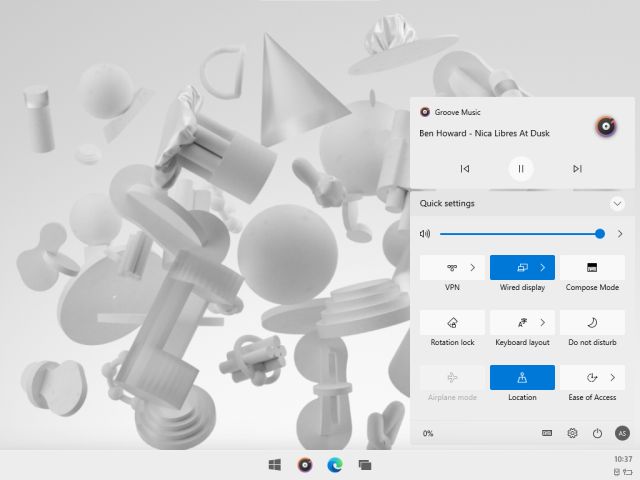 Meanwhile, the notifications are stacked in a distinct panel above the quick settings panel. Moreover, there will be a 'Clear All' button to quickly dismiss all pending notifications. Microsoft may even add a dashboard in the Task View to keep track of your Microsoft account and upcoming events.
Redesigned Microsoft Store
Having refreshed the Xbox store in August last year, Microsoft is all set to unveil a much-needed refresh to the Microsoft Store as well. As per Windows Central's sources, the new Microsoft Store will flaunt a modern interface and be more open to users and developers. This goes in line with what Satya Nadella said at Build 2021. According to him, the update will "unlock greater economic opportunity for developers and creators."
As per Windows Central's report, the new Store will let developers submit unpacked Win32 apps, host apps & updates on their own content delivery network (CDN), and make it possible for developers to use third-party commerce platforms in apps. These are all exciting changes from a developer's perspective and should hopefully make Microsoft Store the one-stop destination for all apps. Are we finally going to stop ignoring Microsoft Store? Well, it sure sounds like it.
Battery Usage Graphs
According to reputable Windows tipster Albacore, Windows 10 will get battery usage graphs with Sun Valley update. Here, you can see the battery usage for the last 24 hours and the last 7 days. This page also shows you the overall screen on time, screen off time, and sleep time. Now, this is a common feature in Android and iOS smartphones, but with ARM-based Windows laptops coming into the picture, it makes total sense for Microsoft to add a battery usage tracking feature in the upcoming update.
Colorful File Explorer
Remember when Microsoft teased a new Windows 10 UI in its 1 billion users celebration video? While Microsoft has brought some changes showcased in the video, such as the new Start menu with the Windows 10 20H2 October update, we are still waiting for the new colorful icons for File Explorer. Here's how the File explorer looks in a recent Insider build: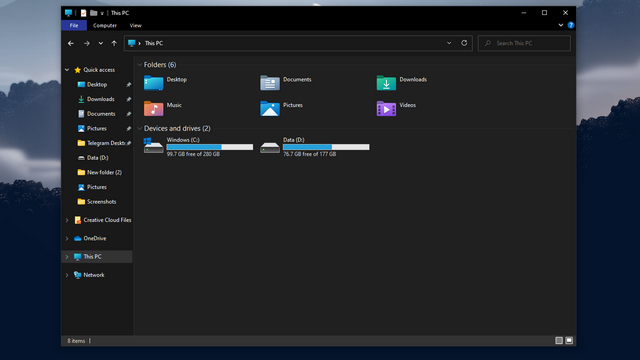 Apart from File Explorer, Windows will also get rid of Windows 95-era icons and replace them with modern icons in Windows Shell. While this won't make a huge difference, it will be a neat touch to uplift the overall aesthetic.
Bluetooth Audio Improvements and AAC Support
With the next update, Windows will stop showing multiple endpoints for Bluetooth headsets and will automatically switch profiles. If you are not sure what that means, check out the image below. As you can see, the volume dropdown on the right doesn't have an additional 'hands-free AG Audio' option for the same headphone. While this isn't a huge change, it's a neat touch to reduce visual complexity and avoid any unnecessary confusion for users.

Another subtle yet useful improvement with the upcoming Windows update is the presence of AAC support. Going forward, Windows will work better with Bluetooth headphones, including Apple's AirPods lineup. Speaking of Apple's headphones, I really hope Apple steps up and releases an official Apple Music app for Windows 10 right in time for the Sun Valley update. Apple was spotted hiring developers for building the "next generation of media apps for Windows" back in November 2019. Releasing these apps when Windows is getting a visual refresh seems like the right move, but we will see if it happens.
Eco Mode
First introduced for Insiders in April this year, Eco mode is an upcoming feature to help improve battery life on Windows 10. It essentially does this by restricting resource-heavy apps and processes in the background. As of Windows 10 Insider Preview Build 21387, Microsoft has temporarily disabled Eco mode to refine the experience. However, we could expect the company to officially make it available to all users on Windows 10 21H2.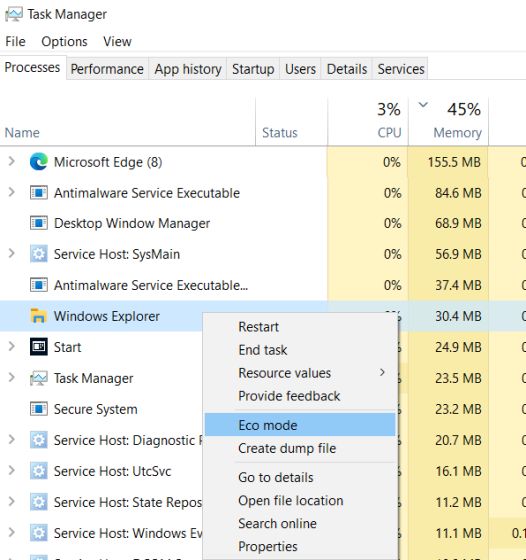 Gestures on Tablet Mode and Touch Keyboard Themes
Have you always wanted to navigate Windows with touch gestures on tablet mode? It looks like Sun Valley will make that possible. Much like trackpad gestures, Windows Central reports that you can use touchscreen gestures for actions like minimizing app windows and switching apps.
On a similar note, Microsoft is improving the personalization features of the touch keyboard. You will soon be able to set themes for the touch keyboard. Microsoft recently added eight wallpapers for the touch keyboard in an Insider build. But, we will see them in action on Sun Valley. Albacore even revealed that Microsoft plans to add some touch keyboard customization features to the Settings app.
HDR Support in Apps and Auto HDR
As revealed first with Windows 10 Insider Preview Build 21382, Microsoft is bringing HDR support to apps that use International Color Consortium (ICC) display color profiles. This includes Adobe Photoshop, Adobe Lightroom Classic, and CorelDraw, among others. To enable it, right-click on the app's icon and choose Properties -> Compatibility -> Use legacy display ICC color management.
Another feature in the works is Auto HDR. According to Microsoft, Auto HDR for PC expands the color/ brightness range up to HDR for thousands of DirectX 11 or DirectX 12 SDR-only games.
Run GUI-based Linux Programs
At Build 2021, Microsoft announced support for Linux GUI apps on Windows Subsystem for Linux (WSL). Windows Subsystem for Linux GUI (WSLg) is currently available on Windows 10 Insider Preview build 21362 and newer. Microsoft says WSLg will be generally available alongside the upcoming Windows 10 release, which is 21H2. Meanwhile, you can follow our guide to run GUI-based Linux Programs on Windows 10 right now.
Uninstall Built-in Apps
If you are someone who loves to speed up Windows by uninstalling built-in apps, you are going to love this new feature. According to Windows Central, the list of uninstallable apps on Windows 10 is "going to grow significantly" with Sun Valley. It's nice to see Microsoft making an effort to give users the flexibility to choose the native apps they want on their PC. We will have to wait and see how vast the list of uninstallable apps is going to be.
Fix for Unexpected App Rearrangement
To sum up the list of features, we have Rapid Hot Plug Detect. If you have ever used your Windows 10 PC or laptop with an external monitor over a DisplayPort connector, you might have noticed that apps automatically group to a single monitor after you wake your device from sleep state. Microsoft has finally addressed this issue, and the apps will stay where they are, and you can pick up right where you left off going forward.
Windows 10 21H2: Next Generation of Windows
So, that brings us to the end of everything we know about the forthcoming Windows 10 Sun Valley (21H2) update so far. With Panos Panay saying he wants users to love Windows and not just need Windows, the expectations for the next Windows update are high among Windows enthusiasts. Are you looking forward to the Sun Valley update? What new features do you want to see in the next update? Do share your thoughts with us in the comments section below.
---
Load More