Hello loyal readers across the globe! Thank you for the amazing response to our Moto 360 giveaway, we are surely humbled. As promised, we are back with another giveaway and this time we are giving away a cool new Intel Compute Stick. For people unaware of the Intel Compute Stick, it's a portable PC stick that can transform any display or TV into a computer. Sounds interesting, right? Well, here's your chance to win one.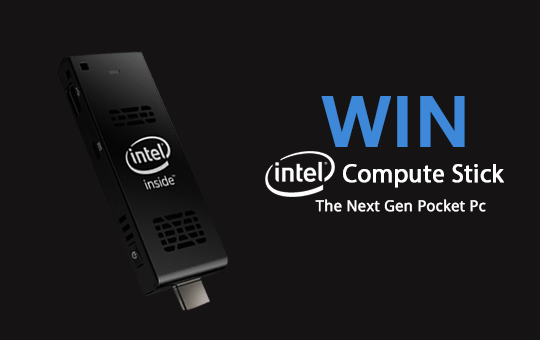 Win Intel Compute Stick with Beebom
There are different flavors of the mini computer stick available but we are giving away what we think is the best combo, that is the Intel Compute Stick (STCK1A32WFC) with Windows. It features Windows 8.1 with Bing but you can easily upgrade to Windows 10. This version of the Compute Stick packs in a Quad-Core Intel Atom Z3735F processor with Intel HD integrated graphics coupled with 2 gigs of DDR3L RAM. There's also 32 GB of eMMC storage with a microSD slot for expansion. On the connectivity front, the stick features integrated WiFi, a USB 2.0 port, HDMI and Bluetooth 4.0. So, all set to turn your HDTV or any other display into a Windows computer?
Here's how you can enter the Giveaway
The rules are same as our last giveaway. This again is an International giveaway, so no matter where you are located, you can participate. Entering the giveaway remains the same as well. You have to do a few tasks or actions listed in the Gleam plugin below. Each action brings you an entry as well as some points, which can help you win. Here are some important points you should keep in mind:
You get points for each action you complete through the plugin below.
Bonus points for completing all the actions.
Referral points if your friends take part through your link.
More the points, more your chances of winning.
The giveaway starts today and ends on 11:59 PM IST on 28 February 11:59 PM IST on 6 March.
The winner will be chosen at random between people with the highest points.
Once we pick our winner, we will contact him/her through Facebook or Twitter, so it's important you don't use fake accounts to enter.
Note: As per the request of many users, we have decided to extend the Giveaway for one more week. This will make sure more of the interested ones will be able to participate. Along with that, as a matter of fact, there won't be any further extension. So, hurry up!
Just like we promised the last time around, we would again like to reiterate that we will be constantly hosting some great giveaways for you. You can even go ahead and suggest a gadget you want to see in the next giveaways. Let us know in the comments section and don't forget to share this post. Also, stay tuned for our Intel Compute Stick review. Without wasting any more time, go ahead and participate in the giveaway below.
Here's the lucky winner with his brand new Intel Compute Stick!