Hey y'all, it's another month and it's time for another cool giveaway! Firstly, we are humbled by the amazing response to our last Chromecasts giveaway and we would like to congratulate Sanjeet and Silvano for the win. As promised, we are back with another cool giveaway and this time we are giving away the very cool Kindle Paperwhite. Now, that's something you'd really like to win, right? So, read on to know how you can win everyone's favorite e-reader.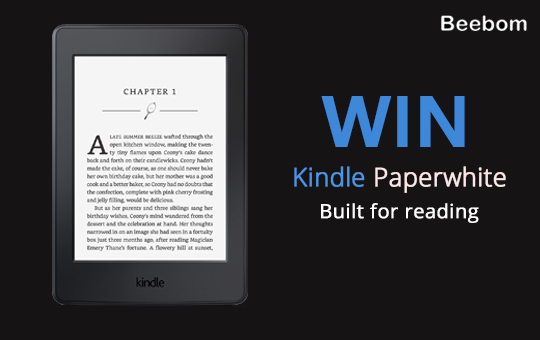 Win Kindle Paperwhite with Beebom
The Amazon Kindle Paperwhite has been the most loved e-book reader out there for years and its latest iteration makes it even better. We are giving away the latest version of the Kindle Paperwhite e-reader that packs in a high-resolution display and much more.
The new Kindle Paperwhite features a high resolution 6-inch display, which packs a punch at 300 ppi pixel density. The display also includes Carta e-paper technology, built-in light and it all looks lovely with Amazon's cool new Bookerly font. Other than that, the e-reader includes 4 GB storage, which can hold thousands of books, plus there's free cloud storage for all the amazing Amazon content, so don't worry about running out of storage. There's also WiFi as well as 3G support and a battery that lasts weeks (Yes, you read that right!). To sum things up, if you love reading e-books, the new Kindle Paperwhite is unarguably the best value for money Kindle. Ready to win one?
Here's how you can enter the Giveaway
This again is an international giveaway, so no matter where you live across the globe, you can participate and we will make sure the Kindle Paperwhite reaches you wherever you are, if you win. Chances are, you already know what to do but we'd like to reiterate for our new readers. To enter the giveaway, you have to do a few simple actions/tasks through the Gleam plugin below. Every action brings you points and the more tasks you do, more your chances of winning. Simple, right? Well, here are a few important points you should know:
You get points for each action you complete through the plugin below.
Bonus points for completing all the actions.
Referral points if your friends take part through the link you share.
More the points, more your chances of winning.
The giveaway starts today and ends on11:59 PM IST on 26 April 11:59 PM IST on 3 May.
The winner will be chosen at random between people with the highest points.
Once we pick our winner, we will contact him/her through Facebook or Twitter, so it's important you don't use fake accounts to enter.
Update: The Giveaway is extended for one week. If you haven't participated yet, now is the time you should.
So, go ahead and participate in the giveaway now and don't forget to share this post among your friends and family. Well, that's all from our side, we'll be back next month with another cool giveaway, so be sure to check that out. Also, let us know if you have any suggestions for the upcoming giveaways. We certainly love to hear from you, thanks for reading!
Kindle Paperwhite Giveaway