Discord is by far the best gaming chat service out there and if you are a gamer, chances are that you are using it every day. Discord offers both voice and text-based chat services and I know a good number of people who use voice changer programs to change their voice while talking on Discord. Some people do it for privacy reasons and some do it just for fun. Whatever your reasons might be there's no one denying the fact that it's a good tool to have in your arsenal. So, if you are interested in changing your voice while using Discord, here are the 5 best voice changer for Discord that you can use.
Best Voice Changer for Discord
1. Voicemod
One of the most popular and best voice changer programs that you can use on Discord is Voicemod. Not only the service provides you with tons of different voices but it also makes it pretty easy to use. Apart from Discord, Voicemod can also be used with other voice chat services including Skype, PUBG, Fortnite, Hangout, Mumble, and more. Voicemod effects also sound more natural than most other voice changer apps that I have tried. My favorite voice mods include the cave, cathedral, possessed, and kong among others. There are literally hundreds of mods to choose from, so install the app and get your voice mods on.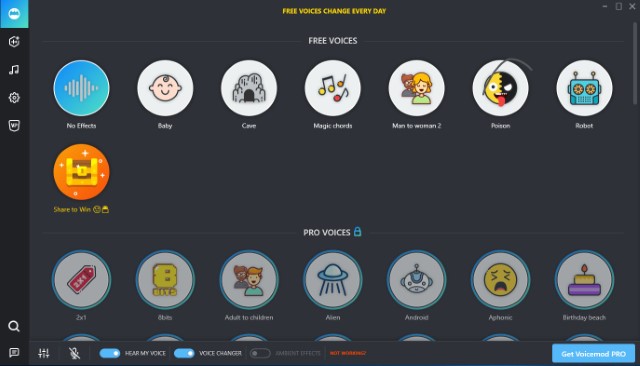 Supported Platforms: Windows
Pricing: Free trial, $14.99
2. AV Voice Changer Software
AV Voice Changer Software is professional grade voice changer software which you can not only use in real-time with services like Discord and Twitch but also use it to record your morphed voice and edit it in waveform to make it more natural. The software allows you to easily access and modify every characteristic of your voice. Your voice can sound deeper, higher, younger, older, more feminine, more masculine, more robotic, or modified in any way you like. The software also comes with the advanced virtual driver technology which makes it compatible with most VoIP program, role-playing games, and web chat applications. It is available in three different versions; Basics, Gold, and Diamond which you can choose from depending on your budget and requirement.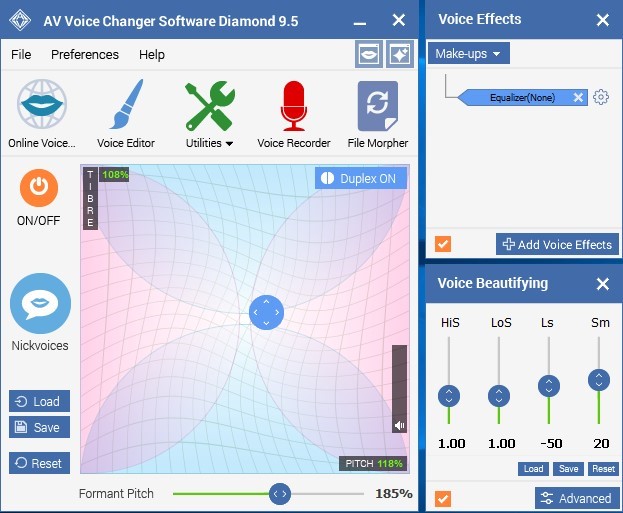 Supported Platforms: Windows
Pricing: Free trial, $29.95/Basic, $39.95/Gold, and $99.95/Diamond
3. ClownFish
ClownFish is a free voice changer for Windows that you can use to change your voice while chatting on Discord. ClownFish can be installed at the system level so any application that uses your microphone can be made to use your modified voice. So, apart from Discord, you can use ClownFish in apps like TeamSpeak, Mumble, Steam, Skype, Hangouts, and more. While ClownFish cannot match the number of voice mods provided by applications like VoiceMod, the effects that it does bring are fairly nice. The effects list include Alien, Atari, Robot, male, female, baby, and radio among others. The app is also pretty easy to set up and use. If you are looking for a free voice changer program for Discord, this might be the one.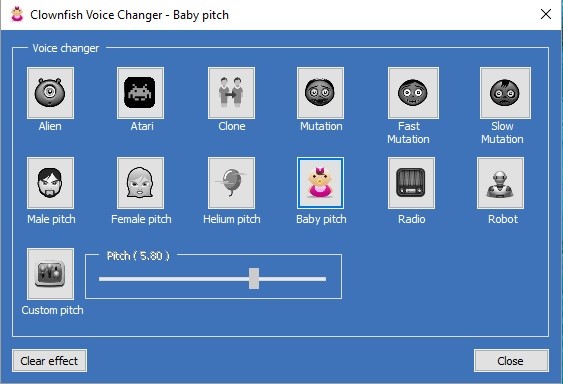 Supported Platforms: Windows
Pricing: Free
4. MorphVox Jr
MorphVox Jr is a free audio effect tool that can change your voice. You can use the built-in voices and sound effects to sound like a man, woman, child, robot, or any of the other supported voices. You can use this free voice changer program to change your voice from man to woman and vice versa. The software analyzes your voice to perform the optimal voice change effects so you sound as close to normal as you can. There are some drawbacks to using this freee app though. The first drawback is that it is supported by ads. The second and more important drawback is that it is not as simple to set up to work with Discord as some of the other voice changer software on this list. You should use it only if you want better sound quality and are ready to spend hours on figuring out its set up.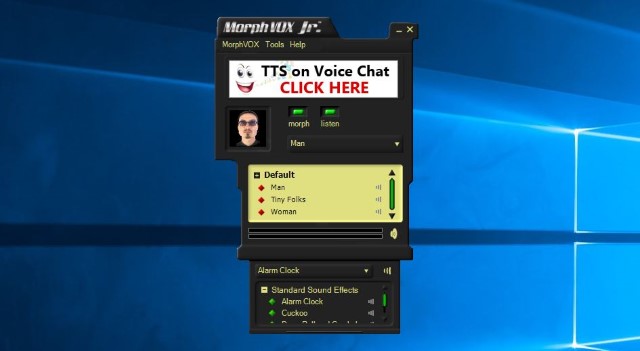 Supported Platforms: Windows
Pricing: Free
5. Voxal Voice Changer
The last program on our list is the Voxal Voice Changer which brings a ton of powerful voice changing features. Not only it allows you to record voice in real-time but it also allows you to apply effects to already recorded voices. When using with Discord, you can use it in real-time and there's no time delay so you can talk on Discord without sounding out of sync. The app also has a huge effects library which includes robot, girl, boy, alien, atmospheric, echo and many more. Apart from Discord, the app works with all voice chat services including Skype, Hangouts, and more. Overall, this is a great voice changer app for Discord.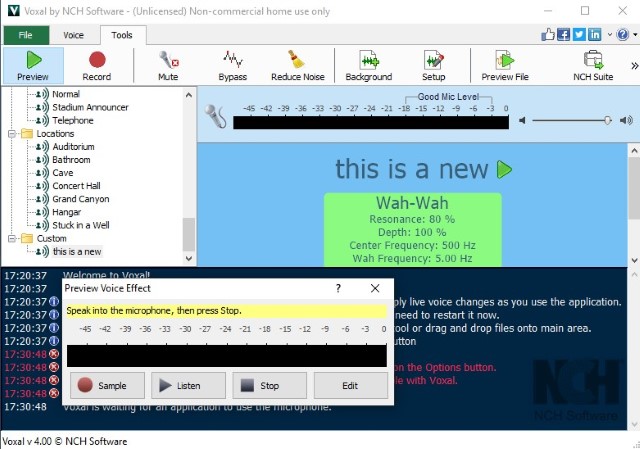 Supported Platforms: Windows and Web
Pricing: Free trial, $29.99
SEE ALSO: 8 Best Discord Music Bots You Can Use
Troll Your Friends and Protect Your Identity with Voice Changer Apps
The voice changer apps are really fun to use and since I have started using them, I barely go online on Discord without launching them first. With these voice changer apps for Discord you can have some fun with your friends, and they are awesome for streamers as well, who might want to add some funny stuff to their streams with these. Do check these apps out and let us know which is your favorite app among them all by writing in the comments section below.