Vivo has announced that its Apex 2020 Concept Smartphone will be officially unveiled in Beijing, China, on Friday, February 28. The device was officially expected to be announced at the MWC 2020 tech show is Barcelona this week, but the event had to be cancelled because of concerns surrounding the novel coronavirus outbreak. In an official statement, Vivo said that the device will offer an insight into how the company believes mainstream mobile phones will look like in 2020.
The company has also released the first teaser for the smartphone, showing what the company says is a 6.45-inch display with a 120-degree curvature. Another image shows the back of the phone with a circular camera housing that's becoming increasingly popular since it was adopted by the Huawei Mate 30 and Mate 30 Pro last year.
Other expected specifications for the phone include a telephoto camera with a 5-7.5x zoom feature, and what Vivo is calling a 'gimbal camera' — hinting at video stabilisation. The rest of the tech specs are still under the wraps, but we should hopefully get more info in the next few days.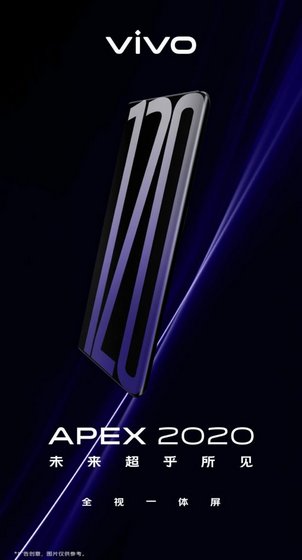 Vivo has been showcasing some of its concept smartphone designs under the 'Apex' branding since 2018. Earlier Apex devices were among the first smartphones to have given us a glimpse at new age design features such as in-display fingerprint scanners and pop-up selfie-cameras, so it will be interesting to see what the next-gen Apex brings to the table this week.
While Vivo doesn't sell its Apex smartphones commercially, many of the features showcased in these devices typically trickle down to the company's production devices later in the year. The pop-up selfie camera and in-display fingerprint scanners have already found their way to a number of devices over the past couple of years, so it will be cool to see if that happens with some of the innovative features in the Vivo Apex 2020.
Update 1 (26/02/2020 4:30 pm)
Vivo has now posted more teaser images showing off the Vivo Apex 2020 concept phone. The new images confirm that the Apex 2020 will come with a notch-less waterfall display, 48MP Gimbal camera, and 5-7.5x Optical Zoom.