Once upon a time, a geek began making a list of all the Bluetooth speakers available online, put elaborate tools like MS Excel to work, and successfully completed the list with time left for a wholesome cup of tea.
Of course, this is a fictitious story and completing that list in spite of countless cups of crappuccinos or herbal teas is not achievable without a loss of sanity. But with that said, there are certain brands that have clenched my attention and Logitech's Ultimate Ears, or fondly called UE, is one of them. And today, we'll be taking a good glance at the great features of the Ultimate Ears WONDERBOOM Wireless Bluetooth speaker (Rs. 4,999).
The Ultimate Ears WONDERBOOM is solidly built and with the shape which might remind you of Jigglypuff (if you didn't sleep while listening to it sing), it throws sound across a 360-degree sweep that will not only astound you at first but, also make you fall in love with it soon after. The Bluetooth speaker is not only loud and well-built, it also has a powerful bass that is capable of blowing your mind (literally, if you're sitting in a small room).
And there's a lot more to the songs of the WONDERBOOM's praises, but let's first take a look at its specifications.
Specifications
For those of you looking for technical details about the Ultimate Ears WONDERBOOM, here are the numbers that might arouse the statistician in you. For others who don't wish to wait, may skip to the next section.
Frequency Response
80Hz - 20kHz
Battery
Li-ion
10 hours (Music)
<3 hours (Charging Time)
Wired Connections
None
Noise Cancellation Technology
None
Charging Port
Micro USB
Price
Rs 5,995
Box Content
I love the peculiar packaging and the indulging way in which this sound beast await to be unlocked and unleashed. Here's what all the box comes with:
Ultimate Ears WONDERBOOM
Micro USB Cable for charging
Instruction manuals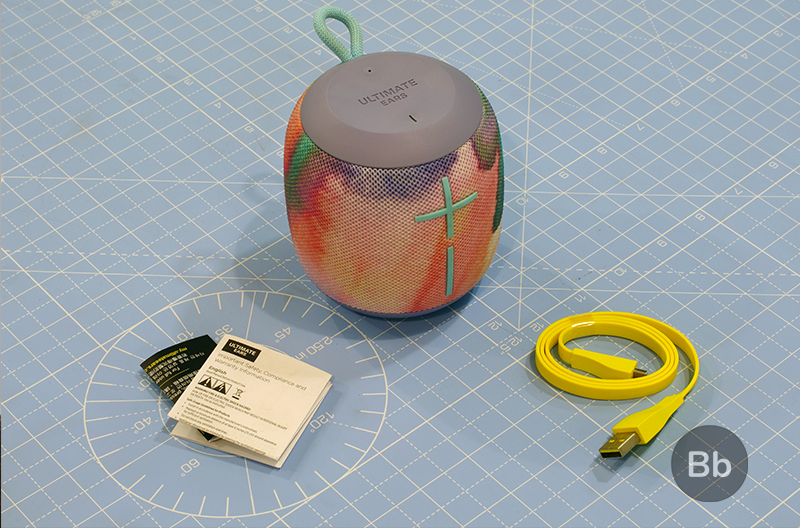 There are instructions printed inside the box with a straightforward and quirky diagram and that eliminates the need for paper manuals. Besides the weight of thought gone into the packaging, I really like the lemon yellow flat charging cable. The unboxing experience game a surprise and that too a pleasant one. Keeping the packaging aside, let me start by telling you more about the design and built quality of the UE speaker.
Design and Build
The Ultimate Ears WONDERBOOM is a chunky speaker which comes in a somewhat cute barrel shape. My initial thoughts about the Bluetooth speaker were that it is much bigger than it might appear in most pictures. Its diameter spans across almost 10cm and with a weight of 599g, the speaker is not particularly light – in fact, it feels quite heavy and not readily portable. UE is kind enough to add a flexible band which can be used to hand the WONDERBOOM using hooks on backpacks or walls.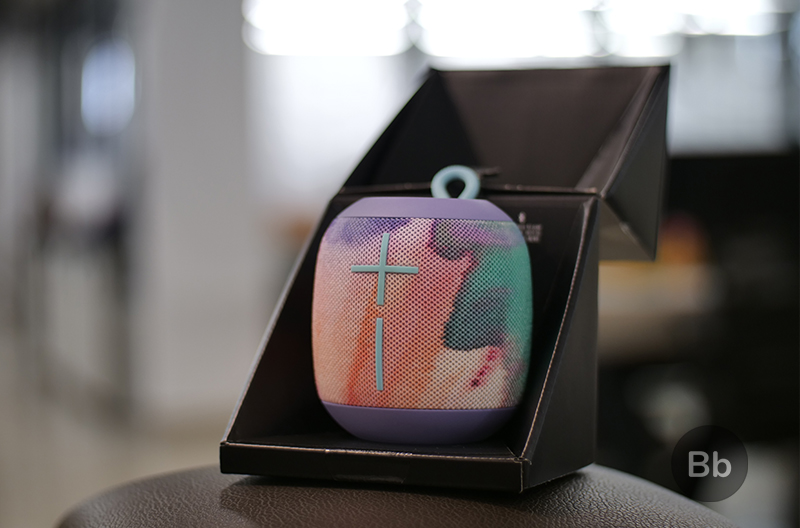 On the top of the WONDERBOOM lie two backlit buttons – one for power and the other for pairing. These are accompanied by a button hidden under the Ultimate Ears branding which can be used to play/pause a track with a single press or forward skip to the next one by pressing the button twice. The front features UE's signature buttons for volume up and down. The Micro USB port is tucked behind a thick rubber flap to protect it from water-related damage.
The speaker is claimed to be drop-proof and Ultimate Ears says you can hand it on bicycles handle or even on a cannonball without fearing the repercussions. In reality, the WONDERBOOM can bear drops from a maximum of 1.5m and given the tempting proposition, I did try dropping it down from a height of slightly more than a meter and it escaped without any signs of damage.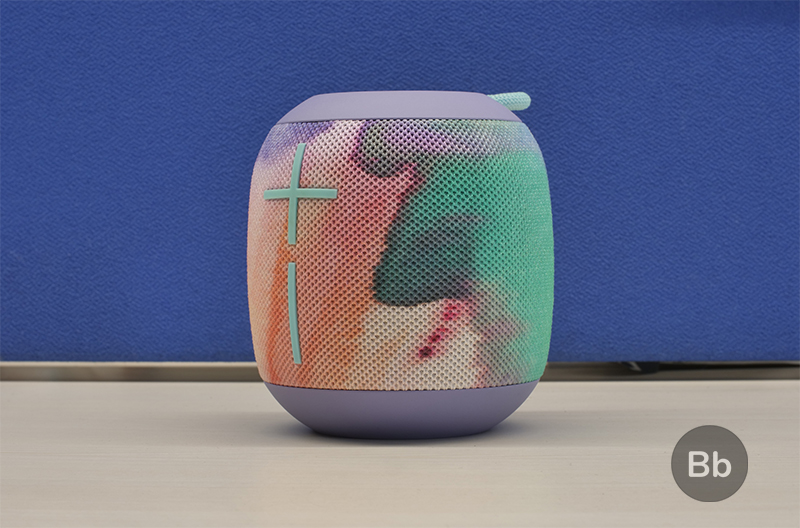 The Ultimate Ears WONDERBOOM is also IPX7 rated which means it is waterproof up to 30 minutes when for a maximum depth of 1 meter. The rugged build and its strength against water are what make the Bluetooth speaker highly attractive. But there are much more attractive factors which we'll discuss in the following sections.
Sound Quality
As I said earlier, the tough build and protection from water are not the only things that will snatch your attention. Sound exits the Ultimate Ears WONDERBOOM with a blast that will definitely blow your mind (I know I'm repeating this pun but my mind is still recovering from the detonative output). Nikhil, Beebom's chief wordsmith, calls this thing a grenade which I think is the appropriate metaphor as the sound comes out of the speaker like a shockwave.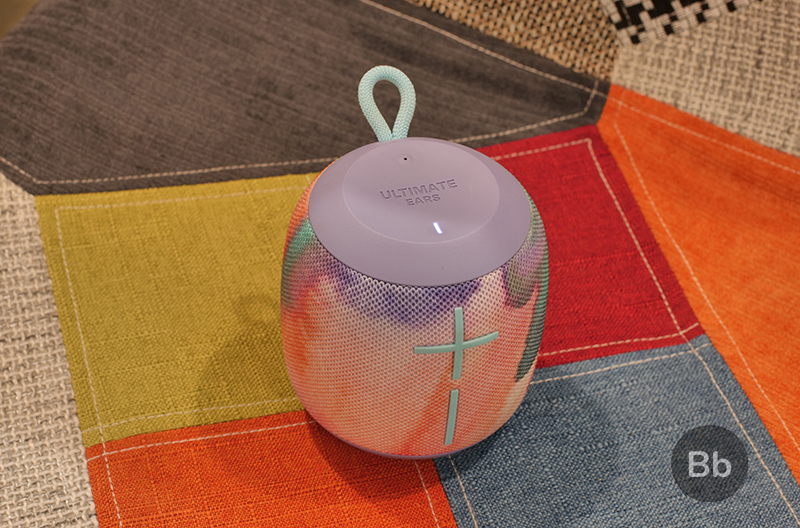 Firstly, the bass is strong to set anyone's heart racing and the maximum volume goes up to 87 decibels which is much louder than many table-top speaker sets. The 360-degree sound is truly astounding and the speaker does no less than a stunning job at sweeping listeners of their feet – it at least did so to me. I played songs from different genres to test the speaker's performance and came up with the following conclusions about its performance.
My sound test for the Ultimate Ears WONDERBOOM began with Prince's classic funky insurrection song Sign O' The Times, and went on to David Bowie's reactive narrative from Major Tom being caught in a Space Oddity, to more rebellious rhythms like Metallica's Seek and Destroy. I also prodded popular classics including Pink Floyd's Time, as well as took a glance at pop hits like I Took a Pill In Ibiza and some other great pieces of music from sources like Coke Studio like Ranjish Hi Sahi and Afreen Afreen. Of course, those are not the only songs I heard on the UE WONDERBOOM – I found myself venturing into new styles of music including a lot of Hindustani and Western Classic – and enjoying while I discovered new instruments.
From all the sounds that the speaker has thrown at me, I adored most of it. As I said, the speaker can get unbearably loud and has a strong and thumpy bass. When the volumes are under affordable levels, you can hear most of the music very clearly with an added touch of extra bass. As the volume increase, so does the beefy bass. While the sound is mostly rich and vivid, sometimes at higher volumes, the deep bass drowns other frequencies stealing the limelight from instruments whose sounds float in the mid and high ranges of sound.
Beside that honest fumble at overdoing the extra bass at crazy volumes, the Ultimate Ears WONDERBOOM never fails to amaze.
The only Bluetooth speaker which is close to the WONDERBOOM price-wise and has a competitive sound is the Zoook Rockers Torpedo speaker (Rs. 5997).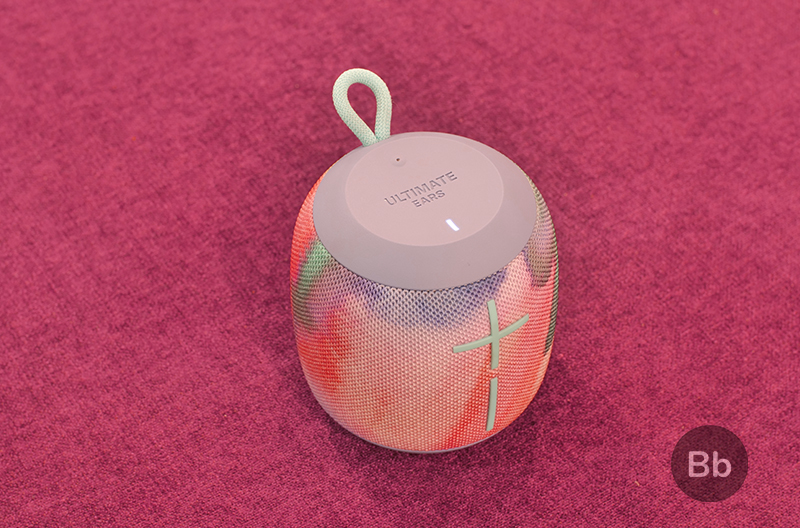 In spite of the homogenous sound output, you can clearly distinguish between the left and right channels, but that also depends on the quality of the mix. Thanks to the mind-boggling sound experience, I yielded to listening to music at no less than hi-res 320kbps as lower bitrates were not able to justify the sound quality.
The dense bass makes not only listening to music but also watching cinema or documentaries a cherishable experience. However, the bass does bite into narrations which sound sort-of overdriven, especially when the background track is bassy in itself. That, however, is mostly cured by reducing the volume. The box packaging marks that one can pair two WONDERBOOM speakers together for a more riveting and turbulent sound quality. We didn't have the chance to do that but if you plan to buy a pair, we'd love your experience on the same.
Battery
The battery inside the Ultimate Ears WONDERBOOM is another aspect that has not failed to excite me. The company claims a backup of nearly 10 hours and it performed better than the expectations. After charging the speaker once, I was easily able to let go of any concerns about charging it again for at least two days. Of course, I didn't manage to pull off a 48-hour backup because I was playing the speaker at intervals with extensive fidgeting.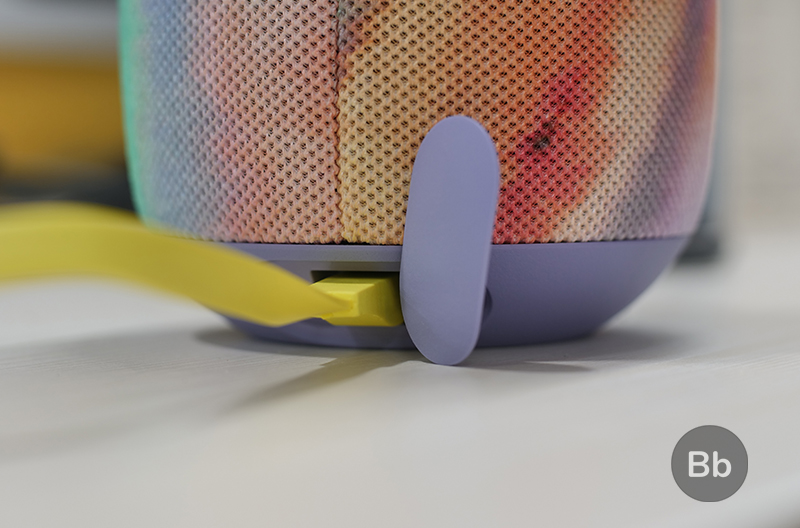 I did not have the courage put expose my ears to the ultimate sound test of draining the WONDERBOOM's battery by listening continuously but it can easily last around 12 hours. This is also because the speaker is also quick to turn off when it is not connected to any device and while this may annoy certain users who cherish uninterrupted connectivity, it is actually great for the battery.
To charge the WONDERBOOM, I used the supplied Micro USB cable with a 2A/4.5V charging brick. It took me slightly less than three hours to completely charge the speaker. Moreover, while there are no recommended rating or instructions for charging, I avoided using a charging brick with high wattage (or Fast Charging support). Overall, the battery – just like other aspects of the speaker – has been blissful.
Ultimate Ears WONDERBOOM: The Ultimate Powerhouse for Audiophiles?
I have been using the Ultimate Ears WONDERBOOM for nearly a week and while I prefer listening to music via headphones or headsets, the wireless speaker has come as a delightful surprise, urging me to listen to much more music out loud. I enjoyed every bit of my exposure to the wonderful and boombastic Bluetooth speaker. However, there are a few things that have frayed my experience a bit and I'd like to talk about those set-offs in this section. But let me take a selfie first talk about the benefits of the Ultimate Ears WONDERBOOM.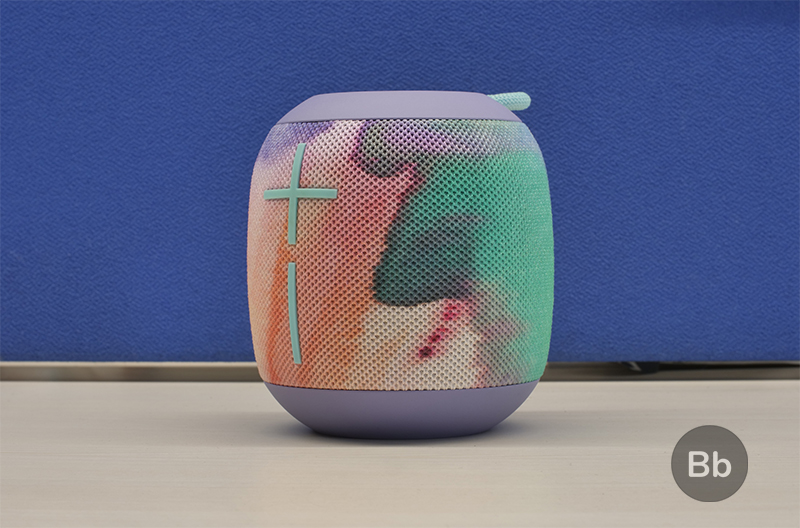 Pros
Earth-rambling bass
Connect with up to 2 devices at once
Clear audio
Stunning battery life
Waterproof and drop-proof
Cons
No AUX port
No microphone
A little heavy
Ultimate Ears WONDERBOOM Bluetooth Speaker: A Hulk With a Roaring Sound
I can wholeheartedly testify in the favor of the Ultimate Ears WONDERBOOM being among the most powerful and pleasantly surprising speakers.
The speaker has glass-shattering bass and is capable of being the ultimate party machine.
What's better is that you can pair two speakers and make your setup even heftier. The weight of the device might hinder its portability but allows it to stay put and not roll even when resting on its round surface.
The WONDERBOOM, in spite of its stunning sound, has a decent price tag attached to it. The Bluetooth speaker is available for a starting price of Rs. 4,999 via Amazon, although the prices may vary as per the colors.
At this price, the WONDERBOOM is a tempting buy if you can overlook the lack of an AUX port or its ability to use it for wireless commands to your favorite voice assistant. Other options in this price range include JBL Flip 3 (Rs. 4,999) and ZB-Rocker-3 from Zoook (Rs. 4,690) but I would still choose the WONDERBOOM for its great audio deliverance and trembling bass.
Buy the Ultimate Ears WONDERBOOM at Amazon (starting at Rs. 4,999)
REVIEW OVERVIEW

SUMMARY

WONDERBOOM by Ultimate Ears has both - the looks and the sound - of a beast. Besides great clarity, the Bluetooth speaker has a robust bass. The tireless battery which lasts around 12 hours enhances the overall experience and makes it a desirable product for the price.