To achieve maximum engagement on Twitter, you need to understand behavior of your audience and first step towards this is to know when your followers are online and tweeting. If you randomly post Tweets at any time of the day, you won't be able to reach your entire audience and you won't get optimum engagement.
To be able to connect with your audience in a better way, you must time your Tweets after analyzing your followers behavior. But, It ain't so easy to do that manually because your up time on Twitter may or may not coincide with your followers up time. So, the best way of doing this is by scheduling your Tweets.
Here are 5 free Twitter tools that you can use to schedule your Tweets.
1. Twuffer
Twuffer is one of the easiest tool available for scheduling of Tweets. Interface is quite simple to understand and It is completely free to use. You just need to log in with your Twitter account and start scheduling Tweets for future. It gives multiple time zone option which makes it easy to schedule Tweets for followers in different countries. It can be used with only account at a time.
2. Later Bro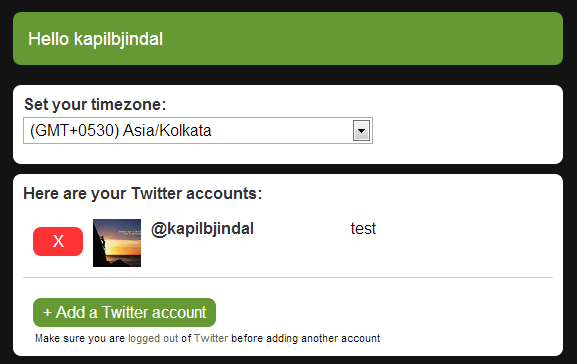 Later Bro is a free tool to schedule Tweets as well as Facebook updates. All you need to do is to login with your Twitter or Facebook account, choose timezone and start scheduling posts.
In Later Bro, you can add multiple Twitter accounts. If you are managing more than one Twitter account then Later Bro is best for you.
3. FutureTweets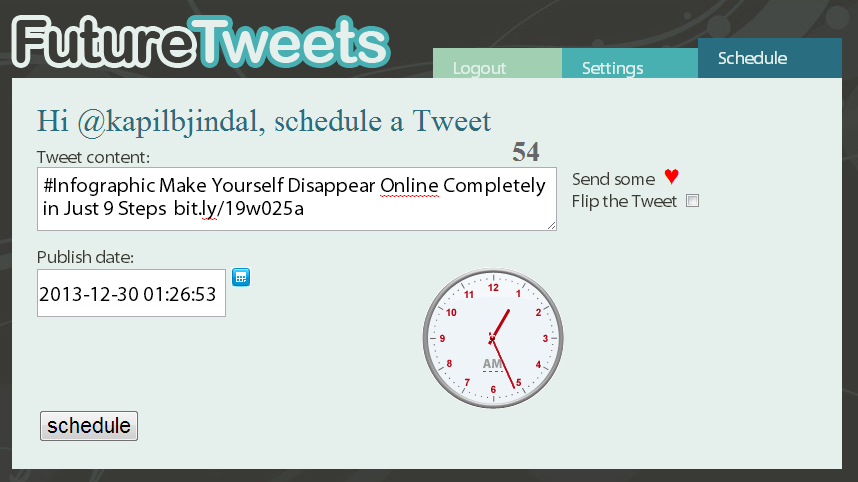 FutureTweets is again a very simple tool. Just log in with your Twitter account, choose the time zone and pen down Tweets to schedule. FutureTweets gives an option to use funny emoticons in Tweets, you can also flip the text upside down.
4. TweetLater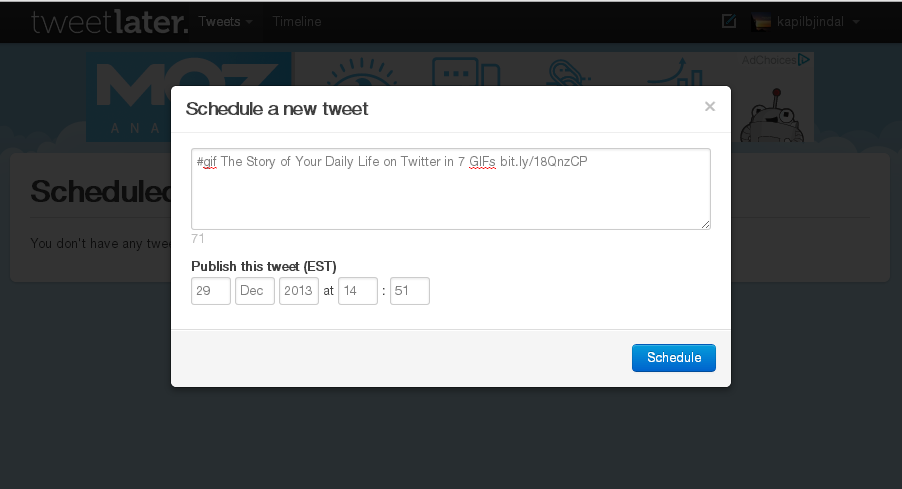 You just need to log in with your Twitter account and that's it, you are all set to schedule your Tweets with TweetLater. It gives an extra tab where you can view your previous Tweets.
5. TweetDeck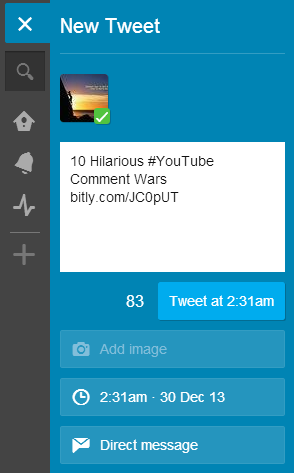 TweetDeck is a well known and widely used Twitter application. After you log in with your Twitter account you will see your Twitter timeline, mentions, direct messages and trends, all of them on a single page. Apart from providing a better user experience for Twitter users, TweetDeck also provides an option for scheduling of Tweets. Just hit the Tweet icon in the upper left corner, It will give you an option to schedule the Tweet.
Bonus Tip
If you don't want to use any third party application for scheduling your Tweets, here's an alternate method for you.
Here, you can easily schedule your Tweets. Apart from scheduling Tweets, you also have the access to Twitter analytics where you can check how your Tweets are doing. How many people are actually engaging with the content you are sharing on Twitter.
SEE ALSO: 5 Twitter Management Tools
If you have any query, feel free to ask in comments below the post.