If you have been using Twitter for marketing purpose for some time now, but haven't been able to figure it out yet, don't worry, you are not alone. There are a lot of people who sign up on Twitter with high hopes, but end up with zero or no results. I also used to be the one, but after reading a lot about how social media marketing gurus use this great tool to enhance their reach & build a strong network, and after writing 5+ detailed posts on Twitter tools, now I can say that I have understood some basic things about Twitter, which most people ignore, but if you will follow these basic Twitter tips, you will definitely shine in Twitterverse.
So, In this post, I will be sharing 22 Twitter Tips and use it effectively for social media marketing. 
Twitter tip #0. It is always a good idea to have a profile picture on your Twitter account otherwise people won't take you seriously and might not follow back as well. A profile picture validates the authenticity of a Twitter account.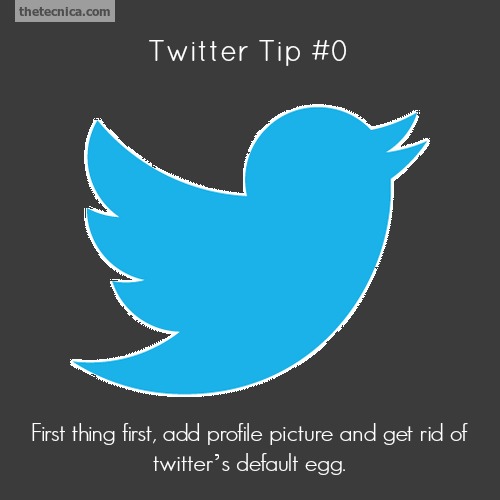 Twitter tip #1. If you want to be discovered easily by others, write your Twitter bio intelligently, use important keywords and hashtags.
Twitter tip #2. Thanking people for retweeting is a good habit, but not always feasible. In case you have a lot of followers and you receive a lot of RTs then you can skip this part, but if you are a beginner you should follow this habit.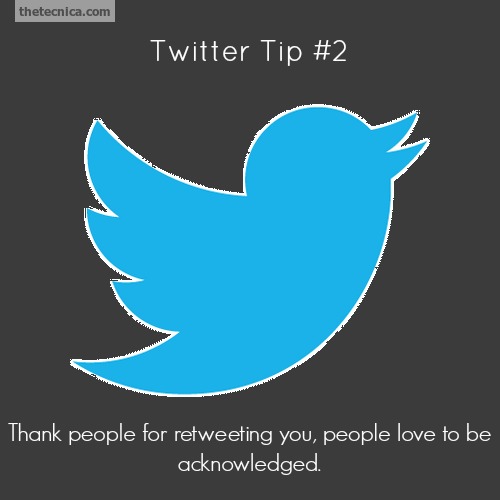 Twitter tip #3. Hashtags will enhance the visibility of your tweet, but you shouldn't overuse hashtags. If you will use more than three hashtags in a tweet then it will affect the readability of the tweet and will annoy your followers.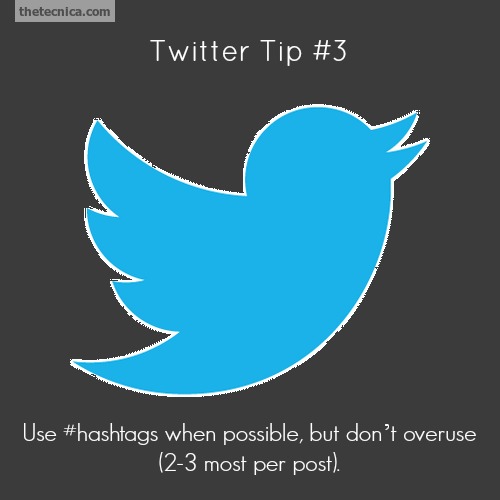 Twitter tip #4. Though there's nothing wrong in fully utilizing the 140 characters, but it's a good habit to complete the tweet with in 100 characters, so that people can add their comment while retweeting.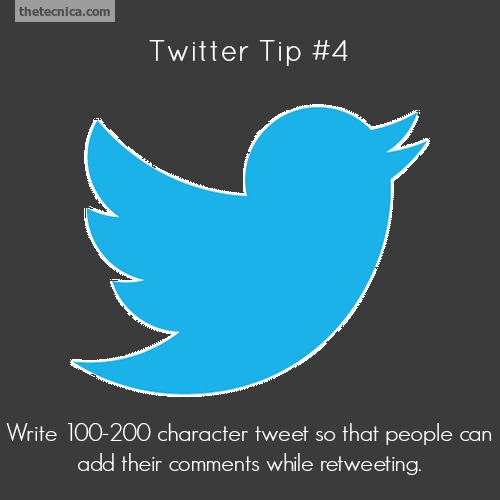 Twitter tip #5. The easiest thing on twitter is to hit the follow button multiple times and expect follow back in return, but that's not going to help at all. Even on Twitter, you have to build real connections, engage with people, favorite and retweet their tweets to motivate them to do the same for you.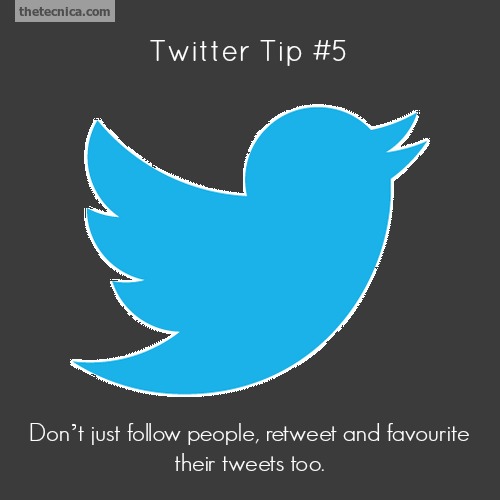 Twitter tip #6. Don't just do self promotion rather add value to the community by tweeting engaging and useful content from around the web.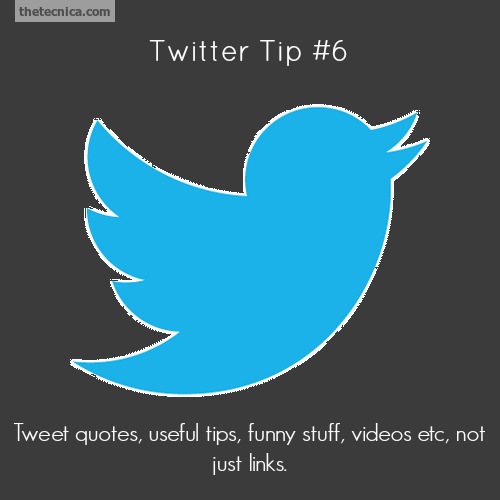 Twitter tip #7. Automated DMs should be avoided, they rank at the top on annoying scale.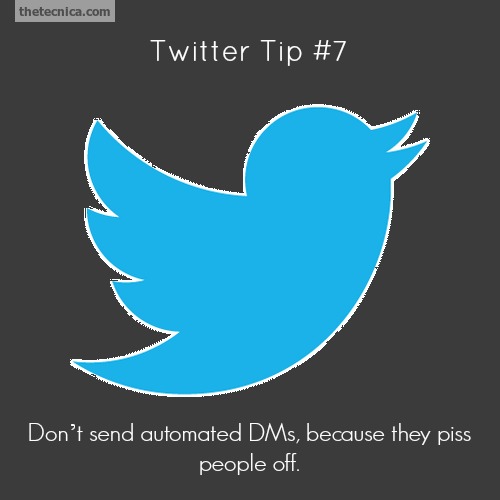 Twitter tip #8. Follow pioneers of your field of interest, try to communicate and learn from them, It will help a lot.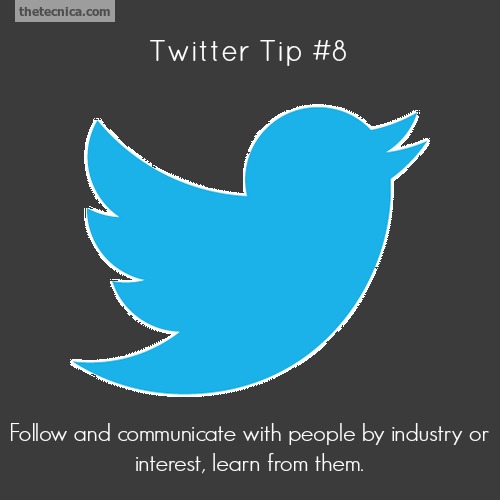 Twitter tip #9. If someone lands on your Twitter profile and sees a very well designed cover photo & expressive background picture, your chances of getting followed increases several folds.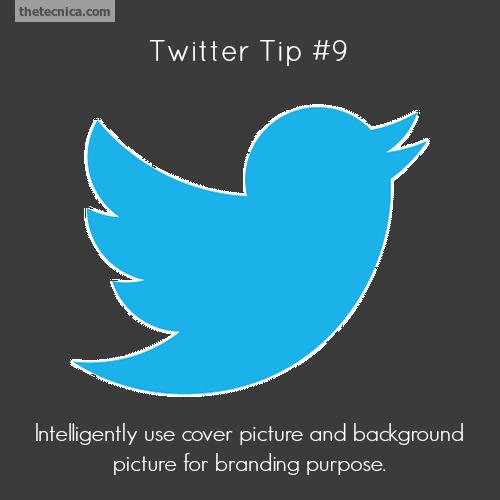 Twitter tip #10. Shortened link performs well, so always shorten a link with any of the freely available services such as bit.ly or Goo.gl
Twitter tip #11. Don't tweet very frequently, It may annoy your followers. It happens mostly when you have other accounts linked with your twitter account and whenever you post something there, it gets automatically posted on twitter too. So, avoid linking your accounts in such cases.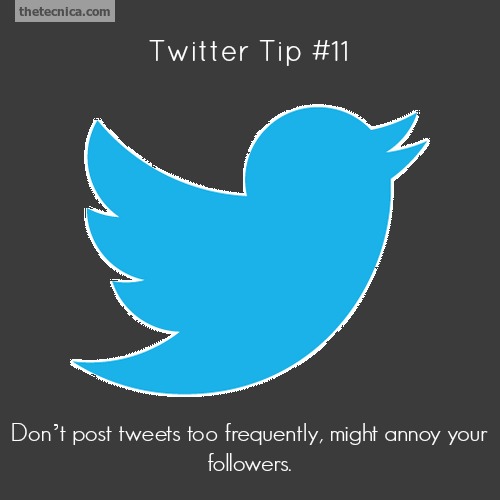 Twitter tip #12. Start conversations whenever possible, because nothing is more fruitful than having a real conversation on Twitter.
Twitter tip #13. If you have a blog or website, do add your Twitter follow button there, so that you never miss a chance of earning a loyal follower.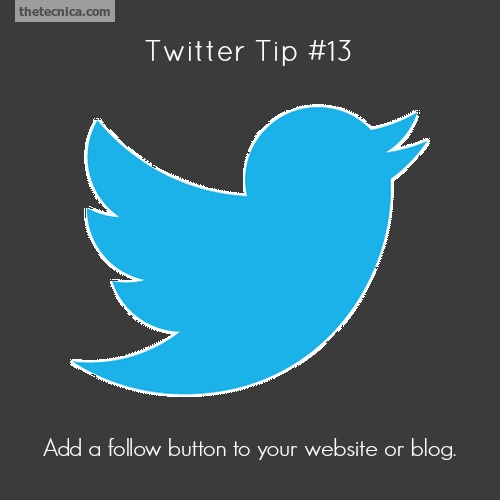 Twitter tip #14. Twitter often gets cluttered at peak times, and you might miss some important tweets. For those times, create Twitter lists so that you can always filter out tweets of the people you don't want to miss.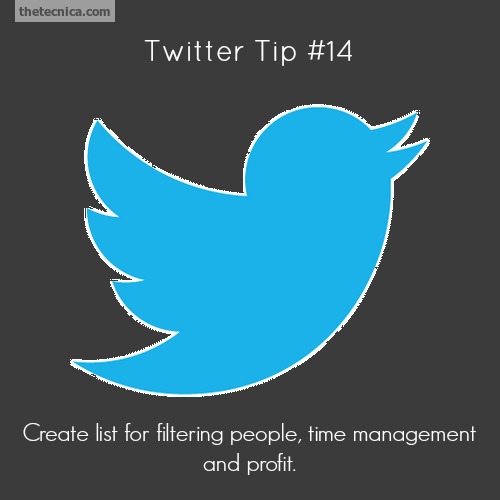 Twitter tip #15. Tweroid will help you know the best time to tweet by analyzing your followers activity and uptime.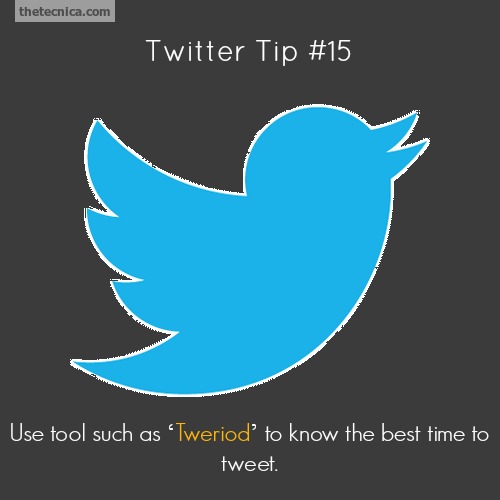 Twitter tip #16. If you will use a popular hashtag in your tweet, your tweets will enjoy more exposure.
See this: Top 5 Twitter Hashtag Analytics Tools
Twitter tip #17. You should always keep a track on your followers and the people you are following.
See this: Top 3 Tools to Track Twitter Followers and Unfollowers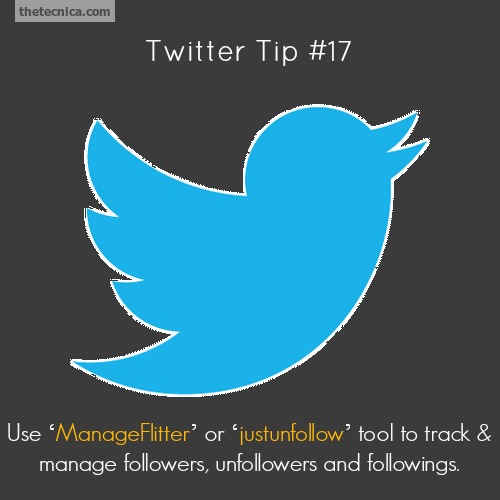 Twitter tip #18. If your Twitter follower's are located in different time zone and your up time and their's don't coincide, scheduling tweets can help.
See this: Top 5 Free Twitter Tools To Schedule Tweets
Twitter tip #19. For an effective Twitter marketing campaign, analysis of your audience and competitors is must.
See this: Top 9 Twitter Analytic Tools for Detailed Analysis
Twitter tip #20. Managing multiple twitter accounts is not easy, It might happen that you get confused and post something totally bizarre from your company's official twitter account. To avoid any such circumstance, use Tweetdeck or Hootsuite.
Twitter tip #21. Last but certainly not the least, don't buy followers. Don't fall in the trap of advertisements which says, buy 2k followers for $5. Numbers do matter, but having not so targeted thousands of followers doesn't necessarily mean that you will have more exposure than an account having only hundreds but highly targeted and connected followers.

Try to build real connections with your followers and communicate with them, followers count is secondary.
In this post, I have tried to incorporate my own learning in the simplest possible way and I might have missed some good Twitter tips, but you can always help me with that, will you share your own experience in comments below the post?
SEE ALSO: Top 8 Pinterest Tools For Better Social Media Marketing and Analytics
Also, If you have any query or got something to say, feel free to use the comments box down below.
Last Updated: Feb 11, 2015