Last year in April, popular micro-blogging website Twitter released a light version called Twitter Lite, focused on providing a decent experience on slow connections and low-end Android phones. Initially, the app was launched only in Philippines and was later extended to 24 more countries late last year. Surprisingly though, India was not one of the countries to receive Twitter Lite, even when the statistics showcased a definite need.
Now, according to a recent blog post from the company, Twitter Lite has finally reached India along with 21 other countries, including Argentina, Belarus, Dominican Republic, Ghana, Guatemala, Honduras, Indonesia, Jordan, Kenya, Lebanon, Morocco, Nicaragua, Paraguay, Romania, Turkey, Uganda, Ukraine, Uruguay, Yemen, and Zimbabwe. Twitter Lite is now available on the Google Play Store in over 45 countries.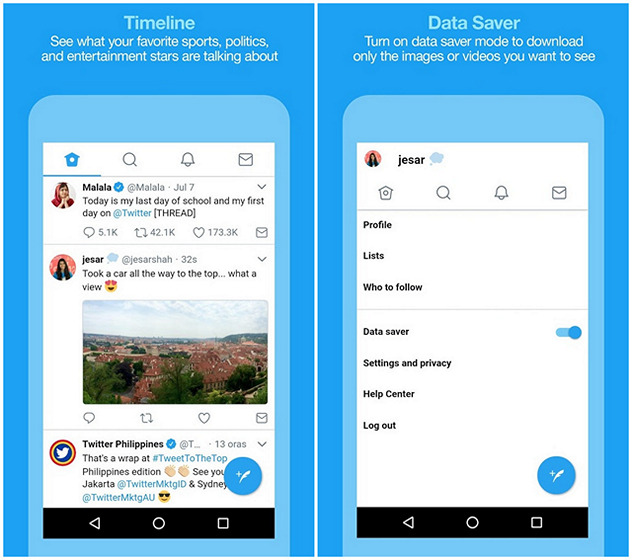 The Twitter Lite app has been designed for users with data, bandwidth and device constraints and comes with a data saver which controls the images and videos that load on your feed.
The app has an install size of just 3MB, which means that it's perfect for devices with low internal storage and it even works well with 2G or 3G connections. The Twitter Lite app also features a Bookmarks feature that will allow users to save important Tweets which they can access later when they have more data or access to a better internet connection.
The latest version of the app also brings support for push notifications, allowing users to keep up with all the latest trends around the world, and threads which will allow users to create a thread using the new plus button in the composer. Additionally, Twitter Lite also features a night mode option which gives the timeline a darker theme for late night browsing. In case you're using a low-end device or have a limited data connection, you can download Twitter Lite from the Google Play Store.