Twitter Lite was launched as an Android app just over two months ago when the software was made available for download on Google Play after spending a few months on the web as a lighter version of the mobile Twitter site. However, the app was only available in the Philippines, an anomaly that the micro-blogging platform is now looking to rectify by extending its availability to 24 additional countries, most of which are developing markets in Asia, South America and Africa.
With the expansion, the list of the countries where Twitter Lite is now available include Algeria, Bangladesh, Bolivia, Brazil, Chile, Colombia, Costa Rica, Ecuador, Egypt, Israel, Kazakhstan, Mexico, Malaysia, Nigeria, Nepal, Panama, Peru, Serbia, El Salvador, South Africa, Thailand, Tunisia, Tanzania and Venezuela alongside the Philippines. Curiously, India doesn't feature on the list, and there's no word on whether the company is looking to expand the availability of the app to more regions any time soon.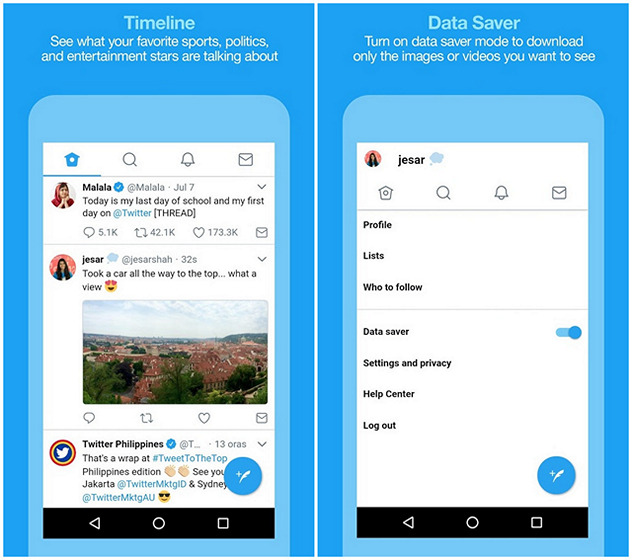 Announcing the increased availability of Twitter Lite, the company's product manager, Jesar Shah, wrote that the primary objective of the platform was to optimize the mobile web experience in areas with unreliable mobile networks. According to her, Twitter Lite was always meant to be "a new mobile web experience that minimizes data usage, loads quicker on slower connections, and is more resilient on unreliable mobile networks". She also says that the company has seen increased engagement from users with the app, with Tweets sent from it having increased by over 50%.
In case you're not in any of the 25 countries that Twitter Lite is officially available in but want to take it for a test drive anyways, it's available for free on APK Mirror, so irrespective of where you are, you can try it out if you want to.