Recently, I was searching for laptops for creative professionals and I realised that there aren't a lot of options for someone looking for a slim, lightweight machine that will still let them run graphically intensive applications. Most options are to buy a gaming laptop instead. Of course, there are some options out there, and the HP Envy 15 is one of them. So when I received the HP Envy 15 ep0123tx for review, I was honestly excited to check it out. After all, at ₹1,49,999 the laptop does seem to offer quite a lot. Well, I've been using it for over a week now and here's my review of the HP Envy 15.
HP Envy 15 EP0123TX Specifications
Display
15-inch Full HD
Processor
Intel Core i7-10750H
RAM
16GB
GPU
Nvidia GeForce GTX 1660Ti with Max-Q Design; 6GB VRAM
Storage
1TB SSD
Ports and I/O
2x USB Type-A
1x HDMI
2x Thunderbolt 3
1x microSD Card Reader
1x Headphone/Mic Combo
Connectivity
WiFi 6; Bluetooth 5
Battery
6-cell 83Wh
Design and Build
The HP Envy 15 carries on the design philosophy of HP's Envy series. It's a sleek looking device, with edges that curve aggressively, and a color scheme that looks sophisticated, easy on the eyes, and just generally pleasing.
The lid is clean, with the new HP logo on it in polished chrome. Even though it's by no means a small logo, it does look really good. The design of the HP Envy 15 ep0123tx is great all around. No matter from where you look at this laptop, it just looks stunning.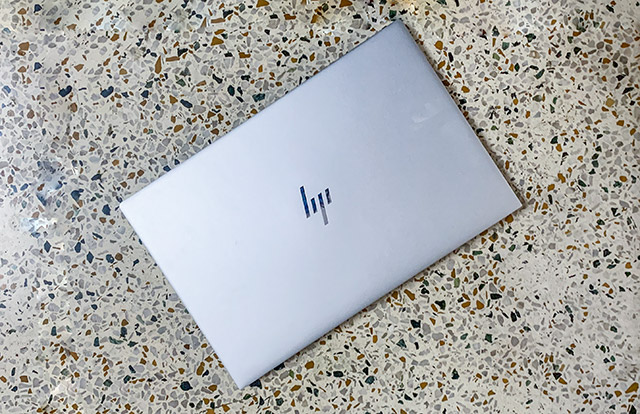 The laptop opens easily with just one hand, which is not something I find in a lot of Windows laptops, and the hinge is decent as well. It's not the best hinge I've seen on a laptop, in terms of resistance and feel, but it's well above average.
Once you open up this laptop, things continue looking good. There are thin bezels around the display, and an HP logo on the chin. The dark grey (almost black) bezels contrast perfectly against the silver of the laptop, which, by the way, extends all the way around the bezels and to the keyboard.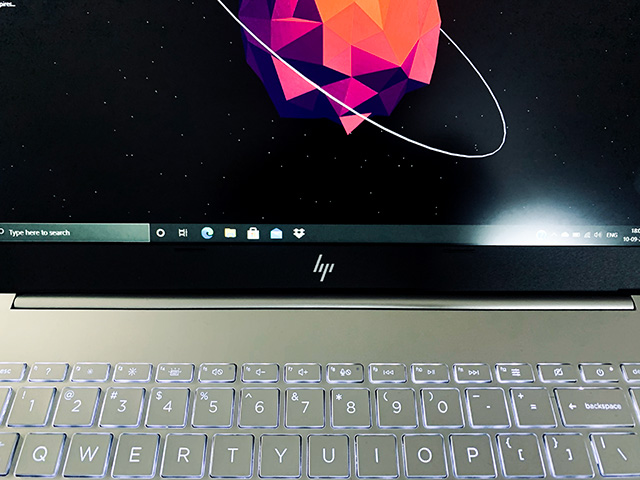 There are grilles on the sides, which is weird because it almost looks like an attempt to fool people. The speakers on the laptop are actually on the bottom. Maybe the side grilles are for aesthetic purposes only, but even so, I'm not a fan of the added detail here. That said, I really like the font HP uses on its laptops. You know, for the keycaps, and even the Bang & Olufsen branding on the palm rest. It looks pretty good.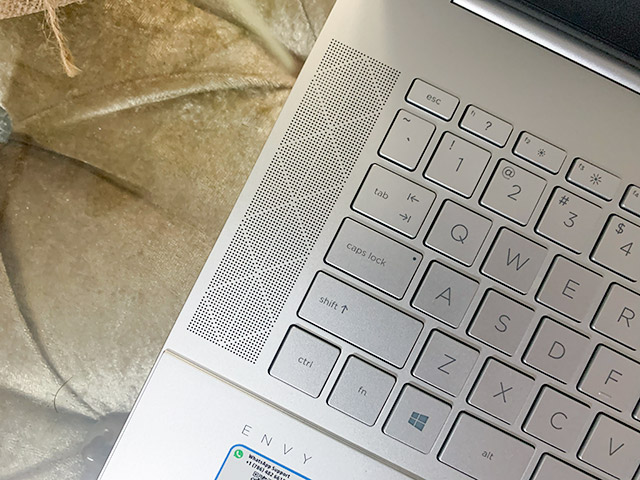 Display
The display here is a 15.6-inch Full HD panel and it looks pretty good. It's rated at 300 nits for brightness, and in my usage it gets pretty bright. Plus, the anti glare coating on the screen means I didn't have any trouble using the laptop even though I have a light behind my work desk which can easily cause a lot of glare issues.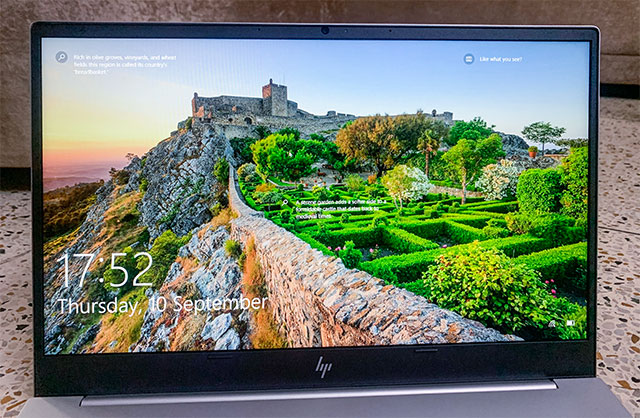 It also looks good because of the thin bezels that I mentioned in the previous section. The top bezel is just a little bit bigger than the ones on the side, but that's probably due to the integrated webcam. Speaking of the webcam, HP was nice enough to include a webcam shutter for privacy. This can be activated at the press of a key on the keyboard. If you're wondering why there isn't a hardware shutter, well, there is. Pressing the key doesn't disconnect the camera via software, it makes a piece of plastic slide over the webcam, and you can clearly see it properly blocking the camera. That's great, I always prefer hardware webcam protectors over the promise of a software disconnection.
Coming back to the display though, I have spent hours looking at this screen both while working, and while watching TV shows and movies, and it's a solid display. The colours look nice, it gets bright when you want it to, and the viewing angles are decent as well. Overall, just a really crisp, bright, and nice display to have on a laptop. I like it.
Performance
Under the hood, HP has packed in a 10th-gen Intel Core i7-10750H CPU clocked at 2.6GHz. This is paired with 16GB 2933MHz RAM, a 1TB NVMe SSD, and GTX 1660Ti GPU. If you're wondering why the RAM isn't 3200MHz, that's because not all 10th-gen processors suport 3200MHz RAM. The highest that the 10750H can support is 2933MHz and that's what HP has put in here.
The RAM is already in dual channel configuration, so you don't need to worry about getting another stick of RAM to get a slight performance boost (something I recommended with the Lenovo Ideapad Gaming 3i).
Unsurprisingly, the HP Envy 15 performs really well no matter what you're trying to accomplish with it. I have been using this for work, which includes editing some images on Photoshop, and writing articles. Plus, this laptop has been my go to machine for entertainment, and I even played some games on it. It's good at everything.
In synthetic benchmarks, the HP Envy 15 ep0123tx scores 5,099 in 3DMark Time Spy, and 4,768 in PCMark 10. Both of those are really good scores.
Similarly, in games, the laptop handles everything very well. In PUBG, for example, with graphics set to High, the laptop gets upwards of 70FPS at all times. Even at Ultra, I was getting around 60 FPS throughout my game which is pretty great. For some reason, the laptop defaulted to a custom mix of low graphics, by the way, and at those settings I was getting frame rates around 90FPS.
In Far Cry 5 as well, the HP Envy performs admirably. At 1080p Ultra, the in game benchmark showed an FPS range of 70 to 92FPS with an average of 78FPS. At High, the average FPS increases all the way to 82FPS. So yeah, clearly, the HP Envy 15 can handle gaming.
I also tested out V-Ray and SketchUp Pro on the laptop and things look great there as well. In the V-Ray benchmark, the HP Envy 15 scores 7902 ksamples and 146 mpaths. In SketchUp Pro, I opened a fairly detailed project file and tried zooming in, panning and orbiting around, and also changing the time of day to see lighting and shadows change on the building, and there was absolutely no lag anywhere.
Keyboard
Moving on, the keyboard. I have usually liked HP's keyboards in recent years and this one is no different. It's a backlit keyboard, which you can toggle using the F4 key. There's a single white coloured backlight here, but that's perfectly fine. In fact, I doubt any other colours would look good with this laptop. You also get two brightness levels for the back light which can be adjusted using the same F4 key, but I usually kept the backlight at maximum because it looks pretty.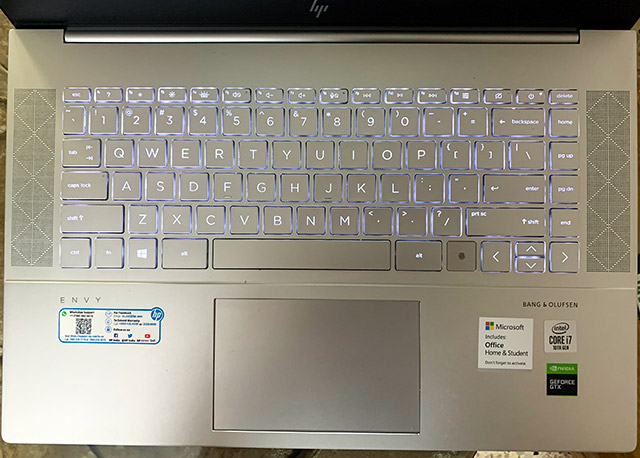 Anyway, the keyboard itself is great. The keys are big and there's ample spacing between them so they don't feel cramped. There's plenty of response, and typing on this keyboard is really comfortable, which is great for me.
HP has also kept all the special buttons within the keyboard layout itself, which gives the laptop a cleaner look. You will find the power button at the end of the line of function keys, right next to the button for covering the camera. The fingerprint scanner is also not on the palmrest or within the trackpad as some other HP laptops have. It is placed next to the right side alt key; personally I find this to be a better place for the scanner.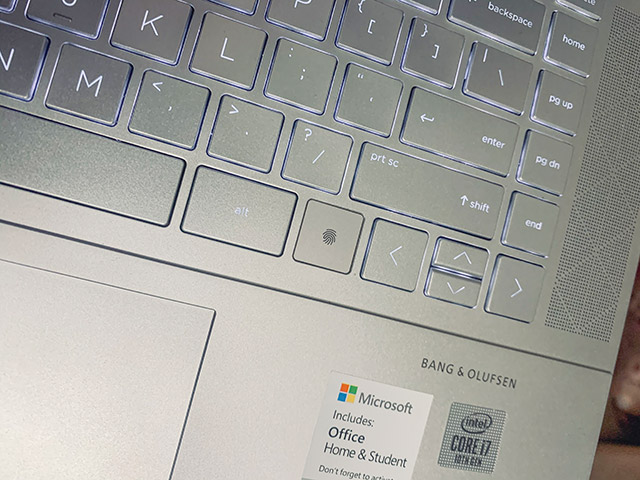 Trackpad
The trackpad on the HP Envy 15 is pretty great as well. It's a Precision touchpad, so you get access to all the nifty Windows gestures that I am slowly getting accustomed to. Plus, it's quite responsive and it doesn't feel bad to the touch even when you've been using it for hours on end. That's great.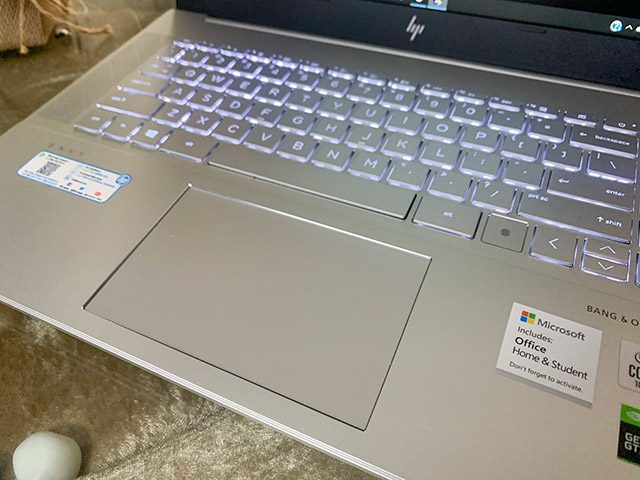 It's not a very big touchpad, but it isn't small either, and I was able to use gestures on it fairly comfortably, so that's great. Obviously, as a creative professional you will probably connect a mouse to get better, fine tuned control over the cursor while you're working, but this trackpad can still get the job done.
Ports, I/O, and Connectivity
HP gives plenty of ports on the Envy 15 ep0123tx as well. You get two USB 3 Type-A ports, an HDMI out, two Thunderbolt 3 ports, a microSD card reader, and a headphone/ mic combo jack.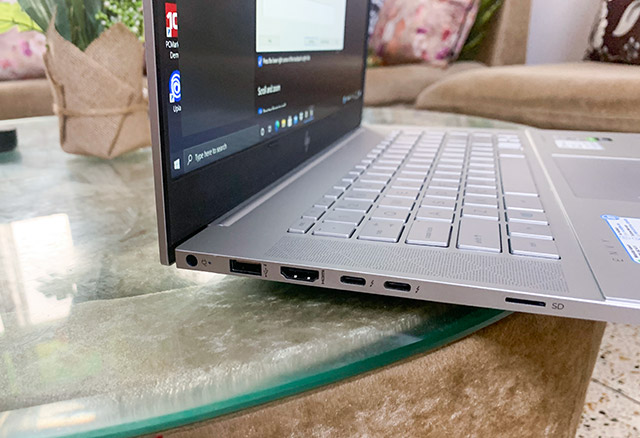 I'm glad to have both Type-A and Type-C (Thunderbolt 3) ports here. Thanks to this, you can connect any of your legacy Type-A accessories to the laptop without any dongles, and you get the future proofing from Thunderbolt 3, which also allows you to get even more ports via a dongle, if you need it. Personally, I didn't find the need to attach a dongle to the laptop, but it's good to know that if I needed to, the laptop has Thunderbolt 3 ports for it.
In terms of wireless connectivity, the laptop comes with Bluetooth 5.0, which is great, and honestly something I would expect at this price point anyway. Moreover, the HP Envy 15 supports WiFi 802.11ax (WiFi 6) which means if you're living on the bleeding edge of WiFi technology, this laptop can take full advantage of it. If you're not, it's future proofed at the very least.
Audio
As I mentioned while discussing the design of the laptop, it has its speakers on the bottom, even though there are grilles on the sides of the keyboard which may trick you into thinking that's where the speakers are.
However, the Envy 15's speakers are pretty good, as far as bottom firing speakers go. In my experience, they get loud enough, even though they weren't close to the speakers on my 2017 MacBook Pro. Plus, fortunately, the sound doesn't seem to distort at high volumes. Obviously, don't expect to use these speakers for listening to bass heavy tracks, but for watching movies and TV shows, or for some basic video editing, these speakers will definitely do the job.
Battery
Even though this is a pretty sleek laptop, somehow, HP has managed to stuff in a big 83Wh battery inside this. The company claims 16 hours of battery backup on the laptop, which is a claim that's amazing if true. Now, I didn't use the laptop for 16 hours at a stretch without charging it. Let's be honest, when you have a laptop like this at your disposal, you do tend to play games when you should ideally be working. However, in the couple of hours of continuous work usage that I had, the laptop does handle battery life very well.
I had Photoshop open, along with Microsoft Edge with anywhere between 7 to 10 tabs open at all times, brightness set to 50% and yes, a tab with Apple Music playing my favourite work playlist to my Bluetooth earphones. With all of that, the battery drop seemed to indicate a battery life of around 14 to 15 hours. Obviously, that could change based on what you're doing with the laptop, and what brightness levels you're comfortable with. However, it seems safe to say that HP's claims aren't off.
What's more, with a battery backup like that, you're pretty much sorted for a workday without charging the laptop, so you won't need to carry the charger along all the time.
Side note: I'll recommend you carry the charger anyway, because if you're anything like me, you will end up playing games between your workday. But let's keep that between ourselves.
Pros and Cons
So you're too lazy to read the entire review? Well, lucky for you, we have distilled the pros and cons of the HP Envy 15 ep0123tx here.
Pros:
Beautiful design
Excellent performance
Great battery life
Crisp, bright display
Cons:
HP Envy 15-ep0123tx Review: Should You Buy It?
The HP Envy 15 ep0123tx is an amazing laptop, coming in at a price where it's hard to beat what HP is offering. It looks premium all around, the performance is top notch, and it brings almost everything you could want from your laptop, including the power to play high end games without breaking a sweat. Those are not easy targets to hit, but HP seems to have done it with the Envy 15.
Personally, if you're looking for a Windows laptop in this price bracket, and you're not too picky about having a touchscreen (which, I am not), I would say get this laptop, it won't disappoint. It will get your work done with ease, and will let you play games when you want. All of that, without looking out of place in your next meeting with the CEO. It's a classy machine, with plenty of power to blow your socks off.
Buy the HP Envy 15-ep0123tx from HP.com (₹1,49,999)
REVIEW OVERVIEW

SUMMARY

The HP Envy 15-ep0123tx is a premium laptop with a design that does justice to its price tag, and performance that is well above par for what you'd expect from a laptop that looks this sleek. At ₹1,49,999 the HP Envy 15 is one of the best Windows laptops for creators and creative professionals. If you want a laptop that checks almost every box, definitely take a look at this one.